Disclosure: Man Makes Fire is reader-supported. When you buy gear using retail links on our site, we may earn an affiliate commission that helps pay for our work. Learn more.
How do you choose the best fly fishing waders for 2019? Hold that thought for a moment, and let's look at why you need waders for fly fishing in the first place: Great fishing waders will get you into the water next to the fish — to get right into their world.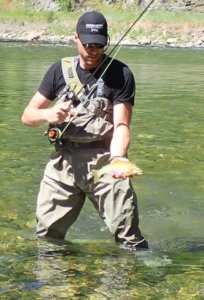 Waders change your whole fishing experience for the better.
Of course, sometimes you need fishing waders just so you can cast your fly to a fish, which makes waders an indispensable tool for fly fishing, especially for fly fishing beginners who don't cast well (yet). Some rivers are lined with brushy banks and the only way to cast is to wade out into the river. Some lakes have shallow bottoms and you need to wade out to get where the fish are. Some streams are just more fun when you scramble around in them or even just cross over to the far bank where fewer people go.
Fly fishing waders make you more effective and can make fishing more fun, plain and simple.
So how do you know which kind of fishing waders are best? Which features do you really need? Let's take a closer look at the most important features you want in a good pair of fishing waders for 2019 and beyond.
Best Fishing Waders: Stockingfoot vs Bootfoot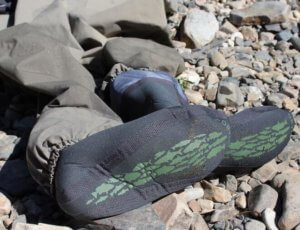 There are two main types of fishing waders: stockingfoot or bootfoot waders. Only get booted waders if you like the simplicity of stepping into a boot and you won't be wading over rocky, unstable ground. Why? Booted waders tend to fit like rubber boots — sort of loose and without much ankle support. If you're going to be walking over a bunch of slick rocks, you'll want a real wading boot with more ankle support.
So, for mostly lake fishing from gentle shores, booted waders are easy to use — but who knows where you're going to fish next? For that reason, I usually recommend stockingfoot waders.
Stockingfoot waders are often better because you can choose different boots during the lifetime of your waders or vice versa. Plus, when it's August and the river is low and clear and the days are hot, you can wear your sturdy pair of wading boots without your stockingfoot waders and just wade around in a pair of shorts. Basically, you end up with a more versatile investment in your gear: stockingfoot waders + separate wading boots are the way to go.
Having said all that, there is one more scenario where bootfoot waders might be the right choice for you: winter fishing. The structure of an integrated boot will hold the cold water farther from your feet and ankles, will usually have some built-in insulation. Booted waders also tend to allow heavy socks to maintain more insulating air gaps. The result can be warmer feet. (Skip down to the section on bootfoot waders if this sounds compelling.)
Neoprene vs Breathable Stockingfoot Waders
If you're only going to be fishing in cold water on cold days — say, steelhead fishing — then choosing a heavy-duty pair of neoprene waders is a reasonable choice. There is a reason why so many waterfowl hunting waders are neoprene — they're warm as well as flexible and quiet when it's super cold. However, if you'll be fishing all seasons, I recommend investing in lighter breathable waders so that when you step out of the river in the summer, you don't immediately start sweating. If the water is really cold, you can always layer up with a thick pair of fleece pants underneath your breathable waders . . . but you can never make cold-weather waders suitable for hot days.
This comes down to a surprisingly easy recommendation: Only get neoprene waders if you're going to be fishing in cold weather in cold water. Sure, neoprene is durable, but these waders are generally not as comfortable as thinner, more breathable fly fishing waders. Neoprene is also less packable than breathable waders.
Best Fly Fishing Waders for the Money 2019
The toughest question you'll face is the one about your budget — do you spend around $100+ on a solid entry-level set of waders or do you ramp up to several hundred? What do you get for an additional investment?
You will get a few extra features like better pockets, better shoulder straps, and an extra layer or two of material, making the best waders more abrasion resistant. Midrange and high-end waders also usually have more rigorous manufacturing for stronger seams and they tend to use the best breathable fabrics — like GORE-TEX.
However, one feature you should always look for is built-in gravel cuffs, which is a section of fabric that covers the tops of your wading boots so that gravel doesn't get into your boot while you're wading. Once inside your boot, even tiny bits of gravel can work a hole into your booties. Don't buy any entry-level fishing wader that doesn't have built-in gravel cuffs!
Back to the more expensive wader question: Generally, higher-end fishing waders are only worth the money if you are:
heading out on an expedition trip of a lifetime
hiking through a lot of thorny brush and fish on rivers with sharp rocks
will use your waders 20+ times a year
If you use your fishing waders less than 10 days a year, you can expect them to last several years. At a certain point, though, the material and sealed seams will degrade over time, eventually leaking (even if you don't actually puncture them). As your waders age after several seasons, start thinking about replacing them before you head out on critical fishing trips.
So, for most beginning fly fishers, I generally recommend entry-level stockingfoot breathable waders that cost around $100 unless you're fishing at least 20 days a year or can afford an upgrade — which means your best-buy fishing wader could cost you hundreds of dollars . . . and be well worth the investment.
Best Fishing Waders Quick Answer List
Ranked from entry-level to midrange and high-end waders:
Frogg Toggs Hellbender Stockingfoot Chest Waders
Cabela's Premium Breathable Stockingfoot Waders
Hodgman H3 Stockingfoot Fishing Waders
L.L.Bean Angler Super Seam Tek Chest Waders
Orvis Ultralight Convertible Waders
Redington Sonic-Pro Waders
L.L.Bean Kennebec Stockingfoot Waders
Simms G3 Guide Stockingfoot Waders
Simms G4Z Stockingfoot Waders
Patagonia Rio Gallegos Waders
What about women's fly fishing waders?
Many manufacturers are now using similar designs to create fishing waders that are sized appropriately for women anglers — skip down to our best waders for women list for the best options available today.
Best Fishing Waders for Beginners
The Hellbenders have been around for years, but the price-to-value ratio keeps these fly fishing waders on our list. There's a lot to like about the Hellbender stocking foot fishing waders: You get four plies with reinforced knees and shins, along with the expected wading belt, built-in gravel guards and pockets, including an internal pocket, a triple-entry chest pocket with a zippered flip-out security pocket. The 4mm neoprene booties are double-taped. It's worth saying again: The price-to-value ratio in the Frogg Toggs Hellbender Stockingfoot Chest Waders for new or casual fly fishers is hard to beat.
Cabela's entry-level fishing waders check all the boxes on basic requirements: They have an updated fit for better mobility, including contoured neoprene booties that have non-slip rubber on the bottom to keep your foot from shifting inside of your wading boots. The knees have three layers for durability, the seams are taped, and the built-in gravel gaiters are rubberized to help them stay put. These simple waders include a wading belt, and there is a large internal pocket. The cushy neoprene suspenders are a little bonus, but we really like seeing the wide range of size options within Regular, Stout, and Tall. When you order them direct from Cabela's you can likely get free 2-day shipping.
Hodgman has been making an enviable blend of cost-effective fishing waders and wading boots for decades, and our Hodgman gear has always held up well. These can't-go-wrong waders have all the core features — a roomy chest pocket, an internal pocket, a microfleece-lined handwarmer pocket, built-in gravel guards, anatomical neoprene booties, a built-in wading belt, and a D-ring in the back for hanging your fly fishing net. Better yet, they also come in three general size options: Regular, King, and Tall.
Despite the long and cumbersome name, L.L.Bean's entry-level breathable fly fishing waders cover all the basics. You get stitchless seams, built-in gravel guards, a chest pocket plus an internal removable waterproof chest pocket for your phone. The neoprene booties are ergonomically shaped, of course. As with most every L.L.Bean product, these new chest waders are backed by L.L.Bean's legendary customer satisfaction guarantee for the entire first year of your purchase.
Best Midrange Stockingfoot Waders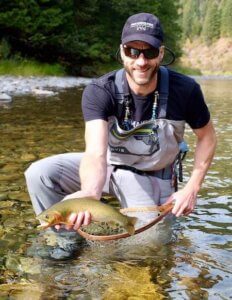 For 2019, Orvis has simplified its wader lineup, focusing most on ultralight waders that offer better fit, movement and packability. The company's new Ultralight Convertible Wader saves weight by using a new stitched and sealed seam construction that produces lighter seams. As for durability, Orvis still uses a 4-layer waterproof breathable nylon shell, which is reasonably tough and very flexible, which makes it comfortable and nimble on the water. The exterior chest pocket is a bit smaller, but you still get an internal zippered pocket and Orvis has added a couple of accessory attachment points for a zinger and nippers and forceps. Why? Presumably if you're going ultralight, you might be looking at other ways to save weight and bulk while traveling. While on that ultralight point, Orvis also introduced new ultralight wading boots. Last of all, what about that convertible feature? It's now even better than before: The top portion of the waders can slide up and down on the shoulder straps to convert to waist-high waders for those hot-weather fishing days. To convert, the attachment point now uses a FIDLOCK SNAP magnetic fastener system that lets you quickly pop the attachments loose — or snap them back into position. So cool. Check out our full Orvis Ultralight Convertible Waders Review for more detail.
Not finding your size? Shop direct from Orvis.
Pros
Lightweight and comfortable
Drop-down chest for waist-high mode
Great price-to-value ratio
Cons
Lightweight design isn't as durable as heavier, more expensive waders (not exactly a con, just a design point)
Redington has updated its popular midrange fishing wader (pictured above): The latest version of its Sonic-Pro stockingfoot waders use sonic-welded seams (not sewn) with a 4-layer design that includes reinforced lower legs and backside, which is handy if you sit in a drift boat, pontoon boat, or just like to rest on boulders and logs. You get handwarmer pockets, a front zippered pocket, and a flip-over interior pocket good for a small fly box, tippet, forceps, and nippers. You also get built-in gravel guards and a wading belt, of course. One last note: For a 15% boost in durability (plus tons of pockets) consider the also excellent Redington Sonic-Pro HD Waders — or read our our full Redington Sonic-Pro HD Waders Review for more detail.
The new for 2019 L.L.Bean Kennebec Stockingfoot Waders with Super Seam come with high-end features at a mid-level price, and when you add in L.L.Bean's legendary customer satisfaction guarantee for the first year of your purchase, the Kennebec waders are a sweet buy. You get four breathable layers with improved durability, and the construction fits better than previous generations of the Kennebec Waders.  The fabric is heavier through the legs and backside while the torso is lighter. The "Super Seam" design uses adhesives instead of stitched seams, and L.L.Bean says it's now lighter and stronger and more watertight than any seams the company has offered before. L.L.Bean updated the shoulder straps for improved adjustability and streamlined the front pockets and waist belt to reduce edges that can catch your fly line and leader and generally annoy you on the water. As you would expect, you still get plenty of pockets: two zippered chest pockets and a waterproof, removable interior pocket. The reach-through hand warmer pocket is lined with microfleece for warmth and comfort.  The articulated knees allow great range of motion, plus the company offers Tall sizes, helping you dial in the fit.
Best Stockingfoot Waders for Fly Fishing Fanatics
Note: Based out of Montana, Simms consistently produces some of the world's best waders, and their GORE-TEX models are also made in America. Arguably, their entry-level wader, the new for 2019 Tributary Wader, could make our midrange pick section, but Simms really shines with its high-end, made-in-America waders.
Simms has completely re-engineered its popular G3 Guide Stockingfoot waders. The new G3 Guide waders boast a four-layer GORE-TEX fabric in the legs that's both more durable and more breathable than before. Simms also extended this new four-layer section higher up the backside to improve durability when you're sitting on rocks and logs along the river bank. The upper fabric drops to three layers for increased breathability. The bottom line is that these new waders have a more supple feel and yet perform better than the previous generation. Simms also improved the chest pockets, added a pass-through hand-warmer pocket, and updated the waist belt loops. In case you want a wader specifically designed for spooky fish, Simms created a new 'River Camo' version. Made in Bozeman, Montana. Oh, one last thing: The new G3 Guide Stockingfoot waders edge out the Headwaters Pro wader from Simms (but the Headwaters Pro wader is $100 less, still made in America, and is still a great wader).
Not finding your size? Shop fishing waders direct from Simms.
For fly fishers who spend more time on the water than most of us can imagine, Simms uses a five-layer GORE-TEX Pro Shell system that the company has designed for excellent breathability. What you end up with is an extremely durable set of breathable waders that won't overcook you. Better yet, the G4Z comes with a big waterproof zipper in the front, which is darn handy when you've gone through a few mugs of coffee. Other key features include two waterproof zippered chest pockets, two retractor docking stations (1 is included), a handy fly patch, lined hand warmer pockets, and a seriously sweet suspender system. Plus, of course, you get built-in gravel guards, anatomical neoprene feet, and a wading belt. For hard-core fishing over rough terrain and many days, the Simms G4Z Pro waders are about as drool-worthy as you can get. (If you don't want the zipper, save $100 and choose the G4 Pro Waders.)
The Patagonia Rio Gallegos Waders boast similar quality to the Simms G3 and G4 series, but the multi-layered fabric is a bit more flexible than the G4 while retaining similar breathability and durability. The neoprene booties are wool-lined for better breathability, and get this, Patagonia includes removable knee pads in case you're the kind of fly fisher who sneaks up on fish. One of our buddies who just started wearing the Rio Gallegos reports that while he doesn't sneak up on shy trout on his knees often, he very much appreciates the knee pads when he releases fish when he's wading — a lot of times he'll drop to one knee when removing a hook, handling a fish or posing for a quick snapshot. He says he thought the knee pads were just a gimmick — until he realized how much he uses them. As for other features, the Gallegos have lots of pockets, of course, including a waterproof interior pocket for your smartphone. The Gallegos are also available with a waterproof front zipper, which makes entry, exit and calls of nature easier.
Not finding your size? Shop fishing waders direct from Patagonia.
Shop Simms, Patagonia, Orvis and Redington waders at Fishwest and get FREE shipping on most orders over $89!
Considering the Best Booted Fishing Waders?
Many of these manufacturers also offer some booted fishing waders with the same wader material types of construction, but typically we're not fans of booted waders unless you're fishing in very cold conditions for long periods of time. Why? The extra space and sometimes insulation around your feet in boot foot waders can help keep your feet warmer than in typical stockingfoot waders. They're also great for fishers who are getting on in years or just aren't as limber as they used to be — so no lacing/unlacing of your boots is needed when your back is stiff. Even so, we prefer the ankle support you get with separate wading boots.
All that said, the warm Cabela's Spring Run 5mm Waders are burly as all get out, offering rugged boot bottoms as well as padded knees, all at a reasonable price. If you want a more nimble GORE-TEX bootfoot wader, the new Simms G3 Guide 'River Camo' Bootfoot Waders blend Simms stockingfoot excellence with a booted bottom that boasts an insulated 7mm neoprene lining, which can help keep your feet warm in colder conditions.
Best Fishing Waders for Women
Manufacturers have started producing better, more fitted fly fishing waders for women, too, and they often use the same materials in their construction as their male counterparts. Some, however, like the Remington Sonic-Pro Waders do more than simply trim down pockets and add color: The women's version of the Sonic-Pro include stretchy mesh back and side panels that better hug a woman's form. It's not like guys like a lot of excess torso material on their own waders, but it's nice to see manufacturers making serious, intentional design efforts in their women's waders. These are all can't-go-wrong fly fishing waders for women:
Bonus: Best Wading Boots for the Money 2019
As for wading boots, choose between a lug sole or felt soles — but know that a few states have banned felt soles due to concerns over transmitting invasive species from different waterways. Typically, felt soles provide the best traction on slick, wet rocks. On dirt trails? Not so much.
Check out our guide to the Best Wading Boots for more detail, but these are two can't-go-wrong affordable wading boots:
Simms Tributary Wading Boots — These new-for-2019 wading boots is our favorite budget pick this year. They boast a comfortable neoprene lining and a rugged rubber toe cap.
Orvis Encounter Wading Boots – Felt — If you prefer a felt-soled entry-level boot, try the Orvis Encounter series — Orvis offers them in your choice of rubber or felt soles.
---