Disclosure: Man Makes Fire is reader-supported. When you buy gear using retail links on our site, we may earn an affiliate commission that helps pay for our work. Learn more.
The best fishing backpacks are purpose built for the kind of fishing you want to do. If you spin fish or use bait casting-type rods, you're very likely throwing heavy lures, which requires large-compartment tackle boxes. If you fly fish and want a fishing backpack purpose built for fly fishing, you're in particularly great hands. Why? Because so many fly fishers are very mobile on the rivers they fish, they cover a lot of ground by walking, so they require a comfortable, high-quality fishing backpack.
Not surprisingly, many of the best fishing backpacks are also the best fly fishing backpacks.
Types of Fishing Backpacks
Of course, purpose-built fly fishing backpacks can also work very well for spin fishing enthusiasts. All fishing backpacks usually have accessory attachment points and pockets designed to fit fly boxes, pliers, and typical fly fishing gear, but they can usually swallow larger tackle boxes, too.
Still, if you're looking for the best spin-fishing or bass fishing backpacks, skip to the bottom for our favorite hard-tackle oriented fishing packs.
If you're looking for the best fly fishing backpack and aren't opposed to high-quality packs designed to be worn all day long, you have many backpack options — there are a half-dozen fly fishing manufacturers making fantastic backpacks for fly fishers. There is, however, one critical distinguishing factor in all of the best fishing packs: waterproofing.
Waterproof fishing backpacks are focused around one large waterproof pocket — the main portion of the pack itself. Obviously, this means you can fish in the rain without your gear or lunch getting wet, but it also means you can wade deep without soaking your backpack.
The downside is that you lose out on extra handy external pockets and gear organization. Non-waterproof fly fishing backpacks excel with pockets, and frankly, they're just easier to use overall — until you want to wade deep or fish in the rain.
So that's your major decision factor when it's time to choose the best fishing backpack for fly fishing — do you want lots of pockets and great organization or would you rather have a waterproof backpack?
Are Waterproof Fishing Backpacks Worth It?
We tend to prefer waterproof backpacks. Why? Peace of mind. If you need to wade deep or if the rain starts, you just don't have to worry about your fishing gear or your electronics. Plus, part of the main point of carrying your fly fishing gear in a backpack is to get it on your back and out of the way. The point is not to access it frequently.
If you want frequent gear access, you're probably better off with a fly fishing hip pack, a sling pack, or more traditional vest — but that's still not the whole story. Many of our favorite fishing backpacks integrate with chest packs to give you the best of two worlds: massive carrying capacity with up-front access to gear.
Whichever kind of pack you need, we're starting our guide with the best waterproof fishing backpacks, then we're calling out the best fly fishing backpacks that aren't waterproof. Finally, we call out a few of the best fishing backpacks for spin fishing or casting rod types of fishing — the kinds of fishing that require heavy lures rather than wispy flies.
To quickly answer the question — what is the best fishing backpack — here are our top 15 fishing backpacks:
Best Waterproof Fishing Backpacks
The best waterproof fishing backpacks all come from the best fly fishing gear companies — and they're all very good. In fact, any of these backpacks could be the number one best backpack on anyone else's list, so we're simply going to highlight these awesome fly fishing backpacks in alphabetical order.
1. Fishpond Thunderhead Submersible Backpack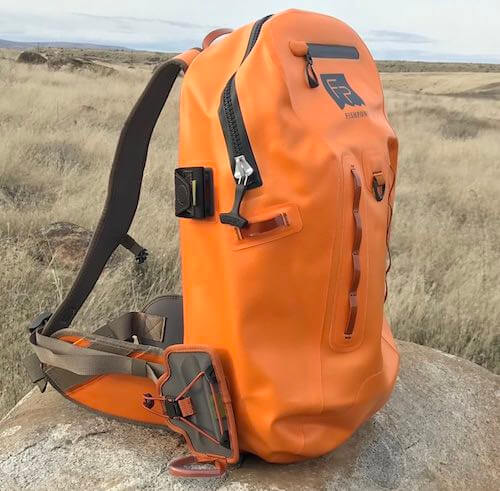 The Fishpond Thunderhead Submersible Backpack is an extremely tough, well-designed waterproof fishing backpack. We're big fans and it was a sad day when it was time to send our review unit back to Fishpond (full review here). The Thunderhead Submersible Backpack is made from Fishpond's ultra-rugged 1680d TPU-coated recycled Cyclepond nylon material. While it's possible this material could puncture if you fell down a steep and rocky slope while trying to get to the river . . . it's more likely that you'll have to fall several times to tear through it. (We thought about testing it in such a way, but we went fishing instead.) Meanwhile, the waterproof TIZIP zipper is stout, which is what you should expect from all waterproof zippers. You need two hands to open and close the zipper, which you should also expect. To help, Fishpond includes a couple of built-in loops you can use with your offhand to create leverage. Once you get the hang of using waterproof zippers, you'll appreciate the surety they provide.
Like most waterproof fishing backpacks, the outside pockets are spartan at best — you get a small pocket on the back (which is sometimes called the front of a pack), but Fishpond does include a D-ring and a daisy-chain for attaching accessories. Fishpond also includes two rod tube straps. The removable hip belt has a strap on each side for pliers or adding a pocket. Overall construction is just fantastic, and the Fishpond Submersible Backpack is downright handsome. There is another nifty feature, though: Accessories. Fishpond lets you attach some of its chest packs, like the Fishpond Medicine Bow Chest Pack, to Fishpond's quick clip system. This lets you keep frequently used fly boxes and accessories up front and ready. In addition, Fishpond has a handy rod holder system. Overall size is 1,648 cubic inches of carrying volume. One last note here: Fishpond offers a roll-top waterproof fishing backpack, which is also excellent, but the fabric isn't quite as burly.
Check shipping/pricing: Amazon | AvidMax | Fishwest
2. Orvis Waterproof Backpack
The Orvis Waterproof Backpack does everything very well. At 1,282 cubic inches, it's a bit smaller than some waterproof fishing backpacks on this list, but the interior is organized with a few handy zippered pockets. There's a D-ring on the back and three other accessory attachment points. You also get a more generous exterior pocket, along with water bottle pockets. Also included are rod tube straps, and you can let the rod tube ride in a water bottle pocket for extra security. The zipper is a YKK Flexseal zipper, which isn't as beefy as the Fishpond's TIZIP, but it's waterproof and opens wide for easy access to the main pack body. We like the gear station on the left shoulder strap for forceps and nippers. The TPU-coated 500D nylon material is pretty stout, and we like the padded bottom, which is great when you want to protect camera gear or electronics, which is the kind of thing we sometimes forget is inside when we drop our pack on the rocks.
Check shipping/pricing: Amazon | Bass Pro Shops | Fishwest | Orvis
3. Patagonia Stormfront Waterproof Pack 30L
The Patagonia Stormfront Pack is deceptively minimalistic — at first glance, it seems far more basic than it really is. While it has less padding on the back and shoulder straps than some of the competition, it's not like the pack is uncomfortable or that most people will be overloading their fishing backpacks anyway. The main body of the pack is made from an 800D TPU-coated nylon. The zipper is a stout TZIP zipper (nice) with thumb loops for leverage when opening and closing the backpack. You get a small interior pocket for items like car keys, plus a larger pocket on the outside. Patagonia includes two trim daisy-chain loop sections on the back, as well as several accessory attachment points built into the waterproof fabric exterior. The Stormfront includes two rod tube straps. What you don't get is a padded hip belt — the hip belt is a simple nylon strap. And while you don't get a single D-loop in the back, you get two D-rings, one at the base of each shoulder belt. 1,831 cubic inches. One more thing: Patagonia makes a larger 2,746 cubic inches version that ditches the waterproof zipper in favor of a traditional roll-top style opening. Overall design is very similar, but get this: The Patagonia Stormfront Roll Top Pack 45L can be had for half the price of the zippered version.
Check shipping/pricing: AvidMax | Patagonia
4. Simms Dry Creek Z Fishing Backpack
The Simms Dry Creek Z Fishing Backpack is another awesome waterproof fly fishing backpack. At first glance, its 1,770 cubic inch 500D TPU-coated nylon body seems to be very similar to the competition, but there are several standout features. The waterproof TIZIP zipper is one of the most generous zippers we've seen, letting you zip open the Simms Dry Creek Z more deeply into the pack itself, giving you improved access to the contents. The padded shoulder straps have a comfortable built-in curve, and while the hip belt is just a strap, Simms lets you tuck it away behind your back. The cushioned back panel is also more breathable for hot-weather fishing than most simple foam back panels. Simms includes some load-lifters in the top of the straps to help you dial in the ride, which is handy for heavier loads.
If you like to slip a longer-handled net into a net scabbard, well, the Simms Dry Creek Z Fishing Backpack has an integrated net scabbard. Basically you poke the handle down through a sheath of material on the front of the pack (the rear when you're wearing it) so that the net rides up. Works pretty well, and all the cool kids seem to like them. One more thing: The Simms Dry Creek Fishing Backpack is a larger, roll-top waterproof backpack (no "Z" for zipper) for carrying more gear on longer jaunts.
Check shipping/pricing: Cabela's | Fishwest | Simms
5. Umpqua Tongass 1800 Waterproof Backpack
The Umpqua Tongass 1800 Waterproof Backpack is one of the most feature-rich waterproof fishing backpacks we've seen. The pack holds 1,830 cubic inches, but it does it with a large roll-top closure main compartment with a smaller roll-top compartment on the outside of the main compartment. This system is not only waterproof, it lets you organize your gear by letting you stow smaller or more frequently accessed items in the secondary compartment. It's not only larger and more usable than most zippered exterior pockets, it's fully waterproof (while most secondary zippers are just water resistant).
You get two pockets on the sides of the main backpack, along with a water bottle pocket on the padded hip belt . . . as well as a pocket on the hip belt that lets you stow the reel when it's attached to your fly rod. This is handy after you have netted a fish, and it lets you use two hands to remove the hook or hold the fish up for a quick photo without dropping your reel in the water or on a sandy bank. Depending on the kind of fishing you're doing, you could also stow a second rod fully rigged in this pocket. The padded back panel is split down the middle for better air flow on hot days. You also get a D-ring for a net and multiple accessory attachment points.
Check shipping/pricing: Amazon | AvidMax | Cabela's | Fishwest
Also Great Waterproof Fishing 

Backpacks

:
The LOOP 23-Liter Dry Backpack and Grundens Gage Rum Runner 30L Backpack are both lower-cost waterproof fishing backpacks — and they both have great price-to-value ratios. The Cabela's Harlan 30L Waterproof Pack might be the best midrange-priced waterproof fishing backpack available today, plus the full-access zipper is nice.
Best Non-Waterproof Fishing Backpacks
The best non-waterproof fishing backpack usually excels in gear organization and comes packed with pockets and attachment points. In fact, all of the fishing backpacks noted below have lots of pockets and lots of accessory gear attachment points. These are our favorites:
6. Fishpond Bitch Creek Tech Pack
The Fishpond Bitch Creek Tech Pack is built from recycled commercial fishing nets, so the pack has already seen some fish, one way or another, and recycling fishing nets all just sounds like good mojo to us. As for the pack itself, it's pretty impressive: While the main body of the pack is straightforward and simple, the back panel has plenty of cushion and mesh for carrying heavy loads in hot weather . . . and the shoulder straps are cushioned with load levelers. The interior has a hook for a water bladder. The coolest feature of the Bitch Creek Tech Pack is that it includes the Fishpond Medicine Bow Chest Pack. You can clip this chest pack on the front shoulder straps while you're fishing . . . or you can clip it to the rear of the backpack while you're hoofing it to your next location. Or you can leave the main pack in camp and just take the chest pack out fishing. So cool.
Check shipping/pricing: Amazon | AvidMax
7. L.L.Bean Kennebec Switch-Pack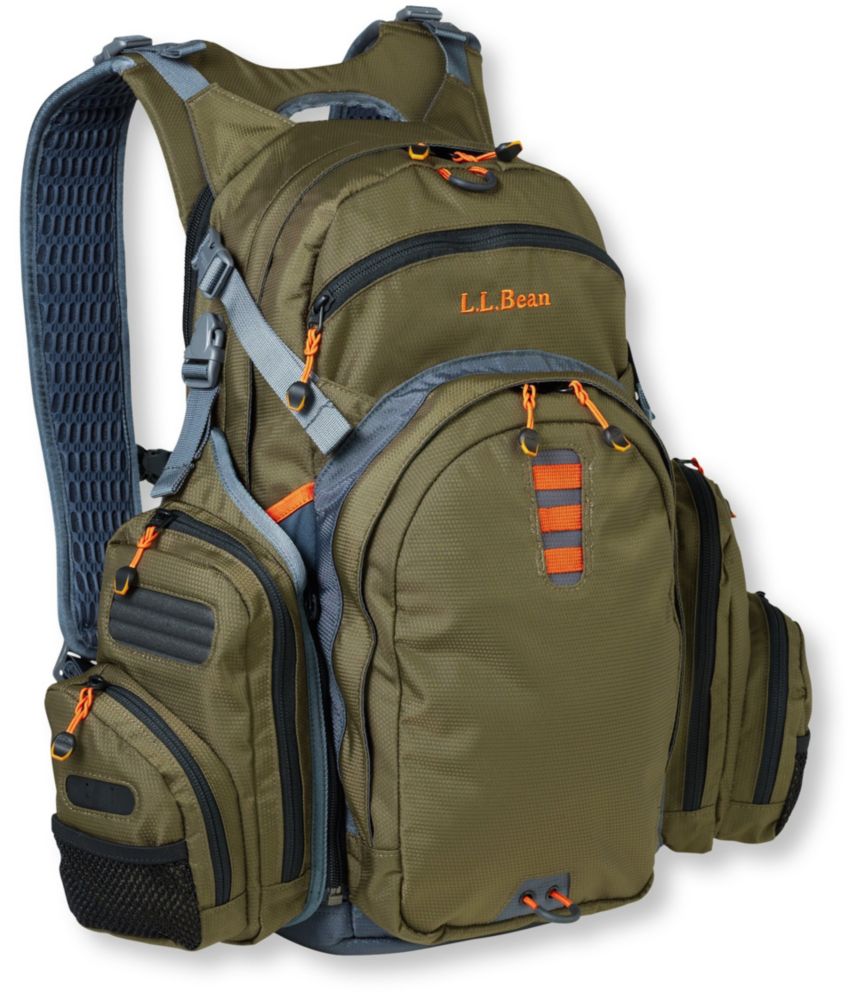 The L.L.Bean Kennebec Switch-Pack converts into a "vest pack." Basically, two multi-pocket sections attach to the side of the backpack for when you're on the go, and when you're ready to fish, you can move those vest-like pockets to the front of each shoulder strap and zip them together as if you would zip together a vest. The resulting front pockets hold fly boxes and even have nifty built-in tippet dispensers in the pockets. Of course, it comes with all the usual features, including a rod tube holder, water bottle pockets, a D-ring for a net and foam fly patches. The price-to-value ratio is pretty great, too.
Check shipping/pricing: L.L.Bean
8. Patagonia Sweet Pack Vest 28L
The Patagonia Sweet Pack Vest 28L is another extremely versatile fishing backpack — but with a different take on versatility. The main backpack portion contains all the components you might expect — D-rings, daisy-chains, pockets, water bottle pockets and compression straps. The front portion includes vest-like pockets on the front shoulder straps, which include multiple vertical pockets for fly boxes as well as zippered slim pockets. Better yet, if you're at camp or your favorite fishing spot, you can detach the front vest portion from the main backpack and attach it to a mesh back panel, turning it into a more traditional lightweight vest. Gotta love the Patagonia mountain/fish logo molded into the padded back panel, too.
Check shipping/pricing: AvidMax | Fishwest | Patagonia
9. Simms G4 Pro Fishing Backpack
The Simms G4 Pro Fishing Backpack has an internal aluminum frame and a sprung padded back panel, so if you're looking to pack home a lost drift boat anchor you found on the river, this is the fishing backpack to use. The two rod-tube carriers double as water bottle pockets. One interesting feature is the two rigid molded pockets that zip down into portable workbenches for holding flies or accessories as you gear up. The workbenches are surprisingly handy, but they tend to be more useful on the Simms sling packs, hip packs and chest packs because you can slide them around to your front while wading in a stream. The G4 Pro Fishing Backpack is also compatible with the Simms Waypoints Fishing Chest Pack.
Check shipping/pricing: Fishwest | Simms
10. Umpqua Surveyor 2000 ZS Backpack
The Umpqua Surveyor 2000 ZS Backpack does a fantastic job of packing a lot of attachment points into the pack while keeping it slim and trim. In fact, even the zipper pulls are molded and sealed so they prevent your fishing line or leader from snagging on them. The daisy-chain loops are a tucked underneath the exterior fabric but easily pull out for use. As a comfortable load carrier, the Surveyor 2000 ZS has a suspended back panel and a load-bearing injection-molded ABS frame sheet for support. It's also built with a long vertical ventilation channel to help dump heat. The shoulder straps have plenty of padding and the padded hip belt includes two hand zippered pockets. As for the main compartment, Umpqua makes access wildly easy: the pack zips completely open for easy organization. Finally, the Surveyor ZS integrates with the Umpqua Rock Creek ZS Compact Chest Pack, the Overlook 500 ZS Chest Pack, and the Swiftwater ZS Tech Vest. Basically, you can add a big chest pack, a little chest pack or a vest-like pack to the front. It's all comfortable, durable and very versatile.
Check shipping/pricing: Amazon | AvidMax | Cabela's | Fishwest
Also Great Fishing Backpacks:
The Orvis Safe Passage Angler's Daypack is a solid and simple fishing backpack that really comes alive best when you pair it the Orvis Safe Passage Chest Pack that clips onto the shoulder straps of the Orvis backpack.
The Simms Waypoints Fishing Backpack is simpler than the G4 Pro but might be a better overall value for most anglers looking for a solid, lightweight fishing backpack.
The VEDAVOO Spinner Deluxe Daypack is handmade in America and has a simple-but-utterly-functional vibe.
Best Fishing Backpacks for Spin Fishing or Casting Rod Enthusiasts
If you're looking for a fishing backpack that's more tuned toward spin fishing or bait casting types of tackle, there are three fishing backpacks that stand out from the rest:
11. Shimano Black Moon Fishing Backpack
The Shimano Blackmoon Fishing Backpack has multiple pockets and is built much tougher than most fishing backpacks with a similar design. The best feature is the zip down panel that reveals four Plano utility boxes for hardcore tackle organization, but you still get multiple gear storage options, including a side pocket that lets you tuck away a fishing line spool but feed the line through a small hole for easy access.
12. Spiderwire Fishing Backpack
If you're a Spiderwire fan, the Spiderwire Fishing Backpack is the fishing backpack for you. It includes three medium-sized utility boxes with an adjustable main compartment. We like the foam-molded sunglasses case, of course, even though we're almost always wearing our polarized sunglasses anyway.
13. Wild River RECON Lighted Backpack
The Wild River RECON Lighted Backpack is packed with features: You get lots of pocket storage, a protective rain cover, a removable plier holder . . . but the built-in LED light system is this fishing backpack's claim to fame. Obviously a good choice for those who fish at night.
14. Wild River Multi-Tackle Large Backpack
The Wild River Multi-Tackle Large Backpack is very similar to the RECON . . . but without the lights. The large upper storage area has a removable divider. The front pocket cover folds down to give you a handy workbench. You can choose to buy the pack with or without four utility boxes. Includes a waterproof pouch for car keys, phones, maps, etc.
15. Flambeau Outdoor Ritual Series Backpack
The Flambeau Outdoor Ritual Series Backpack comes with four of Flambeau's Tuff Tainers light tackle boxes. Super simple with a solid price-to-value ratio.
Bonus: Best Overall Fishing Backpack Price Point
The sub-$30 Bass Pro Shops Extreme Qualifier 360 Backpack is hard to beat.