Disclosure: Man Makes Fire is reader-supported. When you buy gear using retail links on our site, we may earn an affiliate commission that helps pay for our work. Learn more.
The best fishing backpacks are purpose built for the kind of fishing you want to do. If you spin fish or use bait casting-type rods, you're very likely throwing heavy lures, which requires large-compartment tackle boxes. If you fly fish and want a fishing backpack purpose built for fly fishing, you're in particularly great hands. Why? Because so many fly fishers are very mobile on the rivers they fish, they cover a lot of ground by walking, so they require a comfortable, high-quality fishing backpack.
Not surprisingly, many of the best fishing backpacks are also the best fly fishing backpacks.
Types of Fishing Backpacks
Of course, purpose-built fly fishing backpacks can also work very well for spin fishing enthusiasts. All fishing backpacks usually have accessory attachment points and pockets designed to fit fly boxes, pliers, and typical fly fishing gear, but they can usually swallow larger tackle boxes, too.
Still, if you're looking for the best spin-fishing or bass fishing backpacks, skip to the bottom for our favorite hard-tackle oriented fishing packs for spin fishing and bass fishing.
If you're looking for the best fly fishing backpack and aren't opposed to high-quality packs designed to be worn all day long, you have many backpack options — there are a half-dozen fly fishing manufacturers making fantastic backpacks for fly fishers. There is, however, one critical distinguishing factor in all of the best fishing packs: waterproofing.
Waterproof fishing backpacks are focused around one large waterproof pocket — the main portion of the pack itself. Obviously, this means you can fish in the rain without your gear or lunch getting wet, but it also means you can wade deep without soaking your backpack.
The downside is that you lose out on extra handy external pockets and gear organization. Non-waterproof fly fishing backpacks excel with pockets, and frankly, they're just easier to use overall — until you want to wade deep or fish in the rain.
Are Waterproof Fishing Backpacks Worth It?
We tend to prefer waterproof backpacks. Why? Peace of mind. If you need to wade deep or if the rain starts, you just don't have to worry about your fishing gear or your electronics. Plus, part of the main point of carrying your fly fishing gear in a backpack is to get it on your back and out of the way. The point is not to access it frequently.
If you want frequent gear access, you're probably better off with a fly fishing hip pack, a sling pack, or more traditional vest — but that's still not the whole story. Many of our favorite fishing backpacks integrate with chest packs to give you the best of two worlds: massive carrying capacity with up-front access to gear.
Whichever kind of pack you need, we're starting our guide with the best waterproof fishing backpacks, then we're calling out the best fly fishing backpacks that aren't waterproof. Finally, we call out a few of the best fishing backpacks for spin fishing or casting rod types of fishing — the kinds of fishing that require heavy lures rather than wispy flies.
Best Waterproof Fishing Backpacks
The best waterproof fishing backpacks all come from the best fly fishing gear companies — and they're all very good. In fact, any of these backpacks could be the number one best backpack on anyone else's list, so we're simply going to highlight these awesome fly fishing backpacks in alphabetical order.
1. Fishpond Thunderhead Submersible Backpack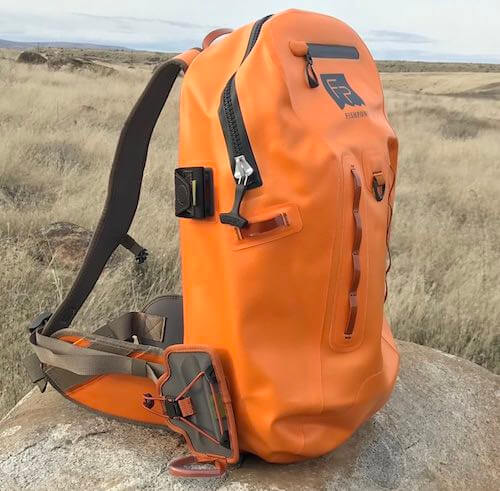 The Fishpond Thunderhead Submersible Backpack is an extremely tough, well-designed waterproof fishing backpack. We're big fans and it was a sad day when it was time to send our review unit back to Fishpond (full review here). The Thunderhead Submersible Backpack is made from Fishpond's ultra-rugged 1680d TPU-coated recycled Cyclepond nylon material. While it's possible this material could puncture if you fell down a steep and rocky slope while trying to get to the river . . . it's more likely that you'll have to fall several times to tear through it. (We thought about testing it in such a way, but we went fishing instead.) Meanwhile, the waterproof TIZIP zipper is stout, which is what you should expect from all waterproof zippers. You need two hands to open and close the zipper, which you should also expect. To help, Fishpond includes a couple of built-in loops you can use with your offhand to create leverage. Once you get the hang of using waterproof zippers, you'll appreciate the surety they provide.
Like most waterproof fishing backpacks, the outside pockets are spartan at best — you get a small pocket on the back (which is sometimes called the front of a pack), but Fishpond does include a D-ring and a daisy-chain for attaching accessories. Fishpond also includes two rod tube straps. The removable hip belt has a strap on each side for pliers or adding a pocket. Overall construction is just fantastic, and the Fishpond Submersible Backpack is downright handsome. There is another nifty feature, though: Accessories. Fishpond lets you attach some of its chest packs, like the Fishpond Medicine Bow Chest Pack, to Fishpond's quick clip system. This lets you keep frequently used fly boxes and accessories up front and ready. In addition, Fishpond has a handy rod holder system. Overall size is 1,648 cubic inches of carrying volume. One last note here: Fishpond offers a roll-top waterproof fishing backpack, which is also excellent, but the fabric isn't quite as burly.
Check shipping/pricing: Amazon | AvidMax | Aventuron | Fishwest
Fishpond Thunderhead Submersible Backpack
Pros
100% waterproof
Rugged and dependable
Excellent hip belt
Cons
Waterproof fishing packs have fewer organizational pockets than non-waterproof packs
2. Orvis Waterproof Backpack
The Orvis Waterproof Backpack does everything very well. At 1,282 cubic inches, it's a bit smaller than some waterproof fishing backpacks on this list, but the interior is organized with a few handy zippered pockets. There's a D-ring on the back and three other accessory attachment points. You also get a more generous exterior pocket, along with water bottle pockets. Also included are rod tube straps, and you can let the rod tube ride in a water bottle pocket for extra security. The zipper is a YKK Flexseal zipper, which isn't as beefy as the Fishpond's TIZIP, but it's waterproof and opens wide for easy access to the main pack body. We like the gear station on the left shoulder strap for forceps and nippers. The TPU-coated 500D nylon material is pretty stout, and we like the padded bottom, which is great when you want to protect camera gear or electronics, which is the kind of thing we sometimes forget is inside when we drop our pack on the rocks.
Check shipping/pricing: Amazon |Aventuron | Bass Pro Shops | Orvis
3. Patagonia Stormfront Waterproof Pack 30L
The Patagonia Stormfront Pack is deceptively minimalistic — at first glance, it seems far more basic than it really is. While it has less padding on the back and shoulder straps than some of the competition, it's not like the pack is uncomfortable or that most people will be overloading their fishing backpacks anyway. The main body of the pack is made from an 800D TPU-coated nylon. The zipper is a stout TZIP zipper (nice) with thumb loops for leverage when opening and closing the backpack. You get a small interior pocket for items like car keys, plus a larger pocket on the outside. Patagonia includes two trim daisy-chain loop sections on the back, as well as several accessory attachment points built into the waterproof fabric exterior. The Stormfront includes two rod tube straps. What you don't get is a padded hip belt — the hip belt is a simple nylon strap. And while you don't get a single D-loop in the back, you get two D-rings, one at the base of each shoulder belt. 1,831 cubic inches. One more thing: Patagonia makes a larger 2,746 cubic inches version that ditches the waterproof zipper in favor of a traditional roll-top style opening. Overall design is very similar, but get this: The Patagonia Stormfront Roll Top Pack 45L can be had for half the price of the zippered version.
Check shipping/pricing: Patagonia
4. Simms Dry Creek Z Fishing Backpack
The Simms Dry Creek Z Fishing Backpack is another awesome waterproof fly fishing backpack. At first glance, it seems similar to the competition, but there are several standout features, starting with its new zipper. The Dry Creek Z's waterproof TruZip zipper is a self-healing, toothless zipper that delivers 100% submersible protection. The zipper angle and reach also gives you great access to the generous 35-liter interior. The shoulder straps are padded, and while the hip belt is just a strap, Simms lets you tuck it away behind your back. The back panel is cushioned. The fabric is a rugged 300D polyester ripstop with an outside PU coating and inside TPU lamination.
If you like to slip a longer-handled net into a net scabbard, well, the Simms Dry Creek Z Fishing Backpack has a cool integrated net scabbard. Basically you poke the handle down through a sheath of material on the front of the pack (the rear when you're wearing it) so that the net rides up. One more thing: The Simms Dry Creek Simple Pack is a slightly smaller, 25-liter roll-top waterproof backpack (no "Z" for zipper in the name).
Check shipping/pricing: Aventuron | Simms
5. YETI Panga Backpack 28
The YETI Panga Backpack 28 is an ultra rugged waterproof backpack that's just as good on a stand-up paddle board or hiking in the rain as it is for fishing. Like all YETI gear, the Panga Backpack is overbuilt for extreme durability. It has a few standout features, starting with the massive waterproof zipper. The zipper extends far down the sides of the backpack, making it easy to get to gear. You get a double set of daisy chain loops on the exterior of the pack that you can use as attachment points for accessories or a net. YETI also included three grab handles — one at the top and two at the sides. You might be thinking, who cares about extra grab handles, right? We do — and you will, too. Here's why: You're going to stow your pack deep inside of your car, in the back of a pickup, or in a boat, and having multiple grab points will make it easy for you to reach over other gear or obstacles and grab the pack. Plus, you could use the side grab handles as a lashing point for a rod case or other gear. (Read our full YETI Panga review for more detail.)
YETI also includes an interior sleeve for a laptop, tablet or simple organization, along with a mesh interior pocket that's great for keys. The waist belt is just a strap, but you can also easily remove it if you don't need it. If you want a little exterior waterproof storage for smaller odds and ends, you can add the YETI Sidekick Dry to the rear of the Panga Backpack via the aforementioned daisy-chain grid attachment points.
Check shipping/pricing: Amazon | Moosejaw | REI | YETI
6. L.L.Bean Waterproof Switchpack
The L.L.Bean Waterproof Switchpack includes a built-in chest pack that you can swap from the rear of the pack to the front of your backpack straps for easy access to accessories _while you're fishing_. For the hike out, you can return it to its place at the rear of the pack. So cool.
The 30-liter main compartment uses an efficient and effective roll-top closure system that is completely waterproof. The body of the pack is constructed from a durable TPU-coated double ripstop nylon fabric. The thermo-formed back panel won't absorb water, so it'll keep doing its job even in the rain. The waist belt has handy zip pockets on each side. The main pack also includes two sets of side rod case straps. The chest pack has room for fly boxes and multiple attachment points for zingers and accessories. A D-ring at the top of the pack is a ready attachment point for a net.
Check shipping/pricing: L.L.Bean
Extra Waterproof Fishing 

Backpacks to Consider

:
The Grundens Gage Rum Runner 30L Backpack is a great sub-$100 waterproof backpack option, while the Cabela's Boundary Waters Backpack is a large but affordable pack.
Best Non-Waterproof Fishing Backpacks
The best non-waterproof fishing backpack usually excels in gear organization and comes packed with pockets and attachment points. In fact, all of the fishing backpacks noted below have lots of pockets and lots of accessory gear attachment points. These are our favorites:
7. Fishpond Bitch Creek Tech Pack
The Fishpond Bitch Creek Tech Pack is built from recycled commercial fishing nets, so the pack has already seen some fish, one way or another, and recycling fishing nets all just sounds like good mojo to us. As for the pack itself, it's pretty impressive: While the main body of the pack is straightforward and simple, the back panel has plenty of cushion and mesh for carrying heavy loads in hot weather . . . and the shoulder straps are cushioned with load levelers. The interior has a hook for a water bladder. The coolest feature of the Bitch Creek Tech Pack is that it includes the Fishpond Medicine Bow Chest Pack. You can clip this chest pack on the front shoulder straps while you're fishing . . . or you can clip it to the rear of the backpack while you're hoofing it to your next location. Or you can leave the main pack in camp and just take the chest pack out fishing. So cool.
Check shipping/pricing: Amazon | AvidMax
8. L.L.Bean Rapid River Vest Pack
The L.L.Bean Rapid River Vest Pack is part backpack, part vest. This popular, best-selling L.L.Bean favorite is loaded with fly fishing-specific features. The rear of the pack isn't particularly huge, but you do get one large hydration bladder-compatible compartment, a small zip stash pocket, and a larger zippered pocket. There is a rod-tube holder on one side and a water bottle pocket on the other. The hip belt has two zippered pockets, too.
Meanwhile, the front is a full-on, multi-pocketed vest with attachment points for key fly fishing accessories like forceps, nippers, and fly floatant. Plus, you get two built-in zingers! As for pockets, you get a whopping eight zippered pockets, including two larger pockets suitable for bigger fly boxes. We particularly like the mesh front pockets, which are great for stashing odds and ends like strike indicators.
Check shipping/pricing: L.L.Bean
9. Simms G4 Pro Shift Fishing Backpack
The Simms G4 Pro Shift Fishing Backpack has a built-in swing-around waist pack that you have to see to believe. Basically, the bottom of the rear part of the pack has a passthrough section where a waist pack tucks in behind your lower back. When you need to access fishing gear, all you have to do is rotate your waist belt to bring the waist pack to the front. Super cool. When you're ready to fish, just rotate it back out of the way.
The rest of the pack is more traditional: The top portion of the pack is roomy enough for jackets, lunch, and more fishing gear. You also get a couple smaller zippered stash pockets. The back also has a pass-through net holder. You can lash a rod tube to the side of the back, and you also get a massive stretch mesh water bottle pocket. For support, the G4 Pro Shift also has a rigid removable stay you can use to customize the fit. The Simms G4 Pro Shift is the most expensive backpack on this list — it's designed for professional fishing guides and anyone who really has to cover ground with a lot of gear.
Check shipping/pricing: Aventuron | Simms
10. Simms Freestone Fishing Backpack
The 35-liter Simms Freestone Fishing Backpack has a sporty low profile that still holds the gear you need for a full day on the water. We especially like the front backpack strap chest pocket and accessory attachment points. You also get two water-bottle pockets, a spot to last a rod tube, a pass-through net pocket, and a few internal stash pockets for small item organization.
One handy feature is that the main pocket zips all the way down the sides so you can access gear in the bottom of the pack without going in from the top.
Check shipping/pricing: Aventuron | Fishwest | Simms
Extra

 Fishing Backpacks to Consider:
The Orvis Safe Passage Angler's Daypack is a solid and simple fishing backpack that really comes alive best when you pair it the Orvis Safe Passage Chip Pack that clips onto the shoulder straps of the Orvis backpack.
The VEDAVOO Spinner Deluxe Daypack is handmade in America and has a simple-but-utterly-functional vibe. It's designed to ride higher on your back for those times you wade deep.
Best Fishing Backpacks for Spin Fishing or Casting Rod Enthusiasts
If you're looking for a fishing backpack that's more tuned toward spin fishing or bait casting types of tackle, there are three fishing backpacks that stand out from the rest:
11. Shimano Black Moon Fishing Backpack
The Shimano Blackmoon Fishing Backpack has multiple pockets and is built much tougher than most fishing backpacks with a similar design. The best feature is the zip down panel that reveals four Plano utility boxes for hardcore tackle organization, but you still get multiple gear storage options, including a side pocket that lets you tuck away a fishing line spool but feed the line through a small hole for easy access.
12. Spiderwire Fishing Backpack
If you're a Spiderwire fan, the Spiderwire Fishing Backpack is the fishing backpack for you. It includes three medium-sized utility boxes with an adjustable main compartment. We like the foam-molded sunglasses case, of course, even though we're almost always wearing our polarized sunglasses anyway.
13. Wild River RECON Lighted Backpack
The Wild River RECON Lighted Backpack is packed with features: You get lots of pocket storage, a protective rain cover, a removable plier holder . . . but the built-in LED light system is this fishing backpack's claim to fame. Obviously a good choice for those who fish at night.
14. Wild River Multi-Tackle Large Backpack
The Wild River Multi-Tackle Large Backpack is very similar to the RECON . . . but without the lights. The large upper storage area has a removable divider. The front pocket cover folds down to give you a handy workbench. You can choose to buy the pack with or without four utility boxes. Includes a waterproof pouch for car keys, phones, maps, etc.
15. Bass Pro Shops Extreme Qualifier 360 Backpack
The sub-$30 Bass Pro Shops Extreme Qualifier 360 Backpack is hard to beat for the price-to-value ratio. It has a large main storage area and plenty of pockets for organization. You can also unzip the bottom section from the main backpack to change up the access while you're on the water. Bass Pro Shops even lets you add three made-to-fit lure boxes to the pack at purchase for a nominal increase in cost.