Disclosure: Man Makes Fire is reader-supported. When you buy gear using retail links on our site, we may earn an affiliate commission that helps pay for our work. Learn more.
The best wading boots for 2022 need to fit your budget, but they also need to fit your desired fishing conditions and fishing style. In this gear guide to the 10 best fly fishing wading boots, we pick our favorite boots for durability, agility, traction and overall price-to-value.
Along the way, we'll share the key features you need in a fly fishing wading boot. Plus, we'll show you how to decide between felt soles or rubber soles on your wading boots.
And the question of your budget? Casual weekend summertime fishers can usually get excellent results from entry-level and midrange boots, but if you fish more than 20 times each year, a more expensive wading boot will be your best-buy wading boot . . . because it will last more than twice as long as budget-focused beginner wading boots.
Before we dive in to our wading boot picks, you should know that the best wading boots are designed to be used with stockingfoot waders, which have thick neoprene booties that will take up space inside your wading boot. Consequently, what size wading boot should you get? Most manufacturers are now recommending that you choose a size one size up from your normal U.S. street shoe size. For instance, if you're a size 11, order a size 12 wading boot. This is how Simms, Orvis, Redington, and Korkers size wading boots — but not all do it this way. We recommend that you double-check the sizing charts as you buy online.
But what if you don't want to wear waders at all and you just want wade around in shorts on hot summer days in cool streams? Great question. We love hot summer fly fishing in just our wading boots. Here's how you do it: You could size down, but the best way is to get a pair of neoprene socks, which will take up the extra space in your boot.
Table of Contents:
What about the best wading boots for women? In years past, most women had to choose smaller sizes of men's boots, but now some manufacturers are specifically making wading boots for women that are sized appropriately to women's feet. Skip down to our Best Wading Boots for Women section for the top wading boots for women for 2022.
Need the best wading boot for saltwater? Jump to our Best Saltwater Wading Boots recommendation below for more detail.
Best Wading Boots: Felt vs Rubber Soles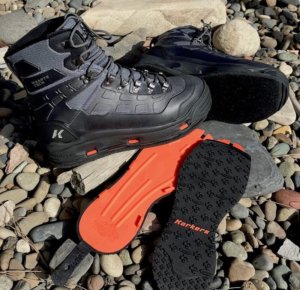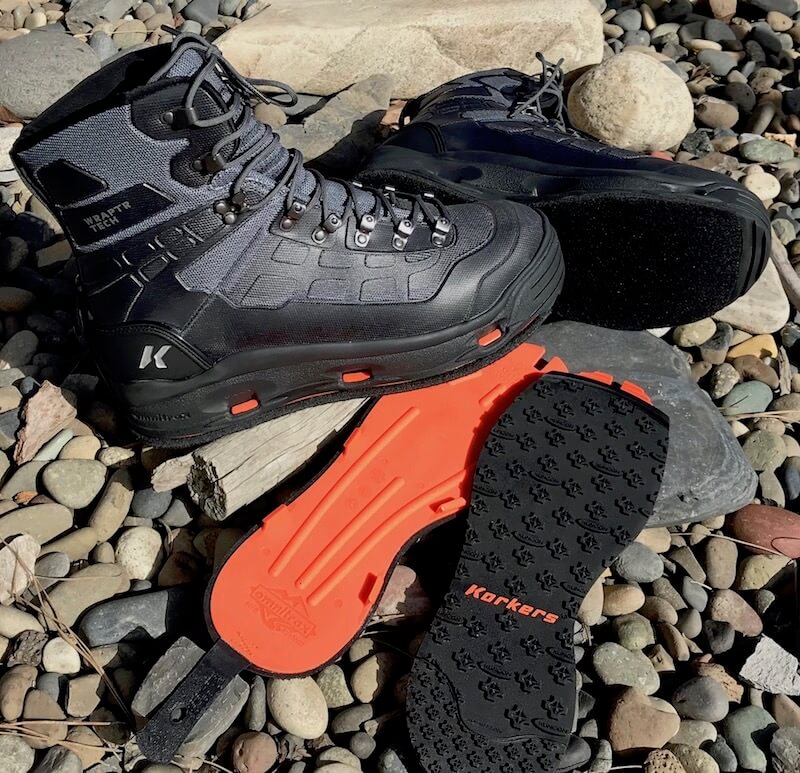 Before you choose a pair of wading boots, you should first consider the question of traditional felt vs rubber soles. If you primarily fish in rivers and lakes in a state that has banned felt soles, you're answer is simple: Choose rubber-soled wading boots.
Which states have banned felt soles? Alaska, Maryland, Missouri, Nebraska, Rhode Island, and South Dakota.
So why have these states banned felt soles?
The suspicion is that invasive species can get lodged in the felt sole of your wading boot and hitch a ride from one waterway to another. While possible, the risk is low for most fly fishers, partially because most people don't get to fish multiple areas in quick succession. Still, if you plan to fish in waters with invasive species problems, choose rubber-soled boots. Of course, bad critters, like the invasive New Zealand Mud Snail, can hitch rides on most any gear. If you're going to fish problem water, be sure to thoroughly dry all your gear in the sun and/or disinfect it between trips.
On the other hand, felt soles offer traction on wet, slick rocks that is hard to beat. On dry land? Rubber is usually better. For more detail, skip down to Why choose wading boots with felt soles?
Best Wading Boots for Fishing 2022
Here are our favorite 10 Best Wading Boots, ranked based on overall durability, features and price-to-value. Frankly, there are only a handful of wading boot manufacturers that we trust — it's already hard enough to find time to get out on the water, so why struggle with bad boots?
All of our top ten wading boot brands produce several different styles — more than we mention, all trustworthy — but these are the wading boots we most consistently recommend:
1. Simms G4 PRO Wading Boots
Simms consistently produces high-quality gear, and pretty much any Simms wading boot could arguably be one of our best wading boots because they tend to last a very long time; however, the newly updated G4 PRO Wading Boot with Vibram Soles is tough to beat. These extremely stable wading boots are built with neoprene internals for added warmth and comfort, and the soles accept optional cleats from Simms for extra traction. The upper is vacuum-molded with stitchless TPU overlays for abrasion resistance. The new lacing system is low-profile and uses non-corrosive hardware.
The roomy toe box is covered with a burly rubber toe kick. Of course, Simms offers a felt sole version, which can also accept studs if you're looking for improved traction over land. Note: Choose 1 size up from your regular shoe size for the proper G4 PRO fit with waders, for example, if you wear a size 11 shoe, you should order a size 12 in the G4 PRO.
Shop the Simms G4 Boots at:
Simms | Aventuron | Backcountry | Trident Fly Fishing
_______________________________
2. Patagonia Foot Tractor Wading Boots by Danner
Patagonia shook up the wading boot world by partnering with Danner, a Portland, Oregon manufacturer of some some of the best work boots in the world. Built by Danner, the new Patagonia Foot Tractor Wading Boots have been totally redesigned to offer better durability, fit and comfort. These burly boots promise to deliver all-day stability and last through years of abuse. The traction starts with grippy Vibram Idrogrip rubber but then moves to another level with Patagonia's patented aluminum bars. The bars cut through slime and provide a great bite on rock. While the previous generation of bars spanned the width of your foot — which we liked very much — this new version has two bars that are split under your forefoot. The new design lets the sole flex so the bars can better conform to the surface of rocks.
As for weight, the Patagonia Foot Tractor Wading Boots are big and burly and weigh in at about 86 ounces per pair. The boots are made with waterproof full-grain leather with 1,000-denier nylon paneling. Any cons? The Patagonia Foot Tractor Wading Boots are easily the most expensive boots on this list, but they're made in the U.S.A and backed by Patagonia's Ironclad Guarantee. When it comes to sizing, Patagonia recommends that you stick with your regular street shoe size if you plan to wear the Foot Tractor Wading Boots with typical stocking foot waders (don't size up when ordering).
Shop the Patagonia Foot Tractor Wading Boots at:
Patagonia | AvidMax | Backcountry
_______________________________
3. Orvis PRO Wading Boots
The Orvis PRO Wading Boots start with a collaborative partnership with Michelin — that's right, the tire company. The Orvis PRO Wading Boot uses a rubber sole compound specifically designed for fly fishing. The resulting Michelin Outdoor Extreme outsole promises to deliver great abrasion resistance while improving wet rubber traction. But Orvis didn't stop there: The company partnered with Ortholite to create a 3D molded X25 insole designed for high-impact sports. The cast PU upper eliminates seams and is shaped into what Orvis is calling a zoned cage to added stability. The Orvis PRO boot has a high ankle for extra support. The front of the sole extends up for toe protection, along with a burly scratch rubber toe bumper. One last note: We especially like the large heel pull for easy on/off.
Shop the Orvis PRO Wading Boots at:
Orvis | Fishwest | Trident Fly Fishing
_______________________________
4. Simms Flyweight Access Wading Boots
The new for 2022 Simms Flyweight Access Wading Boot is not to be confused with our previous year's favorite ultralight wading boot, the Simms Flyweight Wading boot (previous generation review here). The new Flyweight Access shares a similar lightweight and agile build design, but the key difference is the use of a new exclusive-to-Simms Vibram Idrogrip Flex outsole. It's engineered with a softer rubber compound that makes it the grippiest rubber-soled wading boot Simms has ever made. Does it have any drawbacks? Softer rubber compounds wear down faster than harder rubber compounds, which means the Flyweight Access Wading Boot won't last as long as the Simms G3 Guide or G4 PRO wading boots. However, if you want lightweight comfort and a rubber-soled grip that approaches the performance of felt, the Flyweight Access might be the right choice for you. As for construction, you still get the durable welded TPU overlays in high-abrasion areas as well as the rubber toe rand we appreciated so much in the previous Flyweight version.
Shop the Simms Flyweight Access Wading Boots at:
_______________________________
5. Orvis Ultralight Wading Boots
Orvis says the quick-drying Clarino microfiber in the Orvis Ultralight Wading Boots provide a better strength-to-weight ratio than leather. They're super light — the size 10 weighs in at about 1.25 pounds (40 ounces for the pair). If you have bad ankles, note the lower ankle height than what you get with most wading boots — but we actually like the extra nimble feeling that comes with shorter wading boots. In fact, we believe the shorter ankle height helps deliver more feel from the boot as you walk over uneven ground, resulting in better balance and agility. The overall fit is a bit small and definitely snug with standard stocking foot waders, so be sure to size up if you're a half size in your street shoes. Any downsides? The Orvis Ultralight Wading Boots only come with a rubber sole, but they do accept Orvis's PosiGrip Screw-In Studs for extra traction. Read our full Orvis Ultralight Wading Boots Review for more detail. All-in-all, if you want a lightweight packable wading boot, the Orvis Ultralight Wading Boots should be on your shortlist.
Orvis Ultralight Wading Boots
Benefits
Lightweight and nimble
Great ground traction for hiking to water, scrambling on banks
Excellent durability
Drawbacks
Would like to see a size 15 available (for size 14 feet)
Shop the Orvis Ultralight Wading Boots at:
_______________________________
6. Korkers Devil's Canyon Wading Boots
The Korkers Devil's Canyon Wading Boots are far better wading boots than they might appear at first glance. In fact, they've turned into our favorite interchangeable-sole Korkers boot. Here's why: The Devil's Canyon is a fairly lightweight and nimble boot. The upper extends above the ankle and provides surprisingly good support — it almost molds to your ankle. And yet, somehow the Devil's Canyon feels nimble when you're scrambling over rocks. Better yet, the M2 Boa lacing system is easy to adjust and it opens wide, making entry and exit easy. In addition, the mostly one-piece design fends off sticks and rocks. The stitching around the caps is recessed, which further protects the stitches from wear.
Meanwhile, the Korkers claim to fame is the company's OmniTrax Interchangeable Sole System, which lets you switch from felt to rubber or even to studded rubber soles. Incidentally, if you're in a state that has banned felt, the Korkers Triple Threat Aluminum Hex Sole option (read our Triple Threat Hex Sole review for more detail) delivers truly outstanding traction.
Shop the Korkers Devils Canyon Wading Boots at:
Amazon | Korkers | Trident Fly Fishing
_______________________________
7. Redington 

PROWLER-PRO

 Wading Boots
The Redington PROWLER-PRO is Redington's best wading boot and offers an excellent price-to-value ratio. In fact, it's our favorite wading boot in the under $200 price range. The PROWLER-PRO is surprisingly light, nimble and stable, which makes them a great choice for active anglers. They run very slightly large yet boast out-of-the-box comfort. The toe box is generous but the fit snugs down easily. We've put many miles on the previous generation Prowler wading boot, and the new PROWLER-PRO promises to deliver similar durability — read our first-look PROWLER-PRO full review for more detail. Redington has improved the drainage, cut weight, and modernized the overall design. We especially appreciate the new heel step ledge, which makes kicking off the boots after a long day of fishing super easy. Oh, one more thing: The Redington design choices for color and materials look great in person.
The sticky rubber is good when wet and is stud-compatable for extra traction. We've had multiple reviewers spend time in these boots and they all love the blend of stability and feel. They're also available in a felt-sole version.
Shop the Redington Prowler-Pro Wading Boots at:
AvidMax | Aventuron | Backcountry
_______________________________
8. Simms Tributary Wading Boot
The Simms Tributary Wading Boot is our top entry-level wading boot pick. It offers a great blend of long-term durability at a price point that's still affordable for those who are starting to get more serious about spending time in the water fishing. Simms redesigned its latest version of the Tributary with a more streamlined, rugged construction, including new corrosion-resistant lacing hardware. The neoprene lining improves comfort, and the front and rear loops make entry and exit easy. The rubber toe cap is huge, which fends off sharp rocks. The rubber sole isn't the same Vibram Idrogrip material found on Simms' higher-end boots, but it is stud compatible if you need extra grip. Simms also makes a felt-version.
Shop the Simms Tributary Wading Boots at:
_______________________________
9. Korkers Greenback Wading Boots
The Korkers Greenback is Korkers' entry-level wading boot — and it's a great value. You can sometimes find the Greenback with just one sole included at a slightly lower price point, but we recommend you go with the felt and rubber sole option if possible. It's just more versatile. Despite being an entry-level boot, the OmniTrax Interchangeable Sole System is just as good as it is on Korkers' high-end options, including the Devil's Canyon Wading Boot noted above. The stitching, materials and build quality is durable. The overall design is classic and solid. The hydrophobic synthetic-leather and textile uppers dry fast. The traditional lacing system works well when wet and helps you dial in the fit if you want a tighter forefoot or looser ankle — or vice versa. With the interchangeable OmniTrax soles, the versatility at this price point is excellent.
Shop the Korkers Greenback Wading Boots at:
Amazon | Korkers | Bass Pro Shops
_______________________________
10. Cabela's Ultralight Wading Boots with Felt Soles
The affordable Cabela's UltraLight Wading Boots punch well above their weight — and they ship with 28 hardened-steel cleats that can be added for extra traction. They have side mesh panels for drainage, steel shanks for stability, scuff-resistant toes and heels. Plus, they come in a rubber lug sole option, also with screw-in cleats. The total combination of features and price make these boots easy to recommend for anyone on a tight budget. In fact, the Cabela's felt sole wading boots are the only boots under $80 that we think are worth the investment. As you might expect, Cabela's does offer a burlier option — the Cabela's Felt-Sole Wading Shoes — but they cost more, too.
Shop the Cabela's Ultralight Wading Boots at:
_______________________________
Best Wading Boots for Women
Wading Boot FAQ
What kind of boots do you wear with waders?
The best boots to wear with stockingfoot fishing waders are wading boots designed specifically to be worn with stockingfoot waders. Wading boots are sized larger than regular boots so the boot has room for your socks as well as the neoprene stockingfoot bootie on waders. Can you wear oversized hiking boots with waders? Technically, yes, but hiking boots usually have harder rubber soles that are slicker on wet surfaces. Plus, hiking boots are more likely to fall apart after repeated dunkings and extended underwater use.
Who makes the best wading boots?
Simms, Orvis, Patagonia, Korkers, and Redington make the best wading boots.
Why should I choose wading boots with felt soles?
The bottom line is that felt soles offer the best grip on wet, slippery rocks. If you're wading in gravel or small rocks with gentle shores that have lots of traction, felt soles don't provide much of an advantage over rubber soles. On a mix of big round and flat rocks covered with slick slime, though, felt wading boots usually win out when it comes to traction in the water. Aside from being banned in five states and some countries, the disadvantages of felt is that felt soles can wear thin if you spend a lot of time walking on shore or on trails to get to the water.
Shop Simms, Patagonia, Orvis, and Korkers wading boots from Backcountry.com and FREE shipping on most orders over $50!
Why should I choose wading boots with rubber soles?
Rubber-soled wading boots have come a long way over the last few years. While they aren't as good as felt for wet wading in most streams, the gap has closed considerably as rubber technologies and tread designs get grippier. In addition, the best rubber-soled wading boots come with metal studs or the ability to screw in studs for extra grip on slimy rocks. The core benefit of rubber-soled wading boots is that they are much more grippy on the banks and trails around rivers and streams — and they aren't affected by the aforementioned felt bans. Incidentally, we're starting to see manufacturers trend toward rubber soles for their newest wading boots, likely due to concern for regulations and possible invasive species issues.
What is the best saltwater wading boot?
While you can use most high-quality wading boots as a saltwater boot, the best saltwater wading boots avoid cheap metal hardware that can corrode in harsh marine environments. Still, it's always a good idea to rinse your boots with freshwater after saltwater fishing trips.
Simms FreeSalt Saltwater Wading Boots — These boots are built with non-corrosive materials, making them great for coastal and brackish-water fishing where salt can destroy your fishing gear.
Concerned About Balance or Falling Down?
If you have trouble with balance or ankle stability, your most important piece of gear might not be the best wading boots — you should invest in a good wading staff to help you navigate tricky water and trails. In addition, consider an automatic or instantly inflatable life jacket vest for optimum safety in fast or deeper water.
Need Waders, Too?
Check out our guide, The 10 Best Fly Fishing Waders for the Money.