Disclosure: Man Makes Fire is reader-supported. When you buy gear using retail links on our site, we may earn an affiliate commission that helps pay for our work. Learn more.
Finding the best gifts for campers in 2022 might seem hard at first — after all, camping fanatics have much of the gear they need for their weekend outdoor adventures. That's not game over, though: Campers have a tendency to wear out their camping gear, which means your best camping gift can be a replacement upgrade. In addition, most campers appreciate cool camping gadgets.
Want to scroll directly to our gift list fast? Use the button:
Best Camping Gifts for 2022
We take pride in our gift guide for campers and camping enthusiasts because we not only recommend a particular can't-go-wrong camping gift, we also tell you why our choices are cool gifts for campers.
Here's just one example: We have a buddy who now has three kids. Suddenly when you do the family math, including the dog, their old 4-person tent just isn't big enough. Boom, there's your opening for a great camping gift. A 6-person or even 8-person tent would make a great camping gift idea for this guy and his family. If a tent is on your gift list, be sure to check out our guide to the best camping tents.
Table of Contents:
What to get someone who likes camping?
If you're wondering what to get someone who likes camping, the best gifts are often camping gear upgrades. For example, everyone needs camp chairs for camping, but most outdoor lovers and campers settle for uncomfortable chairs. A can't-go-wrong camping gift is an awesome camp chair like the super burly YETI Trailhead Camp Chair (review here) or the cool NEMO Stargaze Luxury Recliner. If these camp chairs exceed your budget, you can still find some excellent and affordable Kjaro Dual Lock Portable Camp Chair.
You can also look for camping gift clues. Has your camper complained about sleeping arrangements? Has an air mattress failed? Could they use a luxury or ultralight air mattress replacement? How about a camping cot?
If your camper uses an RV or a camp trailer, consider how you can improve their camping experience outside of the RV — hammocks are pretty fantastic, as are pop-up sun shades with mesh walls that keep the bees and mosquitos out.
Meanwhile, what are our favorite camping gifts for 2022? Which are the best camping gadget gifts? The best camping stocking stuffers? Unique camping gifts for campers who have everything?
'Favorite 5' Camping Gift Ideas for 2022
Before our list dives into the special categories — like Under $25 — these are camping gear gifts that camping enthusiasts likely don't have yet. They are our 5 favorite can't-go-wrong camping gifts for the year: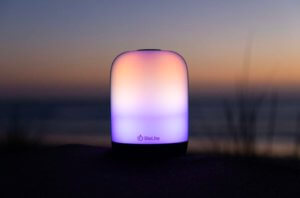 The BioLite AlpenGlow Lanterns are our new favorite camping lanterns. In fact, they're so good we grab them for impromptu events like backyard get togethers with the neighbors. These rechargeable lanterns come in two sizes, 500 lumens or 250 lumens. They can deliver 8 different lighting modes, including an excellent Cool & Warm white light that is super usable while cooking at camp in the dark. But they also deliver playful lighting options you can start just by shaking the AlpenGlow. They include Candle Flicker and changing party colors. You can hang them from the built-in nesting hook — or rest them on a tabletop. So versatile: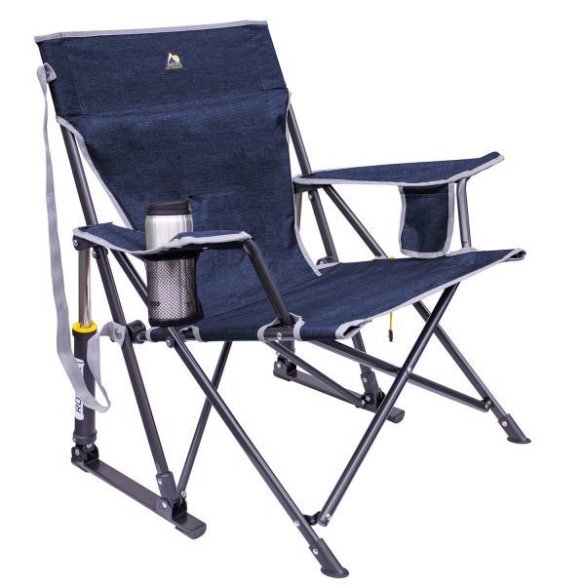 If you bring a GCI Outdoor Kickback Rocker Chair camping, rest assured, it'll be popular among your fellow campers. Unlike traditional rockers that have curved legs, the Kickback Rocker Chair uses an innovative piston design that delivers a relaxing rock . . . but still lets you fold up the chair for packability. And the price point? Surprisingly affordable.
Shop the Kickback Rocker Chair at Bass Pro Shops and get FREE Shipping!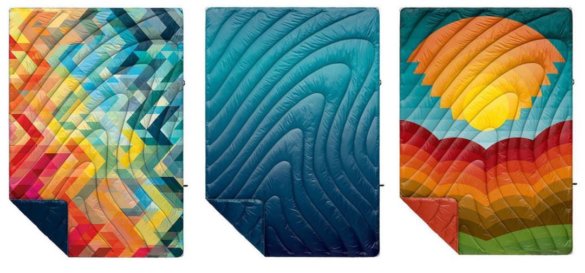 Rumpl didn't invent camp blankets, but the company modernized the concept by using outdoor-ready materials and a sleeping bag vibe. Our favorite is the wildly popular Original Puffy. It's designed for tents, camper vans, and wrapping up in camp chairs while you sip coffee on cool mornings. It has a durable ripstop shell with a DWR coating and it's machine washable. Most are 52″ x 75″ but if you want a larger option, some Rumpl patterns come in bigger 2-person versions. In any event, Rumpl's high-quality outdoor blanket success has caught on: Other outdoor gear manufacturers are making excellent competitive options — but we must say, Rumpl leads in style: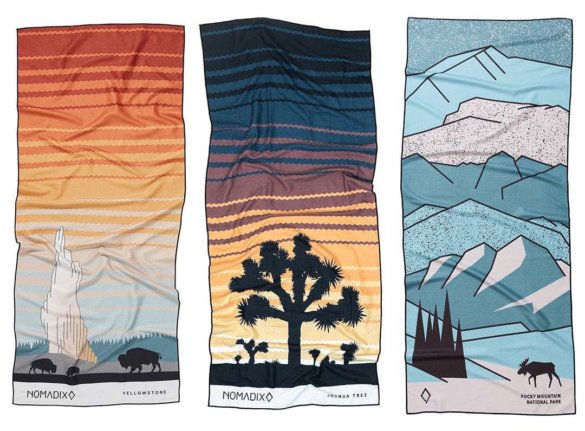 If your camper loves our National Parks, Nomadix has a special 'National Parks' series of lightweight, quick-drying towels. They're oversize at 30″ x 72″ yet pack down to a camping and beach-friendly 7″ x 3.5″ — making them ready for whatever your camping enthusiast is out doing . . . like cooling off in a roadside river or hiking to a mountain lake on a hot summer day. Note: If you like the towel idea but want a thicker, bulkier, more traditionally cotton beach towel, check out L.L.Bean's Seaside Beach Towels.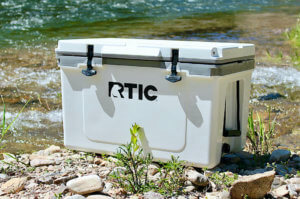 RTIC's Ultra-Light Cooler won us over this summer because it delivers the cooling power of a heavy rotomolded cooler but weighs 30% less. This cooler has thick insulated sidewalls — and it's still a rugged cooler — but the 52-quart midsize camping cooler weighs just 21 lbs. For more detail, check out our full RTIC Ultra-Light Cooler Review or just nab one of the cool new color patterns direct from RTIC (and get free shipping).
Camping Gifts Under $25:
Best camping gift for outdoor lovers.
There are many reasons why the BioLite SunLight Solar Lantern makes a great camping gift, starting with the fact that it works supremely well. It puts out a soft-yet-bright light that you can prop up or hang pretty much anywhere. We use it outside at camp as well as hang it up inside our tents. It's just excellent. Plus, the price is right, and for the build quality, the price-to-value ratio is outstanding. You can charge it at home or in your vehicle via a USB charger — just like your smartphone — or you can set it up to collect rays from the sun during the day. The solar charger even includes a peep sight that lets you orient the BioLite SunLight Solar Lantern for maximum solar charging efficiency. And here's a hint: Buy an extra one for yourself. They're that good.
BioLite SunLight Solar Lantern
Pros
Solar charging as well as USB charging
Ultralight and packable
Excellent light output plus a color party mode
Best roasting sticks, under $20.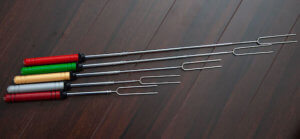 The Rolla Roaster Marshmallow and Hot Dog Roasting Forks have been around for decades — made in America in Idaho — and they're awesome. The Rolla Roaster forks fit in most camp boxes but are expandable up to 42 inches, which is longer than most knockoff roasting forks. Better yet, the Rolla Roaster lets you rotate the fork with a knob attached to the handle. You want perfectly roasted marshmallows? Rotation is the key. You can even roast and rotate with just one hand. So good.
Under $10.
Toast is even better when you're camping, and we don't know why. Trouble is, how do you toast bread while camping without hopelessly burning it? There are ways to get it done, but the easiest way might be with the Stansport Folding Camp Stove Toaster. You simply place it over your camp stove burner. Works for bagels, too. Because it folds, it stores well in your camping gear box.
Under $10 stocking stuffer!
The Nite Ize LED Micro Lantern is a great stocking stuffer for camping and outdoor lovers. First, the clip lets you clip it to your clothes, to the interior roof of your tent, or to a tree branch. The light puts out a wide swath of usable light that will last up to 60 hours. Most every camper can find a way to use this little light, and outdoor enthusiasts will, too.
While we appreciate high-end and ultralight air mattresses, it's nearly impossible to beat the price-to-value-to-comfort ratio of an Intex Durabeam Airbed air mattress. The entire Intex line is very inexpensive yet reasonably durable and surprisingly comfortable, making it a great inexpensive camping gift. Because they're so thick, they absorb and protect you from rocks, sticks or roots underneath your tent. While we're also fans of ultralight camping air mattresses and luxury sleeping pads — check out our guide to the best backpacking and camping sleeping pads to learn more — the Intex Durabeam Airbed is outstanding for the low price point. Also available in twin and queen sizes at Walmart.com.
Fantastic for dispersed camping sites on public land — and handy for emergencies.


When you need to pack more than a gallon of clean drinking water to your campsite, you want the 7-gallon Reliance Products Aqua-Tainer. It's durable, inexpensive, BPA-free and it works great. We like to set one up in camp so that the water spigot is easy to access for filling water bottles or camp cooking.

These handy little light bulb-shaped camping lights can be clipped to the inside of a tent, an awning, or hung over a picnic or camping table. Handy, fun, inexpensive.
You don't really need the massive and powerful UCO Titan Stormproof matches for most camping situations — standard matches will usually do the job — but that's not the point here. The Titan Stormproof matches are windproof and burn for up to 25 seconds. They even stay lit under water. They come in a waterproof case. These are the emergency matches an outdoor enthusiast can throw in a daypack for a hike. As for camping, when the conditions are windy and wet, the Titan Stormproof matches might save the day.
Campers can often use a good shovel, but few campers want to pack around a full-size shovel. Enter the SOG Folding Survival Shovel. This shovel packs down small but it's stout. You can fold and set the spade to work as a traditional (albeit small) shovel or set it at 90-degrees to use it more like a pick or hoe — which is handy if you need to dig a small trench to prevent rainfall from seeping under your tent. You can store a folding shovel in a camp box, or better yet, just leave it in your vehicle.

The Coghlan's Inside Cooler Lid Light is a motion-activated cooler light that you install on the inside lid of a cooler. When a camper opens up the cooler, the light will come on, illuminating the interior contents. And then it automatically turns off. If you're ever struggled to find the right drink in the dark of night, this camping gift is for you.
Usually under $30 … great for windy camping and softer soils!
If there's one thing we know about tent camping, it's that you never have enough stakes. The Orange Screw ground anchors are lightweight and screw into the ground using an included tube for leverage. The result is that your tent, sun shade, bug house, awning or privy will stay staked down in the wind. They're great for high-wind areas, and they can work better in soft soils and sand than typical tent stakes. The Orange Screw is manufactured in the USA, and if you manage to break one, the company will replace it.
Seems silly, but it's surprisingly great for camping!
The most surprisingly useful camping gift has to be Coghlan's Pop-Up Trash Can. This little wonder collapses for easy travel but springs to life with ease. You can line it with trash bags and it will stand upright on its own. So handy.
If you've ever had yellow jackets or hornets swarm your picnic table and ruin a good outing, you know that bug protection in the wild is a thing to consider. The Stansport Pop-Up Mesh Food Covers are great for protecting your table-top food while camping. For instance, if you have a plate of hotdogs, yellow jackets won't be able to get to them if they're covered. A simple but powerful solution here.
Camping Gifts Under $50
One of the best ways to reduce reliance on bug sprays.

Mosquitoes have the power to ruin an otherwise great camping trip. Some people are more susceptible to mosquitos, and if your camper has a guest who gets itchy red bumps from the little buggers, plenty of bug repellent spray is one answer. An even better answer is the ThermaCell Radius Zone Mosquito Repellant. It creates a 110-square foot zone of protection around your picnic table, camping table or campfire area. So cool. Most campers haven't splurged on a ThermoCell, but we can almost guarantee that if you buy one as a gift for your camping enthusiast, it'll get used. Of course, in addition to this camping-specific model, Thermacell offers mosquito repellers for your patio, for backpacking, and for hiking. We also like the Patio Shield Mosquito Repeller Lantern.
The lantern you want for bad bug nights.
While white light can attract a swarm of nighttime insects, amber light does not, which is where the Cabela's Bug-Proof LED Lantern shines. The lantern has two main modes: One uses high-flux LEDs that produce up to 400 lumens of glare-free white light white while the other switches the bulbs to an amber mode. The amber light isn't quite as bright, but it's serviceable, and better yet, it doesn't attract bugs! We're big fans.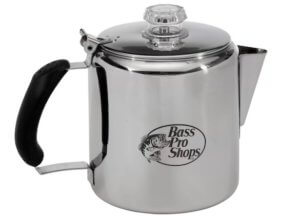 The stainless steel construction makes this camping coffee pot a gift for the ages. It's available in multiple sizes. The durability is outstanding. The Bass Pro Shops Stainless Steel Coffee Pot is percolator-based, so you're bound to get a few tiny coffee grinds in the bottom of your pot and cup, but that's part of camp coffee charm. However, if you want to brew coffee just like you do at home with a drip system, check out the Coleman Stovetop Coffee Pot — it fits over your camp stove burner and uses paper filters like a standard drip coffee maker.
Perfect for off-grid adventurers and family camping.
A bunch of inexpensive portable camping shower systems have hit the market lately, but the KEDSUM Portable Camping Shower gets our recommendation because it includes an extra battery as well as a handy spray nozzle. All you have to do is drop the submersible pump into a bucket of warm water, and boom, you have an instant shower. The kit also comes with a hook holder and a suction cup holder for the shower nozzle, giving you options for placing the shower head up high. The two USB-rechargeable 2200mAH batteries each last for 45-60 minutes with a full charge. (If you need an ultraportable bucket, check out our camping bucket recommendation below.) Remember the extra spray nozzle? You can use it to wash off muddy gear or even wash the family dog before you head home. So cool.
Great for any outdoor adventurer. 
The Friendly Swede Collapsible Bucket pairs well with the aforementioned camping shower, of course, but it's also great for washing camp dishes. Either way, buckets are must-have camping gear, if only for dousing a campfire before bed or leaving for a hike. The Friendly Swede Collapsible bucket, of course, collapses, so it's great for packability. It includes a handy removable mesh hang bag, which can hold the battery for the portable camping shower mentioned above. It also comes with a lid. The material is made from BPA-free, heavy-duty 500D PVC. It comes in three sizes, but we like the do-it-all 16-liter/4.23 gallon size best.
As far as we're concerned, every camper needs a good axe.

Some public lands like to see every visitor bring along a bucket, axe and shovel, especially if they plan to light a campfire. We're big fans of the Gerber XL Axe II because its 24.5″ overall length is long enough to be useful while it's small size remains packable for car camping. In addition, the lightweight glass-filled nylon handle is super strong and will last through years of abuse. While we're fans of traditional wood handles, we have a tendency to leave our axes either in vehicles or in pickup boxes where they cook and dry out over hot summer days, leaving you with a loose head on the axe. Not a problem with this Gerber. Plus, if you need to tap a tent stake into hard ground, the flat back of the Gerber XL Axe II head works great. Still want a great traditional axe with a wood handle? We understand. Try the L.L.Bean Hudson Bay Cruiser Axe.
Best camping light for fun groups.
The Luminoodle LED Light Rope for Camping is a waterproof, USB-powered LED string of lights. You can hang the string of lights around camp, which provides a fun, jaunty environment for both kids and adults. It comes in a nylon bag, and if you pack the string into the bag, it transforms into a more diffuse lantern-like light. The string has built-in connectors for attaching it to branches, your tent or vehicles. Just make sure you nab the version that comes with a battery pack, otherwise you'll need to supply your own portable battery charger with a USB connection. Alternately, we're fans of the Big Agnes mtnGLO Tent & Camp Lights, which uses three traditional AAA batteries. Both are great under $50 camping gifts.
Best camping gift for camping beyond the campground.
Our favorite camping toilet does away with water, flush and containment systems — the easiest way to use it is with Reliance Products Double Doodie Toilet Bags, but you could use it with black kitchen-size trash bags and kitty litter if you find yourself in a bind. Sure, it's not the funnest gift idea, but if your camper likes to go car camping in off the grid areas that don't have readily available outhouses, a camping toilet makes the call of nature much easier. It's fantastic for kids, so it makes a great gift for camping enthusiasts who have children. If you've ever had to suddenly pull off to the side of a mountain road, let's just say having a portable toilet for a kid who has to go now pays for itself on the first use. It also works with Eco Gel Port-A-Potty chemicals, which solidify liquid waste and help deodorize things. One note: If you do prefer to flush everything out of sight, try the Camco Standard Portable Travel Toilet.
A pop-up privy makes camping and traveling during a pandemic much easier.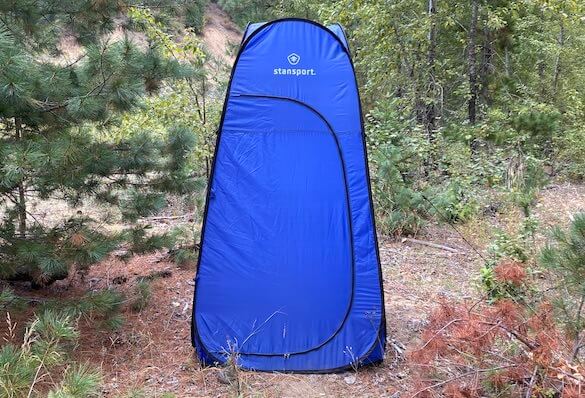 When traveling during the year of COVID-19, especially with kids, having an instant pop-up shelter is critical. You can stop in a safe place along your journey and popup a privacy shelter to go to the bathroom, assuming you have a portable toilet, of course. For camping, it lets you easily use dispersed camping sites on public land that don't have bathrooms or outhouses . . . and even if you have that option, you can avoid them if you have your own privy.
Every camper needs a first aid kit.
The camping first-aid kit gift idea is the least sexy camping gift idea, but it's arguable the most important: When you're camping, you're usually far away from medical attention and facilities, so having a great first-aid kit is a necessity. Sadly, most campers have poor first-aid kits . . . or none at all. So show your camper that you really care — and in the off-chance they seriously need it, they'll appreciate your smart thinking. Choose the appropriate size first-aid kit by Adventure Medical Mountain Series First-Aid Kits. The Explorer version is hard to beat, but the Hiker version is excellent, too.
Best camping accessory gift for tent camping.
The Coleman CPX 6 Lighted Tent Fan doubles as a light and a fan. You can hang it from the ceiling of your tent with a magetic plate or carabiner clip or use the included stand if you want to set it on the floor. If you've ever camped in hot weather, a little breeze inside your tent can kick the hot air out and help bring the cool air in, making it a great camping gift for hot summer campers — or anyone who gets stuck in the full sun in the last camping spot available.
Deceptively simple!

The Lunatec Aquabot Spraying Water Bottle is a deceptively simple camping gift. Basically, it's a water bottle with built-in pump that lets you add pressure, which lets you shoot the water out of the bottle in a stream or mist. It's great for washing hands and washing camping dishes without using much water, but it's also great for rinsing off dirty dog paws in camp and spraying off sand that sticks to legs and feet before you enter your tent or put on your shoes. As a first-aid tool, you can use it to irrigate a wound, and as long as you use clean water, wound irrigation is a very effective way to prevent infections. So yeah, lots of uses.
Headlamps are must-have camping gear.
The great thing about a headlamp is that it frees up your hands. If you're busy getting a family tent ready in the dark, a headlamp ensures that you aren't creating shadows from a flashlight or lantern. And when it's time to find your shoes in the dark, a headlamp makes it easy to tie them and make your way outside for a call of nature. And kids? Well, kids love headlamps. Makes them feel cool. The L.L.Bean Trailblazer Snap 300 Combo Headlamp puts out a respectable 300 lumens and converts to a bike light, lantern or magnetic area light. Definitely handy.  Try the L.L.Bean Trailblazer Junior Headlamp for kids — it features a full-color spectrum mode. Of course, most L.L.Bean orders over $50 ship free, which is also great.
The classic Crocs clogs are great for camping because they're inexpensive, comfortable, easy to slip on and off, and versatile. They're great for resting tired feet after a long day of hiking, but they're also capable of working as a serviceable water shoe for wading along rocky beaches. If they get wet, they dry fast. If get dirty, they're easily washable. Plus, they're available in gobs of colors and styles. It's pretty hard to go wrong with Crocs.
Camping Gifts Under $100
Best camping gift for hot, dry summers.
When the fire danger rises, many camping areas and camp sites ban campfires. Fortunately, some locations still allow propane-based fire rings. Either way, we're big fans of propane camp fire systems. Sure, propane fire rings are not as good as a real campfire with real wood and real coals, but the Camp Chef Propane Compact Fire Ring is surprisingly great. Plus, we must admit, it is nice to simply turn it off at bedtime rather than leave your campfire burning overnight or haul over some water to properly douse it.
Note: If the Camp Chef Compact Fire Ring runs out of stock, the less compact Outland Living Fire Bowl works well, too.
Because you can always use another camp table.
We have never met anyone at any camping spot where they said, "Geez, I wish we didn't have that extra camp table." Never. Camp tables are great for food preparation, for use as dining tables, and for playing games. They hold your drinks and give you a good spot to place a lantern. The best camp tables are made from lightweight aluminum with portable designs. Why aluminum? If you're cooking, you can remove a hot pot or pan from your camp stove and set it on the aluminum camp table surface. Vinyl and plastic camp tables will melt.
SOLD OUT?!?
If the REI Camp Table sells out, check out the Cabela's Deluxe Roll Top Table and ALPS Mountaineering XL Dining Table, both of which are also great, too. High-quality camp tables are another can't-go-wrong camping gift.
Best camping gift for campers who have everything.
If you give your camping enthusiast a hammock, they're going to put it use. Who doesn't like hammocks? We've never met anyone who doesn't. They're astoundingly comfortable, and the Eno DoubleNest Hammock is big and strong enough for two. Your camper can take a nap, read a book, or just chill. If you sit sideways instead of lay lengthwise, you turn the hammock into an ultra comfortable lounge chair. And kids? That might be your camper's biggest problem: Shooing the kids away so an adult can use the hammock. But wait, there's more: What if you only have two trees in your campsite but want to hang two hammocks? Try the Eagles Nest Outfitters ENO Fuse Tandem Hammock System. Of course, if your camper camps in areas without trees, what do you do? Nab the awesome ENO Nomad Hammock Stand — you can set it up anywhere, even on a sandy beach. The hammocks and stands are sold separately, so buy accordingly. Because pretty much everyone likes a hammock, hammocks are always one of our top camping gifts.
Best camping gift for hikers and backpackers.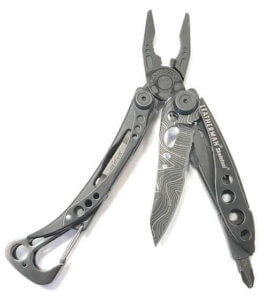 If you want a unique camping gift, you'll be hard-pressed to go wrong with the REI laser-etched Leatherman Skeletool Topo Multi-Tool. This multi-tool features outdoor-focused topographic map lines etched into the blade. Seems like a simple decoration, but it's surprisingly cool for outdoor lovers. As for the tool design itself, it's big enough to be useful but light enough to carry everywhere. The built-in carabiner doubles as a bottle opener. If the topo lines don't do it for you, consider the red Skeletool RX, which includes a carbide glass-breaking tip. If your camping enthusiast is also the kind of person who might need to break a car window to rescue a fellow human trapped in a car in a lake or stuck in a car after driving off the road, the RX version is for them. If you're looking for someone more tuned to outdoor survival, try the awesome Leatherman Signal Topo Multi-Tool — it features a safety whistle and a fire-starting ferro rod.
Great for camping beyond campgrounds.
The Green Elephant Pop Up Utilitent is basically a fold-up privy, which gives you privacy to use the aforementioned camping toilet. It has a rain fly, plus it includes four bags you can fill with sand if you want to "stake" it down on a beach. You can also use the tent to change clothing or take a shower. If you do want to use it as a shower stall, you'll have to orient the tent underneath a tree branch that can support a gravity-fed solar shower — or you could use a portable camp shower system (see below). All-in-all, a privy makes a great camping gift because it extends the places where you can easily and comfortably camp, especially if you have kids and aging campers with you.
Off-grid camping awesomeness here!
The Luci Pro Series inflatable solar light takes standard solar camping lanterns one step farther — with onboard batteries that can charge your mobile devices. For instance, you can charge the Luci Pro lantern in the sun, then if you need to top off your smartphone, you can. Most car camping happens near vehicles, of course, but if your camper is also a backpacker or likes to head out a bit farther — or go on canoe or rafting camp trips — the Luci Pro stands out. If you think about it, the solar charging and mobile charging capabilities make the Luci Pro a great emergency lantern, too. Check out our full Luci Pro review for more detail. Oh one more thing: The clear version is a bit brighter, but we really like the matte version for the softer, more usable light when camping.
Camping Gifts for Kids & Families
Best camping gift for kids.
The FireBuggz Family Fun Pak includes two awesome FireBuggz Fire Fishing Pole Roasting Forks, which are basically small 'fishing poles' that let you roast up to two hot dogs or four marshmallows at a time. Instead of a stick, the pole system dangles a stainless steel hook with a cutout of a fish. If you lift the rod up in a jigging motion, the fish acts as a counter balance that lets you flip your hot dogs or marshmallows to ensure even roasting. It's surprisingly cool. The Family Fun Pak also includes two straight roasting sticks — the Crank-Eez Roasting Sticks — that allow you to turn the shaft to rotate your hot dog or marshmallow, letting kids (and adults) roast to perfection. It's a great camping gift for anyone who likes to laugh and roast over a campfire — which is pretty much everyone.
Second best camping gift for kids.
Every kid we've ever met loves the walkie talkie. The Motorola T100 Talkabout Radios are family friendly and easy to use. Walkie talkies for kids are fantastic for letting kids play around the campsite, but if they're getting old enough to head over to the lake to fish by themselves, having a way to communicate is handy for parents, too.
One of our favorite camping gifts for families.
A slack line, a.k.a. slackline, is a surprisingly great camping gift for campers who have kids. Simply set it up between two trees — along with the included top balance-assist strap — and you have a challenging and fun toy that kids will spend hours on. They'll build micro-muscles and balance. And when it's your turn, you'll gain all the same mind-body challenging benefits of finding and keeping your balance on a slack line. Plus, it's fun — and there are no digital electronic device game screens involved at all. Chalk that up as a another win for camping.
Under $30.
Paracord bracelets have been 'survival gear' for years. Basically, all they are is handy paracord woven into a bracelet. If you get in a jam outdoors, you can unweave the bracelet, leaving you with cord that you can use to build a shelter. Or you can pull the thin inner cords out of the main cord shell and use them as a fishing line. Most people won't get into a survival situation, of course, but building the paracord bracelets is fun and satisfying. Better yet, it's a great project for kids while camping. The kit comes with a few buckles and lengths of paracord to get you started, but you can buy paracord and buckles separately or grab an additional material kit.
Fun games, easy to play, easy to set up!
Kids will surprise you by playing with sticks and pinecones while camping — which is fantastic — but sometimes a good physical game can take a campout to next-level fun. The L.L.Bean 3-in-1 Portable Game Center sets up like a tent and includes ladder ball, bag toss and quad-toss games. When it's time to go, the whole set packs up into a tidy carry bag.
Awesome Camping Gifts
Best camping gift for campfire lovers.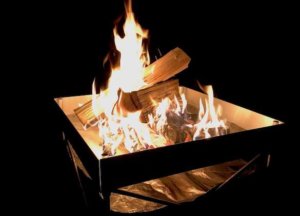 The Fireside Outdoor Pop-Up Pit is an ultralight elevated fire pan. We know, it seems odd at first, but after using it in a dispersed camping site with no good fire ring already available, we're big fans. As many campers know, sometimes existing fire rings and pits are situated in really bad places on campsites. The Fireside Outdoor Pop-Up Pit lets you start a fire on the beach, on a river bank, and even on public lands that require leave-no-trace fire pans. It packs down small and quickly and easily sets up to create a 24″ x 24″ fire   area. The stainless steel mesh is so tight that ash doesn't fall through — but air helps feed the fire from below, resulting in fast-lighting fires and cleaner burning with less smoke. And the elevated height? It works surprisingly well. With the grill accessory, you can even cook on it. Read our full Pop-Up Pit review to learn more. Available at Amazon or from Fireside Outdoor directly — with free shipping.
Best stove for the camp cook.
If your camping enthusiast has a bit more space, the Camp Chef Exlporer 2x Two-Burner Stove is the base-camp stove to beat. You get two massive 30,000 BTU burners set up with removable legs so you don't have to take up camp table space to easily use this stove. Better yet, it's completely upgradable with some cool accessories, which you can choose as camping gifts in the future: You can add a BBQ Grill Box to turn one burner into a grill or add a large griddle to one side to create an egg and pancake-frying machine. And yet that's not all: You can add the Artisan Pizza Oven accessory to let you bake pizza in camp! If you'd rather have a more foldable design for easier packability — along with fold-out side shelves — check out the Pro Series Deluxe 2-Burner Stove (which also accepts the aforementioned add-on accessories).
Be ready for the chance to fish.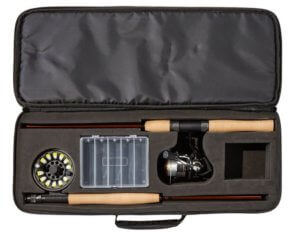 The L.L.Bean Spin/Fly Outfit is the best all-around portable fly fishing and spin fishing rod and reel combo we've ever seen. Why? You get both a complete fly fishing and spin fishing rod and reel combo. The point is to have always have a rod and reel handy for whatever type of freshwater fishing might present itself at any particular camping location. If you're shopping for a true camping enthusiast, there is a great chance they have camped somewhere without a rod or reel and wished they had one handy. This is the camping gift idea answer you've been looking for. Plus, two people can fish at the same time!
Great for family camping, camp cooks, and even tailgating.
The GCI Outdoor Slim-Fold Cook Station helps delivers a next-level camping experience. You get outstanding organization for your camp cook, including plenty of space for food prep and storage. Plus it all folds down for easy packability and storage.
Note: If you want an even bigger option, check out the Cabela's Deluxe Camp Kitchen.
Best all-in-one camping cook set for four.
Some campers just take an old hodgepodge mix of old kitchen cook pans, pots and cups, but none of it fits together or packs up easily. And inevitably, something gets left behind at home and the camp cook has to make do without a pan or pot. Or maybe you forget the paper plates and you're out of luck far off the pavement. The GSI Outdoors Pinnacle Camper Cook Set has you covered. This camping cook set includes two pots with strainer lids, a frying pan, plus four color-coded plates, four triangular bowls and four triangular cups with sip-top lids. The cookware is non-stick anodized aluminum, and the entire set packs up into an included collapsible wash-basin carrier. It's all very handy and very good for car camping where space is critical.
Best stove for car campers.
For car campers who might be short on space, it's hard to beat the Camp Chef Rainier 2X Two-Burner Cooking System. This handy all-in-one unit blends a camp stove burner with a larger camp grill and/or griddle — you get all three: a stove burner on one side as well as a griddle that you can swap out with the included grill on the other side. So in the morning you can brew up some camp coffee while frying up some breakfast, then shift to grilling hot dogs for lunch or dinner. As a lightweight and portable all-in-one camp cooking unit, it's hard to beat.
P.S. If all you need is basic camp stove — or want an awesome upgrade, check out our guide the best camping stoves.
Best tent for family camping.
The REI Kingdom 6 Tent — as well as the Kingdom 4 and bigger Kingdom 8 — boast roomy interiors. The Kingdom 6 features two doors as well as an interior room divider, which creates a special place for kids, dogs or a living room for hanging out during a rainstorm. The price-to-value ratio on the Kingdom 6 is outstanding, and if you camp with a lot of extra gear like high-end coolers or bikes, you can nab a Kingdom Mud Room that extends out from your main door to create a massive 61 square feet of covered vestibule space. It's great for storing wet and muddy shoes, and of course, gear. Even with the Kingdom Garage add-on, you end up with a high-quality, very price-competitive family camping tent system that can handle bad weather, wind and will last for years. It's one of the best camping gift upgrades you can choose. We're also fans of the jaunty green Big Agnes Big House 6 Person Tent, and if you want to go really big, try the Eureka! Copper Canyon 12-Person Tent.
Great for every car camping enthusiast.
The Coleman Instant Screenhouse is basically a pop-up shelter with screened walls that keep the bugs out. Remember the Thermacell Radius mosquito repellant system? A good screen house helps keep other insects at bay, too, namely yellow jackets, hornets and bees that might be attracted to your dinner. The Coleman Instant Screenhouse is a roomy 15 by 13 feet but sets up in about a minute. You get two large doors for easy access. The canopy acts as a sunshade.
To learn more about screen house options, check out our guide: 12 Best Screen Houses for Camping!
You don't have to hike in grizzly bear country to need a good can of bear spray, but if your camper is visiting Montana, Wyoming, Alaska and parts of Idaho where grizzly bears roam, bear spray is an absolute must, making it a go-to camping gift idea. For the rest of the country that has black bears, well, most often a black bear will run away as soon as it notices a human. But not always. Bear spray is for those 'not always' times. And while it's not marketed as a deterrent against mountain lions, there have been some reports where bear spray has successfully fended off cougar attacks.
Best camping gift for water lovers. 
Yes, you read that right, an inflatable standup paddle board, a.k.a. SUP board. We used to doubt the paddle board because we just couldn't see ourselves tooling around on a lake on a paddle board. We'd rather be fishing or boating or rafting, right? And then we tried it with kids on the beach. For starters, kids can stand up and paddle these things around way better than most adults. They get great exercise and tons of fun. Kids will sit on them, lay on them and play on an SUP all day long, and when they finally get tired and need a snack, you can sneak out for a few minutes yourself. We're also fans of the Outdoor Master Infinite iSUP — see our full Infinite iSUP review here.
Not sure about the SUP camping gift idea? An inflatable kayak brings a similar sort of fun to the camping experience. The Intex Excursion Pro Kayak is inexpensive yet surprisingly durable. It's available in a 2-person version (above) as well as a 1-person version. It's not rated for whitewater, but for tooling around near shore on a mountain lake, you'd be hard-pressed to find something better at this price point.
Shop all 'Inflatable Kayaks' at OutdoorPlay and get FREE Shipping on most orders over $49!
Camping gift for dog lovers.

The Guide Gear Dura Mesh Elevated Dog Bed is fantastic for dog-loving campers because it folds up for travel but works like a comfortable cot. This portable dog bed gets your dog off the ground and away from pesky insects, easily elevates over rocky, uneven ground. Better yet, if you dog gets wet and muddy, the bed dries fast and washes easily.
Camping Gifts for Couples
The Kelty Low Loveseat is a great camp chair for couples! If it's sold out, also try:
Runner-up: Mountain Summit Gear Loveseat
Room for two!
Double sleeping bags make great camping gifts for couples. The excellent REI Co-op Siesta Hooded 25 Double Sleeping Bag also unzips to let you use the top like a quilt. Also check out the innovative The North Face Dolomite One Double Sleeping Bag. It features three layers that you can mix and match depending on the temperature rating you need.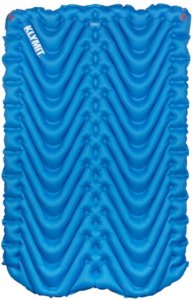 The Klymit Double V Sleeping Pad is great for camping honeymooners and car-camping parents who still like each other. Better yet, the side-by-side V-chamber construction reduces the movement of air between the two sides, which means a big guy can roll over without bouncing his partner around, waking her up and creating a heightened need for coffee in the morning. It's 74″ long, just under 4′ wide and it's 3″ thick. It weighs in at about 2.7 pounds, which makes it fantastic for car campers who like to travel light and don't have a lot of extra room. Oh, one more thing: The Double V comes with a pump-integrated stuff sack for easy, rapid inflation, so you don't need to pack a bulky pump.
RV Camping Gifts

This cell-signal booster works with all carriers. When you install it in an RV, your RVers can get much improved cell service while driving remote roads and when camping off the beaten path. It's a great peace-of-mind gift that could enhance the safety of your RV-lovin' family. (Get the weBoost Drive Reach version for cars, pickups, SUVs and vans — check out our full weBoost review for more detail.)
Most RV campers can benefit from a synthetic rug, which keeps dirt and debris at bay but is easy to clean and can handle a bit of rain and moisture.
Made from bamboo, this cutting board naturally resists moisture.

If your RV camper has a sense of humor. . . .
Gifts for Campers Who Have Everything
Because everyone loves ice cream while camping.
The YayLabs SoftShell Ice Cream Ball lets you make homemade ice cream at your campsite without the need for electricity. All you have to do is put cream, sugar and flavorings (like vanilla) in one end of this ball then fill the other with ice cubes and salt. Next, roll the ball around for 25 minutes and you'll have astoundingly great homemade ice cream. Just choose the quart size option because you can never have enough ice cream at camp.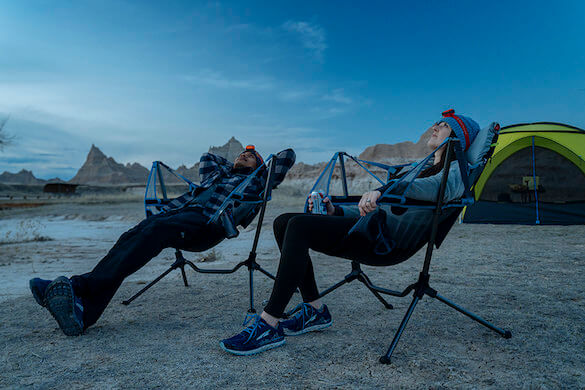 Even if you think your camper has everything, you're probably safe with the NEMO Stargaze Recliner Luxury Chair because it's so new. The NEMO Stargaze is super comfortable and is the kind of chair everyone at camp will rush to sit in first.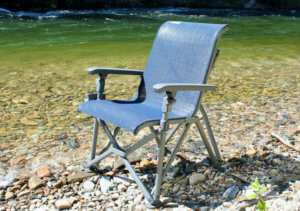 For a rugged and over-built take on a camping staple, try the YETI Trailhead Camp Chair. Sure, it's spendy, but it's also fantastic. Read our full YETI Trailhead review to learn more.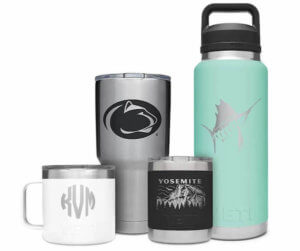 If you camper has everything, it's time to go with a customized camping gift. Try YETI, which lets you choose from a bunch of graphics or upload your own. So cool.

Like YETI, Leatherman has its own custom laser etching program. Check it out to create your own unique camping gift!
Great for hikers and outdoor enthusiasts, under $30.
A water bottle with a built-in filter or purifier isn't usually needed for most camping trips because you're bringing along your own water and drinks. But stick with us here: Hikers and outdoor enthusiasts can get off the beaten path and run out of water. The LifeStraw Go Filtered Water Bottle can filter out 99.9999% of waterborne bacteria and 99.9% of waterborne protozoan parasites, which means they could use this bottle to safely filter water from most creeks or lakes in a survival situation. Better yet, the 2-stage activated carbon filter reduces odor and chlorine and can make campground water taste better.
An excellent camping gift for dog lovers.
This camping gift for dog lovers will make packing for the family dog much simpler and ensure that food and dog bowls are never left behind again. The Mountainsmith K-9 Cube is a carry bag with two interior pockets. On one side you store food in a removable TPU-lined food bag. In the other, you can store more food or dog toys. The front pocket holds a collapsible water bowl and a collapsible food bowl. For odds and ends, the top includes a mesh zipper pocket and the side have mesh water bottle pockets.
Some camping enthusiasts like to broadcast their favorite hobby, and if that sounds like your camper, a cool camping t-shirt or hoody that matches their personality is a good bet. There are tons of camping shirts and designs, so you should have plenty of choices.
A Game Changing Camp Gift for Tent Camping: Cots

Cots are stable yet comfortable, especially with a cushy pad. More importantly, cots are raised so aging campers can get into and out of their camp beds more easily . . . but you don't have be older to appreciate the stable comfort of a great cot.
As for tent camping with most grandparents, the bottom line is this: Set them up with cushy cots to ensure everyone has a great time. And maybe, just maybe, they'll come tent camping with you and the kids again.
What to get for someone who loves the outdoors? 
The best camping gifts to get for someone who loves the outdoors are gifts that are handy for outside use even if you're not camping. Here are some of our favorite all-around great gifts for outdoor lovers:
Best camping gift for backpackers and backcountry explorers.
Usually camping enthusiasts pack enough freshwater for drinking, but sometimes we run out — we tend to underestimate the amount of water our bodies crave while overpacking on the sports drinks, juice boxes and beer. The answer is the MSR TrailShot Water Filter. This little water filter will filter-clean fresh water from lakes, rivers and creeks. All you have to do is drop the pre-filter hose in your water source and start squeezing. You can drink directly from the nozzle or squirt the clean water into your water bottle. It works surprisingly well. It's one of our all-time favorite portable water filters because it's lightweight and works so well. We'd trust it with most any water source in the U.S. and Canada. If your camper is also a hiker or backpacker, the MSR TrailShot Water Filter should be on your camping gift shortlist.
Best camping gift for campers who like to get off the beaten path.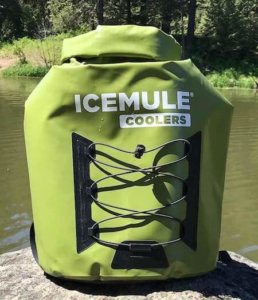 RV campers often have refrigerators, and most every camping enthusiasts has a hard-sided cooler for food and drinks, but few campers have soft-side backpack coolers — yet. The soft-sided backpack cooler lets you load up with cold drinks and food at base camp then head for the beach or day hike. No one likes to lug a cooler more than 40 yards but a backpack cooler lets you take ice cold beverages far off the road with ease. We're big fans — check out our guide to the best backpack coolers for more detail or just nab the ICEMULE Pro Large. The price-to-value ratio is fantastic, it works surprisingly well, and it packs down small. Very highly recommended.
The great thing about a heavily-insulated rotomolded cooler is the excellent ice retention — you can use less ice and keep the contents cool for days. The Cabela's Polar Cap Equalizer Cooler gets our nod for our favorite line of rotomolded coolers. It's just a bit better than most and usually available at a slightly better price point, but seriously, most every rotomolded cooler is excellent, so we're splitting hairs. What we like about the Cabela's Polar Cap Equalizer Cooler are its burly grab handles. It has rope handles, too, but the built-in grab handles let you strap this cooler down in more ways that most. Our second pick would be the iconic YETI Tundra 45 in one of the cool new color options.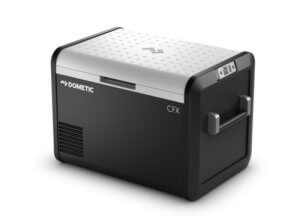 Speaking of high-end coolers, why not just go with a refrigerator/freezer? The Dometic 12v Electric Fridge/Freezer lets you not only keep things cool, but you can keep ice cream frozen, too. Ever had ice cream while camping far from the pavement? So why does the Dometic 12v Electric Fridge/Freezer make a great camping gift? Admittedly, it's a bit of a luxury item — most every outdoor adventurer wants one but few actually make the investment. If your camper only camps in a big recreational vehicle that already has a built-in refrigerator, sure, skip this idea, but if your camper is a tent camper or hunter or fisher, the Dometic 12v Electric Fridge/Freezer is a sweet camping gift: Shop Dometic's full line of portable electric coolers here.
Campers like the outdoors, and who doesn't like to fly a kite? The Prism Synapse Dual-line Parfoil Kite packs up small so it's ready whenever the wind blows. The two-line system lets you steer the kite in spins and dives. Includes everything you need to fly, including instructions for dual-line newbies.