Disclosure: Man Makes Fire is reader-supported. When you buy gear using retail links on our site, we may earn an affiliate commission that helps pay for our work. Learn more.
In our Man Makes Fire guide to the best fly fishing gifts 2020, we recommend core gear most every fly fisher needs, could use, or would appreciate. Some fly fishers already have some of this gear, but gear wears out, breaks down, and gets lost. Plus, some of these best gift ideas for fly fishing fanatics are for fly fishing gear that's been improved with new features.
Case in point?
The Measure Net. Even long-time fishers who already have a landing net might very much appreciate a net that lets them quickly note the length of their fish — and this is why the Measure Net has been a perennial favorite in our best gift ideas for fly fishing gifts list.
For most, learning to fly fish is a long-term process where you acquire new gear, try it out, and settle into the systems that work for your favorite streams, rivers, and lakes. For instance, for fishing close to a campground, a fly fisherman might go light with just a lanyard of core accessories and a fly box. But for an all-day outing on favorite river far from the road, waders with a sling pack might be the smartest way to chase after the fish of a lifetime.
How to Choose Fly Fishing Gifts
Finding great gifts for fly fishermen — and women! — seems hard, but finding fly fishing gifts is easier than you might think. There are a lot of fly fishing gifts that do not require you to know what kind of fly fishing your fly fisher is doing. For instance, we're steering you away from finding the perfect sinking fly line. Why? You probably don't know what weight is needed or whether the sinking line should be full sink or just a sinking tip. The same goes for high-end fly rods and reels — but if you were going to splurge on a rod for a trout fly fisher, it would be hard to go wrong with the Orvis Helios 3D in a 9-foot 5-weight.
As for high-end reels, most any fly reel over $200 is pretty sweet these days (and there are a lot of great reels under $100), but it's hard not to love the new and unique Abel Vaya Series with a custom paint job — the cost is jaw-dropping, but the finished product is a work of art. After you get done drooling and come back to reality, there are a lot of great fly fishing gifts to consider below.
Here are our favorite fly fishing gift ideas that most every fly fisher can use and appreciate — delivered with a reasonable mix of price points and quality for the cost.
Best Fly Fishing Gifts 2020
1. O'Pros 3rd Hand Rod Holder
Best fly fishing gift under $25
The hottest new fly fishing accessory this year is the O'Pros 3rd Hand Rod Holder. It is ingeniously simple to use but super versatile and very handy on the water. Because this rod holder is so new, it's unlikely that your fly fisher has one, so for 2020, it's essentially a unique fly fishing gift. Here's why it's cool: When you're wading in the water, it's hard to hold your fly rod while tying on a new fly or releasing a fish. When you're near the bank, it's a bit easier, but most often, especially when you catch a big fish, you put your rod down where it can get broken on the rocks or you can get sand in your reel. The O'Pros 3rd Hand Rod Holder has perfectly sized clips that instantly hold just about any fly rod. Plus, there's an elastic cord for even greater lock-down security. But wait, there's more to this little marvel: It also rotates to let you choose the angle of your fly rod, letting you keep the fragile tip up in the air where it's safe. It's especially good when you want to grab a quick photo of a fish before releasing it. To learn more, check out our full 3rd Hand Rod Holder review . . . or just nab one now before they're gone.
Note: If stock runs out, also try Aventuron.
O'Pros 3rd Hand Rod Holder
Pros
Fits most any belt
Excellent Made-in-America build quality
Adjustable angles
2. Measure Net
Under $50
The Measure Net is one of the most brilliant fly fishing inventions ever created. First, nets help fly fishers land fish more easily and release them unharmed. The Measure Net takes this a step farther by using a series of painted numbers inside the net to also measure the length of the fish. It works well and takes the guesswork out of length. Obviously fly fishermen like to catch all sorts of fish, but bigger is better and the bragging rights are in the net. Of course, if your fly fisher is a chronic exaggerator who does not want to live in our reality, you can always sew up the bottom of the net to make all the fish appear a few inches longer. But seriously, the Measure Net is a fantastic fly fishing gift.
3. Bottle Opener Fishing Belt
Most fly fishers already have a belt, but do they have a belt that screams fly fishing style? Probably not. A good fishing-style belt serves as a reminder of what your fly fisher loves, plus it can add a bit of pizazz to an otherwise olive green, tan, and grey-geared hobby. If you're looking for something practical but heading toward being a unique fly fishing gift, a fishing-patterned belt is hard to beat. So what about the bottle opener? That's just an added bonus, of course. We like brightly colored fishing belts best, because why not? Go big or go home.
4. New Wading Belt
While we're on the topic of stylin' fishing belts, your fly fisher has probably been using a drab black wading belt that comes with most fly fishing waders. Does it work? Definitely. Does your fly fisher technically need a colorful new wading belt? Nope. But that's why this might be a good gift — if your fly fisher appreciates a pop of color, consider a wading belt. And just to be clear, a wading belt is a belt that goes around the outside of fishing waders to help seal the waders in case a fisher falls down in the water. Wading belts prevent the waders from filling with wader during a fall, which makes them life-saving, must-have gear.
5. Fly Fishing Lanyard
Under $50
A fly fishing lanyard is basically a specialized necklace with attachment points for commonly used fly fishing accessories like clippers, tippet, floatant, and forceps. If your fly fisher doesn't wear a vest or chest pack, the lanyard is a must-have accessory that works well with or without waders. Lanyards also pair particularly well with waist or lumbar packs. But wait, there's more: Lanyards are great fly fishing gifts for kids and newbies, but they're handy for experienced fly fishers, too. We like to attach a small fly box to ours, which gives us everything we need for quick jaunts down to the river or around base camp. In addition, fly fishing lanyards are great for backpackers who want to go fast and light.
6. Fly Fishing Chest Pack
Under $50~
The chest pack has been replacing old-school vests for a lot of fly fishermen and women. Why? They focus what you need right under your nose, giving you great access. Better yet, because they're positioned above your waist, you can use a chest pack while wading and you won't get your gear wet. You can find smaller chest packs for under $50 (but larger packs with more pockets and more supportive shoulder straps can push past $50). Here are several great options:
7. Simms Taco Bag
Under $50
The Simms Taco Bag is the best, simplest fly fishing gift we've seen in a long time. What makes it a great gift? It's almost a necessity — but not quite — which means a lot of fly fishers don't end up buying it themselves . . . even though they most certainly would appreciate a Taco Bag. Why? If your fly fisher uses stockingfoot waders and boots, there is always the issue of getting them on and off. When they're dry, you want a clean spot to stand so that you don't poke any holes in the bottom of your waders or pick up debris before you put on your wading boots. This Simms Taco Bag unzips into a circle, turning it into a mat. So far so good. When you return from the river all wet, you can take your waders and boots off on the unzipped Taco Bag then simply zip it all up and throw it in the back of your pickup — and it won't blow around like loose waders. The vent mesh lets moisture escape. As Simms says, it's large enough for two pairs of dripping waders and their muddy boot companions. All-in-all, the Simms Taco Bag is simple, awesome and affordable — it's a great gift for fly fishers.
8. Fly Fishing Sling Pack
Under $100~
A new variation on the chest pack is a "sling pack," which is lets you carry your gear on your back, but when you need it, spin it around to your front for easy access. The zippers and orientation are designed to work when pulled in front of you. The key benefit? You can carry more gear than a typical chest pack allows. A good sling pack is a splurge kind of item, so they make great fly fishing gifts.
9. Anything FisheWear
$20 and up
Remember the Orvis Sling Pack with the bright 'Fishe' color option above? If your lady fly fisher appreciates bold, colorful designs, you'll be hard pressed to go wrong with any product from FisheWear. The company was founded in Anchorage, Alaska with a vision to create comfortable, functional and fashionable clothing for women. The popular Fishe leggings come in unique and cool patterns like Groovy Grayling, Troutrageous Rainbow, and Abstract Char — and they make a great gift idea for women fly fishers. If you can't figure out your fly fisher's size, don't worry — FisheWear has created a growing line of gear and signature Fishe products. For instance, you can't go wrong with a Fishe Dry Bag. If you're looking for stocking stuffer-type accessories, check out the Fishe Nippers, Forceps, or the super cool Fishe Poly Fly Box.
10. Vehicle Rod Rack
Under $150
For those rivers that are bordered by roads, it's nice to be able to stow your fly rod on your vehicle and then drive up the river to a new spot. When you get out, boom, your long and ungainly fly rod is ready to rock and roll. Some guys will simply prop their fly rods on their windshield underneath their wiper blades, but it's not the most secure method. And it can result in vibration and scratches to the rod or your pickup. A better solution is a dedicated rod mount system that uses suction cups or magnets to lift your rods above the hood of your vehicle and secure them in place. Quite handy and it makes a great fly fishing gift. Oh, one more thing: It's hard to beat the price-to-value ratio of the Vac Rac Combi magnetic version, but if your fly fisher has one of the newer aluminum body pickup styles (non-magnetic) be sure to go with the excellent Sumo Car-Top Rod Rack suction-cup version.
11. Smith Creek Rig Keeper
Under $25
The Smith Creek Rig Keeper is an ingenious little fly fishing accessory that lets your fly fisher save dropper rigs. What the heck does that mean? Fly fishers will often tie two flies on the end of their line, a lead fly and a dropper fly, which is often tied to the bend of the hook on the lead fly. For example, a grasshopper pattern could be the lead fly and then an ant pattern could be the dropper fly. The big grasshopper pattern can attract a trout's attention while the ant pattern can trigger a strike. But then your fisher will need to change flies . . . but will also want to keep the hopper-ant rig connected to use again later. The Smith Creek Rig Keeper lets your fly fisher wrap dropper rigs around the foam core and connect them to their vest, sling pack, fishing backpack, or lumbar pack. It's super handy and works well. If your fly fisher fishes for trout in freshwater rivers and streams, the Smith Creek Rig Keeper is one of our favorite fly fishing stocking stuffers.
12. Fly Rod and Reel Case
Under $50 (and up)
Most fly rods are about 9 feet long because it's a versatile length. The handiest rods we go for are those that break down into 4 pieces, which makes them easy to pack and travel with (they fit into go bags, too). While some premium rods ship with their own protective rod cases, few include a built-in spot for a reel. When you have a case with a reel spot, you can pack your rod and reel together. It saves a bit of time, and when a fly fisher hits the river, it's hard to be patient. Plus, if your fly fisherman or woman doesn't have a good case at all — but has a four-piece rod — this is a fly fishing gift that will get used and appreciated (they also come in versions for two-piece rods).
13. Rod, Reel & Tackle Travel Case
Under $200
Remember the fly rod and reel case? A fly rod, reel and tackle case takes fly rod protection and organization to a whole new level. These cases are great for frequent flyers who need great gear protection, but they're also great for weekend fly fishers who load up the pickup or SUV and go. Most cases can hold multiple fly rods, multiple reels, fly boxes, and critical fly fishing accessories. We've even been able to fit narrow fly fishing nets inside some versions. If your fly fisher could use a bit more organization — or likes to pack along backup gear and outfits for friends, family and guests — a rod, reel and tackle travel case could be perfect.
14. Polarized Sunglasses
Prices vary widely
We don't understand the physics of light, but we know something about glare, and when you're on the water, certain angles of sunshine create glare on the surface of water, making it hard to see beneath. Polarized sunglasses cut this glare the best, letting a fly fisher spot fish beneath the surface, which often makes for some of the best fly fishing experiences. If your fly fishing fanatic hasn't splurged on a pair polarized sunglasses yet, that's your cue pick these as your next fly fishing gift.
We particularly like the price-to-value ratio on the sweet and sharp-looking new Orvis Superlight Tailout sunglasses.
15. Fly Tying Tool Kit
Under $100
A fly tying tool kit is a good way to get a fly fisher into tying their own flies. For some, fly tying becomes a life-long passion. Fly tying kits can give a fisher a taste of what it takes to tie flies. If they catch the fly tying bug, they'll begin to learn what tools and materials they will want to add to their kit — new hackle, rubber legs, dubbing, etc. Meanwhile, every fly fisher has run out of a particular fly while on a fishing trip, and those who know how to tie their own flies can whip up a pattern that can save a trip. Fly tying tool kits make excellent fly fishing gifts for any fly fisher who wants to learn a little about fly tying . . . but has hesitated to make the leap.
16. Fly Fishing Go Bag
Prices vary widely
One of the things that works against fly fishermen (and women!) getting out of the house is preparation — are you ready to go at a moment's notice or do you need to put everything together? Go bags solve this problem. We like to throw most of our fly fishing gear into a single large expedition duffle bag that will hold 4-piece rods, wading boots, waders, a net, fly boxes, reels, fishing regulations, a first-aid kit (always a good gift, by the way), and more. When you get a chance to hit the river, all you have to do is grab your bag and leave with confidence that you have all the core gear you need. Go bags are nearly life transforming tools, and as such, they turn into fly fishing gifts that last years.
17. Magnetic Net Release
Under $25
The Magnetic Net Release lets a fly fisher attach their net to the back of their vest to keep it out of the way while fly fishing, but once they need it, it pops off for easy access and use. Brilliant. Works great as a fly fishing gift stocking stuffer. Even though magnetic net releases have been around for awhile now, there are plenty of fly fishers out there who don't have one yet.
18. Pontoon Boat
Under $500 (and up)
Oh baby, pontoon boats are super cool. They break down and pack up small so you don't have to own a pickup or a trailer to use one. Plus, single fly fishers can run them by themselves, even through some decent rapids. Better still, some are large enough for two people. And . . . quite simply, there are some rivers where you just can't get to the biggest fish without using some sort of water craft. If your fly fisher unwraps a pontoon boat as a gift, look for the broad smile as their fly fishing brain furiously churns through rivers and lakes that are suddenly open to new casts.
19. Wading Boots
$100-200
A good pair of wading boots makes fly fishing easier and safer — they provide support and traction, and they tend to hold up well under water by not losing their shape over time. Typically, wading boots are used with a pair of stocking foot waders so they are sized a bit large because the stocking (neoprene) foot of the waders takes up space. But wading boots are also great for hot-weather summertime fishing. In this case, a set of neoprene booties are the way to go. Get wading boots when your fly fisher has none or a really old pair. They also go great with a set of waders (the next best fly fishing gift, noted below). See also, 10 Best Wading Boots, which includes a section on wading boots for women fly fishers. Oh, one last thing: Check your state for felt-sole bans before buying due to (possible) invasive species issues.
20. Stockingfoot Waders
$100~ (and up!)
Stockingfoot waders tend to be more versatile than waders with boots connected to the ends of them. Why? The waders can fail and you don't lose your boot investment. Also, separate boots tend to fit better and provide better support. So we're fans of stockingfoot waders. Waders are like most other pieces of gear. More expensive sets will be more durable and last longer . . . but these days an entry-level pair will usually get the job done for a few years for most weekend fishers. Check out our guide to the 10 Best Fly Fishing Waders for more detail on this game-changing fly fishing gift idea — especially if you want to surprise your fly fisher with some high-end Patagonia or Simms waders.
21. Loon Outdoors Rogue Quickdraw Forceps
Under $25
We had no idea that a few simple adjustments to the standard fly fishing forcep could result in such an improvement — the new Loon Outdoors Rogue Quickdraw Forceps is truly a fantastic take on one of the most popular fly fishing accessories today. Forceps are sometimes called hemostats and they're basically a fancy set of pliers that let fly fishers remove hooks from the jaws of fish and bend down barbs to meet barbless fishing regulations. Some forceps include handy scissors (like this Loon Rogue model) and some include fishhook eye-clearing needles (also like in the Rogue). The Rogue includes oversized, rubberized finger hole handles . . . and then takes this design to whole new level by adding a carabiner-like clip built into the handle. Sure, a lot of fly fishers use retractable zingers to hold their forceps, but this little clip gives you a new world of attachment points. So cool, so handy. If you're looking for a gift for a fly fisherman who has everything — or a fisherwoman, of course — these Loon Outdoors Rogue Quickdraw Forceps will make a great gift for pretty much every freshwater fly fishing fanatic. One more thing: These are so good that Orvis now has an Orvis-branded version.
22. Any Derek DeYoung Hoodie or T-Shirt
Derek DeYoung's artwork delivers bold, bright and colorful fish designs. The colors aren't always photo-realistic, but the color palettes and fish themselves are instantly recognizable to any avid fly fishing enthusiast. You can nab most sizes for both men, women and sometimes kids — and choose from plenty of colors. Shipping is reasonably fast, too, through DeYoung's offerings on Amazon.
23. Spin/Fly Combo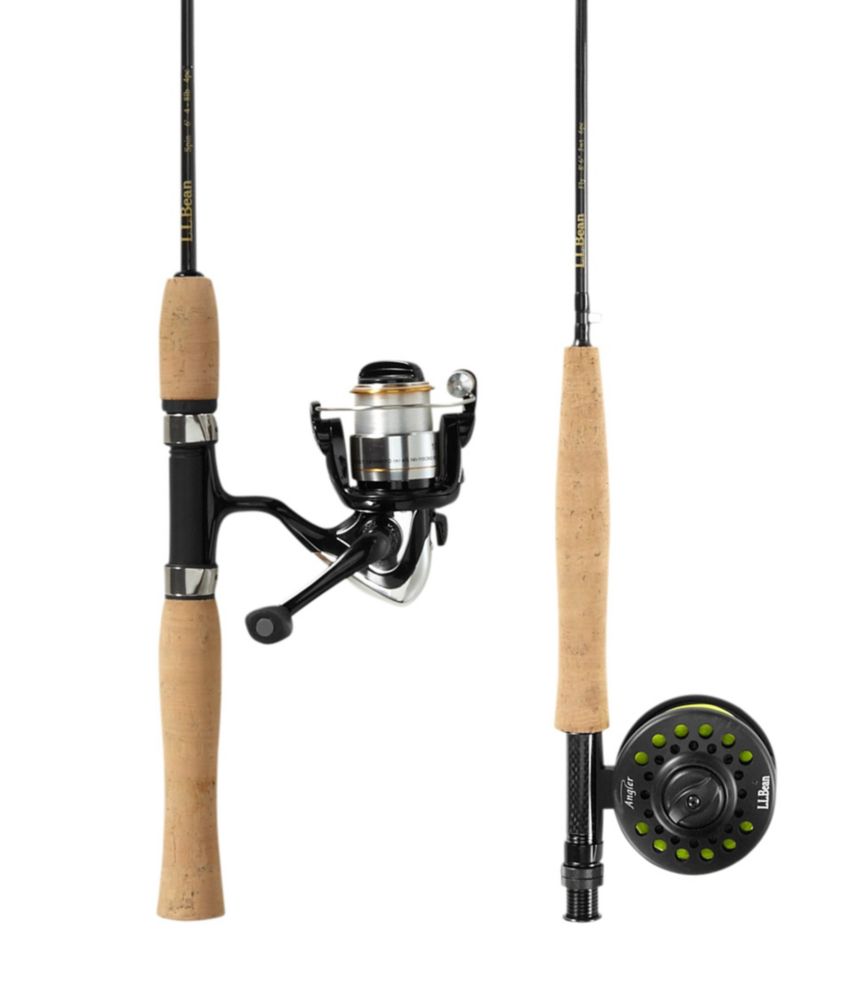 Under $100 (and up)
Not all fly fishermen are complete fly fishing snobs . . . some just like to get out on the water any chance they can get and they'll happily use a spin fishing outfit in order to cast a line and catch a fish. For these sorts of fishing fanatics, one of the best gift ideas for fly fishing is, ironically, an easily packable spin-fly combo. Of course, you should know that a spin/fly combo doesn't result in a fantastic fly rod, nor does it result in a fantastic spinning rod . . . but it will catch fish. As every fly fisherman knows, having any rod while you're looking at fish swim in front of you is better than having no rod at all.
24. Practice Casting Rod
Under $50
Fly fishing is more about timing and rhythm than brute strength — just because you swing your arm harder or faster, it doesn't mean you're going to cast farther. In fact, you might just end up with a tangled mess. Enter a practice casting rod. These mini rods let you practice the basic motions of fly casting just about anywhere. And while you won't be using one to cast to a rising trout, the motion and rhythm has a soothing effect on the angry bear inside of stressed fly fishers everywhere. Oh, and it's a great learning tool for newbies and kids, too, which makes it a particularly good fly fishing gift for anyone starting out.
25. Wading Jacket
Prices vary widely
A great fishing jacket will help a fly fisher keep fishing when the weather turns cold, as well as work well for tooling around a camp or hiking back to the truck. More importantly, a wading jacket is a symbol of sorts — not a status symbol, it's a reminder symbol. It reminds you that this is part of the gear you have that calms your mind and puts you in position to catch some fish. If your fly fisher goes after steelhead or salmon or doesn't let bad weather stop the fishing, a fishing jacket is a great fly fishing gift.
26. Smith Creek Rod Rack
Under $150
The Smith Creek Rod Rack is a simple but ingenious interior rod rack. It uses straps and window suction cups to create an overhead rod rack that's adjustable for most any SUV, wagon, van or hatchback. Here is how it works: You'll use the stout suction cups to attach the rear strap to the top of your rear-most SUV windows, then you string the other strap between two door grab handles or accessory hooks near the ceiling in the middle of the vehicle. To stow a rod, simply open the rear door or rear hatchback and slide the rod over the two straps. Adjustable shock cords and eyelets let you lock each rod in place. If your fly rod (or other fishing rod) is too long, simply disconnect the rod into two pieces and lock into place. It's cost effective, easy to set up and it keeps your fly rods locked up and protected inside your vehicle. If your fly fisher is moderately handy, odds are they could create attachment points to use the Smith Creek Rod Rack inside of a pickup canopy, a boat or a garage. It all packs down small into the included drawcord bag.
27. Waterproof Camera
Under $400
If your fly fisher wants to create fishing videos, a GoPro action camera is the best move. But a more traditional waterproof camera is perfect for a wider variety of fly fishers. A good rugged, waterproof camera will let a fly fisher shoot video of a beautiful fish — including underwater release shots — as well take photos of the brilliant landscapes they visit. What really sets a good waterproof camera apart from an action video camera like a GoPro — or a smartphone camera — is the optical zoom lens. The zoom lens lets you snap photos of deer crossing the stream that you can actually see in the photo when you're sharing it with your friends. The Olympus Tough TG-6 is our favorite because it starts up very fast, shoots great video and does everything pretty darn well — including up close macro photographs of cool insects like stoneflies, caddis flies and mayflies. Waterproof cameras make particularly great fly fishing gifts for active fly fishers.
28. Shelta Seahawk Water-Ready Sun Hat
Under $75
Shelta's first hat was invented for standup paddleboarding but the company quickly gained a following by many water sports enthusiasts, including those who fish. Why? Shelta revolutionized the active sports sun hat by creating a stiff bill that won't flip up in the wind or droop when it gets wet. Better yet, Shelta modernized the design of the standard boonie hat by shaping the hat so it doesn't look like you're wearing a floppy mess. The result is a water-ready, quick-drying, purpose-built sun-shading hat that protects your ears and the back of your neck and looks damn cool doing it. It makes a great fly fishing gift because it's not everyone else's ball cap . . . and you give it because you want your fly fisher to stay safe from the sun. Lots of winning going on here. For more detail, check out our full Shelta hats review.
29. Wading Staff
Under $150
If your fly fisher is getting on in the years, a wading staff is a critical tool for helping him or her wade into rivers, as well as get up and down banks without falling. Of course, even adventurous (sometimes dumb) young guys can use a wading staff. On some rivers with poor visibility, a wading staff can find hidden holes and drop offs, and on shore, help fend off rattlesnakes. In addition, one of the most dangerous things a fly fisher can do is fall down in the water while wearing a pair of waders without a wading belt wrapped snugly around their waist — water rushes into the waders, filling them and sinking the fisher. A wading staff helps reduce the chance of falling. Problem is, a lot of fly fishers don't invest in one until they've had a spill. Consequently, wading staffs make excellent fly fishing gifts.
30. Ultralight or Heavy Duty Fly Rod Combo
$100 and up
Chances are, your fly fisher primarily uses one favorite rod for most of his or her fishing adventures. That's cool. But there's a decent chance that your fisher would like to try something radically different — like fishing with a super ultralight fly rod for skittish fish or small creeks . . . or going big for coho salmon or steelhead. In this case, the best way to encourage a different kind of fishing is with an inexpensive fly rod and reel combination. Choose a 7.5-foot 3-weight for ultralight action or a traditional 9-foot 8-weight for a rod that's heavy enough to take on salmon or steelhead — or better yet, a spey rod. If your fly fisher wants to get into say, steelhead fishing on bigger water, try the Orvis Clearwater 7-weight 13′ rod. Read our best fly rod and reel combo guide to learn more about typical freshwater combos or simply consider the excellent price-to-value ration on the wide range of purpose-built Orvis Clearwater Series combos (link below).
31. Fly Fishing Books
Here's what's great about fly fishing . . . when a fly fisher is stuck inside and can't be out fly fishing, reading about fly fishing is the next best thing. Newbies can use some how-to books while veterans can dream about new places to throw a line, making these a versatile fly fishing gift option.
32. Fly Fishing Waist Pack
Under $50 (and up)
A fly fishing waist or lumbar pack brings the benefits of a sling pack with super-simple access. You can keep your waist pack behind you out of the way while fishing, but when you need to change flies or gear, you can rotate the pack to the front for easy access. The only downside is for fly fishers who wade into deep water up to their waist — the packs can get wet. The solution is a waterproof waist pack. So, for most riverbank fishing, waist packs are awesome. For hardcore waders, error toward a waterproof version.
33. Inflatable Life Vest
Under $100
Remember the wading staff? Fly fishermen tend not to wear life jackets. Foolhardy? Maybe. A great compromise is an inflatable life vest. These blow up instantly with a tug on a cord if a fisherman gets into trouble . . . or they can be inflated by blowing into them in case the instant CO2 method fails. Either way, fly fishermen often fish in frigid water, and an accidental dunking can get dangerous fast because it's hard to swim in cold water for more than a couple minutes.
Not boat fishing? Wading is sometimes even more dangerous — especially when a monster fish is on the end of your line and your fly fisher is scrambling around making bad decisions in order to catch the fish. For older, younger, or adventurous fly fishers, inflatable life vests make surprisingly good fly fishing gifts.
34. Fly Fishing Pliers
$70+
There are two trends going on when it comes to fly fishing pliers — the first is that freshwater fly fishers are starting to invest in higher-end fishing pliers because they work so darn well. In a lot of ways, they're just easier to hold and handle than typical forceps. The second trend is that, as more people get into saltwater fly fishing, more and more kinds of manufacturers are making aluminum, stainless steel and titanium pliers. These metals don't rust or corrode like standard steel, so they are the go-to pliers of choice. Plus, the hooks and fish tend to be larger in saltwater, so you need a burly set of pliers to get the hooks out safely and effectively. The built-in cutters on these pliers also easily handle thicker line. No matter what, most fly fishing fanatics can appreciate a good set of lightweight aluminum pliers — and they probably haven't splurged on a pair yet, which make fishing pliers one the best fly fishing gifts for 2020 and beyond.
35. Fly Fishing Gloves
$30-50
Fly fishing gloves are used for keeping your hands warm and your fingers nimble, but they're also great fly fishing gifts because they offer protection from the sun. Some of the best all-around pairs come from Buff, including the excellent Buff Angler III Gloves. For the best hot-weather sun-protection version, try the Buff Sport Series Water 2 Gloves — think sunscreen for your hands, which catch harmful UV rays from directly from above as well as reflected from the water. Of course, Orvis fans won't go wrong with Orvis options — what they lack compared to Buff's sweet style, they give back in overall value.
36. ThermaCELL Mosquito Repellent Device
Mosquitos can ruin a good fishing trip, no doubt about it. While traditional mosquito repellant sprays and lotions work pretty well, it's not the only line of defense. ThermaCELL devices heats up a specially scented mat to release a vapor that repels mosquitos to create a 15 foot zone of protection. ThermaCELLs work great for fishing camp, hanging out while having lunch, or for those times where you stay in one spot, patiently working an area of water. If your fisher seems to have everything, ThermaCELLs can be pleasant fly fishing gifts you'll get thanked for after they save the day.
37. L.L.Bean Rapid River Vest Pack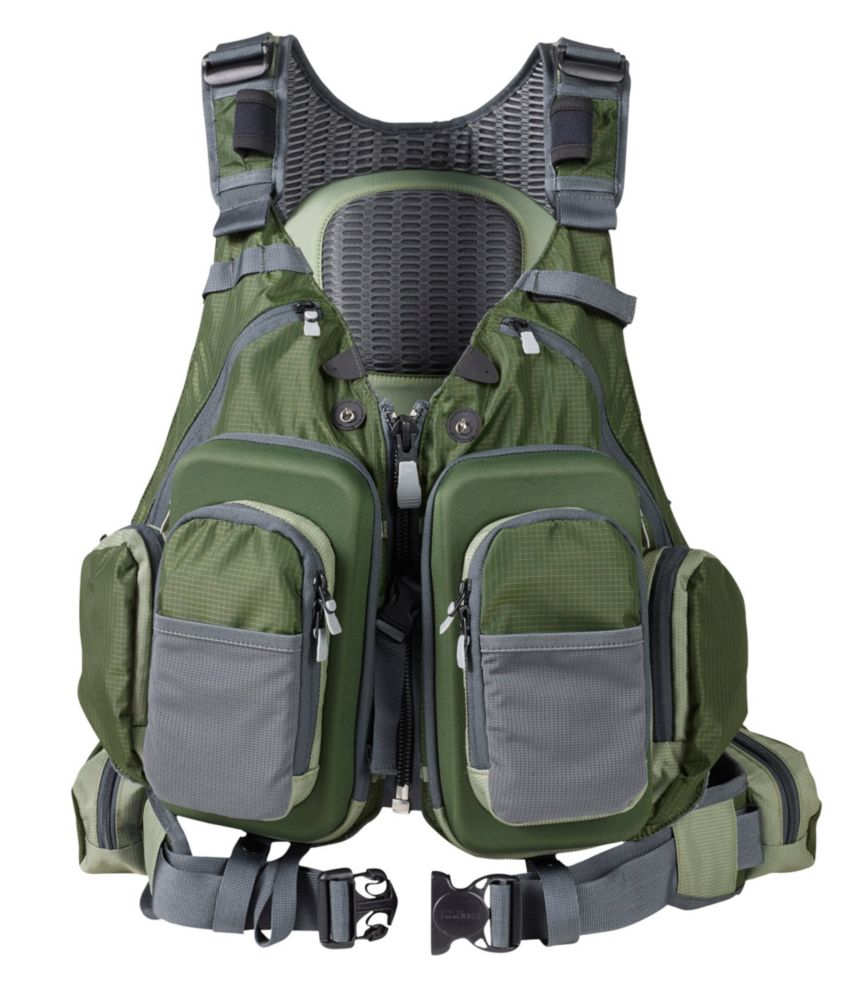 $150
If you think your fly fisher might appreciate a fresh take on the old-school fishing vest, the L.L.Bean Rapid River Vest Pack is that vest. It combines all the best attributes of a vest with the best attributes of a fishing backpack — namely extra storage space. If your fly fishing fanatic likes to get off the beaten path and walk more than a few hundred yards from the pickup, there is something to be said for the ability to pack along a sandwich, rain jacket, a beer, and a waterproof camera. And yet, there is more built into the Rapid River Vest Pack: There are plenty of pockets for your fly boxes, two waist-best pockets, a floatant holder and two replaceable zinger tools on each shoulder for forceps and nippers. Plus there is a hydration bladder pocket, a waterproof compartment for a cell phone — or a set of today's fancypants electronic car keys. It also boasts five points of adjustment for the perfect fit . . . and it comes in a regular version for most fishers and a long version for tall guys. Last of all, it's a damn fine looking vest pack — about the opposite of your grandpa's slouchy old tan vest.
38. Hoppers, Hoppers, More Hoppers — and Streamers
$25-50
There are not many types of flies that you can safely buy for most any trout-focused fly fisherman, but one of the safest is a set of hopper patterns. Most every fly fisherman uses hoppers for summer fly fishing at some point during the year. Not only do they bring big trout up from the bottom, they are particularly effective when used with smaller dropper flies tied to the end of the hook — the hopper attracts attention but a small nymph dropper fly seals the deal. The point is, because hoppers are versatile and get used, they make great fly fishing gifts.
As for streamers, if your fly fisher likes going after big fish, especially in the spring, streamers are always welcome. Because a good streamer fisher goes deep, streamers get lost on the bottom of the river, which makes replacing them an ongoing fly fishing gift. Of course, if you just slip one in a stocking, say a hot crayfish pattern like the Rainy's Whitlock's Near 'Nuff Crayfish, that's a good move, too.
39. Cliff's Bugger Beast Fly Box
If your fly fisher likes to throw big flies, they'll appreciate a big fly box, and the Cliff's Bugger Beast Fly Box is arguably the best. The inside is lined with slots that let you fit — and organize — large streamer patterns. How do you know if your fly fisher needs a Beast Fly Box? First, if they like to fish in the spring when the water is high, there's a decent chance they'll be throwing meat, which means they're using big streamers to attract big trout. Second, if your fisher uses a drift boat or raft, they'll almost certainly appreciate a Bugger Beast Fly Box. Finally, if your fisher is doing any saltwater fishing, big fly boxes are critical. So basically what we're saying is that most any half-serious fly fisher will appreciate a Bugger Beast.




40. Fly Fishing Vest
Under $50 (and up)
If your fly fisher likes to kick it old-school but can appreciate a modern update to the classic fly fishing vest, a new fly fishing vest can make a great fly fishing gift. We particularly like vests that have adjustable shoulder straps, which makes getting the right size easier. Also look for mesh for hot-weather fishing and fabrics that both shed water and dry fast. In particular, vests are great for fly fishers who fish more technical water — think very small flies in clear, soft water.
41. Roof-top Fly Rod Carrier
A rooftop fly rod carrier lets you store a fully-rigged fly rod safely. While traveling to a fishing spot, the rod and reel is protected. Once you arrive, you don't have to put a rod together, saving you a couple minutes of precious fishing time. Yeah, two minutes, big deal, right? But have you met a fanatic fly fisher? Every minute counts. In addition, you could rig up multiple fly rods, say, a streamer rod as well as a dry fly rod. These rooftop fly rod carriers also feature locks, which means your fly fisher can wander into a fly shop or grab a sandwich in a restaurant and not worry about losing expensive gear. The new Yakima DoubleHaul ships quickly for Amazon Prime members, so if you're up against a deadline. . . .
42. Fly Fishing Raft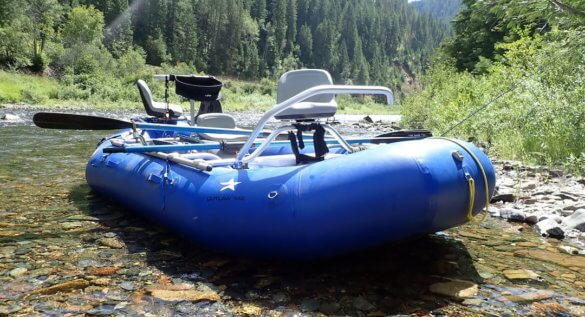 $4,000~
Drift boats are awesome, of course, but they take up a lot of storage space when you're not using them. Enter a raft that's setup for fly fishing. A good fly fishing raft will be relatively nimble on the water, but they're also flexible off the water. In addition, you can launch rafts from more spots than drift boats. Better yet, a good raft is multipurpose. For families and friends, a raft can do whitewater runs and they're just more fun for water play. You can take the front casting frame off, letting friends hang out up front . . . and leave the back casting frame on . . . for those who want to take turns fishing while you're also floating for fun on hot summer days. Lots of options. It's hard to beat the price-to-value ratio of the NRS STAR Outlaw Raft Fishing Packages. At 13-feet long, the Outlaw 130 is plenty big for most fly fishers, but go with the Outlaw 142 if your fisher wants to do multi-day trips.
43. Smith Creek Rod Clip
The Smith Creek Rod Clip is a hands-free rod holder that you can pin most anywhere. It's super simple but ingenious. It works particular well for fly fishers with vests, but you can also pin it to a shirt, wader suspenders, or any over-the-shoulder strap. You can also hang it from a waist pack (but your fly rod will hang a bit lower). It's great for changing flies, tying on new tippet, or holding your rod while you get a quick photo with a monster fish right before releasing it. The key advantage of the Smith Creek Rod Clip over other rod holders is positioning. When you attach it near your shoulder, all you do is tip your rod up, attach it, and go hands-free for whatever you need to do. You don't have to think about where your fly rod is pointing at all. So easy.
44. Black Lantern Glass Set
If your fly fisher likes to kick back and drink beer from a glass — or is a whiskey drinker — check out screen-printed glass sets by Black Lantern. The fly pattern designs are classic. The glasses are manufactured in the USA and the designs are hand-printed from Black Lantern's studio in Estes Park, Colorado.
45. High-Quality Day-Tripping Cooler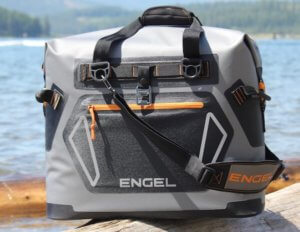 $100+
One way or another, your fly fisher will spend the day, if not days, outdoors and off the beaten path. So a high-quality cooler will always make a great gift. Some of the best soft coolers are waterproof and do a great job of keeping drinks cold — for more detail, check out our guide to the best soft coolers. Meanwhile, the hard-sided YETI Roadie 20 is surprisingly great — and you can sit on it.
Need Fly Fishing Stocking Stuffers? 
There are a lot of small fly fishing accessories and gadgets that make good stocking stuffers for fly fishermen. A good set of pliers, a fancy nipper, strike indicators, or fly floatant are all accessories that will get used and make good fly fishing stocking stuffers. Browse the fly fishing accessories and tools sections of these online stores below:
Plus, if you think a new fly rod is in order, check out "The Best Fly Fishing Rod and Reel Combo for the Money."