Disclosure: Man Makes Fire is reader-supported. When you buy gear using retail links on our site, we may earn an affiliate commission that helps pay for our work. Learn more.
The best fly fishing sling packs are purpose-built for fly fishing gear. They should have built-in connections and ports for core accessories like nippers, pliers, tippet, and nets.
Most importantly, the best fly fishing sling packs will let you spin them from your back to your front so that you have near instant access to properly oriented pockets. A general-purpose sling pack doesn't have pockets oriented for fly fishers, nor do they usually have segmented interior sections for reels, fly boxes, or leaders.
The good news is that there are many great sling packs for fly fishing. In fact, in recent years, it seems as if fly fishing gear manufacturers have devoted their best work to sling packs instead of more traditional chest packs and old-school fly fishing vests.
In 2018, most trustworthy manufacturers now have multiple fly fishing sling pack versions in various sizes and colors with various levels of waterproofing, which gives you lots of options for choosing your own best fly fishing sling pack.
Sling Packs vs Backpacks, Chest Packs & Waist Packs
The key benefit of a fly fishing sling pack instead of a fishing backpack is that you can hold nearly as much gear but you gain easy access to it when you spin the sling pack from your back to your front. Chest packs are great, but they tend to hold less gear — unless they're big, in which case they can get in the way when you're netting and releasing fish. Waist or hip packs also let you spin them them around front for easy access to gear — and then back behind you to get out of the way. There are only two downsides to waist packs: 1) when you want to load a waist pack for a full day on the water, the weight can become annoying, and 2) it's easy to wade deep enough to get your waist pack thoroughly soaked. (Some sling packs hang low to the small of your back, but the better sling packs can often be adjusted higher for deep wading situations.)
All in all, the best fly fishing sling packs are a cool compromise to backpacks, chest packs, and waist packs — which is why they're becoming more and more popular.
Best Fly Fishing Sling Pack: Waterproof Worth It?
As you choose your own best fly fishing sling pack, the toughest question is whether you should choose a waterproof sling pack. On one hand, waterproof sling packs will keep your gear (and sandwiches) dry. On the other hand, they tend to have fewer pockets and fewer gear attachment points. What you gain in waterproofness you lose in flexibility. Still, sometimes simplicity is a good thing.
If you fish in the rain, obviously waterproof sling packs are a great choice. But there is one more consideration: Do you tend to wade into water that's deeper than your waist very often? If you tend to wade deep, get a waterproof sling pack for fly fishing and save yourself the concern.
Best Fly Fishing Sling Packs 2018
Who knew there were so many excellent sling packs for fly fishing available these days? Because each fly fisher has slightly different priorities, it's hard to choose the best sling pack for everyone. But for us, these are the top ten best fly fishing sling packs for 2018:
What are the top 10 Best Fly Fishing Sling Packs?
Simms Waypoints Sling Pack

Umpqua Ambi-Sling ZS Sling Pack

Orvis Safe Passage Guide Sling Pack

Fishpond Summit Sling

Umpqua Steamboat Sling ZS Pack

Fishpond Thunderhead Sling

Patagonia Stealth Atom Sling Pack

Simms Dry Creek Z Sling Pack

Orvis Waterproof Sling Pack

Patagonia Stormfront Waterproof Sling
To make your sling pack decision easier, these fly fishing sling packs are grouped by manufacturer:
The Steamboat Sling ZS uses Umpqua's trademarked Zero Sweep design, which uses ingenious ports aimed at keeping key accessory gear like nippers and forceps handy without having them dangle and tangle as you fish. Here is how it works: Instead of letting your nippers flop around attached to a retractable zinger, Umpqua creates an attachment point for your zinger inside a portion of the pack or shoulder strap. You then attach your nippers to the zinger, which then retracts back into a tidier, snag-free setup. As for your locking forceps (a.k.a. hemostat), Umpqua has designed a port that guides the jaws into a sheath that has a locking point inside that your jaws can lock onto. Once you get the hang of it, it works great. There is more, though: All the zippers are closed-foot zippers, which means the metal zipper pull is a fused arch instead of a bent over tab with a gap. Why is this a big deal? Your leader or tippet can get under this tab in regular zipper pulls and give you one more irritating tangle to deal with. All of these design elements result in a sling pack that with fewer snags and tangles. So cool. Meanwhile, what about the overall design? Excellent. It's relatively big, 15 liters, and is capable of packing a rain jacket, lunch, and multiple fly boxes.
Most fishing sling packs are shaped to fit over one shoulder, but what if you prefer the other shoulder? What if you're not sure if you have a shoulder preference at all? The Ambi-Sling ZS is the pack for you. Umpqua designed the shoulder strap so that you can shift it to one side or the other.
How then do the zippers and pack orientation work when you rotate the pack in front of you? Umpqua created ambidextrous zippers and pockets so that no matter which orientation you choose to use, your pockets will be right side up. It's surprisingly cool. At 18 liters, the Ambi-Sling is slightly larger than the Steamboat — about the size of a small day pack.
As for comfort, the ambidextrous design remains comfortable over either shoulder.
The Ambi-Sling ZS also includes sweet Umpqua's Zero Sweep design — hence the "ZS" in the name.
If you're looking for a surprisingly versatile sling pack, check out the 10 liter Switch 600 ZS. Its claim to fame is a design that is capable of being worn over either shoulder simply by turning the pack. So the outside of the pack is relatively smooth — but it's the same as the portion that goes against your back. Turn the pack around and the outside will lay against your back instead, with the main strap on your other shoulder. The buckles rotate to keep strap positioning consistent. Great idea, really.
With a 21 liter capacity, the Simms G4 Pro is a big sling pack. It's exceedingly well-built. Key features include a water-resistant interior lining for deep water crossing, magnetic tool ports, and the famous Simms fold-down workbench. This workbench is basically a stiffer rectangular pocket cover that flops open and stops horizontally, giving you a space to drop a fly, weight, indicator or other miscellaneous item while you're tying on a new tippet, fly, or dropper. It's surprisingly handy. The G4 Pro Sling also includes a couple of external gear straps for lashing down a jacket or rod tube.
Just remember that the G4 Pro is water resistant, not waterproof like the Dry Creek Z noted below.
We think the best overall Simms sling pack option is its Waypoints sling pack, which comes in two sizes. The large is 27 liters. You get the Simms fold-down workbench as well as a tippet tender and floatant holder, plus magnetic tool ports for easy access to pliers or forceps. The large has plenty of pocket space for all-day trips on the river, plus it has compression adjustment straps that let you suck up extra space when you don't need it. These straps can also be used to secure a rain jacket or rod tube. Overall, the Waypoints Large is a versatile, well-built, can't-go-wrong sling pack. Highly recommended.
While the small is 10 liters, it's still pretty darn usable. You still get the Simms fold-down workbench as well as tippet tender and tool ports. It doesn't compress like the large if you have extra space. Choose the small version if you like to keep it simple — or you're looking for a high-quality pack for a younger, presumably smaller fly fisher.
This newly updated for 2018 waterproof sling pack is super durable. The Dry Creek Z Sling Pack has several interior stretch-mesh pockets to help with organization, but its core mission is being waterproof. For instance, it doesn't have the Simms fold-down workbench. It does, however, have several exterior lash points for attaching accessories or lashing rod tubes or jackets. One cool feature is its integrated net scabbard, which lets you easily use a long-handled landing net like the FishPond Nomad Landing Net. The waterproof material is a bit stiff, but it also results in a pack that is semi-rigid, which makes it easier to get at your fly boxes and accessories or any loose items you have stowed away. Choose the Simms Dry Creek Z Sling Pack only if you fish in the rain and wade deep often.
Shop fly fishing sling packs at Fishwest.com and get free shipping on orders over $89!
There's a lot to like about the Orvis Safe Passage Guide Sling Pack, starting with a built-in water bottle holder at the bottom, which you can access without spinning the pack. The interior lining of the pockets has a sweet topographic map line styling in a bright yellow-green, which makes it easy to spot stray flies, indicators, or weight. We like the cord loops and the position of the tippet bar (bar sold separately). This 'Guide' version of the Orvis Safe Passage sling pack line is about 22 liters in size. If you're outfitting yourself or a relative, you can choose the fully-loaded version from Orvis directly to turn it into a little kit — you get floatant, leaders, tippet, forceps, etc. It's not the most cost-effective way to get these accessories, but it's easy and turns the sling pack into an extra sweet gift for a beginner.
The regular Safe Passage Sling Pack is very similar to the Guide version, just smaller. At 10.5 liters in usable volume, the Safe Passage is surprisingly usable if you pack a water bottle because the Safe Passage also includes the handy water bottle pouch at the bottom of the pack. Choose this model if you'd rather go light and stay closer to your vehicle. It's available in the standard olive/grey and camo patterns, as well as in Orvis's bright new Fishwear pattern.
The overall shape and size of the new and improved Orvis Waterproof Sling Pack makes it very usable — at 14 liters, it's not overly bulky and has a slimmer profile. We like the positioning for a tippet bar, and two waterproof zipper pockets help give you options for storage. You also get the bottom Orvis water bottle pouch. Like the Simms Dry Creek Z, it's a little spendy but overall it's a superb waterproof pack. Choose the Orvis Waterproof Sling Pack if you fish in the rain and wade deep often.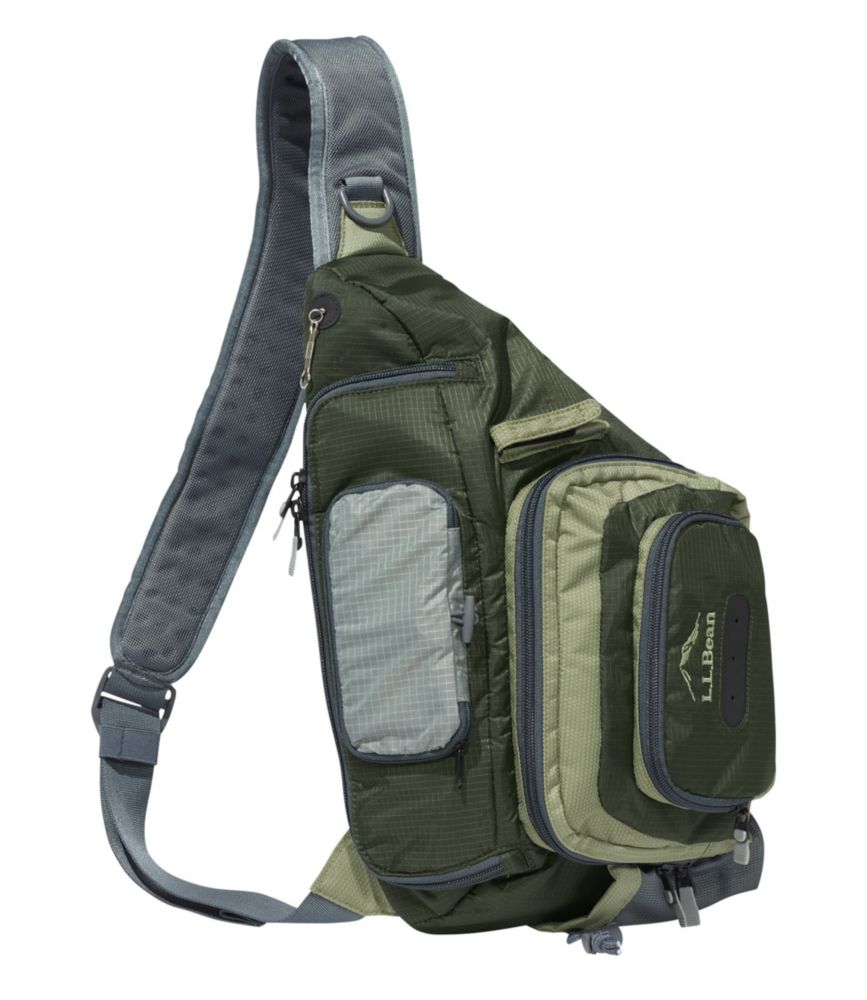 At 8.55 liters, the L.L.Bean Rapid River Sling Pack hits all the core sling pack features. It's not quite as big as some other packs, but it has multiple pockets that make it seem larger than it is, giving you plenty of ways to store your fly boxes and gear. It even includes a small pocket on the shoulder strap.
Like the Orvis sling pack options, the L.L.Bean Rapid River Sling Pack includes a water bottle pouch at the bottom. At first glance, you won't see an external fly patch, but it's there — L.L.Bean has a zippered cover for it so you don't lose your flies as you walk through brush. Better yet, a simple toggle system lets you leave it open while you're fishing and letting your flies dry out.
One nice benefit is that it includes two zingers built into the pack and strap — very handy. When you consider the cost of a decent zinger these days, this simple feature is a definite value add.
Like all L.L.Bean-branded gear, the Rapid River Sling Pack comes with L.L.Bean's legendary customer satisfaction guarantee, along with free shipping.
Patagonia has invented a sling pack that merges the easy access of front fly fishing vest pockets with a sling pack. The Fly Fishing Vest Front Sling, which Patagonia has refined for 2018, uses multiple pockets on the front portion of the sling to give you easy access to fly boxes and other frequently used gear. The back portion is a standard sling pack with a water bottle holder, straps for a rod tube, and multiple attachment points for accessories. The pack is 8 liters. Choose the Patagonia Vest Front Sling if you're looking for a minimalist sling that remains surprisingly functional.
Shop all 'fly fishing bags & packs' by Patagonia directly from Patagonia and get free shipping on orders over $75.
The Stealth Atom is Patagonia's fly fishing take on the traditional sling pack design. At 15 liters, it's bigger than the company's Vest Front Sling but it retains a similar raindrop shape. Patagonia updated it for 2018.
The Stealth Atom Sling features a water bottle holder, accessory attachment points and a handy pocket on the front strap, along with a molded front drop-down panel on the outside pocket that is similar to the Simms fold-down workbench. The pack isn't waterproof, but it does have a durable water repellant finish (DWR) and its exterior zippers are water repellant, too. It also has a handy built-in tippet spool holder on the outside of the pack.
The Patagonia Stormfront Sling 20L is a big and burly waterproof sling pack. It will gobble up gear and keep it dry all day long. Its main zipper is 100% waterproof (versus highly water resistant). In fact, the Stormfront has fully welded — not stitched — seams, plus it's coated both inside and out to create full waterproof experience.
The Patagonia Stormfront Waterproof Sling has some attachment points for accessories, but most fly fishers will need to get creative in how they decide to make their attachment points work with the gear they already have. None of this is a deal breaker, just plan on thinking through how you want to place your tippet spool, for example.
Again, choose the waterproof Stormfront only if you fish in the rain or wade deep.
Fishpond is killing it in sling design these days, nailing traditional sling pack design while also innovating. The 10-liter Summit Sling is Fishpond's most traditional fly fishing sling pack, and it's packed with features. It starts with plenty of accessory attachment points on both the front strap and the bag itself, giving you options for how you place your tippet, nippers, and forceps.
The Summit Sling has a loop for a standard net attachment with a net zinger, but it also includes a sleeve for a net handle, which is not only handy, it lets all the long-handled net users continue to take along their long-handled nets — or go light with a smaller net. We always appreciate versatility. Of course, the Summit Sling has Fishpond's signature molded drop down bench — and when we're wading in the middle of a river, we appreciate drop-down benches because they catch and hold all the flies, weights and indicators that our cold or frantic fingers drop while big trout feed right in front of us.
It's hard not to choose the Thunderhead Sling just to get the excellent shape and construction. Fishpond updated this sling pack with a much longer waterproof zipper, making it much easier to get inside to find the fly boxes, accessories, or whatever gear you're looking for when you're standing in the middle of a river.
For a waterproof sling pack, it has plenty of attachment points for accessories. It has a long-handled net sleeve, of course. The overall result is a pack that just screams fly fishing awesomeness. As with other waterproof packs, only choose it if you fish in the rain or wade deep . . . or in this case, appreciate gear that is also a work of art.
Check out the awesome Fishpond Nomad Emerger Net, which works great with any Fishpond sling pack — and get free 2-day shipping on most orders over $89 from Fishwest.
In case you aren't quite sold on the sling pack style, Fish Pond has been mixing it up with a different take on the fly fishing sling pack: The Buckhorn Sling takes design features from satchels and messenger bags to create a sling pack that rotates out of the way behind you but also rotates to your front for easy access to gear. Plus, it's completely and instantly ambidextrous, which means you can sling it over either shoulder. The front padding and accessory section slides along the strap to let you adjust the fit and position. It includes an integrated net slot, lots of accessory attachment points, an integrated water bottle pocket, and the Fishpond molded fold-down bench with a replaceable foam patch for holding flies. At 5 liters, it won't handle a jacket and lunch, but it'll hold your core fly fishing gear. Choose the Buckhorn if the satchel/messenger bag style ignites your imagination.
The Fishpond Delta is like a tactical messenger bag on steroids, and if you didn't think that even existed, it does in the Delta Sling Pack. It's only just over 10 liters, but the design makes it seem even bigger. The Delta has four large pockets, including a handy magnetic pocket, lots of attachment points, an integrated net sleeve, and a built-in water bottle pocket. Like the smaller Buckhorn, it's symmetrical, so you can sling it over either shoulder with ease. Remember all those pockets? It's big enough to fit a large caliber revolver with a holster inside — just in case you're fishing for salmon among large carnivores. Choose the Delta if you like the satchel style and want plenty of space and attachment points.
The White River Fly Shop Vanguard Sling Pack from Bass Pro Shops is one of the best inexpensive sling packs available for fly fishing. You get two zippered pockets large enough to hold fly boxes with a few smaller zip pockets for accessories. A set of loops give you another possible attachment point for zingers with nippers or forceps. The overall design, while simple, is a notch above its entry-level price point.
The VedaVoo Beast Sling gets the nod for the best name, no doubt about that, but also because it's the only American-made fly fishing sling pack that we're aware of. The VedaVoo Beast Sling has a relatively simple overall design, but it's highly functional. The pack has a very wide and flat base that stays stable over your back. It includes a slightly insulated water bottle sleeve, rod tube and rain gear straps, as well as a large main fly box compartment that can hold several small boxes or a beefy streamer box with ease. Choose VedaVoo if you appreciate the overall design and want to support Made in America fly fishing gear.
The Cabela's Sling Pack is a super small and simple sling pack. It covers the basics with pockets and accessory attachment points. If you want to go ultralight or are outfitting a kid, the size, simplicity, and price point are spot on.