Disclosure: Man Makes Fire is reader-supported. When you buy gear using retail links on our site, we may earn an affiliate commission that helps pay for our work. Learn more.
As you look forward to the upcoming 2022 camping season, one of the best ways you can upgrade your tent camping experience is with a good camping cot. The best cots are comfortable, no doubt about it.
However, while most cots share an elevated design with stretched fabric, the different cot styles and sizes have benefits and drawbacks. We created this guide to help supercharge your decision process by grouping the different cot designs and pointing out the pros and cons.
Want to scroll directly to our best cot list fast? Use the button:
Table of Contents:
How to Choose the Right Camping Cot
There are three basic considerations you should keep in mind when choosing a camping cot. First, consider the size. Take a look at the length and width and make sure the person sleeping on the cot will fit comfortably on the space provided. Cots vary widely in size and length.
Next, consider the size of your tent.
Most family camping tents are sized for campers who sleep on small sleeping pads right next to each other on the floor. While you can technically fit 6 people in a 6-person tent, it'll be close-quarters sleeping. Can you fit 6 cots in a 6-person tent? Probably not. You'll want to look at the dimensions of your cots and the floor plan of your tent to get your sleeping arrangements right.
On the other hand, cots can help create more room in tents because you often can gain storage space underneath your cots for clothing, shoes, water bottles or outdoor gear.
Consider Packability
Most cots pack down into bags that are a bit bigger and heavier than camping chairs. Some, like the super comfy REI Co-op Kingdom Cot 3, fold down into something that resembles a massive suitcase. And finally, some ultralight cots pack down really small.
Consider Frame Designs
Most cots work by tightly stretching fabric between support bars. Some stretch the fabric on all four sides of a rectangular frame, which results in a very sturdy design. The drawback is that they can be harder to setup. Other styles remove the short ends of the frame altogether — but they can be much easier to setup. These easy-up frames aren't always as taught, but the lack of end bars can make them more comfortable for stomach sleepers and taller campers.
Last of all, we only recommend cots from reputable manufacturers and sellers we trust.
The Best Classic Cots
The key benefit of these classic-style cots is that they're very sturdy. We like these cots particularly well when we go camping on rough ground in dispersed camping sites. Another benefit is that these cots have excellent price-to-value ratios. The main drawback of these traditional frame cots is that they can be harder to setup due to the tension required to set the last cross bar at the head or foot area. (Hint: Once you get the technique down, it's a lot easier — and easier with a helper.)
Dimensions: 74.8″ x 26″ x 15.7″
Weight: 22 lbs
Capacity: 300 lbs
The Cabela's Camp Cot with Organizer is a rugged cot with a stable tried-and-true foldable frame design. The biggest differentiator from competitive cots is the inclusion of the handy full-length organizer. It simply straps to either side of the cot and gives you space to stow your phone, keys, water bottle, a book, flashlight, warm socks and any other odds and ends you might need. We're big fans.
Cabela's Camp Cot with Organizer
Benefits
Sturdy and durable
Great overall size for most people
Excellent included organizer is surprisingly handy
Drawbacks
This classic style of cot requires a strong pull to set the last crossbar
Dimensions: 73″ x 35″ x 17″
Weight: 19 lbs
Capacity: 300 lbs
The Coleman Trailhead II Cot is similar to the Cabela's Camp Cot but it's a bit wider. In our experience, the Cabela's Camp Cot has fabric that seems to be just a bit more durable, but the price-to-value ratio of the Trailhead II Camping Cot is hard to beat. Due to the frame design, you might struggle during set up the first few times — again, if you're a cot newbie, setup is easier with two people.
Dimensions: 76.5″ x 29.5″ X 15.5″
Weight: 19 lbs
Capacity: 300 lbs
The Bass Pro Shops Eclipse Camp Cot uses a common 4-sided frame design. It is a little longer than the Coleman Trailhead II Cot but also a little narrower. Choose the Eclipse Camp Cot when you want just a bit more length.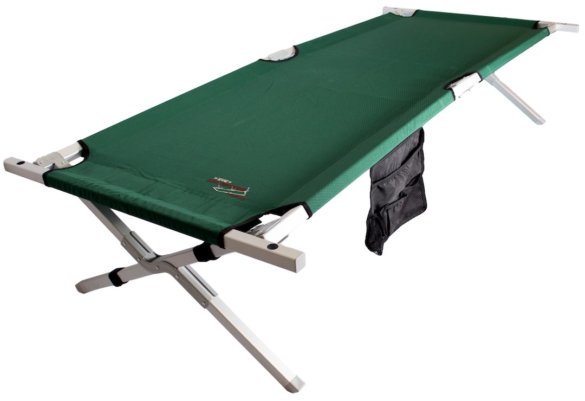 Dimensions: 84″ x 30″ x 18″
Weight: 23 lbs
Capacity: 375 lbs
The Byer Maine Military Camp Cot is great for taller and heavier campers without being overly large. It's very rugged but only weighs 23 pounds because it uses aluminum for the frame.
Note: If you're looking for a 'glamping' cot, check out the sweet wood-version.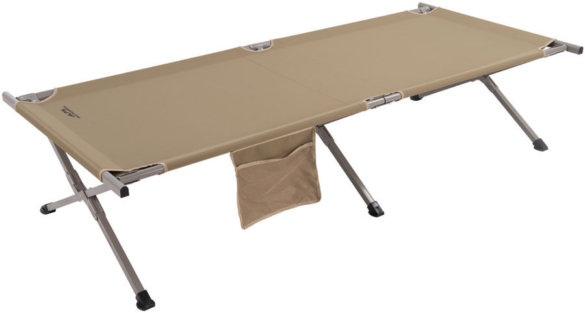 Dimensions: 86″ x 40″ 22″
Weight: 19 lbs
Capacity: 325 lbs
Our favorite benefit of the Alps Mountaineering Camp Cot is its round frame tube design. Instead of more angular edges in the side rails, Alps Mountaineering gives them a comfortably rounded curve. When you sit on the cot with your legs over the side, it's more comfortable than most rectangular side tubes. The generous 86″ of length is also nice for taller campers.
Best Easy Setup Cots
The benefits of an easy setup cot is that they're easy to setup and deploy. The main drawback is that these cots usually cost a bit more. They also sometimes feel slightly squishier because they lack crossbars. However, the lack of crossbars can make these styles of cots more comfortable for stomach sleepers and taller campers.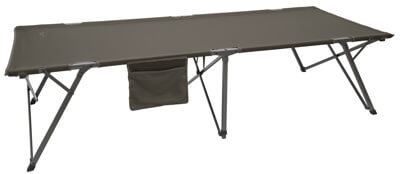 Dimensions: 80″ x 31″ x 20″
Weight: 19.5 lbs
Capacity: 325 lbs
The Alps Mountaineering Escalade Cot comes in two sizes, Large and X-Large. The primary benefit to the Escalade Cot is that it's very easy to set up. For sleeping it's sturdy. Plus, because it does not have cross bars at the head and foot, it's more comfortable for taller stomach sleepers.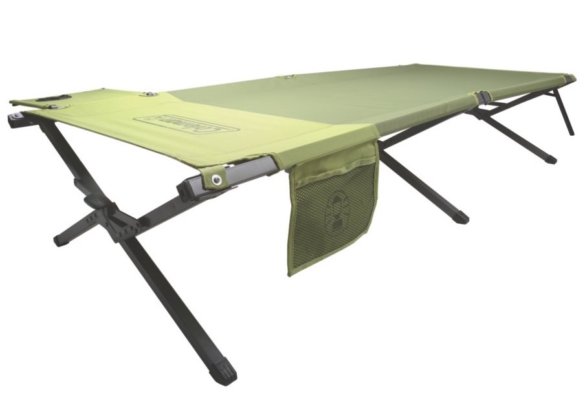 Dimensions: 76″ x 42″ 15″
Weight: 25 lbs
Capacity: 300 lbs
The Coleman Trailhead Easy Step Cot doesn't use four perimeter frame bars. Instead, Coleman uses a locking lever that you step on to create the final tension in the cot during setup. Coleman also includes some organization accessories. You get a removable side table with a water bottle pocket and a small hanging pouch. The biggest drawback is the size — it's 76′ x 42″ but Coleman reports that the intended sleeping area is 72″ x 30″.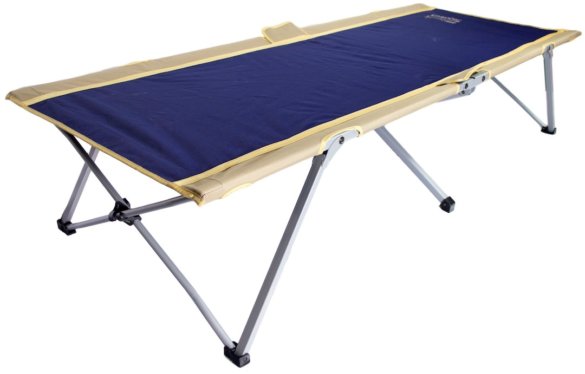 Dimensions: 83″ x 30″ x 17″
Weight: 21 lbs
Capacity: 330 lbs
The Byer Easy Cot combines an easy setup folding design with excellent overall quality. Hard to go wrong here.
Dimensions: 83″ x 30″ x 20″
Weight: 25.3 lbs
Capacity: 300 lbs
The most important differentiating feature of the Bass Pro Shops Eclipse All Season Cot is the mesh body fabric. If you camp in hot summer conditions, the mesh can help keep you cool on muggy summer nights. In addition, Bass Pro Shops adds in an extra brace connection at the head and foot to help keep the cot sturdy.
Note: If this sells out, the newer Bass Pro Shops Eclipse Auto-Fold Cot has the same design — but the new carry bag is a drop down in quality compared to the 'All Season' version.
Dimensions: 75″ x 25.5″ x 17.5″
Weight: 16.9 lbs
Capacity: 300 lbs
There is a lot to like about the REI Co-op Camp Folding Cot, starting with the four corner straps that ensure a secure construction. Some of the competitive easy-fold, easy-setup cots depend solely on tension to stay in place, but REI's version uses corner straps keep their cot together when you need to pick it up and move it inside of your tent. It's a small benefit, but we appreciate it.
Best Big & Tall Cots
If you are a big or tall camper, you might need a bigger cot. Look at the length and width when buying . . . and consider the recommended weight limits.
Size: 85″ x 40″ x 20″
Weight: 31.3 lbs
Capacity: 600 lbs
If you're a large camper, you need a big cot to get a good night's sleep. The Cabela's Big Outdoorsman Cot with Lever Arm is one of the largest cots available. It's big and has a classic rugged and stable design. To help during setup, Cabela's includes a Lever Arm that makes it easier and faster to get the bars in place.
Size: 85″ x 40″ x 19″
Weight: 26 lbs
Capacity: 600 lbs
The Teton Sports Outfitter XXL Camping Cot blends strong steel legs with an aluminum upper frame to help keep the overall weight down to a reasonable 26 pounds. Better yet, Teton's patented pivot arm helps provide leverage to more easily setup the cot's last end bar.
Size: 84″ x 35″ x 16.5″
Weight: 35 lbs
Capacity: 600 lbs
The Coleman Big-N-Tall uses extra-long end bars to help give you more leverage when setting the last end bar. The overall size is a bit smaller than the Cabela's Big Outdoorsman and smaller than the Teton Sports Outfitter XXL. The best feature, however, might be the included wheeled carry bag, which makes the weight easier to handle.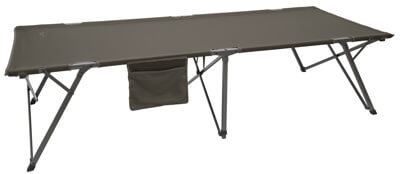 Size: 90″ x 35″ x 22.5″
Weight: 24 lbs
Capacity: 325 lbs
The Alps Mountaineering Escalade Cot X-Large version has an easy-up design. Unlike most competitive extra large cots, you don't have to worry about setting end bars. The one drawback is that the Escalade's weight limit is down around 325 pounds, so it's not quite as sturdy as the competition. For campers who are just a little large and want a roomy experience, it's hard to beat the lightweight and fast Alps Mountaineering Escalade Cot X-Large option.
Best Ultralight Cots
Most ultralight cots are still too heavy for all but the most cot-loving backpackers, but they do pack down small. For car campers looking to elevate their sleep — but reduce space in their cars — ultralight cots are a great compromise choice. The biggest drawback of ultralight cots is that they're not as high and not as sturdy as more traditional cot designs.
Size: 72″ x 24″ x 4.5″
Weight: 2 lbs 10 oz
Capacity: 325 lbs
The Therm-A-Rest Ultralight Cot is 2 ounces lighter than the Helinox Lite Cot and it's rated up to 325 pounds. However, you can also use the Therm-A-Rest Ultralight Cot in an even lighter trail mode. The cot comes with 6 crossbars, but you can run it with only 4 cross bars to save weight. This mode will drop your trail weight down to 1 lb 14 oz. The drawback is that your weight limit also drops down to 175 lbs.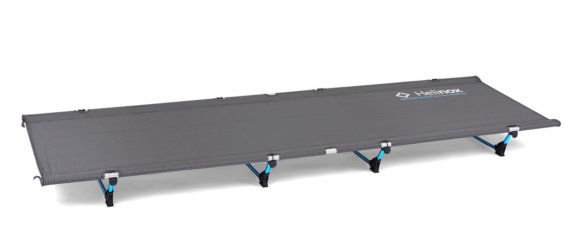 Size: 73″ x 23.5″ x 5″
Weight: 2 lbs 12 oz
Capacity: 265 lbs.
The Helinox Lite Cot is super light and very packable. While the Therm-A-Rest UltraLite Cot above is a few ounces lighter and comes in more sizes, we appreciate the more solid construction design of the Helinox feet. The biggest drawback is the cost. The Helinox Lite Cot costs quite a bit more than the ultralight cot competition.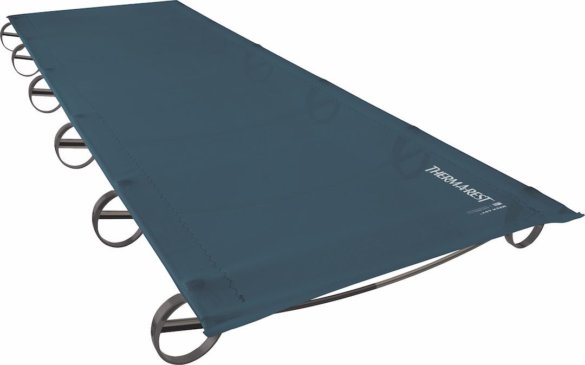 Size: 72″ x 24″ x 4.5″
Weight: 3 lbs 9 oz
Capacity: 325 lbs
The Therm-A-Rest Mesh Cot is an ultralight cot designed for warm weather camping. As you might guess, the main fabric is a breathable mesh. Therm-A-Rest offers Regular, Large, and XL versions. The XL version comes in at 77″ x 30″ x 4.5″ and has a beefier weight limit of 350 lbs.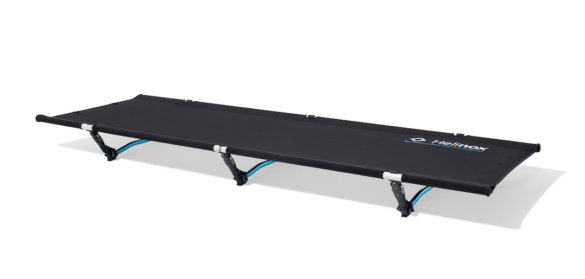 Size: 75″ x 27″ x 6.5″
Weight: 5 lbs 2 oz
Capacity: 320 lbs
The Helinox Cot One Convertible comes in two sizes, Regular and Long. At 82.5″ long, the Long version is 7.5″ longer than the Regular. One of the benefits of the Cot One series is that these ultralight cots get you a little higher off the ground — 6.5 inches. Better yet, Helinox also sells Cot Leg Extensions that lift your Cot One to about 15″ off the ground.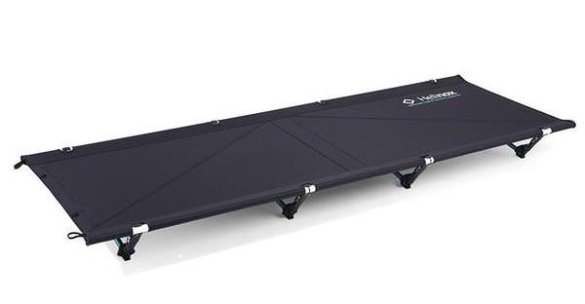 Size: 82.5″ x 29.5″ x 6.5″
Weight: 6 lbs 8 oz
Capacity: 320 lbs
If you're a larger camper who wants an ultralight cot, you want the Helinox Cot Max Convertible. It's only 2.5″ wider than the Cot One, but sometimes that's all you need for a good night's rest.
Shop all cots at Helinox and get FREE Shipping in the continental U.S.!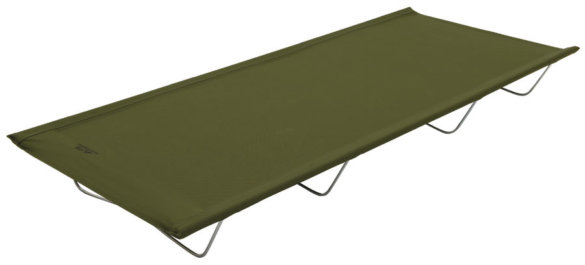 Size: 74″ x 30″ x 7.5″
Weight: 9 lbs 5 oz
Capacity: 250 lbs
The Alps Mountaineering Lightweight Cot is the most affordable lightweight cot in this buying guide. It features an all-steel frame with a rugged 600D polyester fabric.
Best Bed & Mattress-Style Cots
If you're looking for an all-in-one bed-like experience, you have some interesting choices. The biggest benefit will be a cushy, comfortable sleeping experience. The biggest drawback will be the bulky size and weight. Bed and mattress-style cots are portable . . . but not exactly easily packable.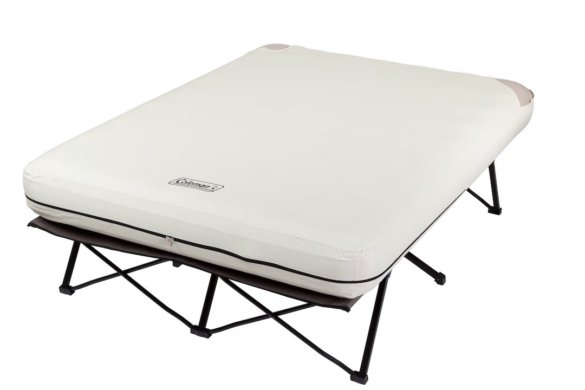 Size: 78″ x 59″ x 22″
Weight: 42 lbs
Capacity: 600 lbs
The Coleman Queen Airbed Cot is a blend between a cushy air mattress and a cot. The air mattress fits inside a fabric cover that's attached to the frame to keep it in place. Coleman also offers a twin-sized Airbed Cot version.
Size: 82″ x 31.5″ x 14″
Weight: 20 lbs
Capacity: 300 lbs
The REI Kingdom Cot 3 is one of the most comfortable cots for back and side sleepers. It comes with a built-in cushy mattress pad, and gives you an almost hammock-like feel from its elastic band supports. Any drawbacks? The biggest drawback is that it's not comfortable for stomach sleepers because it doesn't stay flat enough for stomach sleepers. The bit of stretchy sag in the middle that makes it feel so cushy just doesn't work when you're on your stomach. For everyone else, though — very good. Oh, there is one more drawback: The REI Kingdom Cot 3 is bulky and not very packable. It's like a very large suitcase when you fold it up.
Note: If the REI Kingdom Cot 3 is sold out, try the similarly designed Cabela's Lounge Cot.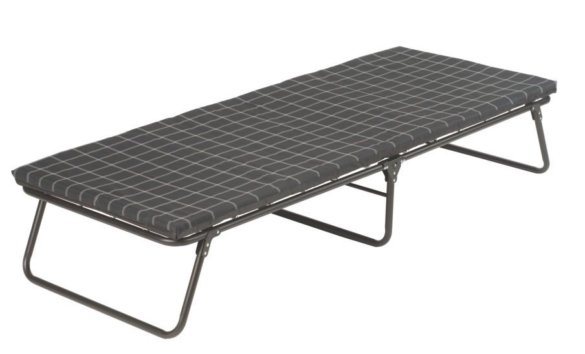 Size: 80″ x 30″ x 15″
Weight:
Capacity: 300 lbs
The Coleman ComfortSmart Cot pairs a coiled spring suspension system with a foam sleeping pad. The biggest drawback is that it's not as portable as more traditional cots, but it's biggest benefit is that that it comes with a foam sleeping pad.
Best Specialty Cots
Size: 79″ x 28″ x 11″ (per cot size)
Weight: 60 lbs (full system weight)
Capacity: 500 lbs (per cot)
The Disc-O Bed Large with Organizers is basically a cot-style bunk bed. The system lets you stack the cots to help you better utilize your tent or cabin space. They're surprisingly sturdy and come in multiple sizes. Cabela's even offers a Cabela's-branded 'Outfitter' 2XL version that boasts massive 85″ x 40″ sleeping areas.
Shop Disc-O Beds at Bass Pro Shops and get FREE Shipping!
Size: 82″ x 31.5″ x 18″
Weight: 32 lbs
Capacity: 300 lbs
The REI Co-op Levitate Sleeping Platform is like a cot but it's not technically a cot because you wouldn't ever want to sleep on it by itself. The Levitate Sleeping Platform is designed to be used with an air mattress or a foam pad. It's packable and sturdy. You can even shove two together to form a double bed that would support a queen-sized air mattress.
Camping Cot Accessories
Here are a few camping accessories designed to improve your cot sleeping experience:
The Cabela's 3″ Cot Pad comes in two size options that can transform a standard cot into an ultra-comfortable cot. Highly recommended.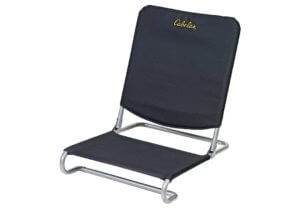 This handy cot chair slips over the side of a cot to give you a place to sit.
If you already have a standard-style frame cot, the Cabela's Cot-Side Nightstand will likely attach easily. Also, if you're looking for a gift for a camper or gift for a hunter who likes to sleep on a cot, the Cot-Side Nightstand will get used.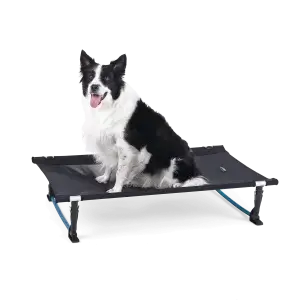 Because dogs like cots, too.
Looking for more camping gear?