Disclosure: Man Makes Fire is reader-supported. When you buy gear using retail links on our site, we may earn an affiliate commission that helps pay for our work. Learn more.
The best headlamps for hunting are waterproof, lightweight and include a red, green or blue light mode. The red, green or blue (RGB) modes will protect a hunter's night vision while hiking in the dark. Plus, RGB light is far less likely to alert big game animals while you're hiking to your hunting spot.
The best headlamps for hunters also include adjustable beams that let them pierce through the darkness along a trail but also drop the power to conserve battery. Of course, the main point of having a headlamp for hunting is to give a hunter hands-free light. If you're quartering a big game animal in the dark, being able to direct light wherever you're looking is darn near essential.
Plus, hunting headlamps are surprisingly durable and reliable for the price — the best hunting headlamps are waterproof, made by reputable companies, and they rarely fail. If you're trying to figure out how to spend your money on flashlights and headlamps for hunting camp or hunting trips, we recommend that you invest in one of these hunting headlamps . . . and spend less on a flashlight. These hands-free headlamps for hunting are lighter and more versatile, and therefore, more important to the kinds of hunting we like to do.
Better yet, if you get injured or lost and need to build a shelter and fire in the dark, a hands-free headlamp instantly becomes a key survival tool.
Table of Contents:
What is the best headlamp for hunting? 
The best hunting headlamp is the Petzl Tactikka +RGB Headlamp because it is lightweight, produces 350 lumens of high-quality light, and it includes red, green, and blue light modes. The high-quality blended light pattern helps you see branches and rocks clearly when hiking over rough terrain in the dark. Not surprisingly, the Petzl Tactikka +RGB is our #1 hunting headlamp recommendation for 2021. Read on for full details as well as more recommendations!
Best Hunting Headlamps 2021
There are a lot of great headlamps available for hikers, backpackers, and trail runners, but we narrow the field considerably with our hunting headlamp recommendations. If you hike into the woods before dawn, you'll want a headlamp with a red, green or blue mode. And if you hunt in the evening, a bright and dependable headlamp designed for hunting can give you an extra boost of confidence to take your shot right before dark.
As for beam distance and lumens, choosing a high-quality hunting headlamp with good optical components tends to be more important than the exact specs. Let's say this again in another way: Good optical components around the actual LED lights help deliver brighter, clearer, more usable light. So stick with reputable manufacturers and you'll be good to go.
Our Top 10 Hunting Headlamp Recommendations: 
1. Petzl Tactikka +RGB Headlamp
The recently updated version of the Petzl Tactikka +RGB boosts its already clean and clear light output to 350 lumens (the previous version was 250 — don't get that one). In addition, the Tactikka +RGB delivers a blended beam of light that provides good close proximity light with distance light. What does this mean? It means that when you're walking on a trail in the dark, you'll be able to more clearly see branches and rocks while also being able to see farther ahead. (Petzl optical quality is very good.) Meanwhile, the major benefit that Petzl delivers over most of the hunting headlamp competition is the choice to use red, green, and blue night vision modes. This is particularly beneficial if you happen to see better with green or blue light. The Tactikka +RGB has an IPX4 water resistance rating, which means it can shed some rain. In fact, we've used it in the rain and we haven't had any problems. Very highly recommended.
Petzl Tactikka +RGB Headlamp Specs:
Max Lumens: 350
Max Beam Distance: 90 meters
Run Time: 2 hrs on high; 12 hrs on medium; 160 hrs on low
Batteries: 3 AAA
Weight: 3.0 oz
Check Shipping/Pricing: Amazon | BlackOvis | REI | EMS | Sportsman's Warehouse
Petzl Tactikka +RGB Headlamp
Pros
Clean, high-quality light output
Excellent build quality
Complete RGB mode options
Turn your Petzl headlamp into a compact lantern with the Noctilight Headlamp Case!
2. Cabela's Alaskan Guide RGB Headlamp by Princeton Tec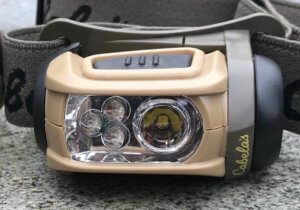 The Cabela's Alaskan Guide RGB Headlamp by Princeton Tec is one of our favorite headlamps for hunting because it's dirt-simple to use. All you have to do is push the button and you can cycle through five modes, red, green or blue and, of course, white in high or low. Better yet, red comes on first, so you don't have to cycle through the white to get to red and mess up your night vision. To get to white, just push and hold for a second or two. So easy. The main LED lamp puts out 300 lumens on high. The only downside is that the white on high seems to stay near full power for several hours — not the full 28-hour reported run time. The light output continues to run, it just dims over time. So, the 28-hour run time claim isn't exactly wrong, but it's not exactly right, either. Let's put it this way: In our experience, you'll likely get good results on high for about 4 hours. After that, performance is comparable to other lights on lower settings for longer periods of time. Meanwhile, Princeton Tec is a great headlamp manufacturer in its own right, but this Cabela's branded model gets our nod because we're fans of Cabela's and the company's overall customer service and dedication to hunting and outdoor gear.
Cabela's Alaskan Guide RGB Headlamp by Princeton Tec Specs:
Max Lumens: 300
Max Beam Distance: 73 meters
Run Time: 28 hrs on high; 150 hours using red, green or blue LEDs
Batteries: 3 AAA
Weight: 2.9 oz
Check Shipping/Pricing: Cabela's
Note: If you want the Princeton Tec-branded version, try the Remix RGB.
3. Princeton Tec Vizz Headlamp
Recently upgraded, the new Princeton Tec Vizz puts out a remarkable 420 lumens and is dimmable in all three modes. The Vizz has a Maxbright LED for a powerful spot beam or a pair of white Ultrabright LEDs for a white flood beam. Two red Ultrabright LEDs come in for preserving night vision and handling the headlamp needs of hunters. The waterproof level is IPX7. There's one more nifty feature: The translucent switch acts as a low battery indicator. Finally, did we mention that the Vizz is Made in the USA? It is. Gotta appreciate that. (Just make sure you get the new 420 lumen version, not the older 165 lumen model.) One more note: The L.L.Bean Trailblazer Sportsman 420 is comparable to the Vizz. The key difference is the green light option.
Princeton Tec Vizz Specs:
Max Lumens: 420
Max Beam Distance: 78 meters
Run Time: 110 hours
Batteries: 3 AAA
Weight: 3.2 oz
Check Shipping/Pricing: Amazon | Bass Pro Shops | Cabela's
4. Black Diamond Spot 350 Headlamp
The new Black Diamond Spot 350 Headlamp has a red light option and has a whopping IPX8 waterproof rating. What we like most about the Black Diamond Spot 350 — and we've used and tested two previous generations while hunting — is that the new Spot 350 has an increased lumen rating and great optical quality. That 350 lumens is a nice boost with clean light. Better yet, it weighs just 3.1 ounces with 3 AAA batteries. But that's not all: Black Diamond's previous generation headlamps required tons of button pushing to select the modes you wanted. Now, though, Black Diamond has added a new second switch for easier mode selection. If you've ever wondered if you had enough battery to last, Black Diamond has also added a six-setting battery meter. So cool.
Black Diamond Spot 350 Specs:
Max Beam Distance: 80 meters
Run Time: 4 hours on high; 8 hours on medium; 200 hours on low
Batteries: 3 AAA
Weight: 3.0 oz
Check Shipping/Pricing: Amazon | Backcountry.com | Black Diamond | REI
5. Cabela's Alaskan Guide XP Green Headlamp by Princeton Tec
The Cabela's Alaskan Guide XP Green Headlamp by Princeton Tec is the heaviest headlamp on this list but it's also the most powerful. The four AA batteries are mounted in a pack in the back while the lamp is in the front, which helps balance out the 9.8 oz load. What do you get with all this power? A whopping 550 lumens that spotlights out to 120 meters on high or a surprising 67 meters on low. The housing is waterproof to an IPX7 rating, too. What's particularly nice about this Cabela's version are the four, count them, four green 5mm LEDs. The combination puts out one of the best hunter-friendly green beams available — if you have aging eyes that don't see as well in the dark as they used to, you might appreciate the extra power in the Cabela's Alaskan Guide XP Green Headlamp.
Cabela's Alaskan Guide XP Green Headlamp Specs:
Max Beam Distance: 120 meters
Run Time: 70 hours on high; 150 hours using green
Batteries: 4 AA
Weight: 9.8 oz
Check Shipping/Pricing: Cabela's | Bass Pro Shops
Shop all Hunting Headlamps at Cabela's and get FREE Shipping on most orders over $50.
6. Black Diamond Storm 400 Headlamp
The new and improved Black Diamond Storm 400 delivers better usability controls and more power, making it one of the top headlamps for hunting, backpacking, hiking and fishing. The Storm 400 pumps out a whopping 400 lumens of light with good peripheral lighting. It also boasts an IPX67 waterproof rating so you can run it in the rain without fear. We've been big fans of the Storm series over the years, but this new Storm 400 gets even better: It includes a battery indicator so you know when you need new batteries. So handy. In addition, Black Diamond has included a new secondary switch to make it much easier to select the mode you want. Plus, when you get to a sketch area in the dark and you want full power, all you have to do is tap the Storm 400 headlamp and it'll boost you to full brightness. Of course, for hunters, you can activate the red, green or blue LEDs without cycling through a white mode. A lock mode prevents accidental activation while in your hunting pack.
Black Diamond Storm 400 Specs:
Max Beam Distance: 100 meters
Run Time: 5 hrs on high; 10 hours on medium; 150 hrs on low
Batteries: 4 AAA
Weight: 4.2 oz
Check Shipping/Pricing: Amazon | Bass Pro Shops | Cabela's | Moosejaw | REI
7. Coast FL75R Rechargeable Focusing LED Headlamp
Coast tends to produce headlamps that are aimed more at industrial or work-related uses, but Coast has attracted some outdoor adventure lovers, too. The Coast FL75R Rechargeable Focusing LED Headlamp is, obviously, rechargeable, but better yet, it features a twist-focus beam. By twisting the optics around the lens, you can go from Coast's 'Ultra View Flood Beam' to its 'Bulls-Eye Spot Beam.' The output is a whopping 530 lumens on high with a maximum beam distance of 156 meters. Also has a red beam for hunters. Comes with a battery pack, USB charging cord and AC and DC adapters. One more thing: It has an IPX4 waterproof rating.
Coast FL75R Rechargeable Focusing LED Headlamp Specs:
Max Beam Distance: 156 meters
Run Time: 2.25 hrs on high; 5.25 hours on medium; 11 hrs on low
Batteries: 3 AAA
Weight: 3.2 oz
Check Shipping/Pricing: Amazon
Note: Also check out the new Coast FL78R, which adds a green LED mode, too.
8. L.L.Bean Trailblazer Sportsman 420 Headlamp
If you're a fan of L.L.Bean's legendary customer satisfaction guarantee, check out the new L.L.Bean Trailblazer Sportsman 420 Headlamp. L.L.Bean doesn't say it specifically, but the Trailblazer Sportsman 420 Headlamp is surely manufactured by Princeton Tec in the USA for L.L.Bean to create the L.L.Bean-branded version. The Trailblazer Sportsman 420 has the same basic construction as the Princeton Tec Vizz 420-lumen model. You a whopping 420-lumens, IPX7 waterproofing, and battery life that lasts up to 110 hours. You also get a lot of adjustability of the beams, with the spot beam ranging down to 25 lumens. The 50 lumen white flood light is dimmable to 10 lumens. Interestingly, the L.L.Bean version has green LED night vision while the Princeton Tec Vizz has red.
Check Shipping/Pricing: L.L.Bean
9. BioLite HeadLamp 200
The new BioLite HeadLamp 200 is an ultralight, super comfortable rechargeable headlamp. While it only puts out 200 lumens, we were surprised at how crisp and clear the light is. In fact, the beam quality is so good it competes well with higher-lumen options. When you're walking in the woods, there are lots of shadows and sticks and rocks that are hard to see with harsh light. The Headlamp 200 produces a spotlight that shines out to about 50 yards . . . but it also produces a fairly wide beam that illuminates well close up, too. The result is a great on-trail experience (read our full review). Meanwhile, what about that ultralight part? The Headlamp 200 weighs just 1.75 ounces. Better yet, the lamp itself is low-profile and is fused to the headband. It is the most comfortable headlamp we've ever worn. Of course, it also has a red light mode. Finally, how about the battery life? The rechargeable battery lasts up to 3 hours on high and up to 40 hours on low. Considering its scant weight and solid output, this is a good headlamp for tossing in your pack and leaving it there until you need it. Because we always pack a small emergency charger for our smartphones and InReach Mini, you can use that to charge the Headlamp 200 if you're off grid and need a boost.
10.
Browning Night Seeker 2 Cap Light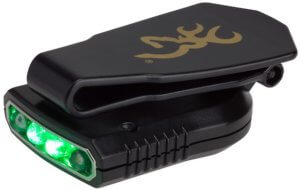 The Browning Night Seeker RGB LED Cap Light is a great backup hunting headlamp. The key is versatility. Many hunters wear ball caps with brims and the Night Seeker RGB simply attaches to the cap brim. This Browning Cap Light version uses two white LEDs for 15 lumens. You can also choose between red, green or blue for night vision modes.  In addition, the Night Seeker Pro fits underneath your brim, which lets you use the tilt feature to adjust the direction of the light up and down. It's a great stocking stuffer gift for hunters and the kind of backup light we like to keep in a pickup's glove box or with an ATV or UTV.
How many lumens do I need for a headlamp?
For most outdoor activities on trails or in the forest, you should get a high-quality headlamp rated at 200 lumens or more. Why? You want to have enough light output to help you see uneven ground in the dark. A headlamp with 200 lumens or more can better illuminate rocks, roots, branches and brush that can trip or injure you in the dark. We typically recommend 200-to-450-lumen headlamps for hiking, backpacking, camping, and hunting.
What is the brightest headlamp you can buy?
The AceBeam H30 Rechargeable Headlamp puts out an astounding 4,000 lumens, making it one of the brightest headlamps available in 2021.
However, you should also know that choosing the "brightest headlamp" is more complicated than the question first seems. Bright headlamps typically only produce a maximum lumen output for a fraction of the headlamp's total runtime before the headlamp auto-regulates to conserve energy and the batteries expire completely. This means that a headlamp with a 1,000-lumen rating might only run at 1,000 lumens for an hour or so before it drops down to 300 lumens or less. In some cases, it might be smarter to choose a 750-lumen headlamp that will run with constant output for 2 hours than a 1,000-lumen headlamp that will fade out more quickly.
If that was confusing, this is what you need to know: Very bright headlamps won't run at maximum brightness levels for long periods of time.
In addition, very bright high-lumen headlamps can run hot. Some are overbuilt (and heavy) to help dissipate heat. If they accidentally turn on inside of a backpack or travel bag, heat buildup can damage the headlamp or surrounding items and materials.
If you're with other people, very high-output headlamps can be hard on your companion's eyes if you accidentally look at them and shine your very bright headlamp in their faces.
Still, if you want raw lumen power and maximum brightness, consider these very bright headlamps:
Bonus: The Best Ultralight Lantern
The BioLite SunLight Portable Solar Light is one of the coolest ultralight lanterns we've ever seen. First, it produces 100 lumens of dimmable white light. The light output is a very broad, lantern-like beam — bright but not harsh. Hang it in your tent or above camp at night and you can cook or work on hunting gear. It has up to 50 hours of runtime. You can charge it via USB in about 2 hours . . . or let the sun charge it through its built-in solar panel in about 7 hours. You can set it to produce a red night-vision light or cycle through a whole spectrum of colors in party mode. It has an IPX4 water resistance rating and it weighs just 3.4 oz. It's a little under 3.5 inches square and less than 1 inch thick. We take our SunLight Portable Solar Light pretty much everywhere — camping, backpacking, to hunting camp . . . and of course, it goes into the hunting pack on some evening hunts that have poor access where we might appreciate the extra light.
At $24.95, the BioLite SunLight Portable Solar Light is well worth it. Or you can nab a 4-pack for $79.80 and get free shipping — and share the love by giving them out as camping gifts or hunting gifts or backpacking gifts. We're big fans. Very highly recommended.