Disclosure: Man Makes Fire is reader-supported. When you buy gear using retail links on our site, we may earn an affiliate commission that helps pay for our work. Learn more.
The best backpacking tent question and answer often ignites heated responses from experienced backpackers because so many believe their favorite tent, tarp, hammock, or shelter system is the best. That is a natural reaction — a great tent generates a sense of home and other warm and fuzzy feelings. Still, to create a useful list, you need to set some parameters with a reason behind them: For the majority of backpackers, the overall best backpacking tent should be ultralight and able to handle the widest variety of conditions without annoying workarounds.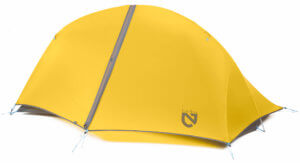 In our experience, this means the best backpacking tent is lightweight, freestanding, has two doors, two vestibules and a separate rain fly. Why? Versatility. You can quickly and easily setup most any freestanding tent on sand, rock or dirt. You don't need trees to hang a hammock system and your ability to ride out an unexpected rainstorm isn't contingent on perfectly staking out a tarp tent or using your trekking poles.
Then there is condensation. Freestanding tents with separate rainflies don't trap your own condensation while you sleep and send it sliding down onto your floor and sleeping bag like most single-wall tents.
One last reason? We appreciate the comfort of freestanding ultralight backpacking tents with bathtub floors and plenty of mesh that keep the bugs out. We've never met anyone who likes to sleep with bugs. Or scorpions. Or snakes. Of course, non-freestanding tents can keep the bugs out, too — they're just harder for newbie backpackers to pitch over varied terrain. So, we like and recommend freestanding tents because it's so much harder to actually go wrong with a freestanding tent.
What are the best backpacking tents?
Big Agnes Copper Spur 2 Platinum Tent
NEMO Hornet Elite 2P Tent
Big Agnes Copper Spur HV UL2 Tent
MSR Hubba Hubba NX Tent
NEMO Dagger 2P Tent
L.L.Bean Microlight UL 2-Person Tent
REI Co-op Quarter Dome 2 Tent
Marmot Force 2P UL Tent
Big Agnes Happy Hooligan UL2 Tent
The North Face Fusion 2 Tent
We'll dive into each tent in more detail below, as well as offer some interesting alternatives along the way, but first, let's cover trail weight and sizing.
Best Backpacking Tent: What Is Trail Weight?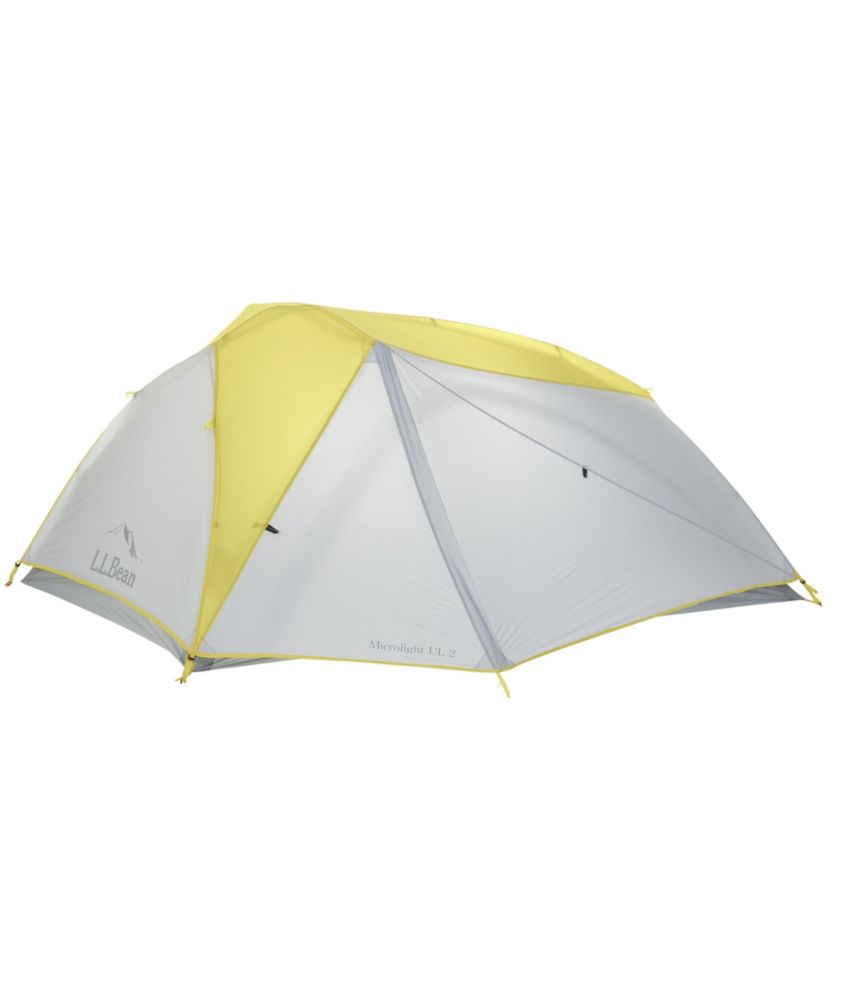 The weight of most backpacking tents are revealed in a few different and confusing ways, including packaged weight and trail weight. Trail weight is the weight of just the tent, poles and rain fly. This minimum weight does not include any stuff sacks, stakes or repair kits. So your actual weight will include a few more ounces at least for stakes — because most people are going to want to take a few stakes.
For our purposes, trail weight is a good indication of the lightness of a tent, and all of our best backpacking tents will have a trail weight of less than 4 pounds in a 2-person configuration.
Of course, you should know that ultralight backpacking tents have thinner fabrics than typical 4+ pound backpacking tents, typically 15-denier ripstop nylon vs 40-denier or even 70-denier. If you're really clumsy or hard on your gear, this might be a reason for you to choose a midrange backpacking tent. If you take your dog, trim and file those nails before you head out. Either way, it never hurts to pack some Gear-Aid Tenacious Tape for in-the-backcountry repairs — we once had a curious bear poke a few claws through our sidewalls while we were away on a day hike.
Incidentally, many of these tents can pitch with just the fly and a separate footprint, which means you could leave the interior of the tent at home to save even just a bit more weight if you're backpacking after the bug season.
Best Backpacking Tent: 2-Person Tents
All of these tents on this list are based on the most common and versatile 2-person configuration, which is usually fine for average sized backpackers. Taller and bigger backpackers — or those with dogs — will want to pay attention to length and width and consider sizing up into a 3-person tent for the extra livability if they need it. In addition, some of these tents are available in 1-person, 2-person, 3-person, and even 4-person versions — just check the floor dimensions of the other sizes to make sure they will fit your needs.
And why are two doors important? Two doors let you get out in the middle of the night to pee without climbing over your buddy. Plus, another vestibule gives you more space to keep your boots and gear dry.
The 10 Best Backpacking Tents 2017: Pros and Cons
There are a lot of good tents, hundreds of good tents. And there are a lot of very cost-effective tents in the 5-pound range. Our top 10 backpacking tents are all fantastic tents. Some tents try too hard with wild pole systems and special guy outs. Not these ultralight backpacking tents. These best backpacking tents are ultralight and ultra-usable for three-season use. (In case you're wondering, we did not include any mountaineering or winter-capable tents in this list. Those tents are specialized and tend to weigh 7 or more pounds — and they're overkill for summer backpacking.)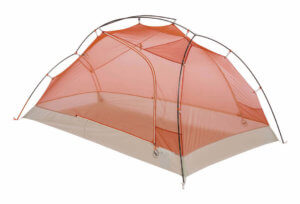 Big Agnes Copper Spur 2 Platinum — The Big Agnes Copper Spur 2 Platinum is an astoundingly great tent. Its trail weight is a scant 2 lb 5 oz, which isn't even the lightest two-person tent on this list. The Copper Spur 2 Platinum takes our number one spot because it's 90 inches in length, which is great for tall backpackers. Like most ultralight 2-person backpacking tents, it does not have a true rectangular floor — it's a trapezoid. The width at the head is 52 inches and it tapers down to 43 inches at your feet. This is cozy for two big guys, but pretty darn livable for most backpackers. The key is that it has excellent volume, a lot of mesh for ventilation, and a full coverage rain fly with two vestibules over two big doors. Plus, we like the pole system, which includes a point of stability at each of the tent's four corners, keeping the sidewalls easily taught. One more point about Big Agnes backpacking tents on this list: The lightest Big Agnes 2-person freestanding tent is the Fly Creek HV2 Platinum, and while it's a fantastic tent, it only has one door and one vestibule, which reduces its ease of use for two people. Still a great tent, though, perfect for someone who mostly goes alone but occassionally shares a tent. Learn More: REI | MooseJaw | CampSaver
NEMO Hornet Elite 2P Tent — The NEMO Hornet Elite is the lightest full-featured tent on this list, weighing in at a mind-blowing trail weight of just 1 lb 12 oz. For a tent that includes two doors, two vestibules and is very nearly freestanding, this is amazing. The tent is 85 inches long inside with 51 inches across the head and 43 inches at your feet. To gain some weight savings, the NEMO Hornet Elite uses just one center pole at the foot of the tent. This means to get the corners at the foot to pull the body of the tent outward, NEMO requires the corners to be staked. The triangular set up of the cords works pretty well here, but it means the Hornet Elite isn't quite as freestanding as the competition. That said, the NEMO Hornet Elite has a little something extra: style. The lines are crisp, and it comes with blue trim on the zippers, as well as a splash of yellow in the main tent, rounded out with a bright yellow rain fly. Note: The previous generation original Hornet (non-Elite) has a similar design with a still fantastic 2 lb trail weight. It costs about $130 less than the Elite. Learn More: REI | MooseJaw | CampSaver
Big Agnes Copper Spur HV UL2 — The Big Agnes Copper Spur HV UL2 tent is nearly the same as the Copper 2 Spur Platinum, but it has a slightly smaller footprint and is a bit heavier. It's 88 inches long inside, 52 inches wide at the head and 42 inches wide at your feet. Its trail weight is an excellent 2 lb 12 oz, and while the footprint is a bit smaller, the pole design results in more vertical walls and a bigger sense of interior space — think high volume. In case you're paying attention to the math, the HV UL2 is 7 ounces more than the Platinum — but you can save about $150 if you go with the HV UL2 instead of the Platinum. Tough call. They're both fantastic backpacking tents. Learn More: REI | MooseJaw | CampSaver | L.L.Bean
MSR Hubba Hubba NX — At 3 lbs 7 oz, the MSR Hubba Hubba NX seems a bit heavy for this class of backpacking tent, but it's a wickedly popular tent and has been for years. Credit the durability, stability, and symmetrical design. Instead of angling in at the foot of the tent, the Hubba Hubba NX is a rectangle 50 inches wide by 84 inches. This means you can fit two oversize 24-inch sleeping pads inside this tent with no overlap or sidewall push. Plus, the head of the tent has a near vertical design, which helps maximize the usable length. In addition to the 2-person version, MSR makes a 1-person, 3-person and 4-person version of the Hubba Hubba NX. Note: The MSR FreeLite 2 Ultralight is a full pound lighter than the NX, but it's not completely freestanding — you'll have to stake down the corners at your feet. Learn More: REI | MooseJaw | CampSaver | L.L.Bean
NEMO Dagger 2P Tent — The NEMO Dagger 2 Tent is another fantastic freestanding tent that errors on the side of roominess while remaining very light. It has a design extraordinarily similar to the MSR Hubba Hubba NX. It has a rectangle floor that is 50 inches wide by a nice 90 inches long. Its trail weight is 3 lb 5 oz, which is 2 oz lighter than the MSR Hubba Hubba NX. The Dagger's poles attach to the inner tent at a spot a bit higher, which spreads out the middle section of tent wall more but results in more interior angle lean down low at the head and foot, slightly reducing the usability of the 90 inch length. NEMO might not be as well known as MSR, but the Dagger is a fantastic backpacking tent. Learn More:  MooseJaw | CampSaver
Marmot Force UL 2P Tent — Marmot uses a similar pole design as the MSR Hubba Hubba NX except the head and foot portions arch more and have a bit of central pole extension. The end result is a bit more verticality in the head and foot areas, so the livability is good. The length is 86 inches by 52 at the head and 41 at the foot. The minimum trail weight is a sweet 2 lbs 12.5 oz. However, we have to say, we actually like the Marmot Tungsten 2P UL Tent quite a lot — it's nearly a toss-up here. The "ultralight" UL version of the excellent original Tungsten version uses lighter fabrics to achieve a 3 lbs 3.8 oz trail weight — the key benefit of the Tungsten is the dirt-simple pole design that also maximizes interior space. It's a little harder to find the Tungsten UL backpacking tent online and in stock these days, but at around $299, it's a steal if you do. Learn More:  REI | MooseJaw | CampSaver
L.L.Bean Microlight UL 2-Person Backpacking Tent — L.L.Bean is best known for its classic boots, but the company sometimes creates some surprisingly great niche products. Case in point, its ultralight Microlight UL backpacking tent. It's 90 inches long, 54 inches wide and it boasts a trail weight of just 2 lbs 11 oz. The price-to-value ratio is excellent, plus you get free shipping and L.L.Bean's legendary customer satisfaction guarantee. L.L.Bean only makes a 1-person or 2-person Microlight tent. Learn More: L.L.Bean
REI Co-op Quarter Dome 2 Tent — REI completely redesigned its lightest backpacking tent by updating its pole structure to increase interior roominess. The length is a nice 88 inches by a standard 52 inches at the head and 42 inches at your foot. The dual-stake vestibule requires two stakes to properly set up, but the benefit is that it helps keep the door of your fly off of the interior mesh tent walls when you're getting in and out in the rain. Plus, it makes the vestibule space a bit more usable for gear storage. Great backpacking tent overall. One note: We're big fans of the REI Co-op Half Dome 2 Plus Tent. Why? It's extra long and wide for tall and big backpackers or those with dogs or kids and want more durable fabrics. The floor is 96 x 56 inches and it weighs 5 lbs 1 oz — it's the best tent for tall backpackers on a budget. Learn More: REI
Big Agnes Happy Hooligan UL2 — The Big Agnes Happy Hooligan backpacking tent is basically a slightly more affordable version of its Copper Spur lineup. At just 3 lbs 2 oz in the trail weight, the tent is 88 inches long, 52 wide at the head and 42 wide at the foot. It includes a media pocket in the mesh ceiling with a headphone port. If you want nearly all the goodness of the Big Agnes ultralight backpacking tent design at a more palatable price point, the Happy Hooligan UL2 or UL3 is for you. Includes a vent in the fly for added airflow. Oh, one last thing: we appreciate the big doors. Learn More: REI | MooseJaw | CampSaver
The North Face Fusion 2 Tent — The lightest freestanding backpacking tent from The North Face uses a tried-and-true pole design to create an ultralight tent that is 90 inches long, 50 inches wide at the head and 40 inches at the foot. The trail weight comes in at an excellent 2 lbs 13 oz. While this backpacking tent design is similar to much of the competition, The North Face actually includes a footprint and gear loft, which is undeniably cool. Makes the investment seem a bit more worthwhile even if you end up leaving the extras at home. Learn More: MooseJaw
Best Backpacking Tent: Runners-Up
Sierra Designs Nightwatch 2 FL — We have to give a shout out to Sierra Designs for rethinking the standard ultralight freestanding tent design when it created its Nightwatch 2 FL tent. The Nightwatch actually has three doors and a rain fly design that's easy to pull back to let you sleep under the stars (beneath your mesh). If it starts raining, you can pull the fly down quickly. Meanwhile, there is also a big door at the head of the tent with a fly system that overhangs, which means you could see out the door while it's raining. You get all of this with a trail weight of just 3 lbs 8 oz. The only downside is the foot box isn't completely covered by the rain fly. Learn More: MooseJaw | CampSaver
NEMO Losi LS 2P — NEMO's bestselling backpacking tent features a stable and airy pole design that covers an 86" x 55" rectangle. The head and foot are nearly vertical, so the 86 inch length is often better than 90-inch tents that have more interior lean. With a trail weight of 4 lbs 4 oz, the Losi LS just barely squeaks past our 4-pound parameter for this list, but heck, the design is particularly livable. Learn More: REI | MooseJaw | CampSaver
Exped Mira II HL Tent — The Exped Mira II has a very nearly freestanding design and a trail weight of 2.9 lbs. Pretty solid overall, really, even though it reminds us of a curvy Volkswagon Beetle. Learn More:  MooseJaw | CampSaver
3 Best Budget Backpacking Tents for 2017
If you're on a tight budget, our top 10 best backpacking tents are priced out of your own best backpacking tent list. We totally get that and we've all been there. So if you're not ready to shell out for ultralight materials, what's the best balance of cost, features, and durability? Here are our three favorite best-buy 2-person backpacking tents that truly blend solid design with great quality:
REI Co-op Passage 2 Tent — Updated for 2017, the REI Passage 2 backpacking tent now features more ventilating mesh and a new pole architecture designed to create more head and shoulder room. It is 88 inches long and 51 inches wide. At just $159 and just under 5 pounds, the price-to-value ratio is astounding. You get two doors and two vestibules, of course. The Passage 2 also has adjustable ceiling vents, which should be no surprise coming from a company based in the wet and rainy Pacific Northwest. REI also includes a gear loft. If you buy the optional footprint, you can use just the rain fly for a lightweight minimalist experience.
Marmot Catalyst 2P Tent — At $169, the Marmot Catalyst offers a full mesh design with two doors, two vestibules, and a solid overall build. We also like the regular, non-UL Tungsten. It goes for about $199, but if you find it on sale for under $170, we'd nab it in a heartbeat.
Cabela's Axis 2-Person Tent — Cabela's isn't known for its hard-core backpacking gear, but the company has been making great tents for decades. The new for 2017 Cabela's Axis 2-Person Tent hits all the right design elements — two doors, two vestibules, plenty of mesh for breathability, plus a full coverage rain fly. The doors are big and there is a lot of interior space for riding out storms or just getting dressed in the morning. The floor is 88" by 52". The trail weight is 5 lbs 10 oz. but this backpacking tent is durable — the floor and fly are both made from a 68-denier poly taffeta. The price is $169.99 with the Cabela's lifetime guarantee. If you're tired of overthinking things, just grab an Axis and call it a day.
One last budget and beginner backpacking tent note: If you really need a good backpacking tent at an even lower price point, consider the ALPS Mountaineering Lynx 2 Tent. It's often on sale, and when it is, it has a compelling price-to-value ratio.
Best Backpacking Tents: 'Tarp' Tents?
We're not big fans of tarp tent shelters for the vast majority of backpackers, but some people — usually some of the most experienced backpackers and through hikers — are huge fans of tarp-style tent shelters. Why? They usually weigh even less than ultralight freestanding tents. For us, we would rather carry a little more weight for the convenience and room afforded by most freestanding tents — you get more vertical volume, bigger doors for easier entry and exit, easier setup over varied terrain and a separate rain fly that keeps the moisture away from us even if we bump our head on the inside of the tent. (Interior condensation is the bane of most tarp-style shelters.) Plus, if we need to move our tent to a better spot to get a flatter sleeping spot, we just pick it up and move it — or if the mosquitoes are swarming, move the freestanding mesh portion to the mountain lake shore to gaze out in peace before taking it back to camp. We could go on and on over simple reasons why the "extra" weight is worth it to us, but the point is, if you're willing to take the time to properly stake out one of today's best tarp-based tents, you'll usually get good results.
In addition, if you're thinking of undertaking a thru-hike trip covering hundreds of miles, the overall weight-to-features ratio becomes more compelling with an ultralight tarp-style tent.
Or, if a tarp-like tent just appeals to your personality more, start your research with these two best ultra ultralight tents:
Zpacks Duplex Ultralight Two Person Tent — trail weight of 1 lb 5 oz + required trekking poles (can also add 11 oz for poles to upgrade it to a freestanding option, coming in at about 2 lbs)
Tarptent Double Rainbow — trail weight of 2 lbs 5 oz
Related Reading: The Best Camping Tents for 2020 and beyond.