Disclosure: Man Makes Fire is reader-supported. When you buy gear using retail links on our site, we may earn an affiliate commission that helps pay for our work. Learn more.
The best outdoor gifts for men, him, fathers and boyfriends are often outdoor gear that extends the kinds of outside hobbies guys like most.
If your outdoor man likes camping, look for camping gifts. If he likes fishing, lean toward fishing gifts or, even more specifically, fly fishing gifts. What if your outdoor-loving guy is less-specific? What if he's truly outdoorsy everything?
In that case, we've got you covered with great gifts for outdoorsy men right here. We've specifically honed this gift list to recommend the kinds of clothes and gear that will work well for most any man — even if they don't walk around like your stereotypical outdoorsman adventurer!
25 Gifts for Outdoor Men 2022
The great thing about outdoor men is that they don't have to wear flannel and carry axes to be an outdoorsman — but we do include our favorite axe in this guide, because hey, every outdoor guy we know can appreciate a good axe. (For the record, we also have nothing against a good flannel shirt.) Our goal here is to give you a few newer gift ideas for outdoor guys, focusing on gear that is reasonably affordable and will darn near guarantee a smile!
1. Stio Eddy Shirt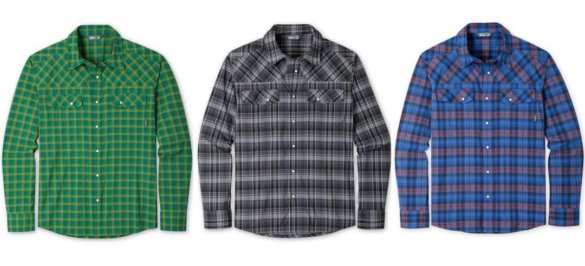 The Stio Eddy Shirt is something special. It's designed for outdoor adventurers who want to rock a laid-back, mountain-town vibe — but that's not all it is. The cool pearly buttons give a slight nod to a wide-landscape western heritage, but it's decidedly modern in its pattern and cut. It's such a good shirt that it dresses up or down depending on where you're going. The hem is short enough to leave untucked — but long enough to tuck in. Roll up the sleeves and your outdoor man is suddenly casual and competent. We can't say enough about the Stio Eddy . . . and we also like the on-the-water focused Stio Eddy Drift version (which is in the feature photo at the top) and the snow-focused Eddy Slope. Read our full Eddy/Drift review or just nab one for your outdoorsman now. Sizing is spot on.
2. Grundéns Deck-Boss Ankle Boots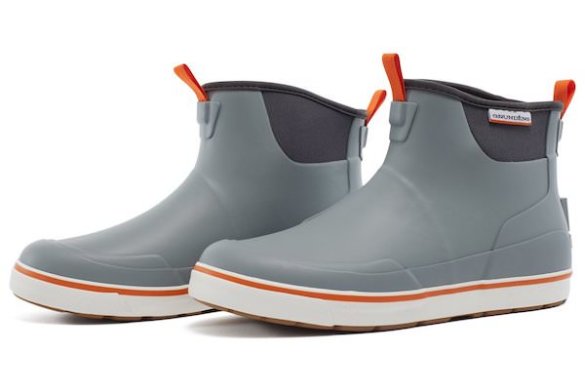 The Grundéns Deck-Boss Ankle Boots were built to survive long days on the decks of boats in and out of salt water. They're rugged and handsome and come in quite a few color options. As for land-loving outdoorsman use, they have thicker insoles for all-day comfort and razor siping in the soles that grip on wet rocks as well as wet docks. They're great for campers, boaters, fishers, hunters and anyone who likes to walk around outside when the ground and grass is wet!
3. L.L.Bean Zip Hunter's Tote
We believe camo is for everyone — not just men — but it's hard to deny the fact that many outdoor-loving men also appreciate camo. Enter the L.L.Bean Zip Hunter's Tote. It comes in a few different sizes, but we usually recommend going big or going home, so get the large. Totes are great for hauling extra gear, extra clothes, and certainly food.
Upgrade Option: YETI Camino 35 Carryall or the Stio Basin XT CarryAll 35L
4. Stanley PourOver Coffee Kit
If there is one thing outdoor adventurers know, it's that the best backcountry places don't have drive-through coffee shops. That's where the Stanley Classic Perfect-Brew Pour Over Set comes in. All you need are coffee grounds and hot water and you can brew yourself a great cup of coffee — or even fill an insulated Stanley Legendary Bottle. If your outdoorsman uses a French Press — or might appreciate the rich goodness of the French Press method of brewing coffee — nab the affordable and easy-to-use Stanley Adventure All-In-One Boil + Brew French Press.
5. YETI Trailhead Camp Chair
The YETI Trailhead Camp Chair delivers everything you need at a remote campsite or on a day-trip adventure: It's super rugged, surprisingly comfortable, and it's collapsible for great portability. Lots of guys want one but won't spend the money on themselves to get it. If you can, do it — your outdoor lovin' man will appreciate it. Still not sure? Read our full Trailhead review for more detail.
YETI Trailhead Camp Chair
Benefits
Rugged and stable
Very comfortable
Super high-quality design and construction
Drawbacks
Price point is high compared to the camp chair competition
Alternative Camp Chair Options:
6. Cabela's Camo Power Bank with LED Lantern
We like small lanterns. Flashlights often deliver beams that are too focused and harsh while full-size lanterns are heavy and get in the way. The Cabela's Camo Power Bank with LED Lantern serves two purposes: 1) you get a handy mini lantern, and 2) you get a 10,500mAh power bank with a USB-A output and a USB-C input/output port for charging your smartphone or satellite communicator.
7. Shelta Firebird V2 Sun Hat
The Shelta Firebird V2 isn't just any sun hat — it's a water-ready sun hat. The key innovative feature that sets it above all sun hat competition is the patented stiff brim. When you're out on the water, the wind won't flop the brim down into your eyes. We wear ours all summer long — whitewater rafting, kayaking, stand-up paddleboarding, sitting on the beach, and fly fishing. It protects your ears and face from the sun . . . and who doesn't want sun protection for their outdoor-loving man? Read our full Shelta review for more detail — or just nab one at Shelta now. For a sportier look with shorter side brims, try the action watersports-ready Raptor V2 version.
Need an Awesome Cold-Weather Hat?  Try the Filson Insulated Packer Hat.
8. Howler Brothers Merlin Jacket
The Howler Brothers Merlin Jacket has a relaxed vibe that somehow screams outdoor awesomeness. How'd they pull it off? The details, man, the details! The heavy-duty shoulder patches pair well with the modern medium square baffles and the double-needle stitched sleeves. The old-school 'Howler Bros' logo chest patch delivers classic style while the no-nonsense ribbed interior cuffs seal out the chill. And here's another detail: Check out that hem! The hem tapers up at the sides but falls lower in the front and back. The result is a trimmer look around your man's torso — and every guy appreciates that. In our view, the Merlin is the unique puffy that's just as good for manly men as well as the cool kids. Great color options, too!
9. Under Armour UA Iso-Chill Shorebreak Shirt
The Under Armour UA Iso-Chill Shorebreak Shirt is one of our favorite sun and water shirts. UA makes both long-sleeve and hoodie versions, as well as camo versions for hot-weather hunting. They deliver UPF 50+ sun protection, wick moisture fast, and if you swim in one, it'll dry fast, too. Read our full Iso-Chill review for details but know this: We're big fans.
Competitive Option: Huk Icon X — super popular for fishing in hot-and-sunny weather
10. Patagonia Black Hole Duffel
Every outdoor adventurer should have at least one rugged duffel bag, and a good place to start is with the Patagonia Black Hole Duffel. We particularly like the 55L version that sports the iconic Fitz Roy Trout graphic shown in the photo above, but all the versions do their job just as well. They're lightweight but rugged and perfectly shaped for easy packing and carrying. And yes, they come with removable backpack straps. Read our full Black Hole Duffel review for more detail.
Competitive Expedition Bags:
11. Darn Tough Socks
Darn Tough Socks are the gift you can give that will last a lifetime: Darn Tough has an unbeatable lifetime warranty. If your outdoor adventurer wears a hole in his socks, he can send them in for replacement by Darn Tough. Does it work? We've worn dozens of Darn Tough socks over the years, even abusing them in the washer and dryer, and only one pair has torn and needed replaced. Did Darn Tough come through? Yup — with a brand new pair. Read our full Darn Tough review for more detail. Incidentally, if you're not keen on merino, Darn Tough makes synthetics, too.
Thick & Cushy Alternative Options:
12. Patagonia Tech Web Belt
Our favorite everyday adventure belt is easily the Patagonia Tech Web Belt. It is super simple, super durable, and the aluminum buckle gives you the perfect bit of flash of outdoor-ready style. In a pinch, you can use the belt to lash something together or down, and in a different kind of pinch, you can use the buckle as a bottle opener. Sizing is easy, too: One size. You just cut it to fit your waist and seal the end of the nylon webbing with a bit of fire. Easy!
Alternative Belt Options:
13. TRUCK Gloves
We like rugged leather gloves because they just get better with age. TRUCK Gloves offers a full line of gloves for work, snow sports, and mountain biking. Of all the TRUCK Gloves we've tested, they've all delivered excellent price-to-value ratios. One gear tester liked the M1 Pro winter gloves so much he promptly bought a second pair.
14. Black Diamond LiteWire Carabiner
You don't have to be a rock climber to appreciate a strong and lightweight carabiner. Our favorite is the Black Diamond LiteWire Carabiner because is has the perfect blend of size and usability for everything outdoors. We use them around camp to hang lanterns, to clip onto dog collars with extra paracord leashes, to clip water bottles onto backpacks, to hold hunting gear on hip belts, and we even know someone who dove down into a river and used it to clip onto a drift-boat anchor to retrieve it. So yeah, it's one of our favorite stocking stuffer gifts — in fact, you could nab the colorful 6-pack LiteWire Rackpack to fill multiple stockings!
15. L.L.Bean Mountain Classic Down Vest
We like the L.L.Bean Mountain Classic Down Vest for its, well, classic good looks. It's thick and warm and comes in regular and tall versions from L.L.Bean, as well as Colorblock and Print versions. Get the Mountain Classic Down Vest for rugged outdoorsmen who might appreciate the classic puffy vest style.
If your outdoor lover is more of a modern hard-charger, consider these lightweight shinier alternative vests below:
16. DryGuy Force DX Boot Dryer
The DryGuy Force DX Boot Dryer is must-have gear for skiers, snowboarders and any fisher, hunter or hiker or treks outside in wet weather. This boot dryer uses a gentle fan to dry gear quickly — and a selectable heat setting that spurs things along without putting leather at risk.
17. NomadiQ Portable Grill
The nomadiQ Portable Grill uses an innovative clam-shell design to maximize grill surface area in a super-packable form factor. Most portable grills are a bit clunky to haul around, but nomadiQ is not. You can even use a shoulder strap to carry it on long treks to your spot on the beach or hill.
When Space Is Not a Factor: Weber Q1200
18. Camp Chef Pro Series Deluxe Camp Stove
While we enjoy using small backpacking stoves and small two-burner camping stoves, we don't know any outdoor cooking men who wouldn't like the sheer power and awesomeness of a full-size Camp Chef 2-burner stove. Camp Chef makes a variety of models, including the value-priced Camp Chef Explorer. Our favorite is the Camp Chef Pro Series Deluxe because its legs fold down and it has two flip out side tables. Camp Chef makes cool accessories for future add-on gifts, too, like a BBQ grill box, cast-iron griddles, carrying cases, and even a pizza oven.
19. Gerber 23.5″ Freescape Axe
The Gerber 23.5″ Freescape Axe is our favorite all-around camping axe. It's big enough to chop up a tree that's fallen across a mountain road and it's small enough to cut firewood at camp. Best yet, unlike wood, the composite handle won't shrink if you leave the axe in a hot trunk or in the back of your pickup truck all summer long. Note: Gerber also makes a hatchet version with the same awesome design.
Heritage Options: Hults Bruk Almike Hatchet or the L.L.Bean Hudson Bay Cruiser Axe
20. L.L.Bean Henley Commando Sweater
You don't have to be an international super spy to appreciate a good commando sweater, and the L.L.Bean Henley Commando Sweater is a great one.
21. Ice-Mule Pro Cooler
If you love the outdoors, sometimes a great spot is just a bit farther down the trail than regular cooler-hauling guys are willing to go. . . . Once you start using a backpack cooler, you'll start taking cold drinks and food farther than ever before. We appreciate the ICEMULE Pro Cooler because it has a no-maintenance insulated dry-bag design that works well and has lasted four years without a hitch.
For Guys Who Prefer More Structure: YETI M20 Backpack Soft Cooler
22. ENO DoubleNest Hammock
We always say that if you're going to get a hammock, you might as well get one big enough and strong enough for two. Why? Hammocks are so darn comfortable it's almost impossible to always take turns. The roomy Eagles Nest Outfitters DoubleNest Hammock is sized for two, but it's still great for one. And remember this: You don't have to lay in a hammock — half the comfort is when you sit in it sideways like a rocking chair.
Awesome Addition: Kammok Swiftlet Hammock Stand — no trees needed!
23. Ultimate Ears Wonderboom 2
Ultimate Ears makes several sizes of outdoor-ready waterproof, wireless Bluetooth speakers. The smallest, the Wonderboom 2, is surprisingly loud. If your outdoorsy man likes a bit more bass and a bit more party, size up to the Ultimate Ears Boom 3 or the even larger Megaboom 3.
Alternative Option: For a whole different take on a rugged speaker, try the dry-box styled DemerBox.
24. Dometic CFX3 35 Electric Cooler
Overlanders and van lifers have been using electric coolers for years, but they're also great for any outdoorsman who spends more than a few days off the grid and far from readily available ice. Sure, a good rotomolded cooler will hold ice for days, but make ice? For that you need an electric cooler and the Dometic CFX3 35 is hard to beat. This one is big enough to be useful but small enough to remain portable and placeable in vehicles. Oh, one more thing: Dometic makes several sizes and models in case you want to go bigger or smaller.
25. Outdoor Master Infinite iSUP
The Outdoor Master 'Chasing Blue' Infinite iSUP offers a compelling price-to-value ratio. It comes complete with everything your outdoor-loving man needs to get started stand-up paddleboarding: The inflatable iSUP, a paddle, pump, backpack/roller carrying case, and repair kit. It's big, stable, and tracks well. We're fans. Read our full Infinite iSUP review for more detail!
Alternative Options:
Bonus Outdoor Safety Gear Gift!
The weBoost Drive Reach takes a tiny trickle of cellular signal and boosts it to something usable. Does it work in the backcountry? Definitely. We tested it in the mountains of Nevada and in the deep river canyons in Idaho. The Drive Reach was able to find 1-bar signals in places we've never had service before . . . and could boost 2-bar signals to 3 or 4-bars strong enough for acceptable web data connectivity. We won't admit to liking it for checking business email when we're far away, but we will admit to liking the ability to call home to check in from time to time!
Bonus Outdoor Stocking Stuffer!
If your outdoorsman uses coolers at night — who doesn't? — he'll appreciate the Coghlan's Inside Cooler Lid Light. How's it work? After you attach it to the inside of your cooler's lid, it turns on when you raise the lid — and turns off automatically after 20 seconds. So cool.
Related Man Makes Fire Gift Guides: