Disclosure: Man Makes Fire is reader-supported. When you buy gear using retail links on our site, we may earn an affiliate commission that helps pay for our work. Learn more.
The ISLE Megalodon 2.0 is a massive multi-person inflatable stand-up paddle board designed for families and friends. Depending on which size option you choose, it's not hard to fit up to four paddlers — and the family dog.
To get us a closer look, ISLE sent Man Makes Fire a 15′ Megalodon review unit. After putting it to the test for some early summer fun out on the water, this is what we learned during the review process:
ISLE Megalodon Review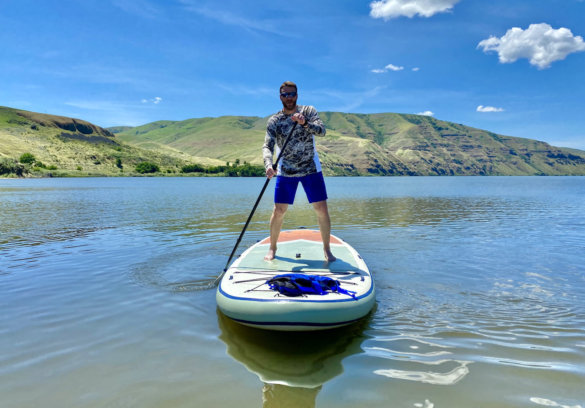 The first thing you'll notice about the Megalodon is that it's massive. Obviously you know that, but it's another thing when you see it in person. The 15′ long Megalodon is 56″ wide, which is 10″ wider than a full sheet of plywood (and almost twice as long). Fortunately, it only weighs 50 lbs. While that's twice as heavy as standard iSUPs, it's actually surprisingly light.
At 8″ thick, the Megalodon is significantly thicker than standard iSUPs. The ISLE capacity rating for the 15′ Megalodon is over a 1,000 pounds. That means you could put five 200-pound paddlers on the Megalodon and still not surpass the rated capacity.
The Megalodon has a lot of float.
Megalodon Stability
Out on the water, the Megalodon is freakishly stable. For friends who are iSUP beginners who struggle to stand on smaller boards, I think the Megalodon would be an excellent training and confidence board. Of course, it's not nimble and fast like smaller paddle boards, but for true beginners who are aging or struggling, the stability is just awesome.
If you have a smaller family and don't expect to load up the Megalodon with 4+ people, the 12′ Megalodon option would bring most of the same stability benefits and be easier for solo paddling when needed.
With four or more paddlers, the Megalodon 2.0 transforms into a chaotic paddlefest of awesomeness.
In some ways, the 15′ Megalodon is a paddle-capable floating dock or swim platform. While we had to ship our review unit back to ISLE after our testing period, we can imagine using the Megalodon as a floating dock around crowded beaches. We can also see paddling it to more secluded nooks and bays in lakes for picnics — or even using it to trip across some rivers to play on empty sandy beaches on the other side.
In this way, the Megalodon becomes more than just another water toy: In our experience, the ISLE Megalodon falls into the category of transformative outdoor gear that lets you do more things outside in new ways. Because of that, we're big fans.
Paddling Performance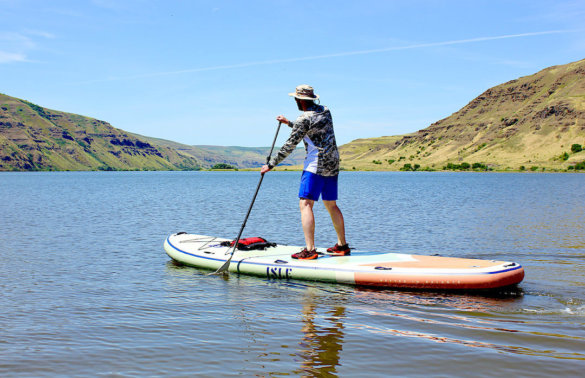 The Megalodon is not nimble compared to standard iSUPs. Relative to its extra-large size, though, it feels pretty good. The performance matches your expectations when you see how big it is, so paddling on the water just feels like you're paddling a very large iSUP.
For tracking, ISLE placed four built-in small fins along with a larger, removable center fin. If you're paddling alone, the Megalodon tracks surprisingly well. To get the best performance, though, you'll want to pump up the Megalodon to at least 14 PSI. If you tend to pump your standard iSUPs up to 10 or 12 PSI and call it good, you'll want to go a bit higher with the Megalodon if you plan to paddle it very far. Maximum rated pressure is to 17 PSI (and ISLE recommends 13-17 PSI).
Choose the 12′ Megalodon for mostly 2-person use — but get the 15′ version for more people and inflatable dock-like water play.
When you're paddling with a partner or even with a partner and kids, the tracking can get off quickly when you have random paddling going on. One side will have a stronger paddler with more strokes or two paddlers on one side will paddle stronger. Or one paddler will switch sides unexpectedly, causing a slow turn off of your intended track.
You could create some paddling rules if you wanted to keep your stroke efficiency up — but that's not really the point if you're using the Megalodon as a super cool water toy with family and friends. Sometimes riding the chaos is half the fun!
Shop the Megalodon 2.0 at ISLE and get free shipping — and a FREE e-pump!
ISLE Megalodon Quality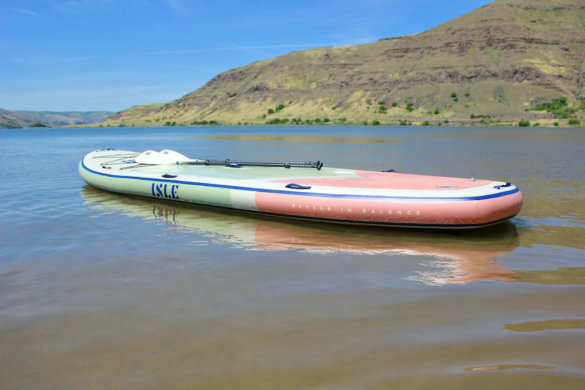 ISLE is known for its quality paddle gear and the Megalodon is no exception. The quality and fit-and-finish throughout is excellent. ISLE uses a rugged double-layer drop stitch construction. ISLE says it uses military-grade PVC, and while I'm not sure how to validate that claim, I have no qualms about its long-term durability.
ISLE offers a competitive 60-day guarantee trial period as well as a two-year warranty.
Megalodon 2.0 Specs
15′ Megalodon 2.0:
Dimensions: 15′ x 56″ x 8″
Weight: 50 lbs
Volume: 730 liters
Capacity: 1,050 lbs
12′ Megalodon 2.0:
Dimensions: 12′ x 45″ x 8″
Weight: 34 lbs
Volume: 584 liters
Capacity: 650 lbs
Original Megalodon vs Megalodon 2.0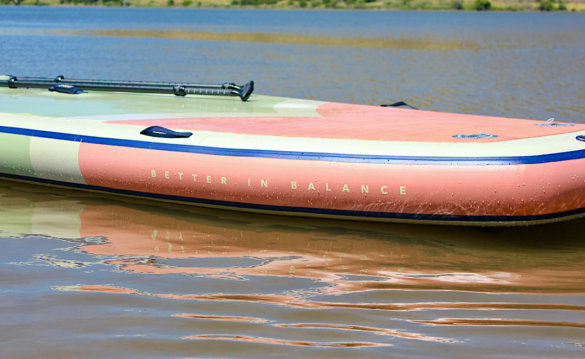 The primary difference between the new ISLE Megalodon 2.0 and the previous generation Megalodon is new color options. The core specifications are the same between the versions. One key difference is the current inclusion of a free e-pump with your purchase of the Megalodon 2.0. As of this writing, ISLE is still offering the original Megalodon at a discounted price while supplies last.
If you already have an e-pump, the original Megalodon is the better deal — especially if you use the savings to nab the Megalodon Rolling Travel Bag accessory.
The Megalodon Package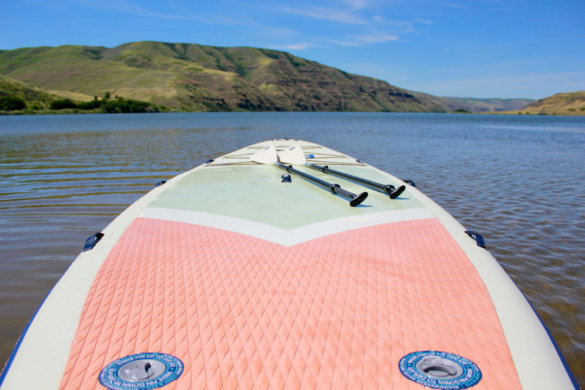 In the package, ISLE includes two carbon-hybrid 3-piece SUP travel paddles and a manual high-pressure iSUP hand pump. Both the paddles and the pump are higher quality than most included paddles and pumps that come with iSUPs these days.
Interestingly, ISLE doesn't include a carry bag — and definitely doesn't include a carry bag backpack. The 15′ Megalodon is too unwieldily for most people to carry on their backs.
Currently, ISLE is offering a free ISLE e-pump with each Megalodon purchase, so that's cool. Decent 12v electric pumps tend to cost $125+, so the included e-pump is a great benefit. In addition, when it comes to carrying the Megalodon, using an e-pump at your vehicle will actually save you a lot of hassle. Read on to learn why!
How to Carry the Megalodon
The Megalodon doesn't ship with a carry bag, but you can order a separate Megalodon Rolling Travel Bag. For simple storage flexibility and travel options, I recommend ordering the bag. The extra cost is a bit annoying, but the Megalodon quality and value itself is excellent.
Meanwhile, the Megalodon rolled up is fairly trim and only weighs 50 pounds — but the shape is awkward. In our test run, two people easily hauled the Megalodon rolled up down a long sandy trail to the beach. Hauling it back up the sandy trail after a long day on the water, however, was a lot harder. It was difficult to maintain a grip on the rolled iSUP.
Only after reaching the parking lot did I realize an important Megalodon tip:
If you have to carry the Megalodon very far, carry it inflated.
There are 8 handles around the perimeter, which will let two or more people carry it much more easily. Even if you have an odd number, like three, you could have two people on either side with one at the nose or tail and still have great stability.
In addition, you can use the inflated Megalodon as a platform to carry some extra or awkward beach gear. If you have enough family or friends to pitch in, you could conceivably add a cooler, life jackets, beach chairs, or even a sunshade with ease.
Of course, if you get the Rolling Travel Bag, you could also use the wheels or two people could hold the main straps and carry the Megalodon between them. The Megalodon Rolling Travel Bag has a grab handle at the top, as well as one on each side, but unfortunately it doesn't have a carry handle at the bottom near the wheels. I think this is a small oversight because carrying the Megalodon end-to-end over rough terrain is often easier than side-by-side.
Competitive Alternatives & Options
While there are many inflatable iSUPs available in standard sizes, the field of extra-large iSUPs and multi-person iSUPs narrows considerably. If you're interested in the ISLE Megalodon 2.0, you might also check out these competitive options:
NRS Beast — The NRS Beast iSUP is even bigger than the 15′ ISLE Megalodon. The Beast is 18′ long by 60″ wide and 8″ thick. The biggest benefit is the extra length that lets you add a few more paddlers than the Megalodon. The biggest drawback is that the NRS Beast costs significantly more than the ISLE Megalodon. However, NRS is known for making very rugged iSUPs.
Body Glove Crusader 15′ Multi-Person iSUP — The Body Glove Crusader 15′ iSUP is just as long as the 15′ Megalodon but the shape is different. The Crusader has a very aggressive nose rocker with a narrow nose that's designed for rough water and could be better for wave play in the ocean. The Crusader is about a foot wider and has a comparable 1,000 lbs paddler capacity. The biggest drawback is the increased price point — but Body Glove does include four SUP paddles.
Red Paddle Co. Ride XL iSUP — The Red Paddle Co. Ride XL is more similar to the NRS Beast than the Megalodon. At 17′ long, the Ride XL is just a foot shorter than the NRS Beast. That added length, though, makes it easier for 6 paddlers to all stand up and paddle at the same time. The quality is excellent. The biggest drawback compared to the Megalodon is the increased price.
Free Shipping
The first thing you'll notice when you get the Megalodon shipped to you is that it's huge. The box seems enormous and it will light up your imagination — and you might worry about traveling with it. Fortunately, once you open up the packaging, the Megalodon itself, rolled up, isn't quite as unwieldily as your first impression will imply. Still, it's much bigger than single-person iSUPs — but it is manageable with two people. The total package with the board, two paddles, and manual pump will weigh in at about 70 lbs in the box and 60-something pounds without. The 15′ board itself, however, weighs 50 lbs.
The Bottom Line
All-in-all, the ISLE Megalodon 2.0 is a super fun multi-person inflatable stand-up paddle board. The best features are its excellent on-the-water stability and the sheer joy it can bring to the beach. Because it's so large and stable, beginners are more likely to have success, especially in choppy or slightly windy conditions. Our favorite Megalodon feature is that it's capable of hauling multiple people, as well as dogs, to hidden or less-traveled spots on the water — and once there, it can serve as a dock-like swim party platform. Last of all, the ISLE Megalodon 2.0 price-to-value ratio is fantastic. Very highly recommended.
Get the Gear
ISLE Megalodon 2.0 Review
Benefits
Excellent overall quality
Very stable
You can use it as a paddle board, plus it's big enough to use as a swim platform
For groups and kids, it's freakishly fun
Drawbacks
Bulky to transport
Does not come with a carry bag