Disclosure: Man Makes Fire is reader-supported. When you buy gear using retail links on our site, we may earn an affiliate commission that helps pay for our work. Learn more.
The Orvis Clearwater Fly Rod and Reel Outfit is one of the best fly fishing combos available today — and has been for years. However, Orvis just completely redeveloped the Clearwater lineup for 2019.
To get us a closer look at the new Clearwater combo, Orvis sent Man Makes Fire a 9-foot, 5-weight freshwater outfit review unit.
This is what we learned:
Orvis Clearwater Fly Rod and Reel Outfit Review
The best fly fishing combos pair a fly rod with a matching reel, fly line, and backing. The Orvis Clearwater Fly Rod and Reel Outfit is one of the best entry-to-intermediate level fly rod outfits. Priced at around $300, the total cost is more than some competing outfits, but Orvis steps up the build quality to make it a serious contender for beginners — and for experienced fly fishers looking for a new type of rod or backup outfit.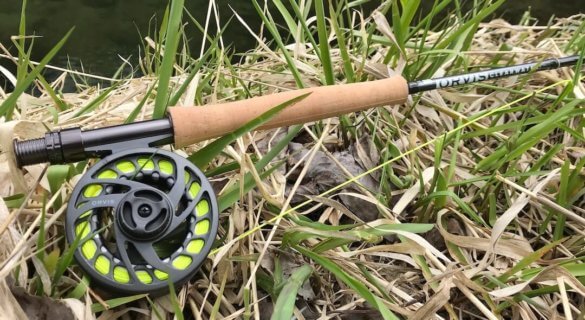 The Clearwater Fly Rod and Reel Outfit comes in a mind-boggling 20 different configurations for both freshwater and saltwater use. That's a lot of options — most entry-to-midrange level combos come in just a handful of the most common sizes and weights.
As for overall quality and fishability, a good many fly fishers will likely never feel the need to upgrade past the Clearwater series — it's that good. If they do, the Clearwater combo will likely stay on as a backup fly rod or a rod and reel ready for friends and family. Of course, Orvis makes better fly rods and reels — and offers them in outfits, too — but they tend to cost three times as much (but are also made in America).
While the Clearwater series was designed by Orvis' experts in Vermont, the rods and reels are imported — which is expected at this price point.
Orvis Clearwater Outfit Review: The Rods
Let's start with the Clearwater rods. According to Orvis, the company learned from the development of its high-end Helios 3D and 3F fly rods . . . and wanted to redevelop its Clearwater rods with some of the same design principles.
The result is whole new set of Clearwater rods that are purpose-built for the type of fishing they'll most likely be used for. For instance, the previous generation of Clearwater rods all had the same basic taper no matter what length and fly line weight they were made for. This means a 4-weight fly rod essentially cast and fished similar to an 8-weight fly rod — the 8w was just heavier and more powerful.
The new Clearwater series is different. The smaller freshwater fly rods will tend to have softer, more moderate to medium-fast actions while the bigger saltwater rods will tend to have stiffer, faster actions. In this way, Orvis designed rods that will perform well for 80% of the kinds of fishing most people will need them for — which is exactly what you want out of an entry-to-midrange combo. And yet, Orvis also created rods that are tuned for specific fish. You can choose a Clearwater rod that's perfect for trout on small waters or a Clearwater rod that's ready for harsh saltwater and monster tarpon. Orvis even created a rod aimed at musky and pike fishing.
Better yet, all 20 of the new Clearwater rods are backed by a 25-year Orvis guarantee: If you break your rod, Orvis will fix it. That's just outstanding for a rod in this price range.
The 9-Foot, 5-Weight Clearwater Rod Review
The most common all-purpose trout fly rod is a 9-foot, 5-weight, which is what we tend to recommend for most new trout fly fishers.
The action of the 9'5w Clearwater Rod seems consistent with most medium-fast actions, but the tip is surprisingly flexible. Short cast accuracy and feel seems about average to me — nothing particularly special but nothing particularly unexpected, either. Midrange casts in the typical 30-to-50 feet range felt great — and accurate. While I could squeak some nice long-range casts out of the 9'5w Clearwater, I really had to pay attention and maintain good form.
On one trip for early-season cutthroat trout, I launched a heavy jig with a bead-head nymph dropper. I fished this setup to get my flies down in deeper, faster water. Did the Clearwater cast this heavy rig well? Not really — but I've also never fished a 5w that truly excels in this situation. Casting a heavy nymph rig is more throwing and slinging than tight-loop casting.
Still, what I can tell is you that I could get decent distance out of the Clearwater with heavy flies — I just had to be deliberate and firm with my casting stroke.
I caught a few nice cutthroat with my nymph rig, then spotted a some fish feeding on mayflies. I switched to a dry and instantly hooked a scrappy 15-incher on the first cast — about 45 feet out to the feeding lane. Can't argue with that kind of accuracy and result. The next fish was bigger but was quite a bit farther out. No problem. I made the cast, hooked him, had him on for about three seconds, and lost him. Not the rod's fault, though.
Why am I telling this story? After a few hours of fishing, the Clearwater rod was doing what I expected. Sure, not every cast was awesome, but I'm not awesome every cast myself. For most people, most of the time, the Clearwater rod will be able to get the job done and they'll enjoy using it.
Shop the new Clearwater Fly Rod and Reels direct from Orvis!
New Looks for the Clearwater Rod
Instead of the previous generation green, the new Clearwater rods feature a black chrome blank with white accents. It looks great and I like it a lot. The black nickel aluminum reel seat works well and looks good — nothing fancy, just a clean, serviceable design. Orvis upgraded the cork handle from the previous generation, too.
The Clearwater rod comes with a matching nylon gray rod tube.
The Clearwater II Reel Review
While the Clearwater rod casts better than most at this price range, the new Clearwater II Reel really caught my attention. I like this reel. It feels surprisingly solid. The subtle click sounds are spot-on perfect.
The Rulon-to-stainless stacked disc drag system is surprisingly smooth. When priced separately, the Orvis Clearwater II Reel comes in at $89-98, which delivers an excellent price-to-value ratio.
You get a large arbor design that is better for reeling line in faster than older, more traditional reels. The die-cast construction is airy and lightweight.
Interestingly, the new Clearwater II doesn't appear significantly different from the previous generation: The die-cast aluminum frame is slightly modernized, the drag nob is simplified, and the color is a fresh charcoal gray. It weighs just a tenth of an ounce less. The older black Clearwater reel was a good reel and I liked it — but the Orvis' designers clearly knew how to tweak a good thing to make it better.
Orvis Clearwater Outfit Review: The Verdict
All-in-all, the Orvis Clearwater Rod and Reel Outfit delivers quality and fishability well above its midrange price point, making the Clearwater Outfit a can't-go-wrong combo for most fly fishers. The cost is a bit more than the true entry-level Orvis Encounter Outfit, but the improvements to the Clearwater make the bump more than a fair trade. Plus, the Orvis 25-year warranty is outstanding. Highly recommended.
Get the Gear:
Orvis Clearwater Fly Rod and Reel Outfit
Pros
Outstanding 25-year warranty
Many purpose-built options
Great price-to-value ratio