Disclosure: Man Makes Fire is reader-supported. When you buy gear using retail links on our site, we may earn an affiliate commission that helps pay for our work. Learn more.
The best camping stoves are portable, easy to use, easy to clean, and rugged enough to last for years. Our top stoves for camping usually run on propane, and for most people, propane camp stoves are the way to go.
Great camping stoves usually have two adjustable burners with wind screens. They will have stable grates for frying pans, pots, and flat griddles that can cover both burners. Camp stoves let you fry, sauté and boil, and some can even let you grill with the right accessories. For the most part, think scrambled eggs, bacon, pancakes, hash browns, and fried potatoes. And coffee — don't forget the coffee while camping.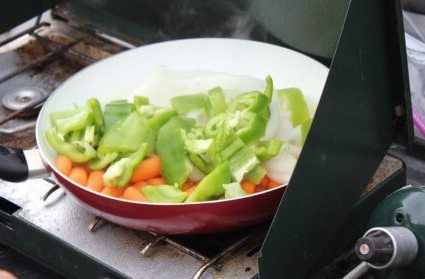 If you're like us, you first went camping as a small child when the camp stoves all ran on white gas and had to be primed and pumped. Now, though, camping stoves are much easier to use (but you can still kick it old-school with our #4 pick below).
The Best Camping Stoves
For most campers, particularly those who go car camping, a straightforward fold-shut, picnic-table two-burner camp stove is all you need. If you pair it with a cast iron frying pan, you'll be able to make breakfast and even give a steak a nice cast-iron sear. Still, if you want something small and light, we've got you covered. And if you're the kind of camp cook who likes to put on a feast, we've got you covered, too. Read on for the best camping stoves for 2020 and beyond!
1. Coleman Classic Propane Stove
Best budget camping stove
Fuel: 16.4 oz propane bottle
The Coleman Classic Propane Stove sets the baseline standard for camp stoves — we've beat up ours over the years and it keeps on cooking. You get two 10,000 BTU burners for a total of 20,000 BTUs. Both burners are independently adjustable, and they work pretty well as long as you're willing to futz with the knob a bit to get the flame where you want it. We particularly like the Coleman Wind Block panels, which do a great job of blocking wind. Just remember to bring some matches or a lighter — the Coleman Classic does not come with a built-in ignition button.
Check shipping/pricing:
Coleman Classic Propane Stove
Pros
Inexpensive
Classic fold-shut design
Great wind screens
Cons
Flame adjustment is finicky
Build quality could be improved (but the price is right)
2. Camp Chef Everest 2X Two-Burner Camping Stove
Best two-burner camping stove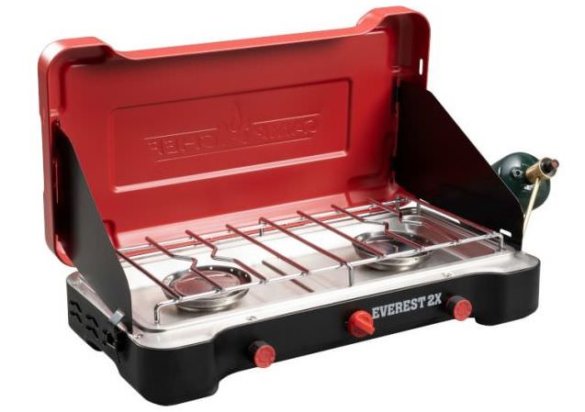 Fuel: 16.4 oz propane bottle
The Camp Chef Everest 2X Two-Burner Camping Stove has two high-pressure 20,000 BTU burners and a great boost in overall quality. When it's windy, the extra power delivered by the 20,000 BTU burners helps ensure that your heat makes it to our cookware and doesn't get blown away by swirling winds. Still, the two Everest 2X burners are easy to adjust, even down to a low simmer-ready flame. And when you want to ramp them up, you'll be boiling water or frying up bacon in no time. Why is speed important? When you're trying to cook for a family who wants to get done with breakfast and go for a hike, get out on the water, or nab the best spot on the river, flame power can make a difference. Camp stove availability these days is tough, so when it's in stock, nab one fast!
Check shipping/pricing:
Note: Walmart still has a few of the previous generation versions still in stock — the burner system is the same, and we're big fans of the previous design, too: Walmart
3. Stansport Outfitter Series 3-Burner Propane Stove
Best portable camping stove for little pans or a big griddle
Fuel: 16.4 oz propane bottle
The Stansport Outfitter Series 3-Burner Propane Stove places three burners in a standard portable camping stove design. The two oversize outside burners deliver a whopping 25,000 BTUs each, while the inner burner puts out 10,000 BTU. The smaller burner is good for small pots and lower temperatures, while all three burners could be used if you have a large griddle. The downside is that the exterior burners are positioned closer to the edges of the stove, which makes it a bit harder to center larger frying pans or pots. Still, if you know your camp cookware and can imagine using all three burners, get this camp stove.
Check shipping/pricing:
4. Coleman Guide Series Powerhouse Dual Fuel Stove
Best white gas camp stove
Fuel: White gas or unleaded gasoline
The Coleman Guide Series Powerhouse Dual Fuel Stove uses a refillable fuel tank. It runs on "white gas," which you can buy in gallon cans at most outdoor sporting goods stores and some hardware stores. If you can't find white gas, it also runs on unleaded gasoline. This classic design can often work better than propane stoves in very cold weather, so if you plan to camp in late fall or winter, the Coleman Guide Series Powerhouse Dual Fuel Stove is hard to beat.
Check shipping/pricing:
Amazon | Bass Pro Shops | Cabela's | Walmart
5. Camp Chef Explorer Pro 60X Two-Burner Stove
Best full-height camp stove system
Fuel: Propane tank
The Camp Chef Explorer Pro 60X Two-Burner Stove has four fold out legs that let you adjust the height to make leveling easier. It comes with two flip-out shelves, which make cooking easier, along with a full coverage windscreen. The two powerful burners deliver an awesome 30,000 BTUs each. If the Camp Chef Explorer Pro 60X seems a bit big, consider this: You don't need a table for it. Smaller camp stoves either require you to squat down to cook or they take up space on picnic tables or use up precious portable camp table space.
The Pro 60X turns camp cooking into a joyous experience. Better yet, you can easily add a bunch of perfectly sized accessories, including a single griddle or full-length griddle, as well as a BBQ Grill Box or even the cool Artisan Pizza Oven. The Pro 60X is so versatile, you could use it for outdoor cooking at home, and then pack it up for an awesome camping experience. Any downsides? You can get a handy carry bag accessory, but the Camp Chef Explorer Pro 60X is big and more cumbersome than typical lightweight portable camp stoves. But who cares because you'll be loving life at camp as you cook up a feast. For a more inexpensive alternative, try the also great Camp Chef Explorer Two-Burner Stove. (By the way, it also fits the carry case.)
Check shipping/pricing:
6. Coleman PowerPack Propane Stove
Best single-burner camp stove
Fuel: 16.4 oz propane bottle
We were surprised at how much we liked the Coleman PowerPack Propane Stove in action. The single 7,500 BTU flame is adjustable, giving you a low-power simmer or enough flame to percolate coffee or heat up a cast iron pan for a good sear. Its brilliance comes from simplicity. It has a low profile, so it fits into your camp box for easy packability. It runs off common 16.4 ounce propane bottles that you can find in many gas stations and grocery stores. And it can handle very small pots or oversize pots. We actually like to pair the affordable PowerPack Propane Stove with an also affordable Weber Go-Anywhere Gas Grill, which covers key elements of camp cooking. Both grill and stove will fit into a Plano Sportsman's Storage Trunk with two propane fuel canisters, which makes storage and packing easy and waterproof.
Check shipping/pricing:
Amazon | Bass Pro Shops | Walmart
7. Camp Chef Rainier Campers Combo
Best camp stove & grill combo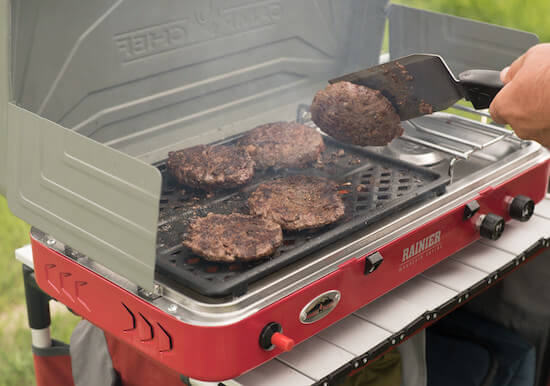 Fuel: 16.4 oz propane bottle
It should be no surprise to see Camp Chef on our guide to the best camp stoves again — after all, the company is dedicated to outdoor cooking. The Camp Chef Rainier Campers Combo is our favorite all-in-one camp grill and stove. It's not the best grill and it's not the best stove but as a combo, it's hard to beat the overall quality and versatility it delivers. What's particularly great is that you don't have to buy separate accessories to make this system work: With the all-in-one package, you get the stove and a non-stick coated aluminum grill and a non-stick coated aluminum griddle, as well as a carry bag that holds it, which will also hold two 16.4 oz propane canisters. In addition, it comes with a built-in ignitor, a stainless steel drip tray to catch any grease, and the windscreens are big and sturdy. What you end up with is a highly packable, flexible cooking system that will let you make pancakes and bacon on one side while you brew coffee on the other. So cool.
Note: The Rainier Campers Combo is sold out most everywhere and Camp Chef is transitioning this stove to a slightly redesigned version, the Camp Chef Rainier 2X Combo. 
Check shipping/pricing:
8. MSR WindBurner Stove System Combo
Best hybrid backpacking and camping stove
Fuel: 4-, 8-, or 16-oz isobutane/propane fuel canisters
The MSR WindBurner Stove System Combo starts with an astounding little stove. The stove is not suited to making big meals for many campers, but it is versatile. It's a bit heavy for hardcore ultralight backpacking, but it's light enough to take on recreational backpacking trips, especially trips where you might want to make a big pot of soup or cook for a family of four. Its claim to fame is the windproof heating element and pot design, which really works. In fact, we dug out a 240 mph lawn and leaf blower to put it to the test. Even under sustained lawn and leaf blower wind, the MSR WindBurner still boiled a pot of water in a just a few minutes and the heat never faltered. It is outstanding. In the system, the included pot lets you boil while the pan lets you fry and make pancakes. You can also get accessory pots like the insulated WindBurner Personal Accessory Pot for boiling water for coffee or for making freeze dried backpacking meals out on the trail.
Check shipping/pricing:
9. BioLite CampStove 2
Best wood-fired camp stove . . . with emergency charging benefits
Fuel source: wood
The BioLite CampStove 2 is one of the most interesting camp stoves on this list: You can cook on it and charge your phone at the same time. It's at once a camp stove while also being an emergency device charger. If this idea intrigues you, keep reading: The small sticks that produce a fire generate energy, which also powers a small fan, which ensures that your little fire burns clean and hot. The heat can also output up to 3 watts of electricity, which you can use to charge your phone, BioLite lanterns or the excellent BioLite HeadLamp 200.
Check shipping/pricing:
10. Jetboil Genesis Basecamp Camping Stove
Best camp stove for car campers with small cars and little space
Fuel: 16.4 oz propane bottle
The Jetboil Genesis Basecamp Camping Stove is super packable on its own but it gets even better when you get the Jetboil Genesis Basecamp Camping Cook System. The system option includes a 10-inch non-stick fry pan as well as a 5-liter pot with a lid that can easily strain pasta. The stove folds together then fits inside the pot, and all of it is capped by the frying pan. You also get a handy and padded carry bag, too. If the tidy system doesn't convince you, consider this: The Jetboil Genesis burners use knobs that give you four full rotations of adjustment, which means it's easy to fine tune our flame to match your cooking needs. The quality is fantastic and the packability is awesome, making it a great camping gift for car campers who might also want to hike a bit off the beaten path for a sunset backcountry meal.
Check shipping/pricing:
Bonus Speciality Camp Stoves
While our best camping stoves noted above will cover most people most of the time, here are a few bonus options that might become your own best camp stove:
MSR PocketRocket Deluxe Stove
Best camp stove for backpacking and fast weekend picnics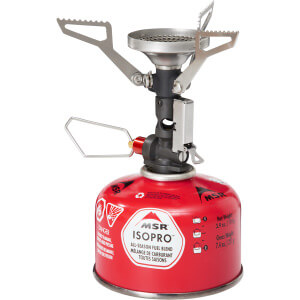 Fuel: 4- or 8-oz butane fuel canisters
The key benefit of the MSR Pocket Rocket is that it weighs just 2.9 ounces and has its own ignitor. The flame is broad and adjustable and powerful enough to boil a liter of water in a little over 3 minutes.
Pair the MSR PocketRocket Stove with an affordable stainless steel MSR Alpine Stowaway Pot and you'll have a lightweight, packable, and easy to clean cook system. Sure, you can get a lighter titanium pot, but the timeless durability of stainless steel is hard to beat for camping, hiking, and the occasional backpacking trip — especially if you value rugged gear at a super affordable price point.
Primus Tupike Portable Stove
Most elegant camp stove
Fuel: 16.4 oz propane bottle (North America version)
The Primus Tupike Portable Stove is an elegant camp stove trimmed with stainless steel and oak. It was invented in Sweden and it's manufactured in Europe. The two burners put out 10,200 BTUs each, with excellent flame characteristics and easy adjustability. It comes with a carrying case and includes a handy non-stick griddle plate.
Camp Chef Mountaineer Two-Burner Aluminum Stove
Best stove for coastal locations and consistently wet camping conditions
Fuel: propane tank
The Camp Chef Mountaineer Two-Burner Aluminum Stove is a rugged stove that's great for wet climates. Because aluminum doesn't rust, you don't have to worry about nicks and scratches turning into gashes of rust. You get two 20,000 BTU burners, matchless ignition, and recessed protected knobs, making this camp stove even more rugged.

Camp Stove & Grill Combos
The best camp stove and grill combo is the Camp Chef Rainier 2X Combo, which has been sold out most of this summer.
The second best camp stove/grill combo that's available now is the Stansport Propane Stove and Grill Combo.
Most other camping stove and grill combos come in much larger form factors — like the Camp Chef 14″ series of two-burner stoves with accessories like a grill box and griddle. We're big fans of Camp Chef's full-size lineup, but they are heavy and not nearly as portable as smaller systems.
If you want a compact and affordable camp stove and grill combo, consider choosing a 2-burner camp stove to cover your basics and then add an affordable portable camp grill like the excellent Weber Go-Anywhere, which fits into the Plano Sportsman Trunk with room to spare.
Camping Stove FAQ
What is the best 2-burner camp stove?
After using many camp stoves and camp stove designs over the years, including stoves we tested for our 2020 guide to the best camping stoves, the overall best 2-burner camp stove for most people is the Camp Chef Everest 2-Burner Camping Stove. It has excellent overall build quality, a timeless design, it's packable, easy to clean, and it boasts very powerful 20,000 BTU burners with great flame adjustment. It also has a built-in ignition system. The fuel is source is easy-to-find 16.4 ounces propane bottles.
What is the best budget camping stove?
The best low-cost camping stove is the 2-burner Coleman Classic Camp Stove.
What is the best camping stove for families?
Most families will do well with a portable 2-burner camping stove that uses 16.4 oz propane bottles like the Coleman Classic Camp Stove and the Camp Chef Everest 2-Burner Camping Stove. This style of camping stove can be set on the ground, on picnic tables, or on dedicated camping tables. They have built-in windscreens. They also work well with griddles, frying pans, and pots.
What is the best single burner camping stove?
The best single burner camping stove is the Coleman PowerPack Propane Stove because it has a very stable base and uses easy-to-find 16.4 oz propane bottles.
Which fuel source is best for camping stoves?
Propane is best for most camping situations, but we do appreciate lightweight stoves that use isobutane and propane blends commonly found in lightweight backpacking-style canisters. Of course, cooking over a campfire has its charms, too, but campfires are not always allowed during hot-weather high-risk fire seasons.
What does BTU stand for in camping stoves?
BTU is an acronym for British Thermal Unit. It's basically a unit of energy that helps identify how much heat the flames on a camping stove can deliver.
Why don't you recommend any butane camp stoves?
Propane is simple and effective to use, and it's very easy to find in the United States. In particular, 16.4 ounce propane bottles can be found in many grocery stores and gas stations, in addition to sporting goods stores. Propane also tends to work better than butane in colder temperatures. If your heart is set on a butane stove, stick with well-known brands and avoid cheap knockoffs. The Coleman Portable Butane Stove is the most cost-effective option.
Why should I get an aluminum camp table for my camping stove?
While many campsites have picnic tables that you can use to hold your camp stove at a stable and comfortable level, not all picnic tables are in good locations for camp cooking. And you might need the picnic table while eating. Having an alternative portable camping table is always handy. And why should it be aluminum? Aluminum is lightweight and durable, and more importantly, if you accidentally set a hot pot or pan on an aluminum table, you won't melt or burn the table!

Check out our REI Co-op Camp Roll Table Review for an excellent option.