Disclosure: Man Makes Fire is reader-supported. When you buy gear using retail links on our site, we may earn an affiliate commission that helps pay for our work. Learn more.
The new BioLite HeadLamp 200 is an ultralight, super comfortable rechargeable headlamp. It's low-profile construction is designed to feel comfortable and stay put, even when you're on the go.
To get us a closer look, BioLite sent Man Makes Fire a review unit. This is what we learned:
BioLite HeadLamp 200 Review
BioLite is a company that produces outdoor and off-grid energy-focused gear — and makes it for two very different markets. In one market, BioLite provides affordable lighting and energy products for off-grid households in less developed countries. For its other market, BioLite produces outdoor gear products designed for recreation users who want fuel-independent cooking, charging and lighting.
BioLite is having a massive 25% off sale right now through May 25 — plus FREE shipping on $55+ orders!
More specifically, BioLite makes solar panels, rechargeable battery packs, lights, and even stoves that can recharge your gear. One of our favorite products is also one of the company's most affordable — the solar-powered Sunlight Lantern.
The BioLite HeadLamp 200 is, as you might expect given the company's mission, rechargeable. While we tend to prefer headlamps that let us quickly replace easily found AA and AAA batteries in the United States (and rechargeable AA and AAA batteries, of course) we do appreciate the simplicity of a built-in rechargeable battery.
To recharge it, you can easily use a portable battery charger or use the included USB charging cable through USB chargers via wall or auto outlets.
The real question though — and the point of this whole review — is this: What makes the BioLite HeadLamp 200 different from any other lightweight headlamp on the market today?
BioLite HeadLamp 200: Streamlined & Lightweight
First, the BioLite Headlamp weighs in at a scant 1.75 ounces. Most headlamps in this class weigh well over 2 ounces. But wait, there's more: The BioLite HeadLamp 200 has a streamlined, narrow design that keeps its weight closer to your forehead.
By not sticking far out from your forehead, the HeadLamp 200 feels lighter than other headlamps that are more boxy.
And then there is the design of the HeadLamp 200 strap.
HeadLamp 200 Strap: Outstanding Comfort
The HeadLamp 200 strap is built into the housing of the light itself — fused or glued to it. The back of the headlamp is slightly rounded to fit the natural curve of most foreheads, and the strap material completely covers the hard plastic housing. This results in a super smooth feel. At the same time, the low-profile and extended surface area seems to add stability.
The HeadLamp 200 is the most comfortable headlamp I've ever worn. Of course, I don't think most other headlamps are exactly uncomfortable, but the BioLite HeadLamp 200 delivers a clear step up in comfort.
This comfort is also extended to the ease of tension adjustment. All you have to do is pull the headlamp portion against your forehead and grab the two side adjusters. Pull forward to tighten or backward to loosen. It's hard to explain, but the adjustments are super easy.
How It Works
The HeadLamp 200 has a single button that powers it on and off and selects different lighting modes. You get a white spot light with a dimmable beam, a red flood light with a dimmable beam, a red strobe light and a white strobe light option.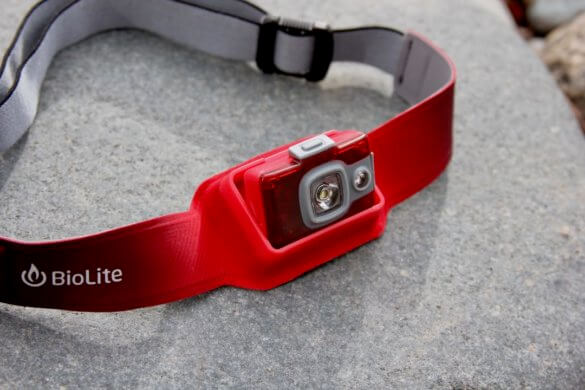 The red flood light will go out to about 8 meters or so while the white spot light does well out to about 50 meters.
You can cycle through the modes simply by pressing the top button multiple times. In addition, the HeadLamp 200 remembers the mode you used last, so you can simply turn it on and off and you won't have to cycle through options every time. For instance, if you're using the red mode, you can turn off the headlamp then simply turn it back on and it will stay in the red mode — and not mess up your night vision with a blast of light. If you're using the white mode at a lower brightness setting, the memory will retain the dim level, too.
Shop the BioLite HeadLamp 200 from BioLite direct!
In addition, one feature we've come to appreciate is a lock mode. By pressing the button for 8 seconds, the headlamp will lock in the off position so that you won't accidentally turn it on in your backpack or pocket and drain your battery. An 8-second button hold will remove the lock.
200 Lumens?
At first, I was concerned about the 200-lumen output rating. I generally prefer to have headlamps that can ramp up their output . . . even though I often dim them anyway to conserve battery.
As it turns out, the BioLite HeadLamp 200 delivers a surprisingly crisp, bright and usable beam pattern. While it's a "spot" mode more than a flood mode, the beam offers a fantastic blend of distance with very good peripheral lighting. It's super usable. I was impressed.
In fact, lumens are not always the best measure of a great headlamp — the optical quality of the bulb and lens system can make a significant difference in usability. Cheap headlamps, for example, will usually have dark spots in their beam patterns and deliver harsher light that makes it harder to see.
The design and optical components of the BioLite HeadLamp 200 are very good.
If you need to tilt the lamp to get a better angle for your tasks, the HeadLamp 200 offers a great range of adjustment.
Battery Life
I haven't had a chance for long-term, repeated use yet — the BioLite 200 is still pretty new — but initial battery life is pretty close to the reported specs: 3 hours on high and 40 on low. These are competitive numbers, especially given the HeadLamp 200's ultralight weight.
Incidentally, BioLite reports the size of the battery — 700 mAh. Considering that this is about the same output as you would find in a typical AAA battery, if not actually a little less, the output delivered might be downright astounding. I'm not an electrical engineer, but I'm guessing BioLite's overall battery/energy/light experience with other products is paying off here. The HeadLamp 200 appears to be very efficient.
To figure out how much battery life you have left, the light will flash green twice when you turn it off if it has more than 50% battery life left. Two red flashes means it has less than 50% life and four red flashes means it's pretty much empty and needs recharged.
Any Cons?
Most good rechargeable headlamps have waterproof/water-resistant ratings of IPX4, which means it can safely shed rain and splashing water. It's not rated for being submerged, though.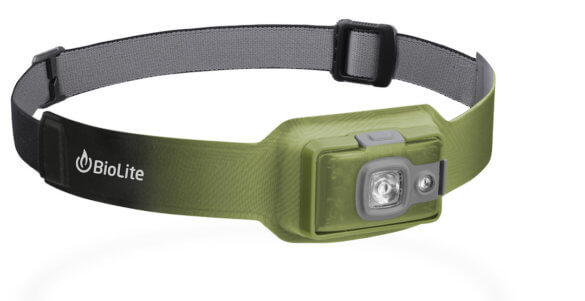 The rubber cap that covers Micro USB charging port does a fairly good job of protecting the port, but you do have to pay attention when you close it or it won't fully close. Here is a usability hint: When you go to charge it, you'll need to tilt the lamp outward to fully expose the charging port — otherwise the USB charger won't fit.
One possible con is the built-in rechargeable battery. If you run out of juice, so to speak, you'll have to recharge it. You can't simply pop in some new AAA batteries (rechargeable or alkaline). On the other hand, you don't have to buy extra batteries and most people have plenty of opportunities to plug USB cables into outlets for charging.
In addition, if you're heading out backpacking, we usually recommend carrying a small battery charger with you anyway, which you could use to recharge a smartphone, emergency satellite communicator, or the HeadLamp 200.
The BioLite HeadLamp 330 vs the 200
One natural question you might have is how the new HeadLamp 200 compares to the BioLite HeadLamp 330, which is BioLite's first headlamp offering.
The short answer is this: The HeadLamp 330 has a larger battery that sits at the rear of your head, and it powers a brighter 330-lumen white light beam. The 330 weighs 2.43 ounces, and while it's heavier than the 200, it's still a lightweight headlamp that feels great and doesn't bounce. You can also choose from a white flood light setting for closer work in addition to the farther reaching white spotlight setting that reaches out to about 75 meters. For more detail, check out our BioLite HeadLamp 200 vs 330 post.
Shop BioLite products from Cabela's and get FREE 2-Day Shipping on most orders over $50!
BioLite HeadLamp 200 Review: The Verdict
The BioLite HeadLamp 200 is a super comfortable, ultralight rechargeable headlamp that performs remarkably well. The white spot beam is very clean and crisp — and it's a pleasure to use. Very highly recommended.
Get the Gear:
Pros
Outstanding comfort
Excellent beam quality
Rechargeable battery offers competitive battery life
Cons
Minor con: The built-in rechargeable battery can't be swapped out for traditional batteries