Disclosure: Man Makes Fire is reader-supported. When you buy gear using retail links on our site, we may earn an affiliate commission that helps pay for our work. Learn more.
Finding the best gifts for hunters in 2022 might seem hard at first — after all, it's tough to choose a rifle, shotgun or bow for a hunter — but it turns out that finding hunting gifts is easier than you think. Why? There is all kinds of hunting gear that hunters need, use up, and want to try out, including stocking stuffers.
Best Gift Ideas for Hunters: Our Guide
We take pride in our gift guides for hunters because we not only recommend a particular can't-go-wrong hunting gift, we also tell you why our choices are cool gifts for hunters.
Meanwhile, what about experienced hunters? Finding gifts for hunters who have everything is easier than you think: Sometimes a hunter already has a piece of gear . . . but they could actually use an upgrade.
Here is just one example: I know a buddy who has an old backpack that he modified to use for hauling out elk quarters when he's far off the beaten path. Problem is, it's falling apart. Boom, there's your opening for a great hunting gift — a versatile load-hauling backpack like the Mystery Ranch Sawtooth 45.
Tips for Choosing Hunting Gifts
There are other clues you can look for to find gifts for hunters. Has your hunter complained about binoculars? Have they fogged up, leading to missed opportunity? If you have a duck hunter, are new hunting waterproof boots in order? If you have a hunter who processes your wild game meat at home, say, making jerky, a new smoker could make the perfect gift.
Has your hunter missed a shot recently? If so, consider a rangefinder. Rangefinders are critical for bow hunters, of course, but they are especially great for new hunters who have a hard time judging distances.
What if your hunter is a woman? Most of the hunting gifts here still apply, of course, but not all the clothing comes in versions for women — but that's starting to change across the outdoor industry. If you're looking for hunting gifts for women, check out camo hunting clothing for women at Cabela's — multiple manufacturers are now making some high-quality gear cut specifically for women hunters, including Sitka. Cabela's is doing a good job of stocking it as well as other brands of camo for women.
For more detail, let's dive into our hunting gift recommendations for 2022.
55 Best Gifts for Hunters 2022
To create our ultimate guide to hunting gifts this year, we combined the best gifts from our previous hunting gift guides with our favorite hunting gear we tested this year. In addition, we took a look at reader interest among past guides, which we used to help us build this updated guide to tease out hot gifts for hunters heading into the holiday shopping season. Oh, one last note: We purposely avoided covering specific rifles, shotguns, bows and very expensive hunting gifts because these items are difficult to purchase for others. Instead, we focus on can't-go-wrong gifts for hunters in more affordable price ranges.
For hunters who hunt in the late afternoon and early evening, a blood trailing light is critical for helping them locate downed animals in the dark, especially in rough country with thick cover. The Primos Bloodhunter HD Blood Trailing Light uses 600 lumen CREE XM LEDs with an optical filter that reduces select colors to help amplify the visibility of blood. This specialized flashlight is one of our top gifts for hunters again this year because most hunters want any edge they can get when tracking in the dark.
Ear protection is no joke for hunters. Walkers's Game Ear Razor Slim Electronic Muffs protect your hearing by canceling out gun shots to safe decibel levels. Better yet, they amplify and allow you to hear non-harmful sounds. This means you can talk to another hunter before you shoot. If you're hunting with new or young hunters, electronic earmuffs can help you communicate — even  with a whisper — to ensure the new hunter takes a good shot. We're big fans of these inexpensive and effective muffs.
If your turkey hunter needs a vest upgrade, you'll be hard pressed to go wrong with the new ALPS OutdoorZ Grand Slam Turkey Vest. Originally created in partnership with the non-profit National Wild Turkey Federation (NWTF), the Grand Slam Turkey Vest features a "sit anywhere" kickstand backrest frame, along with a cushy foldaway seat. The kickstand backrest will let your hunter set up just about anywhere and remain still and comfortable for however long it takes to coax a tom in close. It's fully adjustable, well-padded, has plenty of pockets for turkey hunting calls, shot shells, water, and snacks. Best yet, if your turkey hunter expects a run-and-gun day in the field, the kickstand is easily removable to drop weight and go light.
Headlamps for hunting must have one key feature: a red, green, or blue light option that won't spook animals in the dark. The Petzl Tactikka +RGB includes all three colors, which is important because your hunter might see better with green or blue light vs the standard red option available in most hunting headlamps. The Petzl Tactikka +RGB Headlamp is one of our favorite headlamps for hunting because it's easy to use and offers a great blend of beam quality with a new and improved 350 lumens.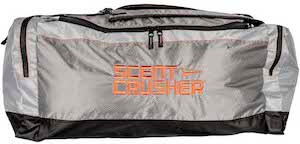 The bane of most hunters is scent. Deer, elk, and pretty much every other animal has a far better sniffer than humans, and they use their nose all day, every day. The Scent Crusher Ozone Gear Bag destroys odor-causing bacteria and actively removes scent-causing particles. Here is how it works: You place your hunting clothes inside the bag, set the timer and let the ozone producing module pump ozone into the bag. When it's done, you pull the gear out, scent free. Pretty amazing, really. But it gets even better. A lot of times hunting clothing is only a little dusty or dirty . . . and doesn't need to be fully washed in the washing machine for the next day's hunt — but there is likely some human sweat and stink on the inside of those clothes, which a scent killer spray won't reach. Instead of washing the hunting clothes, your hunter can dump them into the bag for a few minutes and they'll come out fresh and ready for the next hunt. Amazing. Works great at hunting camp for those week-long hunts. All you need is a car charging port or, if you're off the grid, a MyCharge AdventureUltra battery works wonders. One more great option here: The Scent Crusher The Trunk. It's great for long-term storage as well as throwing in the back of a dirty pickup.
If the Scent Crusher Ozone Gear Bag is out of your price range, you can help eliminate the odors of that early morning bacon, egg and cheese biscuit smell that's taking over the inside of the pickup and lingering on hunting clothes. The Scent Crusher Ozone Go Max plugs into your vehicle's 12v outlet and kills odor on the way to your hunting location. If it works to eliminate scent that humans can smell, it most certainly cuts down on scent animals can smell. Oh, there's one added side benefit: It can help freshen the inside of smelly vehicles on the way back from hunting camp. Or a fishing trip. Or the ski hill. Alternately, we like the Scent Crusher Room Clean Unit, but to use it inside of a pickup, you'll need an inverter to power it.
Shop all 'Scent Eliminators' at Cabela's and get free shipping on most orders over $50.
Most hunters don't "score" their bucks because they don't know how, rarely shoot a big buck, and/or don't worry about scoring because hunting isn't about the score. But scoring is a bit of information, and it's a reference that describes how big a buck's rack really is. Trophy Tape is a one-time use scoring system that lets even newbies accurately score their bucks. It's great for hunting camp — or at home after the celebration.
While the Trophy Tape above is a one-time use option, The Rackulator is an electronic wheel that can score more bucks and elk antlers than your hunter can shoot. It's fast, handy, and surprisingly accurate.
Once a hunter uses binocular chest straps, they'll always use a chest-strap system because they work so well. There are lots of binocular strap options, but most hunters can appreciate this straightforward Cabela's version. It makes a great stocking stuffer for hunters, too. If it's out of your price range for a stocking stuffer, try the simple-but-effective Allen Company version here. If your hunter hunts in wet or snowy weather or tackles truly brushy and wild terrain, they'll need to tuck their binoculars into their jackets . . . or for an upgrade, scroll down to look at the bino packs with shoulder harnesses below.
Night vision may be the most unnecessary hunting gift — but it's also one of the coolest gifts for hunters, if only to get a look at whatever critter is making noise on the trail in the dark on their hike in before dawn. Or messing around their hunting camp at night. The Firefield Nightfall was a favorite last year, and it's still a standout in price-to-value this year.
Shop the Firefield Nightfall at Bass Pro Shops and get FREE shipping!
Hunters like camo. Pure and simple. Depending on what kind of hunting you're doing, it might be an outright necessity. Shirts are always welcome and jackets are pretty safe hunting gifts. Jacket and pant combinations are excellent, too. As are pants alone. The bottom line, some hunters will wear camo everywhere while others will only wear camo in the field. Still, all hunters appreciate high-quality hunting clothes — even if they don't spend money on themselves, which makes camo gear one of the best hunting gifts. Under Armour, it turns out, has some of the coolest camo patterns we've seen in years — try the UA Iso-Chill Brush Line Long-Sleeve T-shirt for an affordable camo layer that will also work as a sun shirt for fishing and water play come summer.
Bass Pro Shops offers one of the largest camo inventories these days, including a large SHE Outdoor section for women hunters. Of course, you can't go wrong with high-end Sitka gear or KUIU, but even our Sitka-wearing buddies appreciate lightweight and affordable Cabela's Space Rain Jacket and Pants.
Turkeys have outstanding eyesight, but it's possible to fool them if what they see is something they expect — like another turkey. Turkey hunters have used small turkey fans to put wary toms at ease and sneak in close, but a bigger pop-up fan takes it to another level. The Primos Double Bull SurroundView Turkey Decoy has a 1-way see-through mesh that lets a hunter see through the fan to the turkeys — no blind spots. A turkey hunter can crawl in close or hide and wait. A great fan can put some hens at ease and help a hunter gain time to get a tom to come in. If the new Primos SurroundView is sold out, the TurkeyFan Decoy is also fantastic.
Hunters frequently find themselves eating off the beaten path, and this doesn't even include hunters who backpack into remote locations. We don't know how many times we've found that someone in our hunting party didn't have a spoon or fork — and sometimes no one planned ahead with plastic silverware, to great embarrassment, at hunting camp. Enter the Outdoor Edge ChowPal. Think of the ChowPal as a multi-tool for food, which it kind of is. You get a spoon, fork and knife, along with a built-in bottle opener and can opener. So that's right, no need to repeatedly pound a screwdriver into the top of a can of chili — you can use the ChowPal's can opener. And then use the spoon to eat it. At just 2.4 ounces, it's light enough to throw in a hunting pack. Of course, the ChowPal makes a great stocking stuffer for hunters, too.
It's always tough to stop when you're hunting and take time out to get a drink of water. The result? Dehydrated hunters. The solution? A water bladder hydration system that fits into most every modern backpack, including most backpacks made for hunting. The drinking tube connects to a backpack's shoulder strap and lets your hunter take sips on the go. Plus, hydration systems are quiet in the woods, which hunters need. All-in-all, they're one of the most versatile hunting gifts because they work for so many types of hunting and scouting. We like the Camelbak Mil-Spec Antidote Reservoir because it's built tough and has an interior baffle that helps prevent noisy sloshing as you walk.
Hey, we know this isn't the most creative hunting gift idea, but heck, these are damn fine hard-working socks — and gift givers seem to know how important a good pair of socks is to a hunter. There are other brands of wool socks that are also great — as long as you get at least 60% merino wool — but most every hunter we know appreciates Carhartt fit and durability for their boots. If you're looking for a lighter boot sock for hunting or hiking, the Darn Tough Merino Wool Hiker Boot Sock will last nearly forever. Basically, go with Carhartt for thick and warm and Darn Tough (read our Darn Tough review here) for the best all-around wool socks.
The new and improved Work Sharp Knife & Tool Sharpener MK.2 is the awesomest, easiest, fastest, most amazing knife sharpener we've ever seen for the price and value. It works great on most any hunting knife, any kitchen knife and many tools. It's not hard to use. It's fast. And there is very little risk that you're going to screw up a knife using it because the Work Sharp system uses premium abrasive belts and guides that let you get the correct angles every time. It will even sharpen household tools like lawn mower blades, scissors and garden shears. Better yet, with the Work Sharp your hunter can sharpen all the knives in your kitchen — and that's a win for everyone.
The Millennium Tree Seat is a super comfortable, easy-to-use seat that a hunter can strap to a tree trunk. Lots of hunters will sit or stand on the edges of clearings, and the lightweight and packable Millennium Tree Seat lets them set the height they want for optimal comfort, visibility and readiness.
One of the most annoying issues for hunters is dealing with gun slings and backpack straps — the gun sling has to fit for space on your shoulder and sometimes slides off. The Talarik Sling Hook attaches to your backpack and provides a ledge that keeps your gun sling in place. Most hunters don't have these types of accessories yet, so as long as your big game hunter wears a backpack, it's a great can't-go-wrong hunting gift.
If your hunter has a lousy pair of binoculars or none at all, binoculars can make a fantastic hunting gift. You have many choices. One of the best all-around options is a binocular that's 10×42. This "size" of binocular has a great balance of magnification (10x) with the size of the objective lens (42mm) which leads to an "exit pupil" measurement that provides a lot of light. Higher quality binoculars produce clearer, brighter images — which usually equates to cost. We particularly like Vortex, Maven and Bushnell because these companies offer no-fault warranties, even on their entry-level binoculars. If you break your optics, they will replace them. Hard to beat that. Here are a few more can't-go-wrong options, including the sweet Razor UHD if your budget goes that high:
A lot of hunting clothing is camo, but sometimes you want to make sure other hunters don't make mistakes — especially when you're hauling out antlers near dark. Enter the Orange Aglow Safety Panels. You can attach these panels to your backpack — or even stretch them between antlers. The high-visibility orange alerts other hunters like no other color.
The great thing about the Hunter's Tote Bag series from L.L.Bean is the quality and the color. What hunter doesn't appreciate camo? Either way, hunters have a lot of miscellaneous gear to pack around and keep track of, and a Hunter's Tote makes a great gift for hunters because they're unlikely to splurge on such a simple bag — no matter how useful it really is. It's stout enough to handle several boxes of 12 gauge ammo or just cold-weather hunting gloves and hats. As for us, we always need a decent bag to help us get sandwiches and snacks and a thermos of hot coffee out to the pickup in the wee hours of the morning. We bet your hunter does, too.
Also known as "walkie talkies," two-way radios let hunters communicate with each other over miles while out in the woods far away from cell phone towers. Not only can they make hunting together more effective, they are also great for safety, letting hunters know where each other are — or even call for help if a hunter gets lost or injured. This best-selling Midland set is priced right, boasts great coverage, automatically locks onto the local NOAA weather channel, has a vibration alert, lets you use privacy codes, has a "whisper" mode, comes with headsets, rechargeable battery packs, a car charger, plus they can run on AA batteries if you're far off the grid. Plus, they come in Mossy Oak Camo!
The new Badlands Bino XR binocular and rangefinder case is one of the more expensive binocular case and shoulder harness systems available today — but if your hunter uses a rangefinder often, it's a drool-worthy bino case. Here's why: First, the rangefinder case in the bottom makes it easy to protect your rangefinder from the elements and also retrieve it for fast usage. Second, the magnetic bino case can be opened and closed with one hand, silently. Third, two external side pockets are great for a wind checker or your reeds for calling elk. It also has a built-in rain cover, another handy back pocket, and a super comfortable shoulder harness.
*Note: The Badlands Bino XR case ships FREE from Bass Pro Shops.
If the Badlands Bino XR price point is out of your budget, we're been impressed with the affordable ALPS OutdoorZ Extreme Bino Harness X. The harness is comfortable enough to get the job done all day and it's totally adjustable. It also does a good job of holding the case close to your chest. There is a small side pocket that fits most wind checkers while the other side of the case has four lashing points for attaching other gear or a small case. A microfiber lens is included in the front zip pocket, too. A small bungee cord keeps the top flap down and lets the case open silently. The ALPS OutdoorZ Extreme Bino Harness offers the best price-to-value ratio we've seen for this type of bino case — and it's durable.
Oh, one more thing: If you're an elk fan, choose the Rocky Mountain Elk Foundation version.
The old convection-style boot dryers are still going strong, slowly drying a pair of boots over many hours, which helps protect the boot from drying too fast and cracking. They are pretty good, but what's better? A heated boot dryer that more actively blows warm air and dries your boots out much faster — but slow enough to avoid stressing the boot. In our view, a faster boot dryer is critical when you have more than one pair of boots to dry and you need to get back outside. Of course, the DryGuy Force DX Boot Dryer works with gloves and hats, plus it comes with two extension tubes for use with taller boots.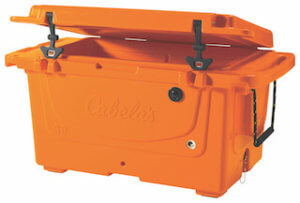 Any hunter can appreciate a hard-core cooler. Something tough, something big, something that's insulated well enough to do its job. If that's just keeping beer cold on a hot August scouting trip, that's fine. But when it's time to haul big game out of the woods in September, a good cooler can be the difference between a "gamey" steak and a fine meal. There are a lot of variables, of course, but we can almost guarantee your hunter will find a use for a high-quality cooler. If you want the best cold-to-cost ratio, the best cooler for your money, go with the Cabela's Polar Cap Equalizer Cooler. It's awesome — in all sizes and colors. As for YETI, all the YETI coolers are awesome, too — they just cost a bit more.
The great thing about this Outdoor Edge kit is that it has all the tools a hunter might need to process big game out in the field so it can be hauled to civilization in a backpack — or even just hauled up out of a steep canyon to get to an ATV. It comes with a light and easy-to-use sharpener, which is critical when you're out in the field, but this affordable kit can help if your hunter processes and wraps meat at home, too. Most hunters can appreciate the great value packed into the Outdoor Edge Butcher-Lite 8-Piece Kit, which can go into their hunting pack, stay with the ATV or stay at hunting camp until it's needed.
When you plan to cover some distance during your upland bird hunts and you plan to carry plenty of shotgun shells — and hopefully birds — it's time to check out the new Orvis Pro Series Hunting Vest. It has two water bottle pockets, which means you can pack enough water for you and your dog. Beyond its striking good looks, this new Orvis vest boasts a comfort-oriented strap system and slips in 220 square inches of blaze orange for visibility. Oh, one more thing: This type of strap-based vest is our go-to choice for hot early-season hunts. And when the temperature dips in the fall? You can easily layer underneath it.
*Note: Shop Orvis direct for more awesome hunting gear — and hunt clothes that blend style with excellent durability!
Scouting, hunting, and hauling wild game home is just the beginning. Next it's time to process Mother Nature's healthiest meats . . . and a pellet grill is one of the easiest ways to make jerky and summer sausage. Better yet, you can smoke salmon, roast asparagus, and cook up some amazing elk burgers on a pellet grill. We have yet to meet anyone who hasn't loved their Traeger pellet grill. Oh, one more thing: Traeger delivers! Still not convinced? Read our full Traeger Pro 575 Review for detail.
For most hunters in most places of the world, hunting for deer is hard, and getting a mature buck to show himself in daylight is either being in the right place at the right time . . . or getting right into the thick of his world and rattling as if two rival bucks are fighting it out in his territory. When it works, it's an amazing experience. The way to do it is with a pair of antlers you have from a previous buck or sheds — but what if you don't have either? Start with a synthetic rattle call system like the Black Rack Rattling Antlers, which come with an instructional video.
The new Leupold RX-1400i TBR/W Rangefinder is a feature-packed midrange rangefinder that works great for both bow and rifle hunters. It's lightweight, ranges fast, and includes True Ballistic Ranging to help hunters make accurate shots on very steep ground — or from treestands. Our review unit performed flawlessly during our archery elk hunts this season, as well as in our early rifle season hunts.
Shop all rangefinders at Cabela's and get FREE shipping on most orders over $50!
Bird hunters need a good shooting vest, which gives you easy access to shotgun shells as well as a rear pocket for carrying birds. Heck, there's more to it than that, though — while a shooting vest is utilitarian, it's also part of the tradition, an element of a uniform, and that tradition alone makes it a great hunter gift. The L.L.Bean Double L Upland Hunter's Vest has a classic design with updated pocketing. A good vest reminds a hunter to put on their game face and pay attention — something is going to take flight soon. We've known bird dogs that get excited when they see a shotgun, and the smartest ones recognize vests, too.
Rifle hunters need to be able to find the best round of ammunition for their particular rifle because different bullet types and sizes from different manufacturers perform differently. Unless your hunter is shooting hundreds of rounds a year, it's hard to know exactly how well a particular round performs. A shooting sled holds a rifle very steady and will save your hunter a lot of time, as well as build confidence in particular rounds at particular distances. The Caldwell Lead Sled 3 — or any Caldwell Lead Sled version —  is definitely one of the best hunter gifts for deer and elk rifle hunters.
Finding the right best glove for any given moment in a day is wicked hard. The heavy cold-weather gloves are too hot when the day warms up while thin gloves threaten to delay shots due to numb fingers. And grip? Critical. A slipperyfleece or wool can make holding a rifle a constant challenge. The best hunter gift gloves have unencumbered trigger fingers but also grippy materials. Fortunately, it's hard to go wrong with gloves as a hunter gift — hunters will choose different gloves for different tasks. We're fans of the thoroughly inexpensive-yet-astoundingly excellent Mechanix Wear MultiCam FastFit Tactical Gloves — also try the Woodland Camo versions. They're not cold-weather gloves, but most any hunter will find a use for them. Great stocking-stuffer pricing, too.
If your hunter has a high-quality scope already . . . it's best to stay away from scopes. But many deer and elk hunters have cheap or really old scopes — and they would love any replacement that is a step up from what they have. Better scopes won't fog at the wrong time, and they'll deliver clearer, brighter images. You might have to ask a hunting buddy if you don't know if your hunter needs a new scope, but it's hard to go wrong the Vortex Diamondback line. If your hunter drops his rifle and breaks his Vortex scope, Vortex will replace it through its VIP unlimited lifetime warranty. It's hard to beat a warranty like that, which is another reason why Vortex products make great hunting gifts. Get the 4-12 power version because it's the most versatile option for most hunters.
If your hunter hunts rattlesnake country, snake-proof gaiters might be worth their weight in gold — while most rattlesnake bites don't result in death, some do, and nearly all result in massive health care bills. Most snake-proof gaiters are bulky and stiff, but the TurtleSkin SnakeArmor Snake Gaiters are more flexible, which means your hunter is far more likely to actually wear them. They're made from a super-tight weave of high-strength ballistic fibers and polyester. While we like the TurtleSkin SnakeArmor Gaiters the best, we also like the affordable Crackshot Snake Bite Proof Guardz Gaiters.
When you get off the beaten path, there's sticks and sharp rocks. A hunter is going to get cut, if not by the hazards of the woods then maybe by his own knife or a buddy's while handling big game. It happens. Worse can happen, though, and a good first-aid kit will include a manual to help a hunting partner provide emergency medical care. Bottom line? A light first-aid kit should be in every hunter's pack, and while we consider first-aid kits one of the most important hunter gifts ever, they're just as important for camping and hiking, too. Our favorite hunting pack version for most hunters is the Bighorn version because of its overall contents, but any Sportsman Series kit from Adventure Medical Kits makes a great gift for any hunter.
Animals move around a lot, but they also establish patterns. What about big bucks? It's hard to know where they are when they move at night. Elk? Same thing. Especially in western states that have seen elk herds decimated by wolves, if you want to find where early and post-rut bulls are hanging out, a game camera is critical. We have some buddies who set up four cameras every year because the elk just aren't in the same places every year. As for everything else, game camera owners get surprised with photos of bear, raccoons, foxes, cougars and other hunters. All good stuff. A game camera is one of the best hunter gifts ever invented! You can order the TACTACAM Reveal X with a pre-activated SIM card so you can use it remotely on Verizon 4G LTE or AT&T 4G LTE cellular networks.
*Note: Our favorite non-cellular beginner trail camera is the Bushnell Spot On No Glow Trail Camera. It comes ready to go with batteries and a 16GB SD card.
Crocs are very nearly a cult classic among hunters. After long days in boots . . . sometimes with wet feet . . . hunters like to wear soft and cushy Crocs around camp and at home. In fact, we've known some hunters to pack them along in case they need to wear them for a tough stalk where they need quiet footware — kid you not.
Some pieces of gear are signifiers — items that remind a hunters who they are, what they care about. They have the power to turn a hunter's mind away from the stresses of everyday life. A camo lunchbox cooler speaks of the great outdoors and reminds a hunter that it is a tool that enables adventure. Fill a camo cooler with sandwiches and suddenly the whole day opens up. Objects can bring meaning — even camo coolers. We kid you not. The Arctic Zone Realtree Zipperless HardBody Cooler uses a plastic interior with insulated foam and a lid that slips in to create the seal.
*Note: Want more size and color options? Check out the RTIC Soft Pack Cooler line.
While some animals depend on their sense of smell, some have astounding eyesight and can spot the slightest unnatural movement. Good hunters will naturally use a bush or tree or clump of tall grass to break up their silhouettes and obscure themselves from sharp-eyed critters. A lightweight ground blind can extend the areas where a hunter can hunt, letting them set up near trails and natural funnels that don't have cover for hunters. Odds are, your hunter knows a place where a blind would be handy, making a ground blind one of the more interesting hunter gifts available today.
Most hunters have ear plugs for sighting in rifles or shooting clay pigeons, but what about the hearing damage that can occur while hunting? Sure, most big game hunters don't fire all that often, but still, over time it could have an effect. Of course, some shots require quick decisions and fast action — so there is no time to mess with ear protection. But every hunter has been in a situation where they had plenty of time to get a smart, well-calculated shot . . . and even bird hunters have stepped into areas where they were 100% sure they'd get into the thick of it. In these situations, it's hard to beat ear plugs that you can wear like a necklace . . . and then pop in when you need them. For short-term use while hunting, most any banded set will be far better than nothing. Do your hunter a favor and get a set — they make great stocking stuffers for hunters, too.
One of the toughest challenges for busy modern-day hunters is keeping organized and ready to go. Enter the Mud River Truck Seat Gun Case Organizer. This handy system easily attaches behind the front seats of a pickup or SUV and gives your hunter padded compartments for their rifles or shotguns. The bottom pocket even detaches to turn into a field gun case. So handy.
The Outdoor Edge Razor-Pro/Saw Combo blends the form factor of a traditional hunting knife with an interchangeable razor system for instant super sharpness. We're big fans for the ease-of-use, plus appreciate the system for hunters who aren't confident in their sharpening skills, especially out in the field. Oh, one more thing: The price-to-value ratio is fantastic here. What about the Havalon Titan? It's great, too, as is Gerber's Randy Newberg DTS. All are can't-go-wrong hunting gifts.
Most hunters don't end up in situations where they run out of ammo, but having a few extra rounds of ammunition handy is certainly a good plan. One of the simplest ways is with an ammo holder that slips over the butt stock of your rifle. They're also available for your shotgun and make great stocking stuffers for hunters.
Every now and then a hunter forgets his hunter orange hat, jacket, or vest. Or a buddy forgets his. And sometimes, well, you get out into the woods in thick cover and realize there are far too many other hunters in this area. So you want more hunter orange coverage. That's why you take a lightweight safety vest that folds into a tiny package. Plus, it's great for covering a massive rack of antlers that you strapped to your backpack to haul out at twilight.
Not all other hunters are super smart, so backup orange safety vests always make great stocking stuffers for hunters.
There are all sorts of different kinds of elk calls, including bugles, but every elk hunter ought to have a cow call. Even if you're after bulls, well, bulls in rut will follow the cows. If you get into a situation where you need to cow talk, your hunter will appreciate the ability to chat it up. In addition, even if your elk hunter has reed calls already, most hunters like having an extra cow call or two so they can throw out different kinds of tones to sound like more than one cow elk.
The Primos Cow Girl Call is made of soft rubber and is easy to use with great tonal qualities. Note: Cabela's also has this call in stock.
One of our hunting buddies with teenage boys was able to grunt back and forth with several bucks last year — a cool experience, for sure. While some hunters barely know how or when to grunt for whitetail, others have used smart calling tactics to lure big bucks into range . . . so do your deer hunter a favor and give them a new tool to try out. Plus, sometimes the grunt is the only thing that will turn a big buck your way — or stop him in his tracks to give you time to take a shot. Better yet, a grunt call is a good learning tool because it can help you understand buck vocalizations, which some hunters can learn to mimic without a call, which again, means a hunter might be able to can stop a walking buck while they have a rifle to their shoulder or their bow at full draw.
This deceptively simple can call produces estrus doe bleats that attracts bucks. It's super easy to use — you just turn it over — and super effective, too. It makes a great stocking stuffer for young hunters — but even experienced hunters will appreciate its perfect calls and simplicity in action.
We're not sure why, but we are more accurate bird hunters with fiber optic sights on our shotguns. In green. You can get orange or red or yellow, but for some reason we like the green best. Whatever color you choose, these sights provide a dirt-simple beacon that somehow makes it easier to find a pheasant in flight and line up your shot. We have not yet found a fellow hunter who didn't appreciate them.
Looking for a turkey hunter gift? Try the HiViz TriViz Turkey/Deer model.
If you'd like to amp up your hunter's style, it's hard to go wrong with a classic Commando Sweater. L.L.Bean's 'Henley' version buttons at the top and elevates the cool factor. Made from 100% merino lambswool, it looks great everywhere. Better yet, L.L.Bean offers Regular and Tall versions to help you find the right fit.
We believe all hunters should have a waterproof or rain-resistant jacket but not all do. So what happens when Mother Nature decides through a fit? Survival might depend on staying dry. More to the hunting gift point here, though: One of our buddies was busted by a bull elk because he was wearing an all-black rain jacket that gave up his position too easily. The Cabela's Space Rain Jacket — especially in the versatile O2 Octane camo pattern — will work in a variety of terrain, plus it's light and packable enough to throw into any hunting daypack and barely feel it. We're huge fans of the price-to-value ratio here. Nab the Space Rain Pants if you can, too — Cabela's lists the inseam as 31″ but in our experience it's a bit longer, which helps cover the tops of your boots.
There aren't very many waterproof 'blaze orange' rain jackets for hunters, but the L.L.Bean Northwoods Rain Jacket will help keep your hunter safe even when it's raining. Great quality, great price.
One handy gift for whitetail deer hunters is an easy-to-use spray-based scent remover. There are a few good brands on the market, but we've had good luck with Wildlife Research Scent Killer Gold. When your hunters steps out of the pickup, they can give themselves a few sprays and maybe increase their chances of getting a shot when the wind turns against them. The idea is to reduce the downwind plume of human-related scent. Sometimes all you need is an extra second to make the shot.
The WeBoost Drive Reach is a bit spendy, but how much is your peace of mind? If your hunters often hunt just out of normal cell phone service areas, the WeBoost Drive Reach can amplify weak signals and deliver service to your hunter. It works with all cellular service phones and carriers . . . but does it really work? It's legit. We've gained bars of service in deep Idaho canyons and on remote Nevada mountains. (Read our full WeBoost review here for more detail.)
If your hunter gets out into a bad situation with cold and stormy weather, you want him confident in his ability to stop and build a fire to survive. The alternative is to freak out, get lost, overheat with sweat trying to get back to the pickup, not making it and then dying of hyperthermia once the sweat starts freezing. An ability to start a fire is a confidence builder, and while most hunters won't need to stop and build a fire, having the ability to build a fire can help keep a lost hunter calm in the face of adversity — and that's the real life saver here.
Looking for Bowhunting Gifts?
Check out our more archery-specific Best Gifts for Bowhunters guide!
Heads-Up Alert: Catch-All Gear Bags at Cabela's
These great little gear bags have plenty of pockets and are durable. They're great for hunters, fishers and anyone who has miscellaneous gear to keep track of. Best yet, you can nab them for $12.99 — we bought several last year, and they're a crazy good deal. Grab a couple before they're gone!
Still Looking for Great Hunting Gifts?
Shop 'hunting decoys' at Bass Pro Shops and get FREE Shipping on most orders over $35.
Shop L.L.Bean hunting gear, 'free shipping every day' and the L.L.Bean legendary customer satisfaction guarantee.
Shop Orvis for high-quality waterfowl and upland bird hunting gear and gifts.
Shop Cabela's for more specific hunting gift ideas: