Disclosure: Man Makes Fire is reader-supported. When you buy gear using retail links on our site, we may earn an affiliate commission that helps pay for our work. Learn more.
So you've heard about Maven optics and want to try out Maven binoculars, but you're not sure if you should splurge on the B.1 or go with the more affordable C.1 models. I've tested both the B.1 and C.1 Maven binoculars side by side and can help you make the decision.
Maven is a Wyoming-based direct-to-consumer optics company that's been making waves with its high-quality glass and great build quality. Because Maven cuts out retail "middlemen" and sells directly to consumers, you won't find Maven binoculars at brick-and-mortar stores like Cabela's or Bass Pro Shops. So it's hard to test them out in person.
To get Man Makes Fire a closer look, Maven sent us 10×42 review units. After testing the B.1 and C.1 side-by-side, this is what we learned:
The Maven B.1 vs C.1 Short Answer
The Maven C.1 binoculars deliver an outstanding overall value, and arguably, the better value for most hunters. The optical quality you get for $350 is fantastic. The C.1 build quality is also great. For 90% of what you'll likely do, the C.1 binoculars will perform nearly as well as the B.1 binoculars.
However, the Maven B.1 binos are undeniably better — but you have to look hard and pay attention to figure out why. The optical quality is very slightly better, but it's only noticeable when you look for it. The key difference is not in any single feature, no, the B.1 difference is all about how several differences end up delivering an improved overall experience.
For example, the Field of View (FOV) is larger and the edge-to-edge clarity is better. These two differences make the image appear a bit more immersive.  While it may or may not help you tease out an antler from a branch better than the C.1, the experience of looking for the antler is better — the picture you see will seem a bit better as your brain processes what's coming through to your eyes.
Note: If you're looking for core details about how binoculars work, check out our "Binoculars 101: The Basics" guide.
At the same time, the heavier frame, balance, and eye cups all come together a bit better on the B.1 binos. They just feel better in my hands and at my eyes.
Compared to other high-end binoculars, the Maven B.1 is an outstanding value, and it's functionally better than the C.1.
What you really need to understand, though, is that while prices can double, the percentage of improvement does not double when you're talking about decent glass. To put it another way, a jump from $350 to $950 does not result in a massive performance improvement — you get a small performance boost. And percentage improvement is even less when you jump from the $950 B.1 to something like the $2,100+ Swarovski EL. To learn why, read on!
Maven C.1 vs B.1 In-Depth Answer
Let's start with the pricing and talk about how that plays out.
The sweet spot price-to-value ratio for most outdoor gear is in the midrange+ price points. And this doesn't matter if you're buying a mountain bike or a fly rod and reel outfit — the best overall value for most people is not the absolute highest performance gear at the most expensive price points.
We're talking about performance and value, not just performance alone.
The Maven C.1 binoculars cost $350 for the 10×42 option (full C.1 review here). Because there is no retail markup, the C.1 binos will compete very well against traditional channel binoculars that tend to cost $500-700. So if you're looking outside of the Maven optics family, the C.1 binoculars will compete up in price point very well.
The Maven B.1 binoculars cost $950 for the 10×42 option (full B.1 review here). That's quite a price jump over the C.1s. Are they well over twice as good as the Maven C.1 binos?
Not exactly — and I'll get to why. But let's finish out the price-point talk. At $900, the Maven B.1 series is designed to compete with the very best binoculars in the industry with the best reputations — notably Swarovski and Leica and any binocular in the $1,000-1,500 price range. At the Maven price point, the B.1 competes very well with binos that cost more . . . because the performance gains you get with very very high-end gear are usually very small. Those small performance gains are usually only worth it to a) professionals, b) super passionate expert enthusiasts, and c) dentists.
Are the B.1s as good as binos that cost well over twice as much? Swaro fans will tell you no way — and they're probably technically right when you split the hairs. The few people who bother talking about testing Maven's side-by-side with their Swarovski binoculars have given the edge to the Swaros . . . but not by much. If their egos and personalities are about average, they're more likely to justify any decision and investment they make for even the smallest of reasons — it's just human nature. If you go down the internet rabbit hole, they tend to report that the optical quality and color of the Maven B-series binos is not quite as good as Swarovski . . . but it's far closer than they tended to expect. Technically, they will give the edge to Swarovski binoculars but skirt around saying which is a better buy.
I have not tested a pair of Swarovski EL Binoculars with Swarovision next to the Maven B.1s in the same magnification, so I can't tell you for sure if I can tease out any meaningful differences. With high-end glass, my memory of testing Swarovski EL binos for a few minutes here and there doesn't cut it. You need them side-by-side to notice the tiny differences, and I still haven't seen anyone invest in doing that with the exact same magnification and objective lens size.
But here's a hint: If you can't have a great outdoor experience with most any high-end piece of gear, you're a tool. 
In case you're wondering, Swarovski reports that its 10×42 EL delivers 90% light transmission with a twilight factor of 20.5. Maven reports that its 10×42 B.1 delivers 90.9% light transmission with a twilight factor of 20.5. The point isn't that the binoculars are the same, it's just that they may be quite a bit closer in actual performance metrics than you are aware of. The final coatings and construction results in single-digit performance gains that most people will have a hard time articulating.
Ultimately, this desire to find the "best" is a bit crazy — most people will never put in the time to need a 2% performance boost . . . in anything, much less great glass. And even if one set of binoculars gives you 1 minute of higher-contrast low-light performance at dusk, you might appreciate a slightly warmer color tone for the other 99% of the time you look through your binoculars.
But this might help: On a theoretical scale, if the Swarovski EL binoculars are 100% awesome, the B.1's are in the range of 95% awesome even though the Swaros cost more than twice as much. The price point question for most people is this: Is maybe a 5% boost in overall quality — and I'm not saying it's actually 5% — worth 200% more cost to you?
If you're a heavy timber and cover archery elk hunter like me, this means that instead of spending $2,000+ on binos, you can spend under $950 on Mavens and save that extra $1,000 of gear budget for other gear — like a new flagship bow. But if you're a western hunter trying to pick out mule deer on drab landscapes . . . maybe a small boost in optical performance is worth it to you. To each their own.
Let's get back on track.
B.1 vs C.1 Optical Quality
First, the B.1 10×42 binoculars are awesome. When anyone puts them up to their eyes, the response is pretty much always the same: "Wow."
They're sharp, they're clear, and the color is fantastic. Better yet, the silky smooth focus wheel gives you tactile feedback that matches your visual experience. Edge-to-edge clarity is also excellent.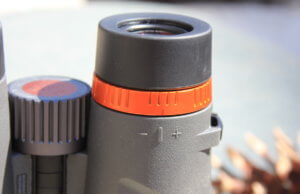 The C.1 10×42 binoculars deliver nearly as good optical experience. When you look through the center 80% of each field of view, it's hard to discern much difference between the C.1 and B.1 optical experience. The C.1 binos are also crisp and deliver fantastic color.
To test the optical experience, I taped a 1951 USAF resolution chart to my garage door and then sat in my driveway looking through the B.1 and C.1 binos, back and forth, looking for differences. And then, during the twilight hour, I went back and repeated the process.
I have good vision and don't use glasses, and from my eyes, the differences are very slight when looking through the center of the viewing area.
In testing the B.1 and C.1 side-by-side, I could find three very slight differences in the optical experience: 1) I could detect a very slight increase in chromatic aberration with the C.1 binos, 2) I could detect a very slight improvement in low-light visibility with the B.1 binos, 3) I could detect a slight deeper depth of field with the B.1 binos.
Maven reports that the C.1 binos boast a respectable 89% light transmission while the B.1s deliver 90.9% light transmission, both of which are good for Schmidt-Pechan prism types. (Abbe-Koenig prisms give you a few more percentage points in light transmission but are heavier, bigger, and cost more.)
What does this mean? For 95% of what most hunters will need binos for, the C.1 and B.1 binos are surprisingly close in optical quality. Most people will have to work hard to nail down the difference.
In this respect, the Maven C.1 binos are truly fantastic. But that's not the whole story. If the optical performance is so good, how can the B.1 binos have an even better user experience?
The Maven B.1 wins in Field of View and edge-to-edge clarity. The B.1 has a 341′ FOV while the C.1 has a 314′ FOV. At the same time, the edge clarity is better in the B.1, too. The result helps make the B.1 feel a bit more immersive in head-to-head tests.
This also means that if you're putting in long hours glassing all day long, you'll appreciate the B.1 more. For more standard usage as you're working your way through the backcountry and woods, the C.1 will get the job done.
Want to take advantage of Amazon Prime shipping? Shop the lineup at Maven's Amazon store!
Depth of Field
Depth of Field doesn't get much talk when it comes to binoculars, but it can be an important factor to some people. Some binoculars — and camera lenses for that matter — will have a "shallow" depth of field. This means that the objects that are in focus exist in a relatively flat plane. For instance, if you're looking down a fence line and you pick out a single fence post to focus on 30 yards down the line, the fence posts that are closer to you will be fuzzy and the fence posts that are farther away from your focal point will be fuzzy.
Some binoculars have a bit more depth than others, and where this can be important is when you're looking for animals. As you move through a landscape at distances less than a few hundred yards, using the focus wheel, you might glass over some antlers that are slightly out of focus . . . and antlers that are slightly out of focus look a lot like brush. So you could miss a buck. Maybe.
In my tests, the B.1 has a slightly deeper depth of field. It's something you have to really look for to see, but it's slightly better and likely contributes to the "intangible" things that make better glass, well, better glass. I would guess that depth of field might be more important to birders who are looking at multiple birds in a group at the same time than it is to most hunters, though.
Try before you buy — check out Maven's Demo Optics Program!
B.1 vs C.1 Build Quality
The B.1 binos use a magnesium frame and are slightly taller than the C.1's polymer frame. The B.1 10×42 binos weigh 29.75 ounces while the C.1 binos weigh 24.5 ounces. The increased heft results in a more well-balanced bino. For me personally, the B.1 ergonomics are spot-on in my hands.
Although, I must say, I appreciate the lighter weight of the C.1 binos and the slightly shorter form factor — especially when I hit about the 8-mile mark on an early season elk hunt. Lighter is often better if you're covering a lot of ground on foot.
The focus wheel on the C.1 is very good — very smooth. It's just not quite as refined as the B.1 focus wheel.
Overall fit and finish is a bit better on the B.1, but that's not a dig on the C.1. It's very good, too.
Incidentally, you can customize the B.1 because it's assembled in the USA. That's a really cool feature. If you appreciate a pop of color or even a camo pattern, the B.1 rocks.
Japanese Glass Assembled in the U.S.
The B.1 series uses Japanese components that Maven assembles in the United States. The C.1 series uses Japanese and Chinese components that are assembled in the Philippines.
If you want to support an American optics company with binoculars that are assembled in the U.S., the B.1 is the way to go.
Outstanding Value vs . . . Outstanding Value?
If you're looking for the best experience, the B.1 will outperform the C.1 binos if you're in tune with small details and pay attention — and they'll also bump up against binoculars that cost twice as much.
For the vast majority of hunters who need to pay close attention to their gear budgets, the C.1 delivers the best overall value, no doubt about it. If binoculars are just one tool in a diverse kit of hunting gear, you will be very pleased with the Maven C.1.
On the other hand, if you spend hours and hours behind binoculars — or plan to — buy the absolute best glass you can afford. That's what everybody says and it's true.
When it comes to the Maven C.1 vs B.1 binoculars question, what you get is an outstanding value vs . . . a different price point of outstanding value. The most important decision factor will be your budget.
If your budget ends at $350, buy the Maven C.1 Binoculars right now. You won't be disappointed.
If you can afford a B.1, you'll get a truly great set of binoculars. You won't be disappointed.
You can't go wrong at either price point.
Get the Gear: