Disclosure: Man Makes Fire is reader-supported. When you buy gear using retail links on our site, we may earn an affiliate commission that helps pay for our work. Learn more.
The new YETI Roadie 48 and 60 hard coolers come with an all-new wheeled design with a rugged collapsible pull handle. They are designed similar to the popular Roadie 24, but there is more to the Roadie 48 and 60 than a bigger size.
To get us a closer look, YETI sent Man Makes Fire a YETI Roadie 48 review unit. After putting the YETI Roadie 48 to the test over hot days and rough terrain during our review process, this is what we learned:
YETI Roadie 48 & 60 Review
One of the best features of the smaller YETI Roadie 24 — read our full Roadie 24 review here — is the more vertical design. Instead of a traditional elongated rectangular box like the YETI Tundra hard coolers, the Roadie series takes up less space at the bottom. By having a smaller footprint, the Roadie coolers are easier to fit into your vehicle for transport.
In addition, the taller design lets you fit wine bottles or even 2-liter soda bottles standing upright, giving you more options for cold drinks. While standard 12 oz beer and soda cans still get most of the cooler love these days, the versatility of the Roadie 24, 48, and 60 make packing for outdoor fun easier and more efficient. It seems like a small point, but if you've ever struggled with a cooler, you know that every little design win is still a win.
You'll Love the Wheels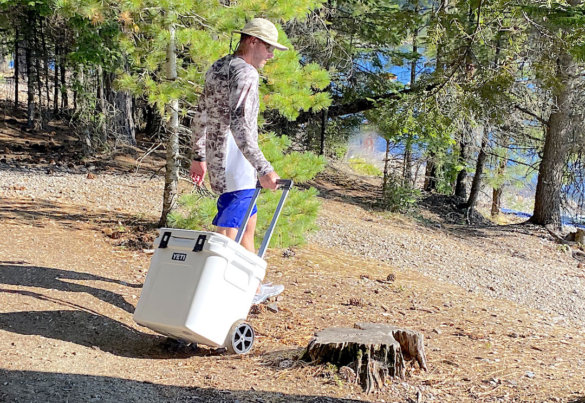 For young, super strong and big people, wheels might not be a big deal. For everyone else, though, wheeled coolers are awesome. If if you're a big guy who can carry a fully-loaded cooler by yourself, your friends and family probably can't. That means you're the one who always has to manage the cooler. With a YETI Roadie 48 or 60, friends, family, and kids can take responsibility for the cooler . . . leaving you to haul other things — like a monster stand-up paddleboard!
As to the wheel construction, YETI uses the same NeverFlat wheels it uses on its Tundra Haul rolling cooler. They are some sort of very rugged plastic-like polymer. They can take a beating on gravel and rocks. The diameter of the wheels is large enough to let you roll the Roadie 48 over lawns, grass, trails, gravel, and even sand. Deep, soft sand results in a harder pull, as you would expect, but it's still doable.
You don't need to a be super-sized human to haul the Roadie 48 or 60 to your destination.
If you need to carry the YETI Roadie 48 or 60 with a buddy to lift it into the back of a pickup or move it over a fallen log on the way to your destination, YETI has two side-molded LipGrip handles that fit a hand well. Unlike the smaller YETI Roadie 24, there are no strap handles.
Shop the new Roadie series at YETI and get FREE Shipping!
The New Periscope Handle
Unlike the YETI Tundra Haul that has a permanently extended hinged handle, the YETI's new Roadie 48 and 60 Periscope handle extends like a luggage handle. Once you're done pulling, it retracts behind the cooler, below the top of the hinged lid, completely out of the way.
Is the new Periscope Handle rugged? It's way tougher than any luggage handles I've seen, and I put it to the test over a rocky, hilly beach traverse. If you pull a fully-loaded YETI Roadie 48 or 60 straight up or down a hill, the forces upon the handle will be straightforward. However, if you pull a YETI Roadie 48 or 60 up a trail at complex angles, you'll place more torque on the handle as you deal with the angles and gravity.
When I pulled a fully-loaded Roadie 48 over rough ground, I paid close attention to handle flex and possible strain. Aside from a bit of motion due to the necessary gaps in the retractable bars, the handle felt rugged and capable.
Incidentally, if you're worried, YETI is offering a whopping 5-year warranty on its Roadie 48 and 60 wheeled coolers. Check out the YETI Warranty Information page for more detail.
A Roadie Drain Plug?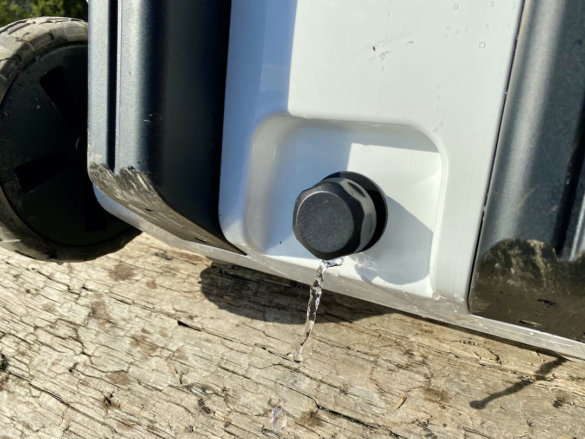 One drawback to the Roadie 24 has been the lack of a drain plug. Because the Roadie 24 is much smaller, you can drain it by turning it over easily enough. But larger coolers need a drain plug. Why? A few reasons. First, if you properly season your cooler, you'll get better ice retention and performance — we'll sometimes drain the excess water after seasoning, saving any still-frozen ice if there's enough left in good shape — while adding fresh ice. Over long-term, multi-day use with a lot of people getting into and out of the cooler, we will sometimes drain cold water and add extra ice. Then, once we get home, a drain plug makes it much easier to clean out a cooler and prep it for the next trip.
The point is, we're very happy to see the drain plug.
Ice Retention and Cooler Performance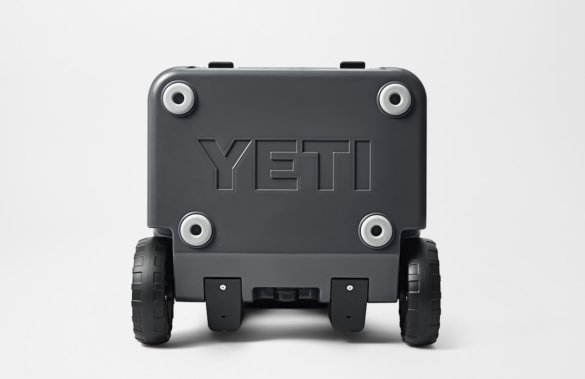 Ice retention in the YETI Roadie 48 and 60 so far appears to be just as good as it is in the YETI Tundra hard coolers. YETI uses the same high-quality form-fitting lids with freezer-style gaskets, as well as the same YETI PermaFrost pressure-injected polyurethane insulation.
YETI also uses slightly raised feet, which along with the wheels, keep the base of the cooler slightly above and off of hot surfaces.
For best ice retention, you'll want to properly season the cooler before your trip, which is basically pre-chilling it. And you should use a 2:1 ice-to-contents ratio. Of course, because our YETI coolers are so thermally efficient, we often don't worry about proper ice ratios for our shorter trips unless it's wicked hot outside.
Roadie Accessories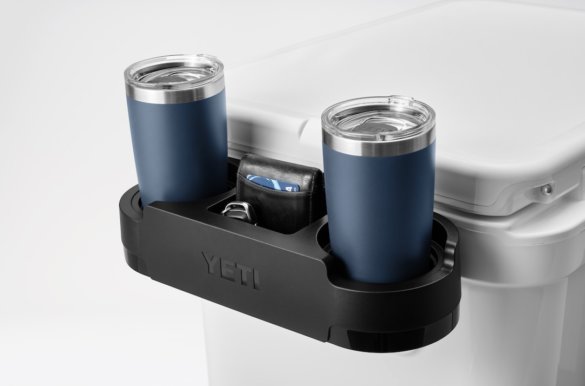 One drawback to YETI is that the company rarely includes many accessories with its coolers — but the company does make well-designed, high-quality accessories for sale as add-on purchases. The YETI Roadie 48 and 60 have several handy accessories available right now:
Roadie Wheeled Cooler Divider — If you're an organization fiend and a fan of dividers, the YETI Roadie Wheeled Cooler Divider is compatible with both the Roadie 48 and 60 (but not compatible with Tundra coolers). It's food safe and doubles as a cutting board.
Roadie Wheeled Cooler Cup Caddy — The Roadied Wheeled Cooler Cup Caddy is an overbuilt dual-cup holder with a stash spot for small items in between.
YETI Wheeled Cooler Dry Basket — YETI includes one of these dry baskets with the Roadie 48 and 60, but both wheeled coolers will fit two of the baskets if you need more dry food organizing space.
YETI Roadie 48 vs Tundra Haul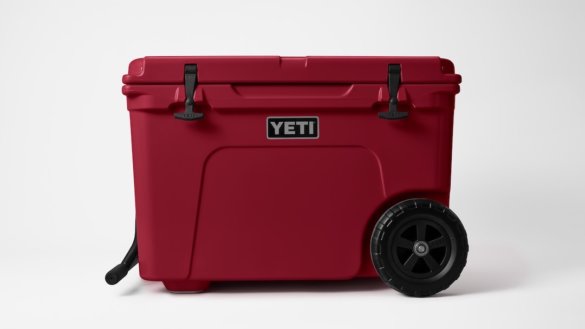 The toughest buying decision you might have around the YETI Roadie 48 and Roadie 60 is if you should go with the Roadie options or choose the older Tundra Haul Wheeled Cooler? The Tundra Haul Wheeled Cooler has a capacity similar to the Tundra 65 Hard Cooler, so it's big enough to be useful for weekend camping trips. Its shape is a cross between typical elongated hard coolers and the boxier Roadie coolers.
The pull handle is simply hinged and falls out the the way and it works well. Its interior is also tall enough to handle wine and 2-liter soda bottles upright, like the Roadie series.
So why choose the Roadie 48 or 60 over the Tundra Haul? And which is the better cooler? The Tundra Haul is an excellent wheeled cooler and it's currently available in more color options than the YETI Roadie 48. The latch system isn't as easy as the Roadie 48's, but the lid is easily lockable with a padlock if you need to lock your cooler.
The biggest drawback to the Tundra Haul is the weight. It weighs 37 pounds while the Roadie 48 weighs just 25.8 pounds. It's likely that the Tundra contains a bit more insulation and/or thicker sidewalls overall than the Roadie 48 — YETI doesn't say — but the weight difference could be due to a less streamlined design around the wheels and lid.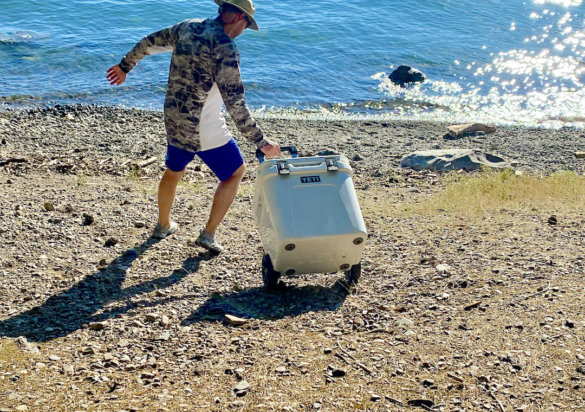 The biggest benefit of the Roadie 48 over the Tundra Haul is the similar volume at a lighter weight. YETI reports that the Roadie 48 has a capacity of 42 cans while the Tundra Haul can hold 45 cans, both with 2:1 ice-to-can ratios. So the YETI 48 weighs more than 10 pounds less than the Tundra Haul but can hold nearly as many beverages. Interestingly, YETI says the Tundra Haul will hold more ice, so it technically has to have more volume — it just might not be as usable when it comes to stacking cans.
Meanwhile, the Roadie 60 holds 53 cans or 62 pounds of ice, making it YETI's largest wheeled cooler. It still weighs 8 pounds less than the Tundra Haul.
The Roadie 60, however, costs $50 more than the Tundra Haul and currently comes in fewer color options.
No matter which rolling YETI cooler design you choose, you can't really go wrong.
Shop all 'Wheeled Coolers' at YETI and get FREE Shipping!
YETI Roadie 48 vs 60
Which size wheeled Roadie cooler is right for you, the Roadie 48 or the Roadie 60? The two wheeled coolers weigh nearly the same empty, but the Roadie 60 will carry more ice, food and drink, which means it could get quite a bit heavier than the Roadie 60.
The extra size will only matter when you need to lift the Roadie 60 into your vehicle — or fit the cooler among other gear. The answer is pretty easy, however: If you have large family outings, we recommend the Roadie 60. If you have a smaller family with straightforward weekend outings, choose the Roadie 48.
Competitive Alternatives & Options
If you're considering the YETI Roadie 48 or Roadie 60, you're most likely interested in a rugged, high-quality, thermally-efficient cooler that will last for years. That means cheap, poorly insulated wheeled coolers are not competitive alternatives at all. These alternative options below, on the other hand, are better built than most wheeled coolers and might also meet your needs:
YETI Tundra Haul — The YETI Tundra Haul is a legit wheeled competitor to the newer Roadie 48 and 60, as noted above. The key difference is the form factors. You get almost exactly the same core materials and rugged build quality. Choose the Tundra Haul if you prefer it's more traditional rectangular shape versus the more cube-like Roadie options.
Pelican Elite Wheeled Coolers — Pelican offers its Elite Wheeled Coolers in three sizes, a 45-quart, 65-quart and whopping 80-quart option. It's very rugged, delivers excellent ice retention, has a built-in bottle-opener and it holds a bear-resistant certification from the Interagency Grizzy Bear Committee.
Igloo Trailmate Marine 70 Quart Wheeled Cooler — The Igloo Trailmate Marine 70 Quart Wheeled Cooler looks like it was designed for a mission to an alien planet. It has rugged wheels, a stout extendable pull bar system, a built-in stash box for keys, a tuck pocket for items like sunscreen, two fishing rod/umbrella holders and bungie tie-down hooks for lashing gear to the lid. The biggest drawback is that it's not as thermally efficient as the YETI Roadie coolers. A secondary consideration is its elevated design — the wheels and support bars give it great ground clearance at the cost of wasted space in your vehicle.
The Bottom Line
All-in-all, the new YETI Roadie 48 and 60 Wheeled Coolers take the surprising awesomeness of the popular YETI Roadie 24 and expand it to an easy-to-haul larger size. We appreciate the cube-like shape, classic YETI build quality, rugged materials, and Periscope handle. Most importantly, you don't need to a be super-sized human to haul the Roadie 48 or 60 to your destination — it rolls easy, which is the key reason to choose a wheeled Roadie. The price is high, but so is the quality throughout. Very highly recommended.
Get the Gear:
Check shipping/availability:
Benefits
Wheels and retractable handle let you easily pull the Roadie
Excellent overall rugged build quality
More vertical design holds large bottles but has a more packable footprint
Drawbacks
A bit pricey (but the rugged build quality is outstanding)
A Surprisingly Common Question: Which YETI is best for cold drinks?
Given the vast number of YETI cooler options these days, it shouldn't be surprising how often this question comes up:
Which YETI cooler is best for cold drinks?
In our experience and review testing, the YETI Roadie 48 and YETI Roadie 60 are now the best YETI coolers for keeping drinks cold for most people. Why?
First, the taller design of the Roadie series lets you easily include 2-liter soda bottles or wine bottles.
Second, drinks are heavy and the wheeled design of the Roadie 48 and 60 lets you pull a heavy cooler full of drinks easily.
Third, hard coolers are more thermally efficient than soft coolers like the YETI M30 Soft Cooler, which means it's easier to keep drinks cold in a YETI hard cooler vs a YETI soft cooler.
Last of all, the shape of the Roadie 48 and 60 are more vertical than YETI's Tundra line of coolers. This verticality often makes them easier to fit into vehicles because the cooler footprint is smaller and there is usually more available vertical space.