Disclosure: Man Makes Fire is reader-supported. When you buy gear using retail links on our site, we may earn an affiliate commission that helps pay for our work. Learn more.
The best tents for camping are roomy, easy to set up, shed rain, offer good airflow, and resist wind. In our guide to the best camping tents, we highlight tents with great designs, rugged durability, excellent livability, and great price-to-value ratios. We expect a lot out of our tents — it's hard enough to make the time to go camping, and when you do, the last thing you want is for your tent to fail. If you're shopping for the best tent, we believe that you care about quality and the overall camping experience.
As we test, evaluate, review and recommend camping tents, we consider key features like rain fly coverage, waterproofing, fabric durability, weight, size, interior height, overall design, and, of course, cost.
Best Camping Tents
Many of our top tent picks are available in different capacities, ranging from 2-person to 12-person tents, so keep that in mind if you like a particular tent on our list but need more or less room. If you need help understanding how to evaluate and choose the best camping tent for you, skip to our handy camping tent guide and FAQ at the bottom.
Meanwhile, whether you're car camping or trekking into the backcountry, you've come to the right place:
REI Kingdom 6 Tent
Best overall camping tent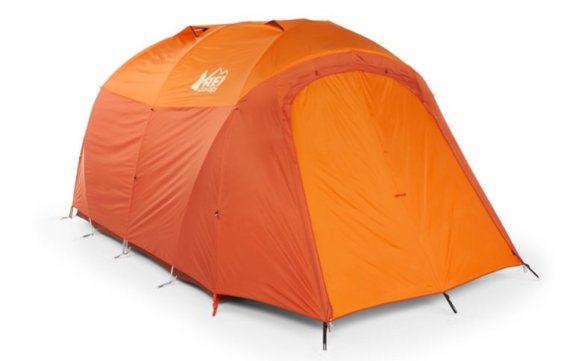 Size options: 4-, 6-, and 8-person
The REI Kingdom 6 Tent hits the sweet spot size for many campers, and it has been one of our best camping tents for the last two years. It has a tall interior tent height with near vertical sidewalls that make the interior feel spacious, even with the room divider set up. It has two doors, which helps ensure that you don't have to climb over anyone if you need to exit for a call of nature in the middle of the night. But that's just the start of the awesomeness designed into the Kingdom 6: The full coverage rain fly can be rolled up for increased airflow on hot summer nights or you can pull it back to reveal that half of the tent is mesh, which is great for stargazing or just hanging out when pesky mosquitoes are too much.
If you want a bit more space, you can buy the add-on Kingdom Mud Room, which creates a huge gear vestibule off of the front door. It's great for stowing gear out of the rain and out of sight. Then there is the Kingdom Porch, which is a large sun shade that attaches to the front door. At night, it's a great place to hang a lantern. For more detail, check out our full Kingdom 8 review. Very highly recommended.
Check Shipping/Pricing:
Pros
Great overall build quality
Spacious and tall
Relatively easy to set up
Cons
Roof vents might allow wind-driven rain to enter (fixable if you're worried)
Cabela's West Wind 6-Person Dome Tent
Best overall camping tent price-to-value buy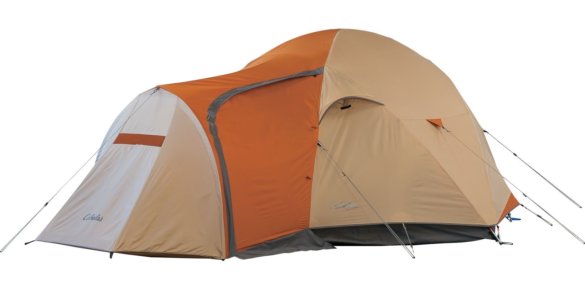 Size options: 4-, 6-, and 8-person
The price-to-value ratio of the Cabela's West Wind 6-Person Dome Tent is through the roof. At about $275, you get a durable and well-made roomy tent with great airflow, two doors, and a massive built-in vestibule. It's relatively freestanding and is 6'3″ tall. It comes with a gear loft and hanging entertainment system that you can slip a tablet into for watching videos. The only downside is also a good design feature: The hexagon floor shape provides good stability and helps divert wind . . . but it makes fitting a full six people inside a bit harder. As always, sizing up is usually better when choosing a car camping tent, and that's true with the Cabela's West Wind series, too. Check out our full Cabela's West Wind review to learn more. Very highly recommended.
Check shipping/pricing:
Eureka! Copper Canyon LX 8 Person Tent
Best cabin tent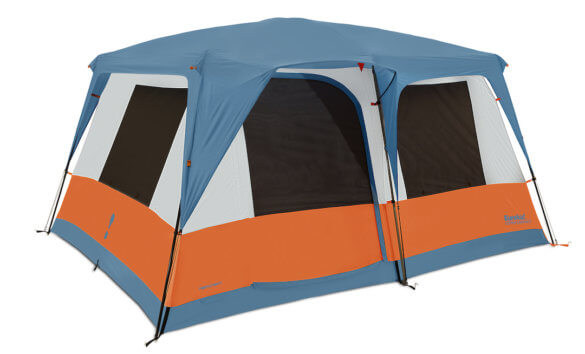 Size options: 4-, 6-, 8-, and 12-person
Newly updated for 2020, the Eureka! Copper Canyon LX series continues to deliver the livability that makes the Copper Canyon tents so popular. Setup is simple — four steel poles support the tent from the corners and fiberglass poles X-cross over the top to create the roof. Once inside you get lots of stash pockets for keys, phones and flashlights, as well as two gear lofts, and a built-in power port in case you want to run an extension cord into your tent. Four large mesh windows are great for ventilation and easy cross-wind air flow. The rainfly does its job and extends over the door — but there is no true vestibule for gear storage or muddy boots. However, because Eureka! doesn't skimp on floor space, you'll have space inside for a towel or boot mat. The larger versions come with a room divider, turning our to top cabin tent pick into a family friendly palace.
Quick note: The Copper Canyon LX is one of the best camping tents to get if you plan to sleep on cots — but still consider sizing up because cots tend to take up more space than sleeping pads.
Check shipping/pricing:
L.L.Bean Arcadia 8-Person Cabin Tent
Best door in a camping tent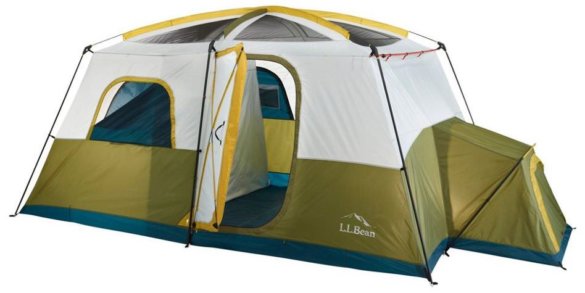 Size options: 6- and 8-person
L.L.Bean started with a basic cabin-style design, then transformed it into a family-friendly tent with two rooms, a self-closing door, and a pet vestibule. The front door on the Arcadia 8-Person Cabin Tent is the standout feature here, and it automatically swings shut and closes with magnets. Why a swing-style door that self-closes? Bugs. The door will reduce the chance of bees flying inside your tent. When it's time to call it a night, the door also securely zips shut. If you don't have a dog, the pet vestibule is a secret door for kids or a great place to store gear out of the rain. One note: The pet vestibule is only available on the 8-person version, not the 6-person one.
Check shipping/pricing:
Kodiak Canvas Flex-Bow Deluxe 8-Person Tent
Best rugged camping tent
Size options: 6- and 8-person
The Kodiak Canvas Flex-Bow 8-Person Tent is by far the most rugged tent on this list . . . and yet just one person can set it up! The zippers are stout and the poles are galvanized steel. The roof and walls are made from premium Hydra-Shield canvas, which combines a super tight weave with silicone waterproofing that also breathes well. What it all adds up to is a four-season capable tent with fantastic owner satisfaction.
Check shipping/pricing:
Amazon | Bass Pro Shops | Cabela's | Moosejaw
Coleman Montana 8-Person Tent
Best budget tent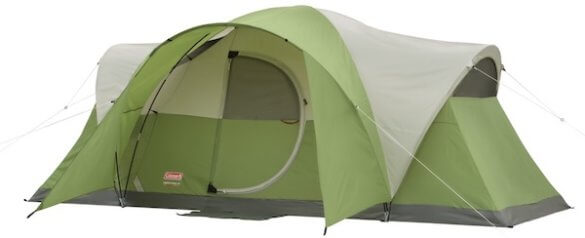 Size options: 6- and 8-person
Are inexpensive tents worth it? The answer depends on how often you plan to use your tent. For under $150, it's hard to find a good family-size tent, much less one that will survive its first summer. The Coleman Montana 8-Person Tent, on the other hand, makes our best camping tents list because it blends a solid overall design with decent rain fly coverage, making it our year-over-year best inexpensive tent pick. Other brands make tents similar to the Coleman Montana, but stick with the Coleman brand here. If you do a good job of staking it down with the guy lines — and take care setting it up — the Montana will hold up well in wind, too.
Check shipping/pricing:
Coleman Sundome Tent
Best budget 4-person dome tent under $100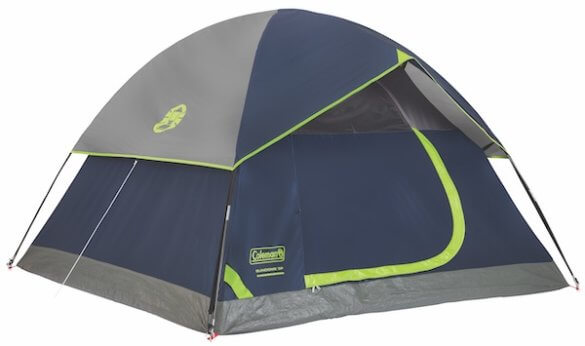 Size options: 3-, 4- and 6-person
Dome tents are nice because they're easy to set up and pack down small. Coleman is one of the few truly inexpensive tent companies we trust, and while Coleman doesn't make expedition-ready tents, they're very good for campers who only camp a couple of times each summer. Your key to success will be carefully pitching the Coleman Sundome with a buddy and staking it down with care. If you can afford higher-quality tents on this list, spend a bit more . . . but if not, don't worry — you should know that we've spent plenty of nights underneath Coleman tents and we've have had a great time doing it.
Check shipping/pricing:
Note: For an affordable notch up, check out the Kelty Wireless 4, which has a better long-term price-to-value ratio and is even easier to set up.




REI Co-op Half Dome 4 Plus Tent
Best backpacking and camping tent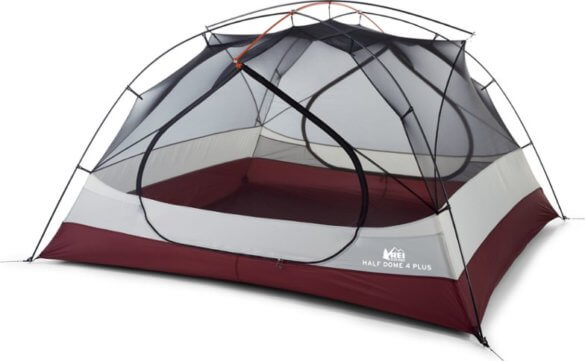 Size options: 1-, 2-, 3- and 4-person
We're huge fans of the REI Co-op Half Dome Plus 4 Tent for many reasons. First, the Half Dome Plus series tents are all 92 inches long, hence the "Plus" in the name. If you're over six feet tall, you'll appreciate the extra room. Not only are the Half Dome Plus tents roomy compared to most backpacking tents, they're not bad as camping tents either. The key difference for car camping is the vertical height — these tents are not high enough to stand up in. If you're not looking for a box-like room in your tent, the Half Dome Plus 4 is cozy, lightweight and built with high-quality materials throughout — like the DAC Pressfit aluminum poles. Plus, you get two doors and two vestibules. No matter which size you pick, you'll get a fantastic blend of durability, usability, and weight. Check out our full Half Dome 4 Plus review for more detail.
Check shipping/pricing:
Note: The REI Co-op Passage 2 Tent is our favorite budget backpacking tent for two people.
Big Agnes Copper Spur HV UL2 Tent
Best all-around backpacking tent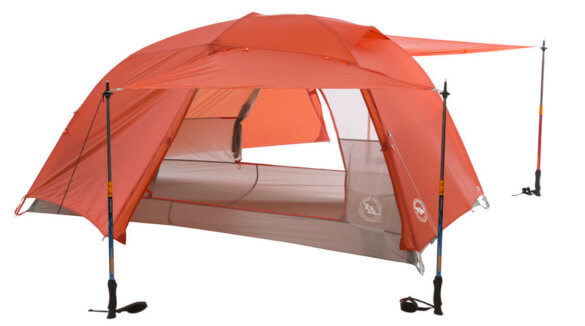 Size options: 1-, 2-, 3- and 4-person
The trick to choosing the best ultralight backpacking tent is finding the right balance between livability, weight and durability. Some ultralight tents are too expensive and lack durability, so what's the best balance? For us, the best backpacking tent is the Big Agnes Copper Spur HV UL2 Tent. Big Agnes — and some of its backpacking competitors — make mostly freestanding tents that are slightly lighter, but the cost skyrockets and the durability plummets — just not worth it. The Big Agnes Copper Spur HV UL2, on the other hand, remains fully freestanding, boasts an innovative sun-shade fly configuration, is reasonably durable, and it all weighs in at just 2 lbs. 11 oz. So cool.
Check shipping/pricing:
Coleman Instant 6-Person Cabin
Best easy-to-set-up tent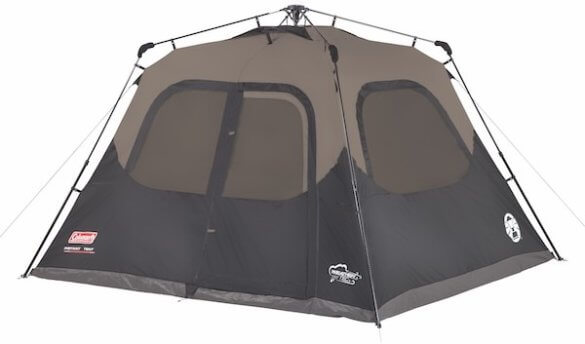 Size options: 4- and 6-person
We don't usually recommend instant-up pop-up tents because they can be difficult to repair in the field. Still, it's hard to argue against a fast setup, especially if you struggle setting up tents. The Coleman 6-Person Instant Cabin can be set up in about a minute. It has integrated vents at the top, a 6′ center height and a roomy 10′ x 9′ floor, making it a great inexpensive family camping tent for the space. Consider adding the Coleman Rainfly Accessory if you plan to use it during rainy spring seasons.
Check shipping/pricing:
Note: Can't find the Coleman? Try the Caddis Rapid 6 Tent.
MSR Habitude 6
Best for primitive campsites
Size options: 4- and 6-person
The key to the MSR Habitude 6 is the overall quality and smart design, starting with the sweet aluminum poles. The pole structure is built for height but capable of supporting the relatively tall tent in rainy, windy storms. Plus, the full-coverage rain fly has a built-in vestibule for great protection from the elements. Let's put it this way: When it's time to go rafting far from the campground this summer, this is the tent we're taking. The Habitude 6 is definitely one of the best camping tents for adventurous families.
Check shipping/pricing:
CampSaver | Moosejaw | MSR | REI | OutdoorPlay
Big Agnes Big House 4 Tent
Best car camping tent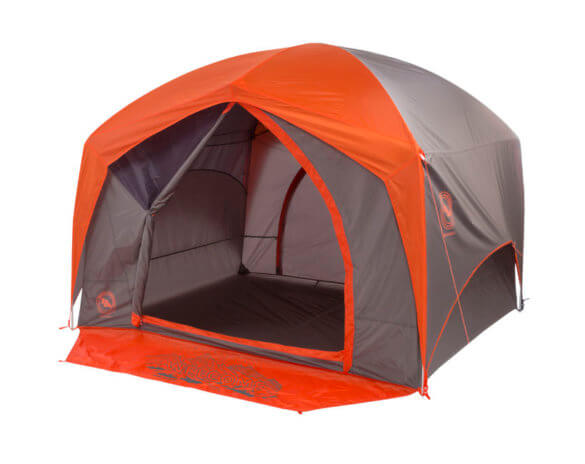 Size options: 4- and 6-person
You just can't go wrong with the Big Agnes Big House 4 Tent. And here's the thing: There is no single standout feature, but the sum of its parts turns it into an awesome car camping tent. It's tall and roomy but only weighs a bit more than 12 pounds. It has plenty of stash pockets, the rain fly is great, and it's easy to setup. It's also easy to take down and put away in its backpack bag, which has sections to help your organize it all.
The DAC DA17 lightweight aluminum pole set is fantastic, and the tie-down guy-line points are positioned high up on each of the four corners, which helps with stability when it's windy. If you want to upgrade it with a massive vestibule, you can. One last thing: The built-in welcome mat seems like a gimmick — trust us, it's not. It's a great place to leave shoes and stand on when you're putting them on. We're fans because sometimes it's the little details that matter.
Check shipping/pricing:
Eureka! Boondocker 6-Person Tent
Best tent with a gear garage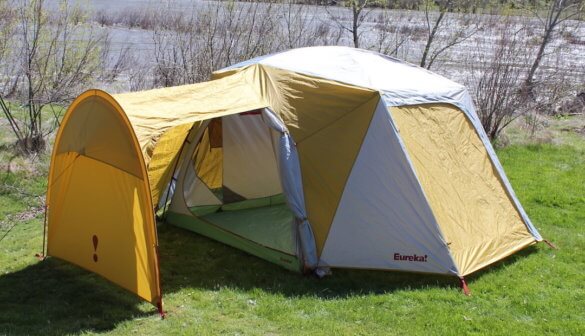 Size options: 6-person
The Eureka! Boondocker 6-Person Tent is one of our top tent picks for both campgrounds and unimproved camp sites. Why? The massive gear garage acts like a privacy shield from other campers . . . and gives you a place to store gear out of sight and out of the weather. The Boondocker 6 is a bit spendy, but if you have a lot of gear, like expensive YETI coolers you don't want to leave out when you go for a hike, you'll appreciate the built-in garage. Check out our full Boondocker review for more detail.
Check shipping/pricing:
Big Agnes Mad House 8 Tent
Best 4-season tent for bad weather, wind and crazy rain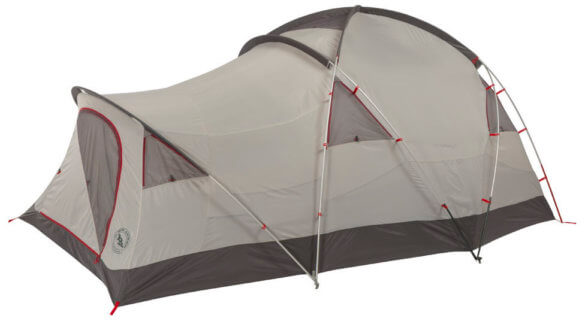 Size options: 6- and 8-person
Get this tent if you don't want to fight wind and never want to worry about rain. As a bonus, the Big Agnes Mad House is surprisingly livable — it's loaded with interior stash pockets, gear lofts, a room divider, two doors, and a great front-door vestibule. The Mad House is basically a mountaineering base camp tent with amenities for families. And it laughs in the face of wind. Sure, it all sounds a bit crazy, but it's hard to argue with quality and oversize stash pockets.
Check shipping/pricing:
CampSaver | Moosejaw | OutdoorPlay
iKamper Skycamp 2.0
Best rooftop tent
Capacity: 3-4
For some travelers, the ultimate car camping tents are rooftop tents, and the best reason for a roof-top tent is the ability to park anywhere and have a flat and cushy place to sleep. The second reason is the surprisingly fast set up. Hardshell rooftop tents like the popular iKamper Skycamp 2.0 can be set up in a minute, but soft-shell tents unfold nearly as quickly. To choose the best roof-top tent for you, you'll need to consider the size of your vehicle . . . and imagine the places you'll go, whether it's an easy-to-back-into campground camping spot or overlanding off the beaten path. It's hard to go wrong with iKamper — and we especially appreciate the world map illustration inside, which, we have to say, evokes an old-school adventurer vibe that's hard not to like.
Check shipping/pricing:
Roofnest Falcon XL
Best thin and technical rooftop tent
Capacity: 2-3
The Roofnest Falcon XL is a marvel of engineering — it's a hardshell rooftop tent that's just 6.5 inches thick when closed. The Falcon XL hinges open and pops up automatically, making it one of the fastest rooftop tents to deploy. Here's another sweet feature: You can choose where you want to place your ladder: From the back, the passenger side, or even from the driver's side. Some camping spots are inherently better when you park your vehicle in a particular orientation, and you can adjust your tent entry accordingly with the Falcon XL. So cool.
Check shipping/pricing:
Tepui Explorer Series Ayer 2
Best softshell tent
Capacity: 2
Softshell rooftop tents are often a bit lighter weight, which gives them an edge for smaller SUVs. Plus, they tend to be more affordable but still work very well and are super fast deploy. The Tepui Explorer Series Ayer 2 weighs less than 100 pounds, which makes it particularly good for smaller vehicles. Any Tepui tent is great, just pick the size you need for your particular vehicle and fellow sleepers.
Check shipping/pricing:
Amazon | REI | OutdoorPlay
Smittybuilt Overlander Tent
Best budget rooftop tent
Capacity: 2
Our pick for the most affordable rooftop tent is the Smittybuilt Overlander Tent. Pretty hard to beat in its price range.
Check shipping/pricing:
Best Camping Tent Honorable Mentions:
The North Face Homestead Super Dome 4 Tent
Cabela's Alaskan Guide Model Geodesic 8-Person Tent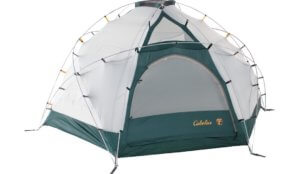 Bass Pro Shops Eclipse 6-Person Cabin Tent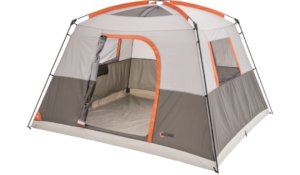 Cabela's Outback Lodge 8 Person Tent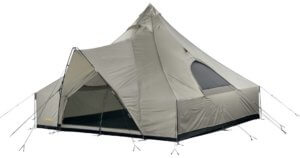 Best Tarp Tent?
If you want to get tarp-tent enthusiasts mad, just pick any tent that's not their own favorite tarp tent. Why such emotional responses? There's something primitive and undeniably fun about the simplicity of sleeping under a tarp tent. While a fully-enclosed tent gets you closer to nature, tarp-style shelters bring you even closer yet. Tarp tents are best for experienced backpackers who really want the lightest possible shelter and know how to property stake down a tent in adverse conditions. Tarp shelters aren't exactly the best camping tents for mosquito season, but they do have their charms. Try the MSR Front Range 4 Person Ultralight Tarp Shelter for 4-season alpine camping . . . or pretty much anything from Zpacks or Tarptent for backpacking.
Best Camping Tent Buying Guide Tips & FAQ
What should I consider as I choose the best camping tent for me?
Size — The most important tent buying factor is size. You need to know how many people you want to fit in your tent. Camping tents are sized by the number of people the manufacturer believes should fit into the tent. This varies by manufacturer, but it loosely correlates to giving each person no more than 24″ in width and 80″ inches in length — but some tents only factor in about 20″ of width. For example, a four person tent would typically give you enough space for 4 adults to sleep side-by-side in narrow mummy-style sleeping bags. Doable? Yes. Comfortable, no. For that reason, we recommend that most campers size up their tents. If you're a family of four with a family dog, you'll want a 6-person camping tent. If you want to sleep on big air mattresses or cots, you might even want to size up to an 8-person camping tent.
Seasonal Use Plan — Most campers only use their tents a couple of times a year during the summer months where the weather is generally fantastic. If this is the case, you can likely "get by" with an inexpensive tent. On the other hand, if you only get to go camping a couple of times each summer, how important is your camping experience? What if it rains? Do you want to deal with leaks . . . or have a great time playing games in your tent while you ride out a storm? We recommend that invest in the best quality gear you can afford so that you can maximize your outdoor experiences.
Rain — There are two basic styles of tents to consider in regard to rain: single-wall tents and double-wall tents that have a separate rain fly. A single-wall tent can shed rain, but they are at a slightly higher risk of leakage around windows and doors. This isn't a deal-breaker, but it does mean we don't recommend cheap single wall tents. Tents with a separate rain fly tend to provide better coverage from rain and bad weather. Look for a rain fly that extends down the sides close to the bottom of the tent for the best rain protection. In addition, tents with a rain fly tend to have more mesh inside, which provides better ventilation and reduces condensation.
Wind — Tall, boxy tents tend to catch the wind and are at more risk of being blown over . . . but they're super awesome for standing up in and having a big, roomy experience. To combat wind, a great tent will have lots of well-placed guy lines that you can use to stake down the tent. Next, more poles are usually better than fewer poles. And poles that criss-cross to form triangular angles tend to be even stronger in wind.
Pole Material — As a general rule, aluminum poles tend to be stronger and lighter than fiberglass, and aluminum poles are usually a marker of higher-quality tents overall. Steel poles, while heavy, are often the strongest. You'll find steel poles in many large cabin-style tents.
Fabric and Waterproofing — For most people, most of the time, you don't have to worry about the fabric or waterproofing in most any midrange to high-end camping tent. It's going to be very good. Cheap tents will eventually lose their waterproofing abilities faster, if not immediately. The exception to this rule is with backpacking tents. Thicker fabrics are stronger and more durable but they're heavier. Lighter fabrics weigh less but are more prone to puncture. Backpackers have to choose between weight and durability. Most camping tents are tough enough for most people most of the time that fabric and waterproofing are minor considerations.
What is a footprint and do I need to buy one?
A footprint for a camping tent is a perfectly sized waterproof tarp that you place underneath your tent to help protect the built-in floor from rocks, thorns, sticks, and even dirt. You don't technically need one for most any tent, however, some lightweight tents have lightweight floors. If you buy a lightweight tent, having a footprint can help protect your floor. Do we buy footprints at Man Makes Fire? Rarely. We take care of our gear and live with the consequences. On the other hand, we will occasionally buy an inexpensive tarp to have on hand in case we want to pitch our tent in a sketchy spot. If you pay attention to the size of your floor, you can often buy a tarp for under $20 that will fit your tent well. Just remember that footprints and tarps should always be sized slightly smaller than the floor of the tent so rain water does not pool and slip under your tent. If water gets between a tarp and your tent floor, your weight might force it up through the floor — even if the floor is waterproof. (Sometimes you can't fight physics.)
Are vestibules and gear garages needed?
You don't have to have a vestibule or a gear garage to have a great camping experience. However, think of vestibules and gear garages like covered porches. They provide you a place to get out of the rain before you enter your tent. They also provide a dry place to take off and put on wet, muddy or sandy shoes. Finally, they give you extra space to store camping gear out of the sun, out of the rain, and sometimes, out of sight. We very much appreciate good vestibules and gear garages.
What is a bathtub floor in a tent?
A bathtub floor in a tent is a floor style where the bottom of the tent is made from waterproof material that extends several inches up the sidewalls from the ground. Bathtub floors help keep water from entering tents.
What are fully-taped seams in a tent?
Fully-taped seams are areas where the tent fabric is taped or glued where it has been stitched together. Needles and thread obviously make soles — and the taped seams seal those holes.
What are the key factors you use to select your best camping tents?
First and foremost, we don't try to shoehorn camping tents into one-size-fits-all categories or specifications. Each tent comes with pros and cons based on the materials, overall design, and best use-case options. For instance, a dome-style tent with just two fiberglass poles that "X" across the top might work very well for a 2- or 4-person tent size . . . but fail miserably at a larger 6-person size because those fiberglass poles are more likely to break . . . or let the tent collapse under heavy winds. That doesn't mean the 2-person tent is a bad tent . . . but it means that we're probably not going to pick the 6-person version — and maybe not even that particular tent at all.
We look at and evaluate these key factors the most:
Design
Quality
Intended use
Price
Brand reputation
How do you choose which links to include?
First, we only provide links to reputable sellers we trust. Second, we look to prioritize links for which Man Makes Fire has an industry standard affiliate advertising relationship. Why? Man Makes Fire is reader supported. When you buy gear using retail links on our site, we may earn an affiliate commission that helps pay for our work. Learn more. Third, we look for sellers who can maintain good stock availability and offer fast shipping and return services.
What's next? 
Consider a screened tent for eating away from pesky insects. Read our 12 Best Screen Houses for Camping guide to learn more!