Disclosure: Man Makes Fire is reader-supported. When you buy gear using retail links on our site, we may earn an affiliate commission that helps pay for our work. Learn more.
The newly updated REI Co-op Half Dome 4 Plus Tent is a 4-person dome tent that flirts between a backpacking tent and an ultralight car camping tent. Either way, it's a great tent — the key to the Half Dome 4 Plus Tent is how you plan to use it. If your expectations match the design, it's an outright winner.
To get us a closer look at its updated Half Dome 4 Plus, REI sent us a review unit. Here is what we learned:
REI Co-op Half Dome 4 Plus Tent Review
For starters, REI classifies the Half Dome 4 Plus as a backpacking tent, which it is: At 7 lbs 1 oz, it's relatively lightweight for its size, plus it has a lot of airy mesh, two doors and two vestibules. The interior floor is 92″ by 92″ which means it's long enough to handle four tall sleepers side-by-side — as long as they are sleeping on backpacking sleeping pads, the regular versions of which are usually about 20 inches wide.
We, however, don't usually run into situations where four grown men, for example — or even two men and two women — would want to share a tent while backpacking. Odds are, most people are going to opt for taking two or more ultralight backpacking tents to get a bit more space or privacy — or avoid their buddy who snores.
For backpacking families, on the other hand, you could easily sleep two adults and two kids — and bring along the family dog while you're at it. Of course, if you have just one child with a dog, you could opt for a 3-person backpacking tent like the REI Co-op Half Dome 3 Plus, but then you might not have room to grow.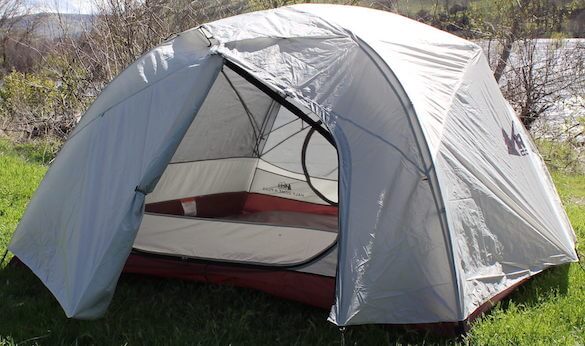 Here's another backpacking situation where this tent could shine: If you're heading out for a longer-term trip with a base-camp situation. A couple of guys could share this tent and have plenty of room for gear or lounging during a rainy day.
So, for backpacking, your question comes down to this: How do you want to sleep? Share a tent or go with separate tents? And then, is the weight worth it to you? Do the math: If you're fitting four people in this tent, the weight is less than 2 lbs. per person, about 1 lb. 12 oz. Not bad, really. For three people, it's up to a respectable 2 lbs. 5 oz. For two, about 3 lbs. 9 oz — but if you use this tent for just two people, you'll be backpacking with a spacious palace.
Get your Half Dome 4 Plus while supplies last — $100 off at REI's Labor Day Sale!
Half Dome 4 Plus Tent Review: Car Camping?
The nice thing about the REI Co-op Half Dome 4 Plus Tent is that you can take it car camping. For two people and a dog, it's super roomy. On the other hand, there are many other camping tents that give you more volume and space — and if they weigh a bit more, who cares? The car is packing the weight.
Still, you're definitely not going to want to take any heavier 4-person car camping tents into the backcountry — but you can take the REI Co-op Half Dome 4 Plus backpacking if it makes sense for those you'll be sheltering. If this is the kind of versatility you would error towards, the Half Dome 4 Plus gains some major points.
So, who should buy this tent? Anyone who has a young and growing family and wants to share a tent somewhere along a trail. In addition, it's great for groups of three for those trips with odd numbers. If you have a small car, the Half Dome 4 Plus could also make a tidy car camping tent. Last of all, if you like the idea of a 92″ x 92″ floor and you aren't scared of 7 lbs. 1 oz . . . that's a fit, too.
Half Dome 4 Plus Tent: Quality & Design
If you're on board with the overall size and weight, let's talk quality and design. REI makes excellent backpacking tents that all perform well above their price points. For example, the ultralight REI Quarter Dome 2 (see our review) competes with tents that cost quite a bit more. As we have come to expect from REI, the Half Dome also competes very well against higher priced competition when you consider the size of the floor, volume, weight and overall quality.
The Half Dome 4 Plus pole system is super cool and effective — and improved from the previous generation: The REI-exclusive tension-truss architecture gives you more internal livable space and steeper sidewalls. Basically, two corner poles on a side attach to a hub that then spans the tent to the other side where there is another hub and two corner poles. A center top cross pole lifts the sidewalls to maintain volume throughout. To get the orientation right during setup, all you have to do is find the orange poles and make sure you place them in the orange straps. Pretty easy, really.
Meanwhile, lets talk about that mesh — it's packed with pockets. Even with four people inside this tent, there will be plenty of mesh pockets for smart phones, wallets and headlamps. The roof has two strips of pockets and the corners have pockets, too. So cool.
Once you throw the fly on, you get four roof vents to help with air flow and prevent internal condensation. You also have two doors with two fairly large vestibules. When you stake them out properly, they have REI's new shape that lets you get in and out of the tent when it's raining without much risk of water entry.
The overall construction of materials, seams and zippers is excellent. Again, as is typical with most REI-branded gear, the quality is competitive compared to the price point.
REI Co-op Half Dome 4 Plus Tent Review: The Verdict
If you're looking for a lightweight, very usable 4-person backpacking tent that can do double-duty for car camping, the REI Co-op Half Dome 4 Plus Tent has one of the best overall price-to-value ratios available today. You could, for instance, shave almost two pounds and go with the Big Agnes Copper Spur HV UL 4 Tent — but the Copper Spur costs nearly twice as much as the more affordable Half Dome. If you're trying to outfit a family for a 3-mile hike on your first mountain lake backpacking trip, the REI Co-op Half Dome 4 Plus wins the affordability battle. In fact, for most people, it might be better to spend your extra budget on lighter sleeping pads and lighter sleeping bags than trying to save weight through a tent purchase alone.
All-in-all, the REI Co-op Half Dome 4 Plus is a great tent. Sure, it's a specialized size, but if the size meets your needs, you can't go wrong. Highly recommended.
Get the Gear:
REI Co-op Half Dome 4 Plus Tent
Pros
Near vertical sidewalls improve livability
Great price-to-value ratio
Design suitable for 3+ backpackers as well as car camping
Cons
If you understand the aim of the tent, there are no real cons