Disclosure: Man Makes Fire is reader-supported. When you buy gear using retail links on our site, we may earn an affiliate commission that helps pay for our work. Learn more.
The new Sea to Summit Ether Light XT Insulated Air Sleeping Mat does an outstanding job of blending weight, insulation and comfort.
The new Ether Light XT series is aimed at backpacking and bike packing, primarily, but the cushy 4-inches of padding is comfortable enough for car camping or crashing on the floor at a buddy's place on the way to your next adventure.
Let's take a closer look.
Sea to Summit Ether Light XT Insulated Air Sleeping Mat Review
All of the best air mattresses and sleeping pads come with a series of tradeoffs. Better insulation and comfort usually come with greater weight. Better durability comes with more weight. Super ultralight air mattresses use less insulation and use thinner fabrics, but that results in less durability. It's hard to beat the laws of physics.
Enter the Sea to Summit Ether Light XT Insulated Air Sleeping Mat. Sea to Summit tends to error on the side of durability, which we greatly appreciate. No one likes to repair an air mattress while they're out in the backcountry.
However, the new Sea to Summit Ether Light XT Insulated Air Sleeping Mat is something extra special — the insulated Ether Light XT strikes a near perfect balance between weight, comfort and R-Value.
Weight
As you might have guessed, the Sea to Summit Ether Light XT Insulated Air Sleeping Mat isn't the lightest backpacking air mattress out there, but it is surprisingly lightweight.
The regular weighs in at just under a pound at 15 ounces — but Sea to Summit has taken some flack because some people are reporting that it actually weighs about 16 ounces. The Large version, which is what I use, has a listed weight of 19.8 oz but my scale says it's 20.3 ounces. That's just 0.5 ounces off. Close enough for me.
Either way, you don't buy the Sea to Summit Ether Light XT Insulated Air Sleeping Mat because you want the very lightest backpacking sleeping pad. You buy it because you want the best blend of features.
The Sea to Summit Ether Light XT Insulated Air Sleeping Mat comes in four sizes, two of which are standard mummy-like shapes while two are rectangular in shape. Sea to Summit also makes two women-specific versions that are shaped a bit more like most women. They are a bit narrower at the shoulders, wider at the hips and shorter in length. So you really have six options.
Here are the dimensions and corresponding Sea to Summit listed weights for each Ether Light XT Insulated Mat:  
| | | | | | | |
| --- | --- | --- | --- | --- | --- | --- |
| Specs: | Regular | Large | Rec. Reg Wide | Rec. Large | W's Regular | W's Long |
| W x L | 21.5″ x 72″ | 25″ x 78″ | 25″ x 72″ | 25″ x 78″ | 21.5″ x 66″ | 25″ x 72″ |
| Weight | 15 oz | 19.8 oz | 19.4 oz | 21.7 oz | 14.8 oz | 18.7 oz |
| R-Value | 3.8 | 3.8 | 3.8 | 3.8 | 4.2 | 4.2 |
Comfort
Comfort is where the cushy Ether Light XT really shines. With a depth of 4 inches, the Ether Light XT seems to gobble up rocks and roots underneath you. Of course, the overall feel can change based on how much air pressure you like, which is true for all air mattresses. With what I would call a midrange sort of air pressure, my hips and shoulders don't bottom out when side sleeping. So yes, the Ether Light XT is good for side sleepers.
The Ether Light XT series uses what Sea to Summit calls Air Sprung Cells. The construction results in a widely dimpled surface that some people really appreciate. Is it comfortable? Definitely. Significantly more comfortable than other thick air mattresses? To me, not really. However, the design is very stable. Some other thick air mattresses let the air shift around so that as you move, you're dipping and diving. Air Sprung Cell construction seems to give you a more consistent feel as you shift around.
In addition, the sides are slightly taller than the middle, which does a subtle job keeping you on the pad and helps keep the sides stable, too.
Shop the Ether Light XT at Sea to Summit and get a lifetime guarantee and free shipping on orders over $50!
Because I'm a relatively big guy at 6'3″ and 220 pounds or so, I go with large air mattresses. I get better length, of course, but the width gives me more room for my arms. If you're bigger than average through the shoulders, consider splurging on the 25-inch wide models. Why? Because the 4 inches of cushion is relatively high, if your arms hang over the edge, they have farther to go to reach the ground compared to 2.5-inch air mattresses.
Is this a big deal? Maybe if you're a constant back sleeper. Maybe more if it's very cold out. Which brings up the other side of the comfort equation: insulation.
R-Value
The R-Value of the Sea to Summit Ether Light XT Insulated Air Sleeping Mat is 3.8 for the standard version while the women's specific version gets a slight boost to a 4.2 R-Value.
For a summer backpacking mattress, this is outstanding. For a three-season air mattress — spring, summer and fall — this is very good. In fact, it's totally doable for the vast majority of backpackers for nearly all of their likely trips. With the insulated Ether Light XT, Sea to Summit hit the sweet spot dead on.
To get the R-Value, Sea to Summit uses two kinds of insulation: Thermolite HL-1 and Exkin Platinum fabric.
Thermolite HL-1 is a fiberfill high loft insulation with a 3D crimp of hollow-core and solid fibers so it holds its shape and lofts well.
Exkin Platinum is a lightweight non-woven fabric that has a thin metalized layer applied to the surface. Like reflective films used in other air mattresses, the Exkin Platinum reflects radiant heat back to the user. However, the Exkin Platinum is very quiet and does not result in crinkly noises when you move.
Speaking of noise, the insulated Ether Light XT is very quiet. It's not silent, of course, because your sleeping bag is going to rub across the fabric of the mattress and make noise. Some bags have louder fabrics than others. For me and my sleeping partners, noise has not been an issue.
Shop the Sea to Summit Ether Light XT at Moosejaw and get FREE 2-day shipping!
Durability
Sea to Summit uses a 30-denier face fabric with a 40D bottom fabric. They feel about the same, but the bottom is a bit thicker and tougher to better fend off pokes.
In addition, the lamination of the seams is something Sea to Summit takes great pride in — the company believes its combination of fabric and technique lead to one of the best strength-to-weight ratios you can get today. If you've ever had an air mattress have seams or internal baffles fail, you will likely appreciate Sea to Summit's attention to detail here.
Meanwhile, the interior Air Spring Cells use loops of strong TPU to maintain their construction and flexibility.
Integrated Airstream Pumpsack: Use It!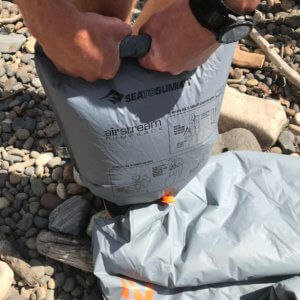 The Ether Light XT Insulated Air Sleeping Mat is a high-volume air mattress. Basically, it takes quite a bit of air to fill it up — this is the cost of 4 inches of cushion.
Several air mattress manufacturers have started making pump sacks to help fill their mattresses and Sea to Summit is no exception. What's cool here, though, is that Sea to Summit has turned the included stuff sack into a pump sack. This means you don't have to buy an extra pump sack.
The included Airstream Pumpsack weighs about 2 ounces, and while you don't have to use it, you should.
First, blowing air into an open sack and rolling it down into the mattress is easier and more efficient than directly blowing into your mattress. Second, using the pump sack reduces the amount of moisture from your breath getting inside the mattress. Moisture reduces insulating capabilities and can sometimes grow bacteria and other microbes inside your mattress.
I can fill the the Large with five or six breaths of fill using the pump sack. How many without it? I didn't even try.
Shop the Sea to Summit Ether Light XT at Moosejaw and get FREE 2-day shipping!
Pillow Lock System
The Ether Light XT mats have hook and loop patches that let you secure a Sea to Summit Aeros Pillow directly to the mat. This prevents the pillow from scooting off of your mattress during the night. The connection section on the mattress does't snag on your clothes or hair.
Newer Sea to Summit pillows come with the Pillow Lock System.
If your sleeping style matches a pillow that stays put, the Pillow Lock System might be a key feature for you. Pillow fans seem to love it.
The Verdict
The new Sea to Summit Ether Light XT Insulated Sleeping Mat is an all-around awesome lightweight backpacking air mattress. While there are lighter competitors, none have the same blend of cushion, durability and insulation. If you only backpack in the summer and don't need the insulation, Sea to Summit offers an uninsulated Ether Light XT which drops the weight down to 12.3 ounces. However, if you imagine yourself hiking at higher elevations or extending your season, go for the insulated versions instead — the extra comfort over a wide range of temperatures will be worth it. Very highly recommended.
Get the Gear:
Shop Ether Light XT Mats at these retailers we also trust: CampSaver | Moosejaw | REI  
Sea to Summit Ether Light XT Insulated Air Sleeping Mat
Pros
Excellent cushion and comfort
Excellent (quiet) insulation
Stellar quality
Cons
Bit heavy (for fair-weather only backpackers)