Disclosure: Man Makes Fire is reader-supported. When you buy gear using retail links on our site, we may earn an affiliate commission that helps pay for our work. Learn more.
The best gifts for outdoorsy women are often the very same gifts that are great gifts for all outdoor adventurers.
Sometimes, however, you want to find something more female-specific, something that says you're thinking of her specifically and trying, at least, to find something she'll wear and appreciate.
Outdoor clothing is an obvious opportunity, but it can be risky because sizing can be tough to sort out. Consequently, most of our outdoor gift recommendations for women have sizing options that give you a bit more flexibility on the fit not needing to be perfect. The toughest outdoor gift on our list to pull off might be our #3 prAna Halle Pants below — but the payoff? Could be well worth the effort.
Meanwhile, let's get to it!
Shop YETI's new limited-edition colors:
25 Best Outdoor Gifts for Women
As you're looking for outdoor gifts for her — or outdoor gifts for mom or your wife or girlfriend — think about what kinds of outdoor activities she likes to do most. If she likes hiking, imagine gifts that she might enjoy that support hiking. If she likes camping, you can also check out our guide to the best camping gifts. No matter who your outdoorsy adventurer is right now, these are our favorite outdoor gifts for women for 2022 and beyond:
1. Rumpl Blanket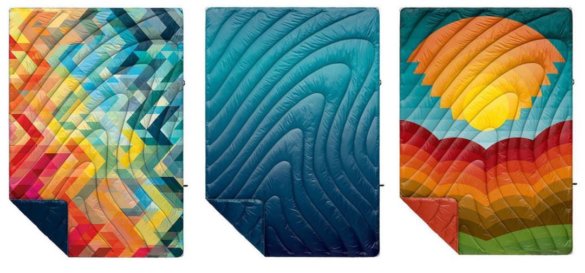 To create its popular Original Puffy Blanket, Rumpl took the best outdoor-ready materials from high-quality sleeping bags and used them to create a cushy machine-washable blanket you can take outside. The result is a blanket comfy enough for wrapping up in camp chairs on cool mornings but rugged enough to spread out on the ground for a picnic or a sunny day nap. To top it off, Rumpl got serious about style — Rumpl blankets deliver outdoor moods like no other competing camp blankets.
Shop all 'Camp Blankets' at REI and get FREE Shipping on orders over $50!
2. BioLite AlpenGlow Lanterns
We can not say enough good things about the new BioLite AlpenGlow lanterns. Sure, the colorful light modes deliver a fantastic outdoor vibe — at a campsite or in your backyard — but the quality of light is particularly great. The AlpenGlow has two white light modes, a crisp white and a warmer white with ChromaReal LED technology that accurately renders color at camp. For the camp cook, this is a particularly useful feature. What about the form factor? We're big fans of the AlpenGlow 500, which delivers a lot of light in a relatively small form factor. What about the AlpenGlow 250? It's our favorite small lantern.
3. prAna Halle Pants
If you're a man looking for a gift for an outdoorsy woman, this might be a little hard to pull off, but it could be worth the risk: prAna Halle Pants are something special. They are a seriously good-looking, high-performance outdoor pant. Somehow, they just seem to fit and look fantastic many different female body sizes and types. One of our gear testers went out on a limb one year and bought his outdoor girl a pair of Halle Pants. To find her size, he found a couple of other pairs of pants in her closet that she had been wearing recently, then ordered her size and hoped for the best. They fit! They were so good, she ended up buying another pair. And then her friend bought a pair — and she ended up buying another pair. And then her friend, too. While the original Halle Pant seems to fit quite a few differently-sized women well, prAna does offer four basic size/style options: In addition to the original Halle Pant, prAna offers the Halle Strait for those who want a trimmer leg, as well as a Halle Plus and Halle Straight Plus option.
So what makes the Halle Pant so fantastic? Obviously, Prana somehow has nailed a flattering fit. The rest is just pure awesome outdoor pant quality, construction and design. For instance, you can roll the Halle Pants up and turn them into capris.
Shop the prAna Halle Pants:
4. Stanley Classic Perfect-Brew Pour Over Set
If your outdoor-loving adventurer loves coffee but isn't afraid to travel far off the pavement, the Stanley Classic Perfect-Brew Pour Over Set is an affordable gift that delivers great coffee. Its charm is its rugged simplicity: all you need are your favorite coffee grounds and hot water. The result is a cup of coffee that's far better than instant packs. If your adventurer appreciates even richer mugs made from a French Press, try the easy and affordable Stanley Adventure All-In-One Boil + Brew French Press.
5. L.L. Bean Down Vest
If there is just one thing we know about adventurer-loving outdoor women, it's that they all look fantastic in down vests. We don't know why — it's just fact. The L.L.Bean Mountain Classic Down Vest is hard to beat — and comes in a variety of color options. If you're looking for an ultralight (and shinier) vest, try the L.L.Bean Ultralight 850 Down Vest.
Shop Patagonia, Cotopaxi & Arc'Teryx vests at REI can get FREE Shipping on orders over $50!
6. Swiftwick 'National Parks Collection Vision Impression Socks
If the lady you're shopping for likes bright, patterned socks, check out the high-performance Swiftwick 'National Parks Collection Vision Impression Socks. The Swiftwick socks we've tested at Man Makes Fire so far have had an excellent fit and are rugged — so even if you haven't yet heard of Swiftwick, they're legit. Oh, here's another bonus outdoor gift idea: While you could give her socks with her favorite National Park, you could also give her socks from another National Park — and include a promise visit there with her!
7. Huk Icon X Fishing Shirt
For outdoor women who like to fish in the hot summer sun, it's hard to go wrong with a Huk Icon X Fishing Shirt. This lightweight shirt blocks the sun's harmful rays and actually helps keep you cool on hot summer days. Note: For a bit more outdoor cred, make sure you pronounce "Huk" like "hook" . . . like the hook you tie on!
8. NomadiQ Portable Grill
The nomadiQ Portable Grill packs down small but expands to 226″ of grilling space on ceramic non-stick grates. Plus, the grates are removable and dishwasher safe. In case you want pancakes in the great outdoors, nomadiQ even makes an add-on griddle accessory.
9. YETI Camino 35 Carryall Tote
In our experience, most guys don't fully appreciate the value of a great tote bag — but all the women in our lives do. So we started paying more attention (and that's why we now include some totes in our guide to the best gifts for outdoor men). Meanwhile, what about the YETI tote? The YETI Camino 35 Carryall Tote is arguably the best overall rugged outdoor tote. The Camino 35 attention to detail is stellar. You get two interior zip pockets that are great for keys and smartphones, but our favorite feature is the two deployable dividers. If you don't need the dividers, they tuck out of the way. When you want them, they pop away from the interior sides to create vertical chambers that can keep contents, like water bottles or wine bottles, vertical and protected from the other contents. Such a great design.
Shop all tote bags at REI and get FREE Shipping on orders over $50!
10. L.L.Bean Boots
We debated this for about 60 seconds, and the consensus was clear, so we're just going to come out and say it: There is something undeniably sexy about outdoorsy women who wear L.L.Bean Boots. It's possible that just outdoorsy guys think this, so maybe you can't trust us. Either way, L.L.Bean now makes traditional styles as well as variations — like the ones with plaid insulation. We like them all and think your outdoor-loving lady will, too.
12. Grundéns Deck-Boss Ankle Boots
We realize that some outdoor woman don't live in cold-weather areas. So what would be an alternative boot that could be used in more weather conditions? Enter the Grundéns Deck-Boss Ankle Boots. These aren't a fashion rubber boot designed for the city, but they do come in several great color options. We particulary like the siped soles that grip wet docks and wet rocks. They're great for anyone who treks around campsites on misty wet mornings.
Hiking Boot Option: The Lowa Renegade GTX Mid Hiking Boot is a ridiculously great hiking boot — comfortable, stable, and ready for rough terrain. Lots of great color options, too.
13. FisheWear
If your outdoor gal is a fly fisher or appreciates fish, anything FisheWear could be a big win. We think the FisheWear Groovy Grayling Leggings are awesome but risky to size right without some help. If you're unsure, check out the FisheWear bags. Lots of great options!
14. GCI Outdoor Kickback Rocker Chair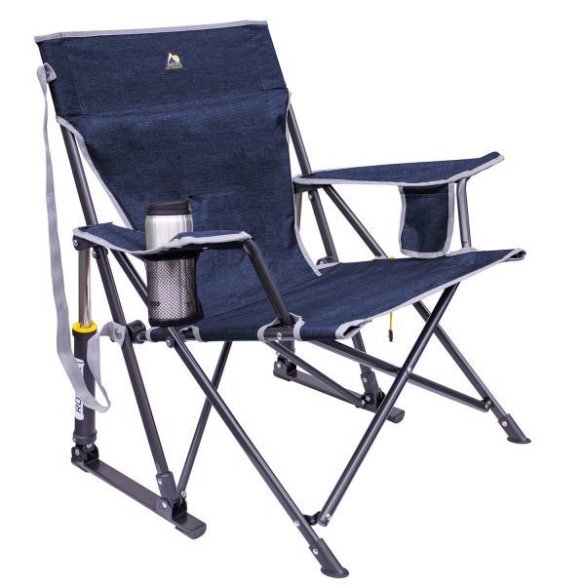 We were surprised at how much we like the GCI Outdoor Kickback Rocker Chair. It's basically a collapsible, packable rocking chair designed for the great outdoors. Instead of curved leg rails it uses a pneumatic piston. Does it work? Remarkably well.
Awesome Upgrade: Nemo Stargaze Recliner Luxury Chair
15. Coleman OneSource Heated Chair
If the outdoorsy woman you're shopping for is frequently chilled or cold around camp, consider the new Coleman OneSource Heated Camp Chair. This is a brand new chair for the season and we haven't yet had a chance to test it ourselves, but it's on our radar for 2022 reviews. Basically, it's designed to use Coleman's OneSource rechargeable battery system to heat the seat. The seat also can flip up to heat your lower back. If you're not sure about the whole chair, Coleman also makes a OneSource Heated Chair Pad.
16. Gerber 23.5″ Freescape Axe
Who says guys get all the axes? All the women we like most can chop wood, too. Better yet, the outdoor explorers who venture off the pavement might need an axe to chop up a fallen tree. If you spend any time on mountainous dirt roads, you know that windstorms and winter weather drop trees across roads all the time. And sometimes, fallen trees can block the road on your way home. Or sometimes you just need to split some kindling for a campfire. So which axe? Our favorite is the Gerber 23.5″ Freescape Axe.
Gerber 23.5" Freescape Axe
Benefits
Head size and weight is perfect for a variety of chopping chores
Super durable composite handle won't shrink
Great price-to-value ratio
Drawbacks
The plastic sheath works but we prefer classic full-wrap sheaths
17. ICEMULE Jaunt Backpack Cooler
We're huge fans of the ICEMULE Pro backpack cooler and heartily recommend it for any outdoor adventurer. The ICEMULE Jaunt is just as good, just made with a sleeker minimalist design. One benefit the Jaunt has over the Pro is the zippered exterior pocket — we actually wish the Pro series had that pocket! Whichever model you choose, they're all durable, easy to use, and last forever.
18. Counter Assault Bear Spray
With rising bear populations and so many more people getting outside than ever before, human-bear conflicts have risen over the last couple of years. The most effective way to stop a bear attack is with bear spray. It's basically pepper spray designed for bears. Counter Assault Bear Deterrent was developed in conjunction with the University of Montana and it can shoot a protective cloud of spray up to 40 feet for 8 seconds. We recommend bear spray for any adventurers trekking into bear country theses days. It's just the smart thing to do.
19. Adventure Medical Mountain Series First-Aid Kit
If we had to choose between bear spray or a first-aid kit, we'd choose an Adventure Medical Series First-Aid Kit. We particularly like the small included guide to wilderness medicine — it's easy to use and understand. Adventure Medical Series makes a variety of compact first-aid kits designed designed for certain activities. You could choose a lightweight hiker first-aid kit or one a mountaineering kit or even one designed for hunters.
20. Uncharted Supply Co. 'The Zeus'
Because we so often drive into the woods far away from the nearest town, we always keep a portable jump starter with us. Our favorite is the powerful and effective The Zeus. Made by Uncharged Supply Co., The Zeus has a whopping 20,000 mAh and is strong enough to start the largest trucks on the road multiple times. As vehicle batteries age, they get less effective . . . and if you leave your lights on or simply get in and out of a modern vehicle multiple times over the course of backcountry weekend camping trip, all those interior lights can drain a weak battery. The Zeus has saved us multiple times over the years, and we've even used it to help others whose vehicles were dead in tough locations for a traditional jump start. If The Zeus is sold out, grab The Athena, which is darn near as powerful and will jump start up to a 6.0-liter gasoline engine multiple times.
21. WeBoost Drive Reach
Since we seem to be stuck on a safety theme here, let's go one more: The WeBoost Drive Reach is an in-vehicle cell-signal booster that works with any cell phone in the U.S. Is it legit? It's legit. We tested it in deep Idaho canyons and got usable signals in places where we never have before. And in the mountains of Nevada, it turned sporadic 1-bar signals into stable 3-bar signals. We like it when we need to check in for work — or just to let family and friends know where we're at and when we're coming home!
22. UGG Tasman Slipper
The can't-go-wrong slipper for outdoorsy women might very well be the highly-rated UGG Tasman Slippers. They have cozy, warm sheepskin linings and cushy EVA outsoles that you can wear outside.
Alternative option: Teva ReEmber Slip-Ons camp booties
Shop slippers and camp booties at REI and get FREE shipping on orders over $50!
23. Ultimate Ears Wonderboom 2
All the outdoorsy women we know appreciate music. When the time is right outside, it's hard to beat a good waterproof bluetooth speaker like the Ultimate Ears Wonderboom 2. It's surprisingly loud, but if your outdoor party is bigger than a few friends, go with the Ultimate Ears MEGABOOM 3 . . . or even the dry box-based DemerBox.
24. Hydro Flask Wine Bundle
If your outdoor adventurer likes to drink wine, the Hydro Flask Wine Bundle is a winner. The 10 oz Wine Tumblers are perfect for sipping wine outside and the insulated Wine Bottle holds an entire standard bottle of wine. The 'Pure Pour' opening makes it easy to fill and pour, too.
Note: If the bundle is a little much for you, a Wine Tumbler or two on their own make a great gift — and they fit into stockings.
25. Outdoor Master Infinite iSUP
The Outdoor Master Infinite iSUP is a great all-around inflatable standup paddle board — read our full Infinite iSUP review for more details. If the outdoor girl you're shopping for is into yoga, try the Synergy Yoga iSUP Board. It is 35″ wide with a full deck covered with a non-slip EVA pad.
Bonus: YETI Roadie 24
In the mixed company we tend to roll with, the men usually get tasked with handling the coolers because they're generally big and awkward and heavy and well, the men we know like to take on the cooler responsibilities. That doesn't mean that women don't need coolers, too. Our favorite small cooler is the rugged YETI Roadie 24 — read our full Roadie review here. The Roadie is tall enough to hold a bottle of wine upright and strong enough to sit on. Want to go bigger? Check out the YETI Tundra Haul . . . it's big with YETI's rotomolded ruggedness but it comes with wheels to make transport a lot easier.
Bonus: Our #1 Stocking Stuffer for an Outdoorsy Woman!
While we didn't include a Buff Original EcoStretch in our top 25, we can't deny the brilliance of a Buff. Women can wear them as headbands, ear warmers, and somehow find ways to manage long hair, too. They can add a bunch of warmth when worn around your neck like a scarf . . . or they can be pulled up over your face for those cold and windy days on the ski hill. Buffs are super versatile, very affordable, and odds are, the outdoorsy woman you're shopping for would appreciate a new color or style if she already has one.
Related Man Makes Fire Gift Guides: