Disclosure: Man Makes Fire is reader-supported. When you buy gear using retail links on our site, we may earn an affiliate commission that helps pay for our work. Learn more.
The best gifts for outdoor lovers, adventurers, and the outdoorsy people in your life are gifts that help extend their outdoor recreational experiences.
If you know which specific kinds of outdoor activities they like to do most, you can look for camping-specific gifts, fishing gifts, skiing & snowboard gifts, hunting gifts, hiking gifts or, for example, water play gifts for paddle boarding, kayaking or beach lovers.
If you're looking for great gifts for nature lovers who just like to get outside and do all sorts of things out in the fresh air, you still have a lot of great options for outdoor lovers in 2022.
Shop YETI's new limited-edition colors:
35 Great Gifts for Outdoor Lovers
The great thing about outdoor adventurers is they usually enjoy new outdoor gear gifts — and there's a lot of options that could fit their outdoor hobbies:
1. BioLite AlpenGlow 500 Lantern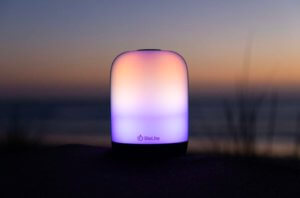 The BioLite AlpenGlow 500 Lantern is our favorite camping lantern of the year. The feature most people notice is the colorful party modes, but the crisp and warm white light modes really caught our attention. The light produced is so clean and never glares — it makes it seem as if these lanterns are even more powerful than the 500 lumens suggest. As for those playful lighting options, you can start them just by shaking your AlpenGlow. They're great for hot summer camping when campfires aren't allowed, and they're just as great for backyard get-togethers.
Benefits
Two white light modes deliver very usable light without glare
Color modes are surprisingly fun
Versatile form factor
Drawbacks
Price is a bit higher than the competition (but the lumen output and high quality keep the price-to-value ratio excellent)
2. Stanley Classic Perfect-Brew Pour Over Set
It's hard to go wrong with the rugged and effective Stanley Classic Perfect-Brew Pour Over Set. Your outdoor enthusiast can make a quick cup of coffee just about anywhere — all you need is hot water and some coffee grounds! The stainless steel filter keeps the grounds out — no paper filters are needed. BTW, if you just want the Pour Over section so you can use your own mug, you can buy it separately.
Upgrade Option: Stanley Adventure All-In-One Boil + Brew French Press — no separate hot water pot needed!
3. Grundéns Deck-Boss Ankle Boots
You don't have to work on the deck of a fishing boat to appreciate Grundéns Deck-Boss Ankle Boots. These rugged and handsome rubber boots have thicker insoles for all-day comfort and built-in razor siping in the soles for traction on wet surfaces. So good. Perfectly ready for both men and women for camping, fishing, and tromping anywhere on wet misty mornings.
4. Rumpl Original Puffy Blankets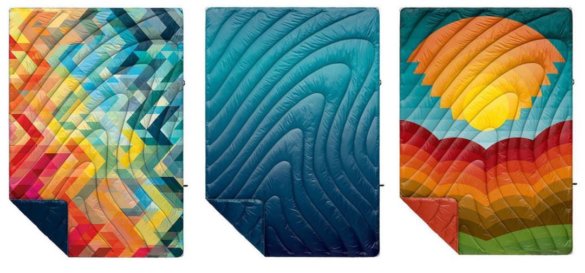 The Rumpl Original Puffy Blanket comes in colorful designs but has the outdoor-ready soul of a sleeping bag. Our favorite is the popular Original Puffy. Most sizes are 52″ x75″ but Rumpl makes some bigger patterns in 2-person versions. Due to Rumpl's raging success with outdoor enthusiasts, other manufacturers have started making competitive options — but Rumpl's style remains hard to beat:
5. Sea to Summit X-Mug with Cool Grip
The Sea to Summit Cool Grip X-Mug is a collapsible silicone-based 16 oz mug that's ready for hot drinks. The specially designed ridged sides let you hold the mug without burning your hands. This gift is great for any outdoor adventurer, and it's a particularly great stocking stuffer gift for backpackers, hikers, campers, skiers, and anyone who likes to drink hot chocolate, coffee or tea out of the back of their pickup, SUV . . . or far off the pavement. So good.
Smaller Option: Try the 12 oz Sea to Summit Cool Grip X-Tumbler!
6. GCI Outdoor Kickback Rocker Chair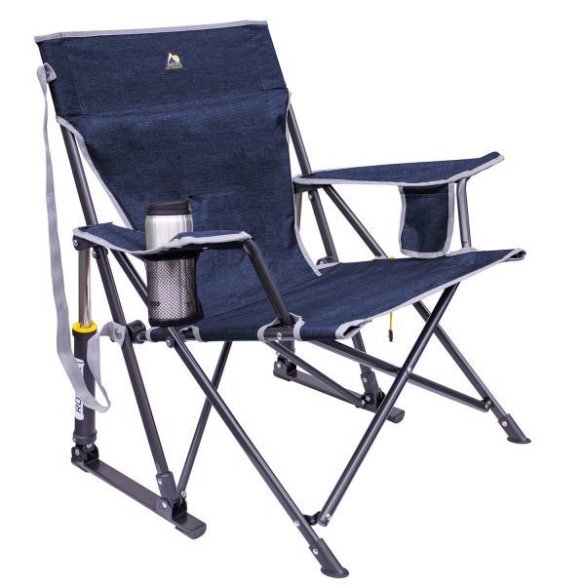 The GCI Outdoor Kickback Rocker Chair uses innovative piston engineering to replicate a rocking chair that's camping ready. You get all the benefits of a relaxing rock . . . but it all folds up into a packable bag not much larger than standard camp chairs. The only drawback to this gift idea for outdoor lovers might be the result: having to share the rocker chair with friends and family!
Upgrade Option: If you like the idea of a camp chair but not the rock, the YETI Trailhead Camp Chair is ultra-rugged and ultra-comfortable. We're big fans (full Trailhead review here).
Alternate Design Option: Consider a hammock-style chair like the Ascend Hammock Chair (budget) or Nemo Stargaze Recliner Luxury Chair (super awesome).
7. L.L.Bean Mountain Classic Down Vest
The L.L.Bean Mountain Classic Down Vest has, as the name suggest, classic outdoor-ready good looks. It's available in versions for both men and women — but that's not all. If your outdoor lover is more of a hard-charger outside, consider L.L.Bean's Ultralight 850 Down Vest.
Shop Patagonia, Cotopaxi & Arc'Teryx vests at REI can get FREE Shipping on orders over $50!
8. YETI Camino 35 Carryall Tote
YETI self-proclaims the YETI Camino 35 Carryall as the "GOAT" (greatest of all time) tote bag . . . and we don't think that's hyperbole at all. The newly updated YETI Camino 35 is super rugged and now features deployable dividers that let you organize the contents . . . or push them out of the way to the side. Plus, you get two interior zippers for important little items like car keys or your phone. Not sure about a "tote" as a gift? Don't be. They're fantastic for the beach and are great for any day trip. So handy.
Budget Option: RTIC Tote Bag (simple & rugged)
Hunter Option: L.L.Bean Hunter Tote (for camo lovers)
Cool Option: Hydro Flask 26 L Day Escape Soft Cooler Tote (for keeping contents cold!)
9. Swiftwick 'National Parks Collection' Vision Impression Socks
If your outdoor lover is a fan of America's National Parks — or even just one National Park — the Swiftwick National Parks Collection Vision Socks pair majestic landmarks with high-performance socks. Swiftwick socks are ready for the hike, ready for the run, and ready for kicking back and relaxing at camp.
10. Huk Icon X Fishing Shirt
Huk's reputation comes from making lightweight breathable fishing shirts, but Huk's high-performance outdoor clothing works for any outdoor adventurer playing in the sun. The men's Huk Icon X comes in a wide variety of colors and patterns, and more importantly, it's legit. The women's Icon X has the same great materials in a more flattering cut.
*This just in: Save 40% off the Huk Refraction Camo Collection with code. Coupon Code: REFRACTION
Competitive Options: The men's Under Armour UA Iso-Chill Shorebreak Shirts come in a variety of color patterns, and we can attest . . . also feel great in the hot summer sun.
11. RTIC Ultra-light Cooler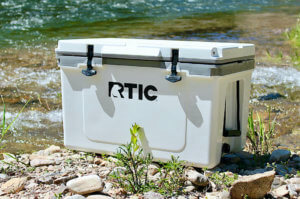 The RTIC Ultra-light Cooler is nearly as rugged as heavy-duty rotomolded coolers but it's far lighter. At 52-quarts of capacity, the RTIC Ultra-light Cooler is 30% lighter than comparable rotomolded coolers. What's that mean? That means you get awesome cooling capabilities but you can still carry the cooler without hurting yourself. We're big fans. Read our full RTIC Ultra-Light Cooler review here for more detail.
Upgrade Option: YETI Tundra Haul Hard Cooler — it's not lighter, but it's more rugged and has built-in wheels!
12. ICEMULE Pro Backpack Cooler
After four years, our ICEMULE Pro Backpack Cooler is still going strong. It's deceptively simple design works fantastically well. It's basically an insulated dry bag with backpack straps. We take ours fishing, camping, and rafting — and it's particularly great anytime you have to make a long trek to find your spot on the beach. Fantastic price-to-value ratio. Very highly recommended.
Alternative Greatness: YETI Hopper M20 Backpack Cooler
13. Ultimate Ears Wonderboom 2 Waterproof Speaker
The Ultimate Ears Wonderboom 2 is a small, rugged, and surprisingly loud waterproof, Bluetooth speaker. We take ours camping, rafting, fishing, and to the beach — and it even does its job in the garage.
Upgrade Options: Ultimate Ears Boom 3, the larger Megaboom 3, or the extra-rugged DemerBox.
14. NomadiQ Portable Grill
The NomadiQ Portable Grill boasts an innovative clamshell-like design that folds up for easy portability — but expands for grilling. If the cool new design speaks to your outdoor soul, read our full NomadiQ Portable Grill Review here.
15. Leatherman Signal Topo Multi-Tool
The Leatherman Signal Topo Multi-Tool is the boss of multi-tools, and it's the one multi-tool we like to have with us just in case we're in a survival situation. The blade, saw, pliers, and even safety whistle are all great . . . but the built-in fire-starting ferro rod is what we want with us in true emergencies. Plus, the laser-etched topo map lines on the blade just remind outdoor enthusiasts of the things they love.
Lighter Option: Leatherman Skeletool Topo Multi-Tool and the 'best value' Leatherman Sidekick Multi-Tool.
16. REI Co-op XeroDry GTX Jacket
You can spend a lot more money on a great GORE-TEX rain jacket, but you'll be hard-pressed to find a better value than the REI Co-op XeroDry GTX Rain Jacket. In fact, we've never seen a better deal on industry-leading GORE-TEX waterproof, breathable shells. The fit and finish is excellent and it sheds rain like a duck's back. Plus, REI offers a tall size option for guys with long arms.
Budget Excellence: REI Co-op Rainier Rain Jacket
17. CGear Sand-Free Outdoor Camping Mat
It looks just like any other mat, but the CGear Sand-Free Outdoor Mat uses a patented weave that keeps sand from coming up through it while letting grains of sand pass through and under it. The military has created helicopter landing pads out in the desert with this stuff. For regular outdoor-loving humans, it's great for the beach and camping.
Budget Option: Bass Pro Shops Eclipse Multi-Purpose Mat
18. TRUCK Gloves
TRUCK makes direct-to-consumer work gloves, ski and snowboard gloves, and even mountain biking gloves. All TRUCK Gloves we've tested have excellent and boast superb price-to-value ratios. For snow, the M1 Pro is hard to beat for the price — and it just gets better the more your wear it. Perfect for outdoor lovers who like to get after it. We're big fans.
Classic Heritage Option: Filson Original Lined Goatskin Gloves
19. Counter Assault Bear Spray
With more people getting outside for outdoor recreation than ever before, bear-and-human conflicts have risen. While the best policy is to avoid bears, particularly sows with cubs, Counter Assault Bear Spray is an easy-to-use proven deterrent that saves lives. It's a great gift for hikers, backpackers and backcountry trekkers.
20. YETI Panga Backpack (waterproof)
YETI makes this list a lot because the company has built its whole brand upon building ultra-rugged outdoor gear. The waterproof YETI Panga 28L Backpack is no exception. It's burly, roomy and ready for anything. Read our full Panga 28L review here for more detail.
Alternative Option: Grundéns 30 Liter Rumrunner Backpack
21. ENO DoubleNest Hammock
You can't go wrong with the roomy Eagles Nest Outfitters DoubleNest Hammock. It's sized for two and still cozy for one. Plus, it comes in a wide variety of colors and has its own attached stuff sack.
Awesome Addition: Kammok Swiftlet Hammock Stand — no trees needed!
22. First-Aid Kit
The best outdoor-ready first-aid kits are from Adventure Medical Kits. The company creates packable kits in different sizes set up for hikers, backpackers, kayakers, hunters, and even dog-lovers. Our favorite all-around first-aid kit is the Adventure Medical Kits Mountain Series Explorer.
23. Zippo Heatbank Rechargeable Hand Warmer
The Zippo Heatbank Rechargeable Hand Warmer is both a rechargeable hand warmer as well as a battery pack that can recharge a phone or satellite communicator. It makes a great gift for outdoor women and men who like to stray off the beaten path. Oh one more thing: These Zippo hand warmers come in multiple size & duration options, ranging from a stocking stuffer-priced 3-hour version up to a 9-hour option.
24. City Bonfires Portable Fire Pits
City Bonfires are small, portable fire pits handmade in Maryland from nontoxic materials. They use a food-grade soy wax that makes them safe for roasting marshmallows — and City Bonfires offers S'mores packages that contain graham crackers, chocolate, marshmallows and roasting skewers.
25. Patagonia Black Hole Duffel
The legendary Patagonia Black Hole Duffel won't actually suck up everything you stuff into it, but it is roomy and surprisingly well designed (full Black Hole Duffel review here). Patagonia uses lightweight, rugged fabrics and includes backpack straps for those times your outdoor traveler needs to navigate airports or long hauls to a yurt or campsite. For a more travel-focused outdoor adventurer, be sure to consider the Tres MLC 45L — it's perfectly sized for carryon and its organizational design is superb.
Burlier Option: The North Face Base Camp Duffel
26. L.L.Bean Bean Boots
The L.L.Bean 'Bean' Boots are handmade in the state of Maine and come in dozens of variations and styles for both men and women. There is light leather, dark leather, insulated, shearling-lined, flannel lined, and canvas options in different heights. It's hard to go wrong with any of them: Bean Boots deliver classic good looks with a rugged build that can handle the great outdoors.
27. DryGuy Force DX Boot Dryer
Our favorite DryGuy Force DX Boot Dryer uses a forced-air fan system with or without gentle heat to rapidly dry boots — without damaging leather. We use ours for ski season, too — it dries ski boots and gloves and ensures that we're always ready for another day outside!
28. YETI Rambler Colster Can Insulators
If you know the type of canned beverage your outdoor lover likes to drink from most, the YETI Rambler Colster Can Insulator will keep their drink surprisingly chilly on even the hottest summer days. The standard 12 oz version handles standard soda and beer cans while the Colster Slim version is perfect for all the super popular hard seltzers. YETI even offers a 16 oz Tall version for big cans.
Alternative Options: There are many competitive options that work nearly as well as the YETI versions. Try RTIC and even Ozark Trail at Walmart — or the Hydro Flask 12 oz Cooler Cup, which is versatile enough for bottles — and hot cocoa!
29. L.L.Bean Scotch Plaid Flannel Shirt
The bestselling L.L.Bean Scotch Plaid Flannel Shirt — available for both men and women in a variety of sizes, including relaxed, slightly fitted, and tall — blends a super soft long-lasting flannel with classic bright plaid patterns. If you're thinking flannel as an outdoor gift, you can't go wrong here.
30. Outdoor Master Infinite iSUP
The Outdoor Master Infinite iSUP (full review here) delivers everything you need to get out on the water paddle boarding. Outdoor Master makes several different models, but we like the Infinite iSUP best because it's super stable and buoyant. It's a great all-around paddle board that's good for beginners and a variety of water conditions.
Add-on Options: Outdoor Master Dolphin 20PSI High Pressure SUP Pump or the Bass Pro Shops M16 Inflatable Belt Pack (a trim personal floatation device style loved by SUP enthusiasts)
31. Solo Stove Bonfire Fire Pit
The stainless steel Solo Stove Bonfire fire pit series use a unique Solo Stove Signature 360° Airflow Design that creates an efficient burn that produces less smoke than standard fire pits. The Solo Stove Bonfire and larger Yukon are particularly great for the backyard, but the Solo Stove Ranger (pictured above) is small enough to pack to the beach or campsite.
32. Camp Chef Sequoia Fire Pit
The Camp Chef Sequoia Fire Pit runs off of clean-burning propane, which means you can take it most anywhere — and sometimes even use it when wood-fired campfires are banned due to drought conditions. The Sequoia delivers 55,000 BTUs per hour, includes a carry bag as well as two extendible roasting sticks.
33. WeBoost Drive Reach
The weBoost Drive Reach in-vehicle cell phone signal booster is legit. We tested the Drive Reach in deep Idaho canyons and far off the pavement in the mountains of Nevada, and wow, it delivers extended service to your smartphone. If there's a signal available at all, the weBoost can pick it up and make your cell phone usable. For outdoor enthusiasts, road trippers, and backcountry explorers, the weBoost is great for added safety . . . and just all-around connectivity when you need to check-in with the modern world from afar.
34. Uncharted Supply Co 'The Zeus'
The Uncharted Supply Co 'The Zeus' portable battery charger saved us in the backcountry — 80 miles from the nearest town — after a pickup battery lost its charge at the trailhead. With no other vehicle around to provide a jump start, The Zeus saved the day. The Zeus has 20,000 mAh, and it's powerful enough to jump start V-8 gasoline engines in large pickups and SUVs . . . as well as diesel engines up to 8L. We never leave home without it.
35. UCO Stormproof Match Kit
Every outdoor enthusiast who treks beyond the beaten path should have some sort of fire-making tool. One of our favorites is the UCO Stormproof Match Kit. You get monster waterproof, windproof matches that burn long enough to start even reluctant tinder.
Bonus Outdoor Enthusiast Gift Ideas!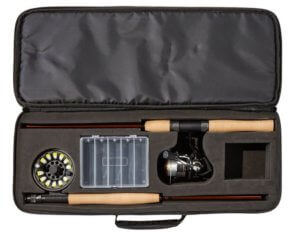 The L.L.Bean Spin/Fly Outfit includes two complete fishing rods and reels in one handy padded pack. You get a spin fishing rod as well as a fly rod — which will let your outdoor enthusiast go fishing on their outdoor adventures.
YETI Roadie 24 Hard Cooler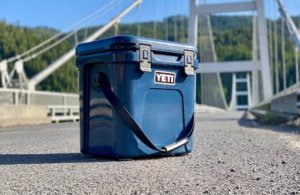 We weren't always fans of the YETI Roadie 24 Hard Cooler, but after using it one summer, we find ourselves reaching for it on most road trips. It's super rugged and has excellent cooling capabilities. It's a little spendy, but it'll last forever. And if you're one camp chair short, you can sit on it!
Related Man Makes Fire Gift Guides: