Disclosure: Man Makes Fire is reader-supported. When you buy gear using retail links on our site, we may earn an affiliate commission that helps pay for our work. Learn more.
The YETI Panga Backpack 28 is an ultra rugged waterproof backpack with a cavernous interior and plenty of gear attachment points. It's made for fishing, stand-up paddle boarding, hiking in the rain, and just about any outdoor activity where you want your gear to stay dry.
To get us a closer look, YETI sent Man Makes Fire a review unit. After testing and reviewing the Panga 28 over months of outdoor activity, including fishing, camping, and hiking, this is what we learned:
YETI Panga Backpack 28 Review
The YETI Panga Backpack 28 is built with YETI's typical durability and attention to detail. The heart of the YETI backpack is a roomy waterproof compartment; however, there is much more to the Panga than first meets the eye.
For instance, the included waist belt is removable. If you want less straps and gear to catch on things — for instance, if you're on a boat — you can take the straps off. That's a smart design feature. Most backpacks don't have this option.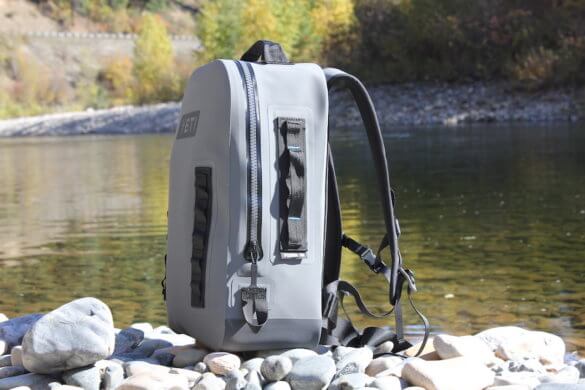 In terms of load support, the waist belt isn't a typical hip belt that's made to help carry heavy loads. Instead, it's designed to help keep the backpack in place as you shift and move around. If you wade in rivers and scramble over rocks and down steep river banks, the waist belt is a key feature you'll appreciate.
YETI also includes a removable chest strap. In our experience, chest or sternum straps improve the feel and security of every backpack. As far as we're concerned, every backpack should have sternum straps, so we're pleased to see a good, adjustable chest strap here.
Grab Handles
YETI also included three burly grab handles, which we very much appreciate. We're constantly packing gear and unpacking gear and multiple grab handles are always better. If the importance of grab handles isn't immediately clear — for instance, if you're considering the YETI as a fishing gift or fly fishing gift, this is why they're cool: We're often reaching awkwardly into boats, rafts, and the beds of pickup trucks to reach gear. Grab handles make things easy.
But there is more to the grab handles on the sides: YETI built them to include two additional gear attachment loops at the top and bottom of the grab handles. Very smart, very handy.
YETI also included two solid rows of webbing loops on the outside of the pack. These are great for attaching fishing accessories if you're using this as a waterproof fishing backpack. They're also great for attaching extra gear or even for attaching the popular Sidekick Dry waterproof pouch.
The Waterproof Zipper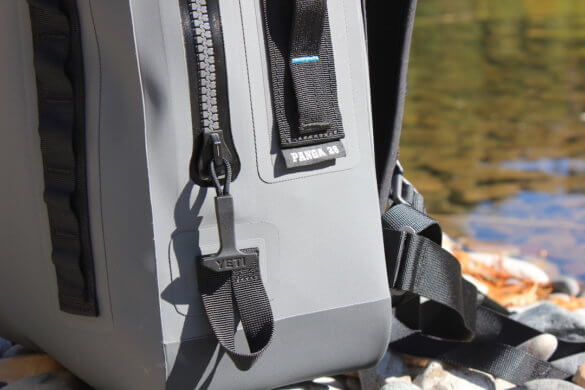 The zipper on a waterproof bag or backpack is a critical consideration. YETI has been using heavy-duty waterproof zippers for years on its lineup of soft coolers, and the Panga zipper meets the same level of functionality. Like all waterproof zippers, it's a bit stiff, which means opening the Panga Backpack requires two hands. YETI includes two thumb or finger loops at the ends of the zipper to give you the leverage you'll need.
That said, is it hard to open? Not any harder than most waterproof zippers.
The best feature of the Panga Backpack zipper is the length and massive opening it creates when it's fully unzipped. Many waterproof backpacks have roll-top openings or relatively short waterproof zippers. Because the YETI backpack zipper is so long, it's easy to pack and get at contents. We're big fans.
Pockets
Most waterproof backpacks don't have many pockets, but YETI includes an internal sleeve (suitable for a laptop or tablet) and an internal zip mesh pocket (great for keys and small electronics).
There are no exterior pockets, and while we would appreciate an exterior pocket, the Panga is consistent with many of the company's soft coolers that don't have pockets either. YETI's answer is the Sidekick Dry waterproof pouch. It's well-made, works well, and makes a great gift . . . but when you're spending hundreds of dollars on a backpack, $49 feels a bit annoying for an add-on pocket. We'd easily be on board at $29 and grumble at $39. Then again, YETI fans seem to appreciate the Sidekick — at the time of publication, it had racked up 1,252 reviews at YETI.com with a whopping 4.8-star rating.
Specifications
The YETI Panga Backpack 28 is about 20″ tall, 12.5″ wide, and 7″ deep. It's a bit heavy at 3.9 pounds empty, but it's super durable. YETI's ThickSkin Shell is made from high-density nylon and a thick TPU lamination.
Speaking of YETI's ThickSkin Shell, the company also uses this material in its Panga line of waterproof duffle bags, which are, again, super burly and suitable for adventure travel and all sorts of outdoor gear.
One last note, in case it's not clear, the Panga Backpack 28 is not insulated — it's not a cooler. See our review of the YETI Hopper Backflip 24 or our guide the best backpack coolers if you're looking for a backpack cooler.
YETI Panga Backpack Competition & Alternatives
If you're considering the YETI Panga Backpack 28, you're likely looking for a high-quality waterproof backpack. There are some other waterproof backpack manufacturers who also produce competitive options. These are some that we've tested and used that we can also recommend:
Fishpond Thunderhead Submersible Backpack — Fishpond is focused on producing high-quality fly fishing gear, and the Fishpond Thunderhead Submersible Backpack is, just like the YETI Panga Backpack, fantastic. The build quality is just as good as the Panga and the pricing is similar. For more detail, check out our full Fishpond backpack review here.
Patagonia Stormsurge Pack 30L — The Patagonia Stormsurge Pack 30L is very similar to the YETI Panga Backpack 28, but it has a few more attachment points for additional gear. Like the Panga, one key benefit of the Stormsurge Pack is its rugged good looks. The only real drawback is that it's hard to find in stock these days.
Simms Dry Creek Simple Pack — This 25-liter waterproof backpack has a simpler design than the YETI Panga Backpack 28. One benefit is proven design of the roll-top style closure, which avoids the need for a waterproof zipper. Another key benefit is the price — it's quite a bit less than the Panga Backpack 28, but the overall quality remains very high. The main drawback is that it doesn't have a waist belt.
The Verdict: 'Outstanding'
The YETI Panga Backpack 28 is an outstanding waterproof backpack. It's great for fly fishers who like to hike off the beaten path, fish in the rain, and any fisher who has a lunch or gear they want to easily keep dry. As we see it, most outdoor adventurers who don't fear the rain will appreciate the YETI Panga Backpack 28. We can also see it working well for biking enthusiasts, biking commuters, and standup paddle boarders who like to cruise and picnic on the beach. Very highly recommended.
Get the Gear:
Check shipping/pricing:
Amazon | CampSaver | Moosejaw | REI | YETI
Pros
Super tough shell material
Excellent zipper with an ultra-wide opening
Surprisingly comfortable backpack straps (and removable waist strap)