Man Makes Fire is reader-supported. When you buy gear using retail links on our site, we may earn an affiliate commission that helps pay for our work. Learn more.
The best soft-sided coolers blend usability with durability and insulating properties — but the best soft-sided cooler is not the one that has three more ice cubes remaining after a multi-day ice retention test. For how we use soft-sided coolers, the best soft coolers are the ones you want to use in a variety of places: A good soft-sided cooler should work well at the beach, on the boat, in your vehicle and in the wild.
Next, the best soft-sided coolers need to offer great price-to-value ratios. Ruggedness delivers high marks with us, but what about ruggedness and usability paired with lower insulating properties at a very affordable price point? Usability and affordability are important cooler considerations, too.
The result is that your best soft-sided cooler might not be the most expensive option — it might be the best overall blend for the kinds of things you do. And this, it turns out, is critical to how most people use soft-sided coolers: Most people use soft coolers for shorter trips. You don't need your ice to last three days if you're packing for a single day on the river.
So, balance. That's what we look for in the best soft-sided coolers, and we believe most of our readers feel this way, too. They want coolers that will work well for them, not the ones that win ice contests that don't reflect true real-world use: Claiming that the best cooler is the one that holds ice the longest is like claiming that the best pickup truck is the one with the longest bed. If you understand what's wrong with that statement, you're going to like this guide. If you don't, well, this guide might help you choose a soft-sided cooler anyway.
Oh, one point about ice-retention: Start with cold beverages and cold ice. If you take a bag of ice that's already melting and throw it over 20 cans of room-temperature beer or soda, you're going to melt most of your ice just transitioning the warm cans or bottles to a cooler temperature. If you must start with warm cans, plan on adding fresh ice somewhere along the way on your trip.
Last of all, use more ice than you think you need if keeping things cold is your priority. We often use ice packs for short day trips but load up with more ice for longer trips.
So, what are our best soft-sided coolers for 2018 and beyond? We get into the details below, but here is our quick answer list of the best soft-sided coolers:
YETI Hopper Flip 18
OtterBox Trooper 20
Fishpond Ice Storm
ICEMULE Pro
Engel HD30
Orca Podster
Hydroflask Unbound Series Tote
Grizzly Drifter 20
RTIC SoftPak
The North Face Homestead Snackle Box
Barebones 36 Can Cooler
Coleman 24-Hour 30-Can Cooler
Best Soft Coolers 2018
Some manufacturers, like YETI and OtterBox, produce multiple soft-side cooler versions that have similar features and build quality — but some even have slightly different design features among their models. Technically, many of these versions should also make most "best" lists, but most readers prefer to see a bit more variety, so we're only ranking the models we appreciate most . . . but we're also calling out the most interesting similar versions, along with the occasional model we think you might want to avoid.
1. YETI Hopper Flip 18
YETI has been the cooler market leader for years, and it's not just because the company has the biggest marketing budget: YETI produces some of the best, highest quality thermally efficient coolers. If you want a rugged soft cooler that will hold ice for days, YETI needs to be on your shortlist. YETI makes several soft coolers in different sizes and shapes, and our favorite all-around version is the YETI Hopper Flip 18. It's big enough to hold 20 cans of beer or soda, yet it's small enough to fit most anywhere. The "flip" over lid is a vast improvement over the zipper-only opening on the YETI Hopper 2 30. Yet the cooler is completely waterproof due to the high-quality Hydrolok waterproof zipper. The rugged shell is puncture-resistant while the strong fully-sealed liner is made from FDA-approved food-grade material. The insulation is closed-cell rubber foam, which gives the cooler it's ability to hold ice for multiple days. You also get plenty of lashing points for strapping the cooler down to ATVs, rafts or boats. We're big fans of all the Hopper versions that have flip-open lids, as well as the surprisingly comfortable YETI Hopper Backflip 24 backpack version. Any cons? The only con is that it's hard, if not sometimes impossible, to open up the YETI Hopper Flip series with one hand. The stout zipper usually requires two hands to open and reseal properly. Still, fantastic durability and insulating properties.
Check Shipping/Pricing: Amazon | Cabela's | Moosejaw | REI | YETI
2. OtterBox Trooper 20
You might know OtterBox from its ultra-rugged smartphone cases. We've been OtterBox fans for years, so we jumped at the chance to check out the new OtterBox Trooper 20 soft-sided cooler. The OtterBox Trooper boasts a similar build quality to the YETI but it varies strongly through the design of the lid, which you can open one-handed. The lid is hinged but has a hinged clasp that you can pop or seal with one-hand, in the dark, without looking. So cool. The lid seals pretty darn well, too. We could fill the Trooper 20 with water and flip the cooler over without water leaking out. The fully-sealed interior is stout, and the insulation overall is thick enough to help the soft-sided Trooper keep its shape. The Trooper 20 comes with a bottle opener attachment. The front includes a small pocket large enough for a few odds and ends, your keys or maybe some plastic eating utensils, wet wipes or napkins. The size 20 is the sweet-spot size, big enough to hold 28 12-ounce cans without ice . . . and some number less with ice. Obviously, the more ice you have compared to your cans, the longer your ice will last. All the high-end soft-sided coolers, by the way, can hold ice for 3+ days — which is what the Trooper 20 can do, too. For even more cooling room, check out the OtterBox Trooper LT 30 — it has a similar build quality but shifts the design to a clamshell-style closing (and sealing) lid that you can still open and close with one hand. Plus, to help you handle heavier loads, the Trooper LT 30 is a backpack-style soft-sided cooler. It's just as awesome as the Trooper 20.
Check Shipping/Pricing: Cabela's | Moosejaw | OtterBox | REI
3. Fishpond Ice Storm
We had no idea we were going to love the Fishpond Ice Storm cooler as much as we do: The Fishpond Ice Storm uses a waxed-canvas exterior fabric that just oozes style without being pretentious. In fact, the Fishpond Ice Storm cooler might be one the best overall buys you can make in a soft-side cooler: It's rugged, the design is flexible and usable, and the cost is far less than the most expensive options on this list. Sure, the Fishpond Ice Storm won't hold ice as long as the YETI or OtterBox above, but it does pretty darn well — and makes drinking beer even more enjoyable because it looks like a human being actually designed the thing and put it together. Fishpond's core audience is usually made up of fly fishers, but the Ice Storm cooler is a true cross-over product. Better yet, the Ice Storm is big without feeling bulky — it can hold up to 60 cans without ice. In our tests, we easily fit a mix of 25 bottles and cans with a single bag of ice, with room for another bag of ice if we wanted it all to stay cold for two full days. So how durable is the Ice Storm? We think the exterior will hold up to a heckuva lot of abuse, but the liner — while good — isn't quite as stout as you'll find in the YETI and OtterBox. Want a smaller Fishpond option? The Fishpond Blizzard Soft Cooler can handle 8 bottles with plenty of ice, plus it has a flip-open door in the lid for easy access. It's best for day trips or impromptu trips to your buddy's house when you'd rather bring your own beverages than drink the stuff in his fridge.
Check Shipping/Pricing: Amazon | AvidMax | Fishwest
4. ICEMULE Pro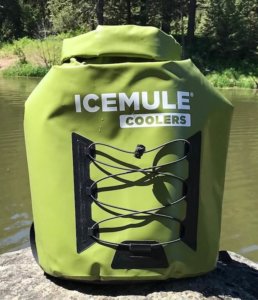 ICEMULE takes a simple overall design and turns it into a soft cooler that's an absolute joy to use: The ICEMULE Pro series is basically an insulated dry bag with backpack straps. So why does it get so much love? The price is more than fair, the insulating properties are surprisingly good, it's comfortable to carry when full, and it's waterproof and floats. In addition, its IM Airvalve lets you add air to increase the insulating properties — or suck air out to make it flat for easy storage. Seems like a gimmick, but it works great — especially when you opt for the larger X-Large or XX-Large versions. The roll-top closure system works just like dry bags, so you'll have to use two hands. Still, if you want a simple and rugged soft cooler, the ICEMULE Pro is far better than its simple looks would lead you to believe. What about the ICEMULE Classic? The Classic series uses a single over-the-shoulder strap (like a sling pack) instead of the backpack straps. If you want a smaller option, go with the ICEMULE Classic that holds 12 cans with ice. As for cost and durability, the price-to-value ratio of the ICEMULE Pro is fantastic. And the dry-bag design style? We shrugged our shoulders at first, but after putting the ICEMULE Pro to work, we're big fans of the rugged simplicity.
Check Shipping/Pricing: Amazon | Cabela's | REI
Shop coolers at Moosejaw and get free 2-day shipping on most orders over $49!
5. ENGEL HD30
ENGEL has been a cooler powerhouse for years: The company launched its first generation of roto molded coolers in 2005, then designed and patented the original roto-molded high performance hard-sided cooler in 2007, which was a year or so before YETI launched its own version of a high-end roto-molded cooler. Back to soft-sided coolers: ENGEL has made a couple of different versions, but the new ENGEL HD30 is our favorite. It is super durable, waterproof, and good at keeping things cold. The construction is almost entirely welded together rather than sewn, which means there are no tiny little needle holes in the exterior to let heat slip into the insulating interior. When it comes to insulation, ENGEL takes nearly the opposite approach from ICEMULE — instead of offering a valve that lets you add air to create a thicker insulating layer, as in the ICEMULE Pro, ENGEL lets you take your vacuum hose and suck air out of the cooler's sides and away from its closed-cell foam insulation. This stiffens the soft-sided structure of the cooler and ensures that warm air heated by the sun on the outside of the bag doesn't mix with cooler air on the inside. Of course, the design and manufacture of any cooler might allow this air to mix — or it might not be a problem in the first place. Either way, the ENGEL HD30 is big, awesome and competes very well in overall ice retention and the ability to keep things cold for multiple days. Oh, one more thing: The Backpack Cooler blends a satchel-like design with backpack straps, giving it excellent versatility. It's a bit easier to get into and out of yet it retains excellent multi-day cooling capabilities.
Check Shipping/Pricing: Amazon
6. Orca Podster
The ORCA Podster is an oval shaped backpack cooler. Like most high-end soft coolers in this class, it uses closed-cell foam insulation and an FDA food-grade liner. It's built tough, of course, and boasts a waterproof zipper. The exterior seams are all ultrasonically welded. There are plenty of lashing points for use on boats or ATVs. The size is right for most everybody — it'll hold 7.5 pounds of ice with about 12 cans, which results in a pretty good ice-to-can ratio. As for the lid, it has a couple of hinge straps that will hold the lid up so that it doesn't hang down too far and stress the zipper and fabrics where they connect — pretty smart, really. The overall design is very usable and rugged. Incidentally, we like the Podster better than the much larger original Pod simply due to the size, but the ORCA Pod is excellent, too.
Check Shipping/Pricing: Amazon
7. Hydro Flask Unbound Series Tote
Brand new for 2018, the Hydro Flask Unbound Series of soft coolers brings Hydro Flask quality and style to the soft cooler world. Best known for its super popular insulated bottles and food flasks, the Hydro Flask 24 L Insulated Soft Cooler Tote is the soft-sided cooler for Hydro Flask fans. Of course, it's great for most everyone else, too. What's best about the Hydro Flask Soft Cooler Tote is its streamlined design. The compression molded base makes it easily freestanding. The liner is FDA food-grade and the zipper is waterproof. It's designed to hold about 24 cans. A couple small exterior pockets will hold your keys or smartphone. The tote handles make it easier to carry one-handed but — like most of the coolers in this guide — Hydro Flask includes a padded shoulder strap when you need an extra hand or have a fully loaded cooler to haul. No surprise here: Hydro Flask also makes a backpack model, the Hydro Flask 22 L Soft Cooler Pack. Both are covered by a 5-year warranty against manufacturer defects.
Check Shipping/Pricing: CampSaver | Hydro Flask | REI
8. Grizzly Drifter 20
Grizzly is another high-quality roto molded hard cooler manufacturer that has started making soft-sided coolers, too. The company offers a burly lunch-box sized Grizzly Drifter 12 cooler, but the larger Grizzly Drifter 20 is the one that captures our attention. The Drifter 20 is pretty new on the market — you can find the black version in a few places — but the sweet green/black/orange version is still on preorder. The Grizzly Drifter 20 has multiple pockets, including a vertical pocket pouch that doubles as a cup holder for those times when you have an open beverage and need a place to stow it or even carry it with the cooler itself. The lid has a strap system that will let you stow a jacket, shirt or stack of paper plates. You get plenty of lashing points for boat or ATV/UTV use. Interestingly, Grizzly has opted to use a removable waterproof roll top liner instead of a liner sealed to the exterior foam insulating case. The key benefit, of course, is being able to remove the liner for easy cleaning. All-in-all, the Drifter 20 is fairly stout with an excellent overall build quality. If you want your soft cooler to have pockets  for miscellaneous gear, keys, phones or even a rolled up towel on top, try the Drifter 20.
Check Shipping/Pricing: Amazon | Grizzly Coolers
9. Pelican Elite Soft Cooler
The Pelican Elite Soft Cooler is rugged yet lightweight and comes in three different sizes. The 12-can version is obviously for shorter adventures while the midrange 24-can Pelican Elite Soft Cooler is the all-around cooler for most soft-cooler buyers. The 48-can Pelican Elite Soft Cooler is big enough to offer some serious versatility for multiple days — and gives you enough room to overload it with extra ice. As for insulation, it boasts a semi-rigid structure with high-density closed-cell foam. The liner is an FDA-approved food grade anti-mildew and anti-odor liner. The waterproof zipper is big and burly and made to last. The steel tie-down buckles double as bottle openers. All you really have to do is pick the size you want and call it good.
Check Shipping/Pricing: Amazon | Moosejaw
10. The North Face Homestead Snackle Box
The North Face Homestead Snackle Box isn't the best all-around soft cooler when it comes to keeping things cold, but it's one of the most versatile soft coolers available today. Instead of a single cooling container, the Snackle Box is split into two sides: One side is for keeping stuff cold while the other is uninsulated and made for carrying gear, food or utenstils. Think of the Snackle Box as the love child of a 52-liter duffle bag and a soft cooler. If you find yourself wanting to casually carry cold stuff while also packing other foods, check out the Snackle Box — it's the best dual-duty cooler bag we've seen so far.
Check Shipping/Pricing: Amazon | Moosejaw | Zappos
11. Barebones 36 Can Cooler
When we think of the Barebones 36 Can Cooler, we think of people who prefer a bit of understated outdoor style when they choose their flannel shirts or vaguely outdoorsy sweaters. This is the cooler for those of us who want to pack a soft cooler to the beach, then take it on a picnic to the park, then take it over to a friends' house for a dinner party (not a backyard BBQ), then maybe use it to bring some berries back home from the farmer's market. And yet, this stylish Barebones 36 Can Cooler is surprisingly affordable. It's pretty solid overall and has a removable, food-grade liner.
Check Shipping/Pricing: Amazon | Cabela's | Moosejaw | REI
12. Coleman 24-Hour 30-Can Cooler
If you're on a really tight budget and you must go with a very inexpensive soft cooler, go with a Coleman cooler. All of the Coleman soft coolers, including those with hard plastic liners, are damn good coolers for the price . . . but they just don't compete with the higher-end, more expensive soft coolers available. Still, we'd much rather invest in a Coleman cooler than any other department store brand or off-brand knockoff cooler. We like the Coleman 24-hour 30-Can Cooler, as well as the 30-Can Soft Cooler with a hard liner. Plus, the Coleman Maverick Ultra Backpack Cooler is surprisingly great — we took one on a full-day bike ride around a lake and it fit well enough and kept our drinks cold. None of these coolers are the kinds of coolers you can abuse for years, but hey, if you need something affordable and plan to use a little extra ice, we like Coleman.
Check Shipping/Pricing: Amazon
How to Choose the Best Soft Cooler
If you're still having trouble choosing the best soft cooler for you, here are our favorite picks in a few of the categories we care about most:
What about ice retention? If ice retention is your key criteria, you'll want to go with any of the high-end options that are completely waterproof, which also tend to use closed-cell foam insulation. Go with a size that's a bit larger than you think you want so you can accommodate more ice to get the results you're looking for. The YETI, OtterBox, and ENGEL work particularly well, especially when you have at least twice the ice as food contents. Finally, choose a light color, like white, silver or grey that has a better chance of reflecting a bit more sunshine than darker colors: If the outside shell absorbs slightly less heat, you might get a few more slivers of ice before you pull out the last drink. Of course, we're fans of color, so we'd rather go bold in pretty much every choice available. To each their own.
Shop coolers at Moosejaw and get free 2-day shipping on most orders over $49!
More Notable Soft Coolers
These soft-sided coolers are also very good — they could have made the top 10 or 12 on someone else's list. We have to draw a line somewhere, but like we said, these are also great soft coolers, and are particularly worth checking out if one of our top 12 just didn't sing to you.
RTIC SoftPak — RTIC is the cooler manufacturer with the reputation for offering YETI-competing coolers at a much lower price, and in fact, ran into some trademark infringement issues with YETI. Meanwhile, RTIC has dealt with the problems and offers both hard and soft coolers at lower price points.
Polar Bear 48 Pack H20 Waterproof Cooler — Waterproof TPU exterior, leakproof, closed cell foam insulation, and a monster size. Note: The 24 Pack H20 version is just as good, just smaller.
Filson Twill Soft-Sided Cooler — Want sexy good looks? Filson has you covered.
Kelty Folding Cooler — The best thing about the Kelty Folding Cooler is that you can have a big cooler suitable for a weekend camping trip . . . and then fold it down for storage.
AO Canvas Series — Inexpensive but well-insulated.
For Longer Trips, Consider Hard-Sided Roto-Molded Coolers
For important camping trips where we're bringing a lot of food and beverages that absolutely must stay cold for several days, we turn to high-quality roto-molded coolers like the Cabela's Polar Cap Equalizer Coolers [full Cabela's Polar Cap review here].