Disclosure: Man Makes Fire is reader-supported. When you buy gear using retail links on our site, we may earn an affiliate commission that helps pay for our work. Learn more.
The Cabela's Polar Cap Equalizer Cooler is one of the best rugged coolers for keeping your food and beverages cold for days. Cabela's offers the Polar Cap Equalizer in a variety of sizes and color combinations — and offers an optional cooler cart as well as attachable wheels for added portability.
The Cabela's Polar Cap Equalizer Cooler competes directly with all the other premium coolers available today, including YETI, Engel, Orca, Pelican, Orion and others. YETI, of course, has the most brand awareness in the cooler space — and for good reason: YETI makes great gear.
In fact, Cabela's sells YETI coolers, too, but that didn't stop the company from developing its own high-end rotomolded cooler, which it offers at extremely competitive price points. To get us a closer look at its Polar Cap Equalizer line, Cabela's sent us two review units to test out — a 40 quart and a whopping 100 quart. We promptly took the coolers to elk camp in early September, along with a YETI, and here is what we learned.
Cabela's Polar Cap Equalizer Cooler Review: Overall Design
The first thing you need to know about premium coolers is they tend to have very thick walls along with a serious rubber or silicone seal on the lid. Premium coolers are bulky and heavier than cheap coolers. The thick walls provide insulation that keeps the cold in and the hot out. The seals prevent tiny air leaks, which make a huge difference over several days. Odds are, when you first look at a big premium cooler, it will seem large . . . but when you open the lid and look inside, you'll be astonished by how small the interior space seems.
The seemingly small capacity compared to the outside dimensions is standard for any cooler that promises to hold ice longer than a few days. Of course, the thermal efficiency means you can get away with using less ice on a typical camping trip than you would use with a cheap cooler. This means more of your available space can be allocated to food or drink. Plus, you'll end up with less ice melt, which means less water, which means your food won't start swimming in your cooler nearly as soon as you probably have experienced before.
The Cabela's Polar Cap Equalizer Cooler uses a freezer-grade gasket seal. Stout rubberized T-handle latches seal the lid tight and they include built-in bottle openers. Cabela's takes the design a bit farther, though, and adds a pressure-release valve, which you can push to equalize the air pressure inside and out of the cooler. If you've ever felt a premium cooler lid feel sticky and hard to open, you'll appreciate this valve because it eliminates the suction effect you can get from disparate air pressures inside and outside of the cooler.
To reduce heat transfer along the bottom — say from the hot bed of a pickup or a warm river bank — Cabela's gave the Polar Cap Equalizer raised, nonskid feet.
The most visually notable feature compared to the competition is the dual handle system. Cabela's uses both molded handles as well as rope handles. This seems like overkill until you start hauling the cooler around. The molded handles are great for quick grabs and pulls, plus they give you an easy point for lashing the cooler down in your pickup, boat or ATV.
The rope handles excel for those long hauls down a beach or over rugged terrain where you and a buddy are trying to find stable places to put your feet. Turns out we appreciate both handles at different times.
Overall, the Cabela's Polar Cap Equalizer Cooler is burly and manufactured in the U.S. The hinge is stout and every element of the design exudes strength and purpose. If you're in hard-core bear country, you can completely lock the lid with a padlock.
Cabela's Polar Cap Equalizer Cooler Review: Usage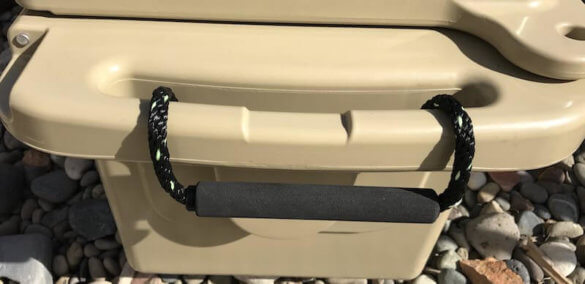 Our plan for the Polar Cap Equalizer Coolers was to take the coolers, along with a 37-quart midsize YETI Tundra 45, to an early-season elk camp in September. The weather would be hot, and if we got into the elk, we might be at our remote camp for up to seven days. We loaded the 100-quart cooler with blocks of ice and loaded the smaller coolers with both ice and food. We also took a cheap cooler for beverages and had an extra large low-end cooler on hand just in case we were successful in our elk hunt and needed additional space to keep the meat cool on the way back home.
We hunted for three days with temps in the mid-80s, covering a lot of ground — and leaving the coolers at base camp. We learned the elk were not anywhere near our location. They had been there last year during September and they clearly had been there mid-summer. It was if something had blown them out of the drainages and ridges where we were hunting. Maybe wolves chased them out or maybe it was nothing but the whims of elk. We decided to save our hunting days for later in the season and bailed on the week. As for the ice, the beverage cooler's ice was long gone but the 40-quart Cabela's Polar Cap Equalizer Cooler's ice was barely melted at all. Our frozen steaks stayed frozen. Our 100-quart ice chest was still absolutely frigid. There was just a tiny bit of melted ice inside our frozen jugs, and the extra blocks of ice we picked up at the gas station on the way to camp had melted just enough to fill a glass of water. In case you're paying attention, the YETI food cooler was also holding up well, too — the food and ice was in about the same shape as the Cabela's 40.
Had we connected with an elk, we're confident that we would have been able to keep the meat cool enough to make it back to civilization.
Later, we used the Polar Cab Equalizer Coolers for multiple day trips during hot September days, leaving them in the bed of the pickup in the full sun for hours on end while we hunted. Even the hot bed of the pickup barely affected our jugs of ice inside the coolers. The upshot is, the Cabela's Polar Cap Equalizer Coolers inspired complete confidence.
As for further testing, we thought about tossing them out of the back of a moving pickup to see how they held up, and we thought about replicating intricate ice retention tests that you can find all over the Internet these days. We opted to stick with real-world use and impressions — frankly, we'd rather be planning our next trip than measuring water and weighing ice. Update: After another hot summer and several camping and hunting trips, the Cabela's Polar Cap Equalizer Coolers are still going strong. Super durable, super effective, and just awesome.
So is the Cabela's Polar Cap Equalizer Cooler remarkably better than the competition? From everything I've seen so far, all of the top cooler brands that have thick walls and good lid seals will keep ice for several days, especially if you keep the cooler out of the sun and/or season (pre-cool) the cooler overnight with a bag of ice before you load it up for a long trip.
Incidentally, the smartest 3rd-party test that I've seen came from Field & Stream magazine in 2016 where they filled each cooler of relatively the same size with an equal ratio of ice compared to the interior dimensions. The 40-quart Cabela's Polar Cap Equalizer Cooler held ice the longest in that particular study — but that's not the primary reason we believe it's a fantastic cooler. The Cabela's Polar Cap Equalizer Cooler is a fantastic cooler because it has such a great price-to-value ratio. For example, the 40-quart Cabela's Polar Cap Equalizer has essentially the same interior capacity as the YETI Tundra 45 but the Cabela's costs $250 while the YETI costs $350 $300 (note: YETI recently reduced prices, likely in response to increased competition in the high-end cooler space).
Cabela's Polar Cap Equalizer Cooler Review: Excellent Price-to-Value
When I start to think about gear that does essentially the same thing essentially as well as its competition, price becomes a huge decision factor. Most of us are on a budget, after all. The kinds of questions I start asking go something like this: Is it smarter to get a YETI Tundra 45 for $300 or an Orion 45 for $449 . . . or get a Polar Cap 40 for $250 . . . plus get a new and updated first-aid kit? What if my buddy gets really hurt in the backcountry and I don't have a clotting sponge because I chose the YETI instead?
Sure, you can head down a rabbit hole with these sorts of what-if questions, but the point remains: When you start thinking about your gear spend over time, using a price-to-value concept as a decision tool can help put your investment in perspective.
All-in-all, the Cabela's Polar Cap Equalizer Cooler is a truly excellent premium cooler. The smaller versions can hold ice for up to 5-7 days while the larger versions can take you out to 12 days. You probably won't need that kind of retention very often, but when you do, you'll appreciate it. I remember one camping road trip in which our ice melted inside of our cheap cooler . . . but it wasn't going to be a big deal because we were driving by a convenience store that sold ice. Except they were sold out of ice and had none left. No worries. We would catch the next store down the road. That store's ice maker was broken. Our only choice was to move all of our remaining ice to a cooler for our perishables and settle for lukewarm beer on the next leg of our camping trip. Would a Cabela's Polar Cap Equalizer Cooler been worth it on that trip?
Definitely.
Get the Gear:
Cabela's Polar Cap Equalizer Cooler
Pros
Excellent overall construction quality
Outstanding ice retention and insulation
Great price-to-value ratio