Disclosure: Man Makes Fire is reader-supported. When you buy gear using retail links on our site, we may earn an affiliate commission that helps pay for our work. Learn more.
When you think about camping, it's sometimes hard to imagine camping stocking stuffer gifts. After all, tents, sleeping bags, and camp chairs are great camping gifts but they're all too big for stockings. There are, however, some camping gear accessories that can fit into a stocking . . . and are affordable, too.
The trick is finding a camping gift that is useful while camping . . . but also maybe interesting and useful to a person who appreciates the great outdoors.
Best Camping Gear Stocking Stuffer Gift Ideas
If you think about camping, you're outside away from the comforts of home — especially if you're camping in dispersed camping sites without the amenities of a campground. You'll need light and rugged dishes and utensils for eating. If you're lucky, you'll also be able to have a campfire. Right there you have three areas to focus on: camping lights/lanterns, camping utensils, and fire starters.
To expand on those three, think about things that provide comfort while camping — like an inflatable camping pillow for sleeping in a tent or anything that helps deal with pesky insects, like insect repellants. For fun, animal playing cards can be great on rainy days. Those are some camping stocking stuffer ideas. For our best camping stocking stuffer picks for 2021, read on!
20 Camping Stocking Stuffer Gifts Under $20!
The Sea To Summit Cool Grip X Tumbler is a collapsible silicon camping cup that can handle hot drinks like coffee, tea, and hot chocolate. Because it collapses, it doesn't take up much room in a camping box. Better yet, your camping enthusiast can take it hiking or backpacking, too. The X Tumbler holds just under 12 ounces and is easy to hold, but if you have a big camper who wants a larger cup, go with the 16.2 oz X Mug.
Question: What is the most forgotten piece of camping gear? The pillow! OK, it might actually be matches, a can opener, or sunscreen but the point remains. A lot of people forget pillows — and sometimes have a hard time packing full-size bed pillows in their cars. Enter an inflatable pillow. Not only are they surprisingly comfortable, they fit in a stocking and are packable enough to store and take anywhere.
Upgrade option: Sea-to-Summit Aeros Premium Pillow
The BioLite Sunlight Solar Lantern is, by far, our favorite lightweight packable lantern. First, it puts out a lot of light. Second, it's rechargeable via a USB charger. Third, it's also solar powered! After you use it at night, leave it on the picnic table to charge back up during the day. The build quality is excellent and the light is crisp and clean. Highly recommended.
Upgrade option: BioLite AlpenGlow 250 — you lose the solar option but gain party colors
If you're going to buy waterproof matches, you might as well go all in and go big: The UCO Titan Stormproof matches are overkill for most campfire needs, but that's not the point! They're windproof, burn for 25 seconds, and they'll even keep burning under water. If you want your camper to make a statement at the next campsite, these are the matches to get. Better yet, the pack might be important survival gear on any wilderness hikes that go wrong.
UCO Titan Stormproof Match Kit
Benefits
Waterproof & windproof
Burns up to 25 seconds with a big flame
Waterproof case
Drawbacks
No real drawbacks -- they work surprisingly well
There are lots of mess kit options out there, but we like humangear's GoKit Light because it just fits together so nicely. You get a plate, bowl, and a spork, which counts as two items. So what's the fifth part of this mess kit? Look closely and you'll see a toothpick. OK, that's cool and useful and kind of a gimmick — until you need it in the backcountry (which we have).
Upgrade option: Humangear GoKit Deluxe 7-Tool Mess Kit, which comes with the cool cupCUP (cupCUP also sold separately)
You can't go wrong with wool socks for any self-respecting outdoor enthusiast. Sure, synthetics dry fast and can wick and all that, but merino wool still insulates when wet . . . and won't get stinky. That's the power of merino wool. It's hard to beat the value of the L.L.Bean Cresta Wool Socks.
Upgrade option: At a slightly higher price point that is above our $20 price limit for this camping gear stocking stuffer list, Darn Tough gets our nod. Read our Darn Tough review here . . . or just go nab some Hiker Micro Crew Midweight Hiking Socks for  everyone on your list and be done shopping!
We're not sure what the science says, but we know that some people somehow attract more mosquitoes than others. And get stung and bit more often. Maybe they freak out and cause the bites — or maybe they freak out because of the bites. If you have a camping enthusiast who gets itchy welts from mosquito bites and/or fears insects, grab a BUG BITE thing Removal Tool. It basically just sucks out irritants — which is what you want when you have bug residue in your skin.
Upgrade option: If you buy these in a 6-pack, you can save a bit and fill multiple stockings at once.
There are a lot of pour-over camp coffee filters available these days, but the Stanley The Perfect Brew Pour Over might be the best. First, it's rugged so it won't get broken in your camp box. Second, the fine mesh is structured to keep the grounds out and still let the goodness filter down without making a mess. Stanley also offers a Camp Pour Over Coffee Set that comes with a matching mug, but the price point is usually over our stocking stuffer limit.
Upgrade option: The Stanley Adventure All-in-One Boil + Brewer French Press Coffee Maker delivers all-in-one French Press awesomeness for coffee lovers who, well, appreciate the super-tasty French Press technique.
This little camping gadget stocking stuffer hits all the marks. It's inexpensive yet functional . . . and most every camper has a cooler they've had to get into at night.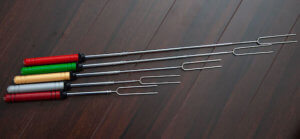 There are many competitive roasting stick options available, but the collapsible Rolla Roasters did it right first. They're made in America in Idaho, so keep that in mind before you opt for the super cheap competition. These roasting sticks expand out to 42 inches (but collapse to fit into a stocking or camp box). Better yet, the Rolla Roaster includes a wheel in the handle that lets you rotate the fork to give your marshmallows or hot dogs a perfect roast. So good.
This little lantern is tiny but effective. You can clip it most anywhere — we especially like them for the interior roofs of our tents.
Upgrade option: L.L.Bean Trailblazer Rechargeable Micro Lantern
Your camping enthusiasts is also likely an outdoor enthusiast, which means they'll have plenty of uses for a high-quality, super-strong, lightweight carabiner. Our favorite by far is the Black Diamond LiteWire Carabiner. Sure, these are used by rock climbers, but you don't have to be a rock climber who risks your life to appreciate a good carabiner. The attachment options are endless around camp, especially if you have paracord handy (see #19 below). If all else fails, this carabiner might even get used to attach a water bottle to a backpack.
Stocking stuffer idea: Nab the LiteWire 6-pack to drop into multiple stockings.
Candles are a bit old school, but sometimes old-school is what you need. This little candle can give you some light in an emergency — or you can heat a drink while out on the trail. You'll probably use a camp stove or full size lantern while camping, but the point here is more about survival situations and mishaps with batteries or fuel. And hiking. A hot cup of ramen noodles taste surprisingly good three miles from the pavement — and the large version can heat a camp cup of water.
Even if you're not a survivalist, you can have fun starting a campfire with sparks. This ferro rod style fire starter will give you thousands of strikes. We like to hand over our ferro rods to kids and adults alike, giving them a fun camping challenge: Can you start a fire with sparks?
If you see a theme here, you're paying attention! The 
überleben Zünden Spoon is just a wooden spoon carved out of hardwood. Is it better than a steel spoon or a polycarbonate spork? Not really — but it's made out of wood! You want to get closer to nature? Eat from a wooden spoon. It's strangely satisfying and we don't know why.
This cap turns any standard wide-mouth Nalgene bottle in to a water bottle you can easily drink from! Seriously, lots of water bottles these days come with big wide lids. The wide openings make it easy to add ice cubes and clean them, but they're a pain to drink from. We also use our humangear capCAP+ on insulated stainless steel water bottles . . . and have no idea where the original lids ended up.
Add-on gift idea: Nalgene Wide Mouth Water Bottle
You can buy cheap headlamps anywhere, but if you want a high-quality, affordable headlamp that puts out crisp, usable light around camp, go with the Black Diamond Astro 250.
This high-quality 7-strand 550 paracord is a necessity around camp. You can use it as a clothesline or use it to hang lights, tarps, or even a bear bag. We don't know any self-respecting campers who can't appreciate paracord. Just saying.
Upgrade option: Rapid-Rope, which is twice as strong and comes in a handy can-style dispenser.
This handy towel is large enough to wash your face and absorb 3x its weight in water. It's also handy as an impromptu dishtowel. It comes in a small carry pouch for hiking, too.
The LifeStraw is one of our favorite survival gifts. It's basically a water filter that filters out bacteria to make drinking from streams and lakes safe. While you don't need it in most camping situations, it's the kind of gift a camping/outdoor enthusiast can appreciate for emergencies. If you've ever ran out of water on a hike up to a mountain lake, you'll understand why the LifeStraw is a good idea.
Bonus Stocking Stuffer

The Radiate Campfire Mini is a small, portable go-anywhere outdoor fire. It's made in the USA and it'll burn 3-5 hours. For the size, it's 13 ounces and 4-inches in diameter.
Glow Sticks for Camping!
If you're looking for kid-friendly stocking stuffers, glow sticks are great for camping. Kids can play with them, of course, and they also work as night lights in tents. For adult campers, they're handy — and useful in emergencies.
More Gift Guides!
If you're looking for gifts for more outdoor adventurers on your shopping list this year, check out these focused gift guides: