Disclosure: Man Makes Fire is reader-supported. When you buy gear using retail links on our site, we may earn an affiliate commission that helps pay for our work. Learn more.
Great stocking stuffers for hunters will, of course, fit into a stocking. More importantly, they should be reasonably inexpensive — under $50 or much less. Most of these stocking stuffers for hunters are under $50 and many of these gifts for hunters are under $25 and under $10. Some gifts are for deer hunters or elk hunters or turkey hunters, but we recommend most of these stocking stuffers for hunters because they will work for several types of hunting.
If you're looking for even more hunting gifts — some of which can fit into a stocking, be sure to check out our 55 Best Gifts for Hunters 2021 guide or our Best Gifts for Bowhunters gift guide.
20 Stocking Stuffers for Hunters 2021
1. Zippo Heatbank Rechargeable Hand Warmers
Under $20~
The Zippo Heatbank Rechargeable Hand Warmers have several key benefits. First, they're a dual-sided, rechargeable hand warmer. Second, they're also a rechargeable battery pack that can recharge your hunter's phone or satellite communicator. This is obviously a great safety feature — we always pack along a battery pack whenever we stray off the beaten path. Last of all, you can choose multiple size & duration options, ranging from a stocking stuffer-priced 3-hour version up to a 9-hour plus version.
2. Folding Saw
A lot of hunters skip the saw — they just don't want to pack the weight or they think they can get by without one. The reality is, a saw can be handy for those times you need to do something different to gut or quarter your big game. Better yet, your hunter could use a saw to cut tree limbs to build a shelter, splint a leg, or build a travois in emergency situations. That's right, we're thinkers here. You never know. Lightweight saws make fantastic stocking stuffers for hunters.
3. Ear Plugs & Hearing Protection
Most hunters have ear plugs or muffs for sighting in rifles or shooting clay pigeons, but what about the hearing damage that can occur while hunting? Sure, most big game hunters don't fire all that often, but still, over time it can have an adverse effect. Of course, some shots require quick decisions and fast action — so there is no time to mess with ear protection. But every hunter has been in a situation where they had plenty of time to get a smart, well-calculated shot . . . and even bird hunters have stepped into areas where they were 100% sure they'd get into the thick of it. In these situations, it's hard to beat ear plugs that you can wear like a necklace . . . and then pop in when you need them. For short-term use while hunting, most any banded set will be far better than nothing. Do your hunter a favor and get a set.
4. Turkey Call
Under $30 (and sometimes under $10)
Many elk and deer hunters are also turkey hunting these days — or they want to. One of the key pieces of turkey hunting gear you need, that can fit into a stocking, is a turkey call. There are lots of styles and varieties, but a good traditional box call is hard to beat. The Primos Hook-Up Magnetic Box Call updates the old-school design with a patented magnetic hinge design to create the tension for making realistic cuts, puts and yelps. Plus, the included Gobble Strap lets a hunter shake the call to easily gobble like an amped up tom.
5. Shooting Glasses
Most hunters know they should wear safety glasses while shooting, but many don't. So how can you encourage it? With a pair of shooting glasses that filter out glare to provide better visibility — that's a win all around.
6. Backup Orange Safety Vest
Under $10
Every now and then a hunter forgets a hunter orange hat, jacket, or vest. Or a buddy forgets theirs. And sometimes, well, you get out into the woods in thick cover and realize, oh boy, there are far too many other hunters in this area. So you want more hunter orange coverage. That's why you take a lightweight safety vest that folds into a tiny package. Plus, it's great for covering a massive rack of antlers that you strapped to your backpack to haul out at twilight. Not all other hunters are super smart, so backup orange safety vests always make great stocking stuffers for hunters. (Of course, non-backup vests like the Browning versions noted below are great, too.)
7. Binocular Harness Strap
Under $15
The trouble with a good set of binoculars is figuring out where and how to pack them so that they a) stay out of the way, and b) are there when you need them. The answer? A binocular chest strap. So much goodness in a simple package. We don't know how we got along without them. Oh wait, yes we do. We struggled with pockets and pouches and spent far too much time swearing and untangling. A binocular strap as a stocking stuffer for hunters is a just a crazy good choice.
8. Ammo Holder
Under $10
Most hunters don't end up in situations where they run out of ammo, but having bullets and shotgun shells handy is certainly a good plan. One of the simplest ways is with an ammo holder that slips over the butt stock of your rifle or shotgun. As a stocking stuffer for hunters, they tend to be under $10, too.
9. Elk Cow Call
There are all sorts of different kinds of elk calls, including bugles, but every elk hunter ought to have a cow call. Even if you're after bulls, well, bulls in rut will follow the cows. If you get into a situation where you need to cow talk, your hunter will appreciate the ability to chat it up. In addition, even if your elk hunter has reed calls already, most hunters like having an extra cow call or two so they can throw out different kinds of tones to sound like more than one cow elk. Or let a buddy or beginning hunter use an extra cow call.
Get all your hunting gifts at Cabela's and get FREE Shipping on orders over $50!
10. Deer Call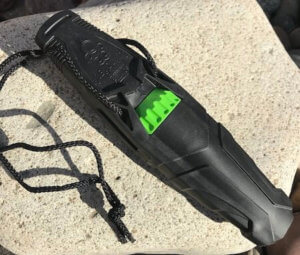 Under $30
One of our hunting buddies with teenage boys was able to grunt back and forth with several bucks this year — a cool experience, for sure. While some hunters barely know how or when to grunt for whitetail, others have used smart calling tactics to lure big bucks into range . . . so do your deer hunter a favor and give them a new tool to try out! If you have a young whitetail deer hunter, the Primos Revolver can deliver different kinds of grunts and is very easy to use.
11. Deer Rattling System
One of the most adrenalized forms of deer hunting is rattling in a big, mature buck looking for a fight. A lot of hunters find themselves in the right spot at the right time . . . but don't have rattling antlers with them. Lost opportunity. No more. Some new systems sound great and pack small, especially the Knight & Hale Rattle Calls, which make them a fantastic stocking stuffer for hunters.
12. Wool Socks
Under $25 and sometimes under $15
Remember the toe warmers? Smart hunters wear wool socks for excellent durability and performance while wet. And wool is warm, of course, while naturally fighting funky-smelling microbes. Look for socks that have at least 60% merino wool. Go with thick for cold weather hunters, thinner for warm weather hunters. Seriously, synthetics still can't beat wool, so get wool. We're huge fans of the Cahartt Arctic Wool Heavy Boot Socks for winter. The Darn Tough Merino Wool Hunter Sock lineup is great for most everything and will last nearly forever.
13. Fiber Optic Shotgun Sights
We're not sure exactly why, but we are simply more accurate bird hunters with tru-glo sights on our shotguns. In green. You can get orange, but for some reason we like the green better. These sights provide a dirt-simple beacon that somehow makes it easier to find a pheasant in flight and line up your shot. We have not yet found a fellow hunter who didn't appreciate them.
14. Hunting Gloves
In addition to fending off a bit of a chill, hunters should carry gloves. There are so many times when hunting gloves come in handy. Of course, it's tough to find the one single perfect glove for everything, so don't try. We're big fans of the Mechanix Wear Multicam FastFit Tactical Touchscreen Glove. It fits snug enough to shoot with and it's grippy enough to let a hunter hold or grab most anything. It's not a cold-weather glove, but we can almost guarantee your hunter will find a use for them.
15. Wind Checker
We are astounded at how many elk and whitetail deer hunters still don't carry wind checkers. They're inexpensive and they work well. And here is why it's important: Elk and whitetail deer have a fantastic sense of smell, and when they smell a hunter, they tend to bolt. It's not uncommon for an elk to run a mile or two after winding a hunter. Deer don't go as far, but they they're still on high alert well out of your hunting area. A wind checker helps identify the hidden movement of wind — and lets a hunter adjust accordingly.
16. Seat Pad
Nearly every hunter can benefit from a lightweight seat pad. We carry them hunting in the backcountry because they can make a huge difference when you need a dry seat on cold, wet ground. Seat cushions are also great for tree stand hunters, and of course, for turkey hunters.
17. Scent Removers
Under $15
On the flip side of smelling like a buck or doe, smelling like the inside of your pickup and a breakfast burrito is no good either. Enter easy-to-use spray-based scent removers. When hunters steps out of the pickup, they can give themselves and their hunting buddies a few sprays and increase their chances of finding critters when the wind turns against them. Because good hunters use this stuff up every season, scent killers are a great stocking stuffer for most any elk or deer hunter.
18. Game Bags
Under $15
A lot of hunters get an animal down in the woods and then haul out the entire carcass intact on an ATV. There's a better way for backpack hunters, though, and that's quartering or boning a deer or elk in the field (and other big game, of course). The best way is to use a clean, breathable, fabric-based game bag. The bag will let the meat cool (very important) while protecting it from dirt and bugs (also important). Every hunter should have at least four in their packs, and if your hunter is successful, fresh big game quarter bags are always appreciated in a stocking.
19. Cabela's Antimicrobial Carcass Spray
Sure, this little can has a bad name, but it has a very important purpose: If your hunter hunts dear, elk or other big game in warm, early season weather, flies, hornets, and yellow jackets can be a problem. In some places —  usually on warmer days in August, September, and early October — the pesky insects can swarm all over the meat, making it hard to quarter and get it into protective game bags. A bit of citric acid, it turns out, can do wonders to protect the meat: Simply spray it on the exposed areas and the flies and hornets will stay away. In addition, the spray can help reduce the growth of bacteria. This is the kind of gift you don't need — until suddenly you do!
20. Emergency Fire Starter
Have you noticed the safety theme of these stocking stuffers? If your hunter gets out into a bad situation with cold and stormy weather, you want him or her confident in their ability to stop and build a fire to survive. The alternative is to freak out, get lost, overheat with sweat trying to get back to the pickup, and then die of hyperthermia once the sweat starts freezing. An ability to start a fire is a confidence builder, and while most hunters won't need to, having the ability can help keep them calm in the face of adversity — and that's the real life saver here.
Bonus Stocking Stuffers for Hunters
We had a hard time stopping at just 20 stocking stuffers for hunters. Here are a few more we just had to share:
Hunting Headlamp
$15-50~
Almost every big game hunter needs a hunting headlamp, and most other hunters can appreciate a good headlamp, too. The best hunting headlamps include red, green, or blue light options to avoid spooking animals in the night — read our guide to hunting headlamps for more detail. We like the inexpensive Browning Night Seeker RBG Caplight, which clips to the brim of a baseball-style cap if you're looking for an under $15 stocking stuffer. If fitting into a stocking is more important than the price, got with the PETZL or Princeton Tec options.
Hunting Camp/Lunch Utensils
We don't know how many hunters have packed a lunch or headed off to hunting camp and forgot a fork or spoon. It happens. And it's super annoying. But you can solve that with a simple gift — a multi-utensil combo. These little kits can go into a backcountry hunting backpack, go into the hunting lunch box, or stay in the camp kit. They're usable and cool, which makes them one of the best stocking stuffers for 2019 and beyond.
Indestructible Bouncing Target
A lot of hunters also have pistols and like to keep their handgun skills up, but they need targets. Enter the Do-All Outdoors line of targets. The hard rubber compound takes a beating almost as well as Superman's chest. Amazing things, really. They even work with rifles, too.
Blood Tracking Light
Under $70
For hunters who hunt in the late afternoon and early evening, a blood trailing light is critical for helping them locate downed animals, especially in rough country with thick cover. The optical filter in the Primos Bloodhunter HD Blood Trailing Light reduces the visibility of select colors in order to amplify the visibility of blood. It's one of the most popular stocking stuffers for hunters we're seeing this year — and it was last year, too.
Razor Knife
Under $50
Even if your hunter has a favorite hunting knife, having a backup razor knife system is a good idea, and the Outdoor Edge Razor Lite blends the form factor of a traditional knife with a razor blade system for instant super sharpness. Razor knife stocking stuffers for hunters are fantastic for those who aren't confident in their knife sharpening skills. As it turns out, even hunters who have a great knife and know how to sharpen it appreciate the sharpness and speed that razor knife systems bring to the hunt. We like the Outdoor Edge Razor Lite the best, but Havalon and Gerber have options that are just as great.
Cabela's Catch-All Gear Bags
Under $15
These great little gear bags have plenty of pockets and are durable. They're great for hunters, fishers and anyone who has miscellaneous gear to keep track of. Best yet, you can nab them for $12.99. (And if you roll it up, you might be able to jam it into a large stocking.) Seriously, these are awesome little gear bags.
Hand and Toe Warmers
Under $15
Even when a hunter has good gloves, sometimes taking them on and off results in cold hands. We like to slip a hand warmer inside our gloves so they rest in place over the tops of the backs of our hands — it lets you wear lighter, more hunting friendly gloves in frigid temperatures. And toe warmers? Wow, they work fantastic. Especially good if you end up down in some cold hole in the woods as darkness falls and you have a long, cold hike out ahead of you.
More Gift Ideas for Hunters:
Still here? Still looking? No problem. We have even more great gift ideas for hunters. Be sure to check out:
And from some of our favorite online retailers:
– Shop hunting gear at Bass Pro Shops and get FREE shipping on most orders over $75.
– Shop Cabela's 'Bargain Cave' for legendary savings up to 70% off every day.
– Shop L.L.Bean hunting and fishing gear, lots of free shipping plus a legendary customer satisfaction guarantee.
– Shop Orvis for high-quality waterfowl and upland bird hunting gear and gifts.