Disclosure: Man Makes Fire is reader-supported. When you buy gear using retail links on our site, we may earn an affiliate commission that helps pay for our work. Learn more.
One of the hardest fly fishing choices for beginners is finding and choosing a good fly rod and reel combo. A good fly fishing rod will help you learn and make it easier to cast and catch fish while a bad rod might be so troublesome that you give up the sport altogether. The challenge is to find the best rod and reel combination for the money. And the money that matters? Your budget.
I recommend you don't buy a cheap rod from a discount retail store or any cheap knockoffs. Instead, I recommend several affordable fly rod and reel combo kits that are perfect for beginners and will last for years. All of these rod/reel combos blend quality with a relatively low investment that will help you learn to fly fish without breaking the bank.
Any of the fly rod and reel combinations noted below will be well worth the money for beginners, and they all make great fly fishing gifts. Before I started testing and reviewing rods and reels for Man Makes Fire, I most often fished a 9-foot, 6-weight Sage fly rod. The 6-weight was great for longer casts on bigger water. To balance the 6-weight, I also carried along an inexpensive Cabela's 7.5-foot 3-weight fly rod and reel combo for smaller creeks or skittish trout.
Table of Contents:
How to Choose the Best Fly Fishing Combo/Outfit
Most serious fly fishers have multiple fly rods — but they nearly all started out with just one fly rod and reel. The key to choosing the best fly fishing rod and reel combination is choosing the right size of fly rod and reel for the kind of fishing you want to do most often. (You can always add additional rods in the future!)
The best fly rod and reel combo for trout that I choose is usually a 9-foot, 5-weight fly rod with a weight-forward floating fly line — which is the kind of fly line most combos come with. A 9-foot, 5-weight is the most versatile size of fly fishing rod and reel combo for trout, and it's the fly rod size I recommend most for beginners. If you plan to fish smaller creeks or fish for panfish, you could drop down in size to an 8'6″ 4-weight combo. For bigger rivers and bigger trout, a 9′ 6-weight is also a versatile option.

For larger fish, particularly steelhead, salmon, and some saltwater fish and bass, a 9-foot, 8-weight fly rod and reel combo is quite fishable. Of course, there are many different specialized types of fly rods, but I recommended that most fly fishing beginners start out with traditional fly rod and reel setups.
Once you know the size of fly rod you want, choose the best fly fishing outfit that fits your budget.
Best Fly Fishing Rod and Reel Combos for Beginners 2021
These fly fishing rod and reel outfits are solid performers that are aimed at beginners. They tend to have medium-fast actions that cast best at short and midrange distances and feel great for a wide variety of casting skills. Most combos in 2021 come with fly line, which helps save you money. For most new fly fishers, I recommend a solid entry level combo at an affordable price point. If you have extra budget, you can consider additional fly fishing gear like waders and/or wading boots (which are often purchases that you can put off until you're ready).
1. Cabela's Bighorn Fly Outfit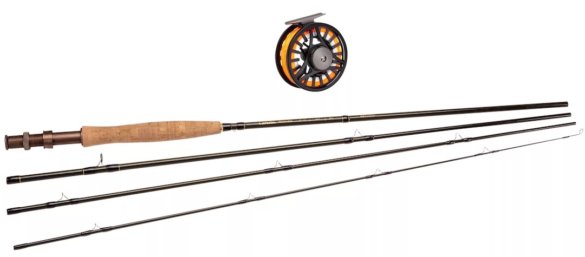 The newly updated Cabela's Bighorn Fly Outfit has a forgiving moderate action and an overall price-to-quality ratio that's hard to beat. If your budget is really tight, the Bighorn Fly Outfit is the best fly fishing rod and reel combo for under $100. We were pleased with the original version — see our original-version Cabela's Bighorn review — but the new version for 2021 delivers a much improved color design and an improved reel.
Shop the Bighorn Fly Outfit at: 
_______________________________
2. Redington Crosswater Outfit Fly Combo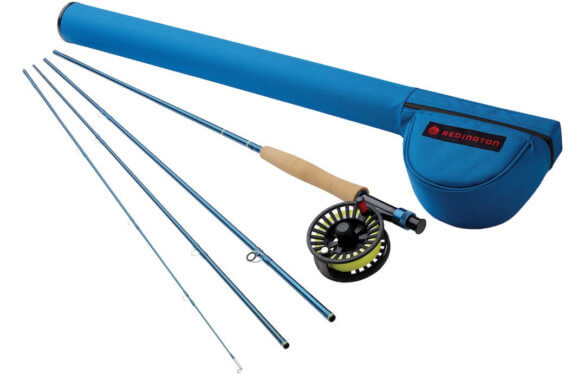 The Redington Crosswater reel provides a nice update to this popular entry-level rod. Redington makes several other combos, but the price-to-value ratio really shines with the Redington Crosswater Outfit. It's been a great casting rod for beginners for years, and we're fans of the bright blue rod, too. We also appreciate the included rod/reel case, which simplifies storage and packing for fishing trips. To learn more, check out our full Redington Crosswater review.
Shop the Redington Crosswater Outfit Fly Combo at: 
Amazon | Aventuron | Bass Pro Shops
_______________________________
3. Orvis Encounter Outfit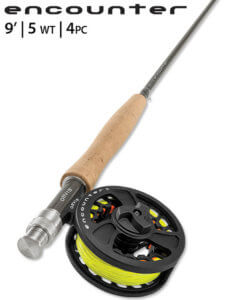 The Orvis Encounter Complete 4-Piece Outfit is a longtime entry-level favorite from Orvis. You get can't-go-wrong quality at this price range.
Shop the Orvis Encounter Outfit at: 
_______________________________
4. Echo Base Fly Rod Kit
The Echo Base fly rod doesn't feel as smooth in the hand as some of the other fly rod and reel combos in this guide, but the Echo Base fly rod delivers surprising accuracy and distance. Choose the Echo Base Fly Rod Kit for beginners starting out on bigger water or if you want to cast larger flies, streamers and nymph rigs. The Echo Base is truly a dependable workhorse that responds particularly well to firm casting motions. (The photo above doesn't show the fly line, but the Echo Base Kit comes with fly line, backing, and a leader.)
Shop the Echo Base Fly Rod Kit at: 
_______________________________
5. L.L.Bean Quest Fly Rod Outfit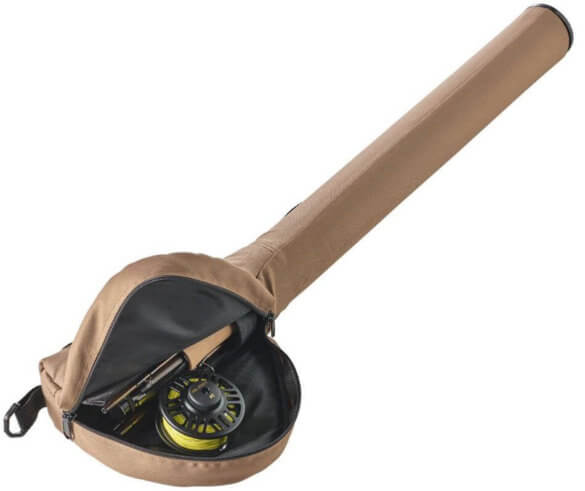 The newly updated L.L.Bean Quest Fly Rod Outfit includes a handy rod and reel combo case, but more importantly, it comes with L.L. Bean's legendary "100% Satisfaction Guarantee." At just under $150, the overall value is spot on. If you're an L.L.Bean fan, there's no reason to stray.
Shop the L.L.Bean Quest Fly Rod Outfit at: 
_______________________________
6. TFO NXT Black Label Fly Rod Kit
The Temple Fork Outfitters NXT Black Label Combo Kit features a handsome matte black finish on a versatile medium-fast action blank. TFO offers the NXT Black Label combo in just two options: a 5-weight and an 8-weight. The included NXT BLK reel has a solid modern construction with a smooth drag system. The kit comes with Dacron backing and a weight-forward fly line preloaded with a rod-and-reel travel case. While TFO offers a lifetime warranty for defects, if you accidentally break a section of your NXT Black Label fly rod, you can easily order a replacement section from TFO for $20~. That's great piece of mind for beginning fly fishers and helps keep a fly fishing gift rod out fighting fish for years to come. So cool.
Shop the TFO NXT Black Label Fly Rod Kit at: 
Aventuron | AvidMax | Trident Fly Fishing
_______________________________
7. Echo Traverse Fly Rod Kit 
The Echo Traverse Fly Rod Kit offers an excellent boost to the solid Echo Base Kit mentioned above. The Traverse kit features a lighter medium-fast action fly rod and pairs it with the smooth Echo ION reel, which fishes well above its individual sub-$80 price range.
Shop the Echo Traverse Fly Rod Kit at: 
Amazon | Fishwest | Trident Fly Fishing
_______________________________
Best Fly Fishing Combos for the Money
These fly fishing outfits offer an enviable blend of quality for the cost. If you can afford a bump to your budget, these combos will last years and feel great every time you pull them out. Many fly fishers will never need to upgrade from these great fly rod and reel combos. If these final three fly combos fit your budget, they are far and away my favorite midrange combo picks.
8. Orvis Clearwater Fly Rod Outfit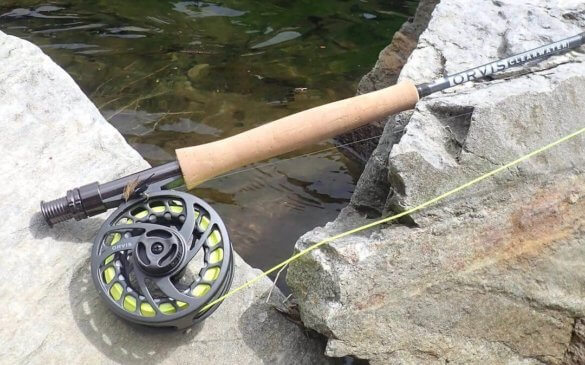 The latest generation Orvis Clearwater fly rod has a medium-fast action that excels in short and midrange casts. Better yet, you also get a 25-year guarantee on the rod and an excellent price point for the overall quality. The new Clearwater Large Arbor Fly Reel is fantastic for the price point — it looks great, feels good, and works very well. In fact, we like the newly designed Clearwater reel even more than the rod. Either way, we're big fans of the combo — check out our full Clearwater Combo Review for more detail. Oh, one more thing: Orvis has a wide-range of options, including Clearwater Saltwater Rods.
Shop the Orvis Clearwater Series at: 
_______________________________
9. Redington VICE Combo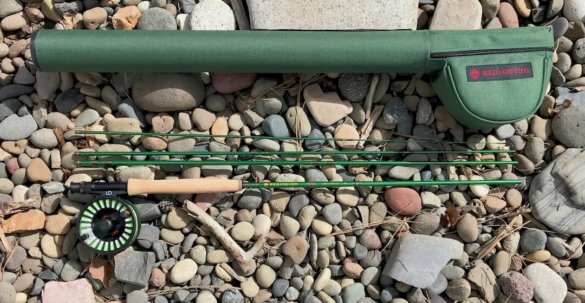 The Redington VICE Combo blends a fast-action rod that casts above its price point with a solid reel. Redington created this new combo for existing fly fishers looking for an affordable upgrade from their previous entry-level systems. The company succeeded — the VICE Combo delivers the best performance value because the rod casts so well for the price. Read our full Redington VICE review. One more thing: We're fans of the green — it looks fantastic in natural light.
Shop the Redington VICE Combo at: 
_______________________________
10. Sage Foundation Outfit
Sage is best known for its high-end (and relatively expensive) fly rods, but the company has created an affordable midrange fly rod/reel combo in its Foundation Outfit. From Sage's perspective, you get a so-called "entry-level" rod and reel that fishes above its price point. Read our full Sage Foundation review for more detail. Beyond its sweet stealthy all-black design — which is so cool, by the way — the Foundation Rod is Made in the USA and boasts the best overall craftsmanship and performance in a readily available fly fishing combo. If you appreciate USA manufacturing and can afford it, choose the Sage Foundation Outfit.
Pros
Fast-action rod casts very well
The 2250 reel performs above its price point
Made in the USA!
Cons
No alignment dots (very minor)
Shop the Sage Foundation Outfit at: 
Cabela's | Trident Fly Fishing
_______________________________
Best High-end Fly Fishing Rod & Reel Combos
The very highest quality rods and reels almost never come in pre-packaged combos. There are many great high-end fly rods from many manufacturers, and the competition and craftsmanship at this level means that most any $600-plus rod will fish well for most fly fishers. However, few beginner fly fishers have the budget to drop that kind of money.
When price is not a factor, these three can't-go-wrong rods and reels boast superior craftsmanship and overall performance. The key here for beginners is that one of these rods and reels won't instantly make you a better fly fisher, but they will help you make the leap from an intermediate fly fisher to an expert — if you put the time in on the water, of course!
Best Fly Fishing Outfit for Kids
The best fly fishing outfit for kids is the Echo Gecko Kids Outfit. The second best fly rod outfit for older kids is the Redington Youth Minnow Combo. Aside from the kid-friendly colors, these two fly fishing combos are sized right for smaller fly fishers. Let's take a closer look:
Echo Gecko Kids Outfit
The Echo Gecko Kids Outfit is great for younger children because the handle has a smaller diameter that's friendlier to little hands. The length is 7'9″ for a 4-weight fly line, which makes for a rod that will be reasonably easy for kids to cast. If your child breaks the tip, which is the most common part of a fly rod to break, you can order a new one from Echo for about $20, which is good because your kid is going to develop an attachment to the Gecko and will be crying if the tip gets broken.
Shop the Echo Gecko at: 
_______________________________
Redington Youth Minnow Combo
The Redington Youth Minnow Combo uses the same great Crosswater Fly Reel found on the Crosswater Combo above, but the Youth Minnow rod comes in at 8′ for a 5-weight fly line. It's still a kid-focused rod, but the color scheme has staying power as your kid becomes a teenager. The Youth Minnow Combo is similar to the Crosswater Combo, so much so that I wouldn't hesitate to buy the Crosswater Combo for kids around 10 years old when the Youth Minnow is sold out. (I particularly like the 7'6″ 4-weight or 8'6″ 5-weight Crosswater options for kids.)
Shop the Redington Youth Minnow at: 
_______________________________
How to Choose a Fly Fishing Rod
Fly rods are rated by "weight," which is the thickness and weight of your fly line. So a 5-weight fly rod is rated for a 5-weight fly line. They come in different lengths, but a 9-foot rod is the sweet spot for most anglers. In fact, the most versatile rod, especially for trout, is a 9-foot, 5-weight fly rod. You can't go wrong with this size as a gift or for a first rod.
At the same time, if you know you are going to fish primarily on small creeks, you could get a 4-weight fly rod or even an ultralight 7.5-foot, 3-weight fly rod. Alternately, if you know you want to fly fish for bass or fish lakes and big rivers with big streamer flies, a 7-weight or 8-weight rod is a better choice. For steelhead or salmon, you would want a versatile 8-weight fly rod and reel combo to get you started.
All that said, if you want to fish primarily for trout, stick with a versatile 5-weight or error toward a 6-weight rod if you're going to be fishing bigger water . . . just make sure you get a 4-piece rod for packability. (If you truly want a super packable 6- or 7-piece travel fly rod, check out our guide to the Best Travel Fly Rods.)
How to Choose a Fly Fishing Reel
Reels have evolved into large arbor designs that let you reel your line over a big cylinder rather than a small axel. For example, instead of reeling line furiously around a pencil, newer reels work more like wrapping line around a soup can — basically, they let you reel in line faster.
Even today's inexpensive reels now come with larger diameter spools and are lightweight. More expensive reels have better fit and finish, plus they have smoother drag systems. A drag, by the way, is the part of a reel system that lets the line leave the reel when a fish takes off hard.
A smoother drag will let you set the drag system with a wider variety of pressure differences, and the drag will stay put at the setting you intend. In addition, a finely made drag system will engage smoothly without sticking. Any sort of hiccup with a hooked fish on your line can be enough to snap your tippet (the smallest portion of your leader) and break off your fly.
Which means you'll lose the fish. And maybe lose the fish of a lifetime.
But don't worry. You can catch huge fish with today's entry-level reels. I've caught hard-fighting coho salmon on entry-level reels, and even brought in a 23-inch brown trout on a tiny entry-level reel rated for super-light 3-weight fly rods. Both were on inexpensive Cabela's-branded combos. The key? Set your drag lightly, and if you hook into a big fish, gently apply pressure to the outside rim — the palming rim — of your reel during big runs where the fish takes off fast and hard. The technique is to not stop the reel from turning, just slow it down a bit and put more pressure on the fish without snapping your tippet.
It's a technique, which is part of the challenge and joy of fly fishing in the first place.
What is the best fly line for beginners?
If you're not getting a pre-packaged combo — or if your rod and reel combo doesn't come with fly line included — you'll need a fly line and backing. For most trout fishing, that means you'll want a weight-forward floating fly line that matches the "weight" listed on the base section of your fly rod.
One of the higher-quality, better value fly lines is the Scientific Anglers Mastery MPX Taper Fly Line — it's hard to go wrong with it, but if the price is out of your budget, pick up the Orvis Clearwater Fly Line or the Rio Mainstream Trout Freshwater Fly Line. The three options above are flexible, versatile lines that will pretty much handle whatever you need to do. What about the dozens of other options, many of which can ramp up well past $100? They're not worth it for most beginning fly fishers on a budget. Seriously, wait until you're a fanatic to worry about investing anything more than $40-75 in a fly line — or for that matter, investing in speciality rods that require special fly line tapers.
You'll also want to nab some Scientific Anglers Fly Line Backing and it never hurts to start out with a 3-pack of Rio Powerflex leaders.