Disclosure: Man Makes Fire is reader-supported. When you buy gear using retail links on our site, we may earn an affiliate commission that helps pay for our work. Learn more.
While Sage makes many high-end fly rods and reels, the company out of Bainbridge Island, Washington technically offers only one fly rod and reel outfit: The Sage Foundation Outfit.
The Sage Foundation Outfit pairs its Foundation fast-action fly fishing rod with its entry-level Sage 2200 fly fishing reel with RIO Gold fly line, tapered leader, backing and a rod and reel combo case. To get us a closer look at the Sage Foundation Outfit, Sage sent us a 9-foot, 6-weight combo review unit to check out. Here is what we learned.
Sage Foundation Outfit Review: The Rod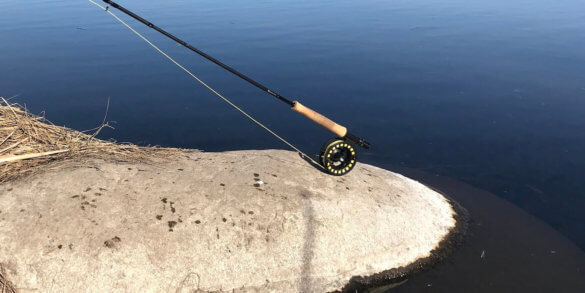 The Sage Foundation Rod on its own retails for about $325. This puts it into a midrange price-point, but the Sage Foundation is also Made in America, which is pretty astounding at this price. Most other Made in America fly rods tend to cost significantly more. So we have to give props to Sage for offering a Made in the USA rod at this price point. It's available in a 4-piece, 9′ configuration with weights ranging from 4-8.
Still, how does the Foundation rod cast? How does it feel? How does it fish?
The Sage Foundation is a fast-action rod, which means it is stiffer in the lower 3/4 of the rod than a slow, medium or medium-fast rod. Fast-action rods are sometimes called tip-flex rods because they're built to have more bend in the tip section. What does this mean for casting? It's usually a bit easier to cast longer distances and throw bigger flies into the wind with a fast-action rod if you have a firm and authoritative casting motion . . . but this extra distance power comes with a cost: short casts don't load the rod (don't bend it much) so they're harder to feel, which makes it harder for your unconscious brain to make minute adjustments to direct the fly where you want it with a gentle result at short distances.
The Sage Foundation is definitely a fast-action rod.
I was able to fish the 9′ 6-weight Foundation on a spring creek this winter, and while I would have preferred testing a 9′ 5-weight for these conditions, Sage was all out of 5-weight review units. Either way, the 6-weight Sage Foundation lacked feel for my up close and personal casts, but like I said, that's very typical of fast-action rods, especially at such a reasonable price point. And, I must admit, whenever I'm making short casts, I'm usually trying hard to avoid movement if not outright hide from a fish I can see. So it's not like my short casts are models of awesomeness when I'm on the water.
Once I started pushing past 30 feet, the Sage Foundation felt fantastic. I could drop a false cast and redirect to a rising fish with ease. And casting out around 60 or 70 feet — even in swirling cross winds — the rod wasn't letting me down. When I messed up a cast, I knew it was because I messed up.
During this test, I threw tiny scuds, a couple tiny dries, a more traditional nymph rig, a streamer and just for kicks to mix it up, a big cricket with a nymph dropper . . . and the Sage Foundation delivered well.
Shop the Sage Foundation Outfit at Cabela's and get FREE 2-Day Shipping!
Sage Foundation Outfit Review: Fit and Finish
The Sage Foundation Rod is gorgeous in a workhorse sort of way. The blank is a stealthy black, the reel seat is black anodized aluminum, and the thread wraps are also black. The cork handle is shaped as a snub-nose, half wells grip — it looks a little blocky in photos but it's slimmer in person and feels just fine.
The cork quality wasn't the best I've seen at this price range, but this 9′ 6-weight review unit rod had already been used, so I must admit that I did not see the handle in pristine condition to know for sure.
There are two very minor downsides to the overall design: 1) Sage provides no ferrule alignment dots, and 2) there is no hook keeper ring. Sure, alignment dots can detract a bit from the beauty of a rod, but when I'm all amped up to get out on the water, I can set up a rod more quickly with alignment dots. Obviously this is not a deal breaker. As for the hook keeper ring, which I like to see right above the handle on the blank, that's a bit more of a bummer. Of course, if you've got nymph rigs with a strike indicator on your leader, hook keepers often don't fit your setup anyway. Also not a deal breaker. I adjusted by using the first guide, sometimes wrapping the leader behind the reel seat first.
Sage Foundation Outfit Review: The Reel
Note: Sage has changed its name for the 2250 fly reel, updating the included reel to the Sage Spectrum C. It is a die-cast aluminum reel, and despite the relatively affordable cost of about $150, it's a big step up from most entry-level reels that cost less than $100.
Available separately, the overall value of the Sage Spectrum C is fantastic. It doesn't compete with Made-in-America reels that cost more than $250 in overall fit and finish, but the sealed carbon drag is smooth and super easy to adjust. In fact, the best part of this reel is the large drag knob, which is easy to find and adjust by feel alone, even when your hands are wet and cold.
Sage Foundation Outfit Review: The Verdict
All-in-all, the Sage Foundation Outfit is a fantastic fly fishing combo offered at a very challenging price range. Some of the best fly rod companies seem to avoid making great rods at this price point, preferring to push the bounds of performance with rods costing three times as much. Sage, however, has created a rod that performs remarkably well and it's made in America, too. While $900 rods from Sage — like the Sage X — might give you a bit more distance and some improved feel up close, most fly fishers don't have that kind of budget. Or they might prefer to spread their gear spend around to other sports, too.
What all of this really means is that you will have to be a very demanding fly fisher with very specific preferences and hard-core requirements for the Sage Foundation Outfit to let you down on the water. Put me in front of a fish and this rod will not get in my way. Better yet, at midrange+ distances, it's darn near effortless. Both the rod and reel perform better than their price points, making the outfit a cost-effective upgrade for the vast majority of fly fishers. Highly recommended.
Get the Gear:
Shop the Sage Foundation Outfit at Trident Fly Fishing and get free shipping on orders over $20!
Pros
Fast-action rod casts very well
The 2250 reel performs above its price point
Made in the USA
Cons
No alignment dots (very minor)