Disclosure: Man Makes Fire is reader-supported. When you buy gear using retail links on our site, we may earn an affiliate commission that helps pay for our work. Learn more.
The O'Pros 3rd Hand Rod Holder is an ingenious belt-clip fly fishing rod holder. It has two clips that are perfectly sized to securely hold most any fly fishing rod — and many spinning rods.
To get Man Makes Fire a closer look, O'Pros sent us a review unit. This is what we learned:
O'Pros 3rd Hand Rod Holder Review
The O'Pros 3rd Hand Rod Holder is so good you need to get one right away. And order one for your best fishing buddy. The O'Pros 3rd Hand Rod Holder beat out the Measure Net to become our number one recommendation in our guide to the best gifts for fly fishers this year. Seriously, it's that great.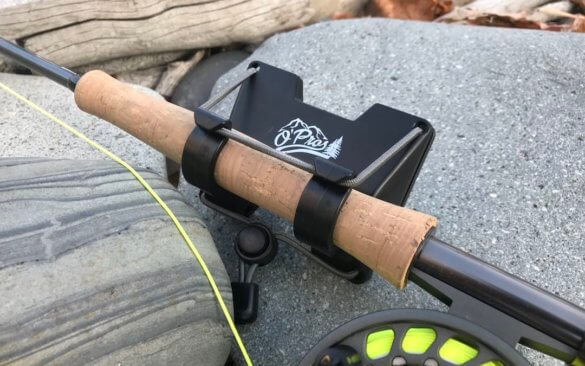 After testing the O'Pros 3rd Hand Rod Holder in my garage in my waders, I took it out fly fishing for an in-the-stream test run. It worked very well, earning a spot in my everyday kit.
So what makes the O'Pros 3rd Hand Rod Holder so awesome?
Best New Fly Fishing Accessory We've Seen in Years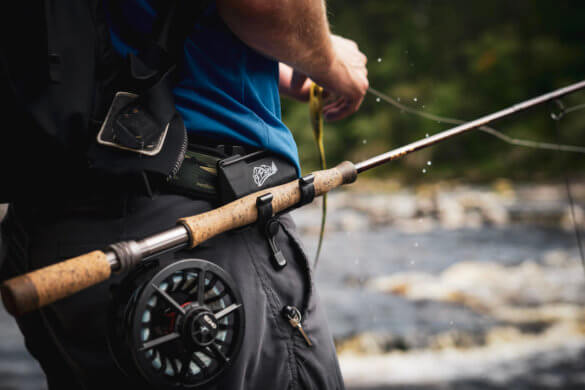 The point of the O'Pros 3rd Hand Rod Holder is to hold your rod to free up both hands. If you're wading in the middle of a river or lake and need to tie on a new fly, it's easier to use the rod holder than hold your fly rod and reel under your arm. Better yet, once you catch a fish, especially a big fish, holding your rod in the river is awkward. If you're near the bank, laying it down on the rocks is risky. As for the reel, when your reel hits the sandy bottom, you can get sand in your reel. That's never good. In addition, when it's time to get a quick photo of your fish, you can safely stow your rod in the rod holder, get the photo, and get back to fishing.
There are other good rod holders, like the Fishpond QuikShot Rod Holder or the super-simple Smith Creek Rod Clip, but there are five key features that elevate the O'Pros 3rd Hand Rod Holder into must-have gear territory:
1. The O'Pros 3rd Hand Rod Holder clips to any belt, including your wading belt on your fishing waders. It has belt clips sized to fit up to 2″ belts and another for up to 1″ belts. This also means you can likely find attachment points on your fishing waist pack and possibly on a sling pack or fishing backpack.
2. The rod-holding clips do a surprisingly great job with cork fly fishing rod handles. I tried five differently shaped fly rod handles, and they all fit securely. The spacing within and between each clip simply works.
3. While the O'Pros 3rd Hand Rod Holder works best with fly rods, it also works with some spinning rod setups.
4. The rod holder has an adjustable elastic cord that can slip over the top of the rod to lock it in — just in case you want extra security.
5. The O'Pros 3rd Hand Rod Holder can rotate 360 degrees. This means that you don't have to use the rod holder in a horizontal-only mode, which means your long fly rods don't have to stick out horizontally from your waist. When your rod is horizontal, it's more likely to hit brush, rocks or fishing buddies. By simply rotating the rod holder, you can set the angle so your rod tip points safely up at an angle that keeps it out of the way.
The 3rd Hand Rod Holder has a set screw in the back that you can tighten to lock the angle, if you want to lock it, but it has enough tension to stay put and let you make on-the-water adjustments.
Seen enough? Get your 3rd Hand Rod Holder from AvidMax now and get free shipping on most orders over $25!
O'Pros Fly Fishing
O'Pros is short for Outdoor Professionals, and the company was founded by three brothers in Janesville, Wisconsin. The brothers invented a previous generation of its rod holder that lacked the stability, elastic cord, and rotational options. I remember seeing it a while back and dismissing it, primarily because of the horizontal-only orientation.
The new version is an excellent upgrade. It launched on Kickstarter this summer, was funded, and now it's available to buy outright. The 3rd Hand Rod Holder is manufactured in Wisconsin.
What I can't speak to yet is long-term durability, but it appears to be well-made and is plenty stout. Still, if the 3rd Hand Rod Holder breaks during normal use, O'Pros says they will replace it. Nice.
One Last Feature
There is one last feature that I haven't yet used myself, but you can remove the belt clip and replace it with a GoPro fast connect clip. If you do this, you can mount a GoPro connector to the side of your boat, on a fishing raft, or even your vehicle. It seems like an ingenious sort of hack. When I find the exact connector that works well for this purpose, I'll link to it and the associated GoPro mounts.
Verdict: 'Must-Have Gear for Fly Fishers'
So what do you need to do right now? Buy one for yourself — and buy one for your best fishing buddy, too. If you pay attention to Man Makes Fire, you've likely figured out that we only review high-quality gear (and let bad or mediocre gear fade away on its own). But I have to say, the O'Pros 3rd Hand Rod Holder is really something special. Very highly recommended.
Get the Gear:
Note: If stock runs low, also try Aventuron.
O'Pros 3rd Hand Rod Holder
Pros
Fits most any belt
Excellent Made-in-America build quality
Adjustable angles