Disclosure: Man Makes Fire is reader-supported. When you buy gear using retail links on our site, we may earn an affiliate commission that helps pay for our work. Learn more.
The L.L.Bean Acadia Tent is a cabin-style family camping tent that's available in a 6- or 8-person option. The Acadia Tent's most innovative feature is its fantastic self-closing door.
To get us a closer look, L.L.Bean sent Man Makes Fire a 6-person review unit. This is what we learned:
L.L.Bean Acadia Review
Let's just say this right now: The door on the L.L.Bean Acadia Tent is simply outstanding. It's hard to overstate how much we appreciate the self-closing, magnetically sealed door. If you think it might be a gimmick, rest assured it's not. The door is legit.
The door uses magnets placed around the perimeter to keep it closed. To self-close, the wall of the tent has a slight angle to it so gravity basically pulls the door shut. It works surprisingly well. When the door is shut with just the magnets, it's pretty secure, but you can also zip it shut.
To ensure that your door works properly, you'll want to make sure you stake out the tent floor to ensure the proper tension in the tent walls. If you're sloppy with the stakes, we can see where it might not have the tension needed to self-close.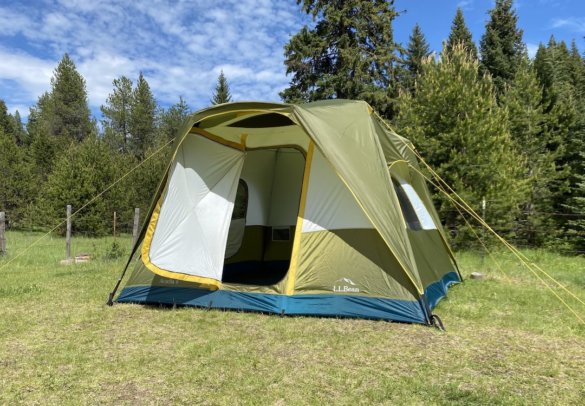 Shop the Acadia Tent at L.L.Bean now and get FREE shipping!
Cabin-Style Construction
The L.L.Bean Acadia Tent features near-vertical sidewalls with a ceiling peak height of 81 inches. It's roomy and spacious, making it great for summertime car camping.
The four corner poles are made from rugged steel while the top fiberglass poles are made from stout fiberglass. The top of the interior has plenty of mesh for good airflow, plus you get three windows on the non-door walls.
For the body material, L.L.Bean uses a lightweight but durable 75-denier polyester with a 1500mm PU waterproof coating. The fabric offers a good balance between weight, packability and ruggedness.
Inside, L.L.Bean includes plenty of stash pockets and gear lofts for storing phones, keys, and flashlights.
Near the bottom of the door, L.L.Bean includes a port for a power cord if you want to run an extension cord into your tent.
Overall quality is excellent, on par with most every L.L.Bean product we've used over the years. When you add up the overall design, build quality, and door, the L.L.Bean Acadia easily made it into our guide to the best camping tents this year.
Acadia 6-person vs 8-person Tent
The 6-person Acadia Tent has a 10′ x 10′ floor and weighs in at 23.5 lbs.
The 8-person Acadia Tent is more rectangular and has a 9′ x 14′ floor with an 82″ interior peak height and it weighs in at 37.5 lbs.
To help support the extra span, the 8-person model includes two additional center support poles as well as an additional roof pole.
Beyond the size difference, the 8-person Acadia includes a family and pet-friendly vestibule. If you have a dog, it's a good place for a dog bed or blanket, and if you have kids, it's kind of like a little secret fort with its own door. If you have young kids and a dog, you'll like this feature. If you don't, it's extra space for gear storage.
Which Size Is Right for Me?
You should know that most camping tents are sized by sleepers who sleep on small air mattresses or pads in sleeping bags on the floor. Each sleeper in a camping tent is usually allocated about 24″ of shoulder-to-shoulder space and about 7′ of head-to-toe space. If you're using single-person sleeping mats and air mattresses, you can technically fit six people into a 6-person tent.
In our experience, you're usually more comfortable with 4-to-5 people in a 6-person tent and 6-7 people in an 8-person tent.
If you want to use large air mattresses or cots, you'll want to get a sheet of paper and draw out your likely sleeping configuration to a rough scale to make sure you'll fit comfortably — or just size up!
The Verdict
The door is simply awesome if you go camping with kids, and it's darn handy for adults, too. Clearly we're big fans. Aside from the door, L.L.Bean delivers an outstanding cabin-style tent construction. The four corner poles are rugged steel, and the fiberglass roof poles are stout, too. You get three windows to help with cross-breeze and airflow. Plus, you get plenty of guy lines and lots of stakes, making the L.L.Bean Acadia Tent surprisingly solid in windy conditions. Very highly recommended.
Get the Gear:
L.L.Bean Acadia 6-Person Tent
Pros
Self-closing door is awesome for families
Excellent overall build quality
Cabin-style design is roomy
Cons
If you want a tall cabin-style tent for car camping, there are no real cons