Disclosure: Man Makes Fire is reader-supported. When you buy gear using retail links on our site, we may earn an affiliate commission that helps pay for our work. Learn more.
The new Orvis Recon Fly Rod is a midrange+ fly rod that handily outperforms entry-level rods. It also delivers excellent performance compared to high-end rods that cost nearly twice as much. Like other Orvis fly rods, you can pair the Recon with an Orvis fly reel as well as Orvis fly line and end up with a matched fly rod and reel outfit.
To get us a closer look, Orvis sent Man Makes Fire a 5-weight 9-foot Recon along with an Orvis Hydros II reel. After fishing with the Orvis Recon outfit over multiple days for Idaho cutthroat trout, this is what we learned:
The Orvis Recon + Hydros Reel Combo Review
The Orvis Recon is a Made-in-America fly rod designed as a do-it-all workhorse. Of course, as the fly fishing world has evolved, do-it-all has changed considerably. Orvis offers 21 different freshwater and saltwater Recon rods to cover many kinds of fly fishing scenarios.
For trout, the most common do-it-all fly rod is a 9′ 5-weight, which is what we tested.
The cork handle is excellent, as you would expect from a Made-in-America rod, but the new reel seat with a burled wood insert really stands out. The metal is an anodized aluminum with a pewter finish that reduces glare and fish-scaring reflections.
The blanks are an understated matte olive green in the freshwater Recon rods. The saltwater versions get a sweet matte blue rod blank. At first, you might be put off by the lack of shine in your new Recon rod, but the matte design is aimed at helping you spook fewer fish.
The Helios-to-Recon Trickledown Tech
When Orvis created its popular Helios 3 fly rods, the company stopped trying to make a one taper fits all flagship rod. Why? Every fly fisher casts differently and has different needs and casting preferences. A fly rod that has great feel and casts delicate dries at short fish-stalking distances won't have the power needed for chucking hopper-dropper rigs against the wind.
Orvis' answer was to create two versions of its new Helios rods — the 3F and 3D. Think of the "F" for finesse while the "D" is for distance. Basically, the 3F will have a bit more feel and deliver softer casts more accurately, especially at short and midrange distances while the 3D will sacrifice a bit of close-in feel in favor of distance and power. The two different versions result in a whopping 27 options.
For fly fishers looking to buy a new rod, the 3F and 3D presents a bit a conundrum — which should I buy, the 3F or 3D? It's a classic "Presentation vs Power" decision. By offering those two options, Orvis helps you error toward the types of fishing you do most when buying an expensive flagship rod.
Enter the New Recon
Orvis designed the new fast-action Recon to fit in between the Helios 3F and 3D — basically, it's intended to have more power than the 3F but more feel than the 3D.
If a meet-in-the-middle compromise rod gets your attention, the Recon is for you — especially if your Made-in-America rod-buying budget means you're only going to get one new rod in the near future.
How Does the New Recon Cast?
The Recon is a fantastic casting machine. I love the blend of power and finesse and think Orvis did a great job.
At short range the Orvis Recon is very good — softer and more accurate than I was expecting.
At midrange casts around 40-50 feet, the Orvis Recon comes alive. Most fly fishers can handle these distances fairly well, and most trout fishing casts are in this range. For the 80% of trout fishing most of us will do, the Recon is going to feel great and deliver great accuracy. I was pleased and impressed.
When the wind kicked up and I was throwing a double nymph rig with a large strike indicator, I had no problem getting midrange distances.
For longer casts, you're going to have to pay a bit more attention to your casting stroke, which is pretty much what you have to do with every rod at long distances. At least, very few recreational fly fishers can cast well on autopilot beyond 65 feet or so. What I did notice and appreciate is that the Recon seemed to settle down and recover very well after distance casts.
What do I mean?
With cheaper rods, after a big cast you'll see and feel the rod wiggle around as the fly is settling on the water. Most fly fishers don't notice because they're busy watching their fly — which is what you should be doing. Because I was paying attention to this on purpose, I thought the Recon recovered well with great damping. The trickle-down Helios tech seemed to do its job.
Lots of different rods can load well, but to me, a great rod feels crisp and light at the end of a cast — and the Recon feels crisp and light.
Surprisingly, the new Recons are a bit heavier than the previous generation, but not by much. Orvis isn't publishing the weight of each of its rod versions, but in case you're wondering, the 9′ 5-weight review unit weighed in at a respectable 3.05 ounces.
Shop the Orvis Recon direct from Orvis and pair it with a Hydros Reel to make a combo!
Recon Price-to-Value Ratios
If you're considering the Orvis Recon, you likely care about buying rods that are Made in America. In addition, you're likely looking for a great rod that's a clear step up from entry-level and intermediate rods in the $200-300 range . . . but you aren't able or willing to drop $900 on a Helios rod.
With a list price of $498, the Recon comes in at a midrange+ price point. Is it a great buy? You get a clear step up from the Orvis Clearwater 9′ 5-weight in both performance and fit-and-finish. While I like the Orvis Clearwater quite a bit (Clearwater combo review here), give me a choice on the river and I'll pick the Recon to fish with any day. Why? The Recon is lighter, faster, and has better feel. It's definitely an excellent upgrade.
The question I can't personally answer is if a Helios 3F or 3D is twice the rod as the Recon. Maybe. If you have the budget, stop reading right now and just go buy a flagship fly rod. For the rest of us, we might do better by buying two different rods — say, a 9′ 6-weight for power and big flies and an 8'6″ 4-weight for smaller water and delicate presentations.
Or maybe you want a 9′ 5-weight to handle the vast majority of your dry fly fishing . . . and try out a new a 10′ 2-weight for some Euro nymphing. Or nab a saltwater 10-weight for stripers or bass or musky. Incidentally, you can get all of these rods in the 21 Recon options.
The point is, some fly fishers are better served by choosing multiple midrange+ gear — like the Recon — instead of just one flagship model.
The Combo Option with the Hydros Reel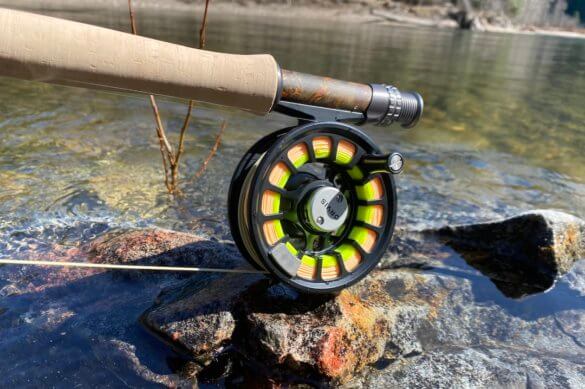 If you buy directly from Orvis, you can easily add the Orvis Hydros Reel and the new Orvis Hydros Fly Line to your order to create a combo outfit.
The new Orvis Hydros Reel is lighter than its predecessor, and features an improved drag with no start up inertia. The drag knob is easy to adjust on the fly, and it has great feedback. I very much like the new Orvis Hydros Reel. It promises to deliver excellent performance for the money — and it's definitely a big step up from the thoroughly decent Orvis Clearwater Reel.
If you want a Made-in-America reel, in addition to your fly rod, add the Orvis Mirage LT instead.
The Verdict
The Orvis Recon is an excellent all-around fly rod that's Made in America. For most fly fishers, it will get the job done for the vast majority of fishing situations. It's an excellent midrange+ upgrade, and if you're looking for a super-capable backup or speciality rod, you can't go wrong with the Orvis Recon. Pair it with the Orvis Hydros Reel for a well-matched combo. Very highly recommended.
Get the Gear:
Check shipping/pricing: Aventuron | Avid Max | Fishwest | Orvis | Trident Fly Fishing
Benefits
Great blend of feel and power
Excellent fit and finish
25-year warranty
Drawbacks
No real drawbacks at this price point.