Disclosure: Man Makes Fire is reader-supported. When you buy gear using retail links on our site, we may earn an affiliate commission that helps pay for our work. Learn more.
The Engel HD30 soft-sided cooler is rugged and delivers outstanding ice retention. In addition, it's surprisingly lightweight.
To get us a closer look at the HD30, Engel sent Man Makes Fire a review unit. This is what we learned:
Engel HD30 Review
Engel has been an industry leader in the hard-sided rotomolded cooler space for more than a decade, so it should be no surprise to see a great soft-sided cooler from the company, too. The overall performance of the Engel HD30 is excellent — and we'll get to that — but I want to take a moment for something else entirely: looks.
I have to say, most photos of the Engel HD30 don't do this cooler justice. I was surprised at how handsome and stylish the Engle HD30 looks when you get it outside in good light. Seriously, you might not recognize it from online retail photos, but in person, the HD30 is a good-looking soft cooler.
This in-person impression is no doubt fueled by the excellent build quality throughout. The attention to detail around the stitched handles is robust, and the welded seams are clean and proportional. In fact, the extensive use of welded seams is a design detail that separates Engel from most other soft coolers.
Most excellent soft-sided coolers use fully-sealed interiors, but some then allow stitched seams on the exterior, which can let warm air get inside the insulating area. By using welded exterior seams, too, there is no air leakage at all. This, along with a generous thickness of insulation, helps with ice retention. Engel claims the HD30 can keep beverages cold for 4.5 days in 90° temperatures — and while we don't doubt it, our real-world use gets us three days with little effort.
In fact, the Engel HD30 is the easiest soft-sided cooler we've used to keep drinks cold over multiple days.
Superior Chill
There are four keys design features that help make the Engel HD30 delightfully effective at ice retention:
The Engel HD30 has one of the thickest layers of closed cell foam insulation out there — it's about 1.5 inches thick.
The rugged shell and interior have welded seams, which helps prevent exterior air from entering and moving around the insulation.
Engel's patent pending Vacuum Valve technology lets you suck air out from between the interior layers, which removes intra-layer air flow and lets the foam insulation do its job.
The waterproof zipper design seals out air, plus it remains in a mostly closed position when opened, reducing the influx of warm air when you need to retrieve a beverage.
Shop all coolers from Engel and get free shipping on orders over $100 in 48 states!
Meanwhile, plenty of people do silly things with coolers and blame the cooler. If you want good results, keep all coolers out of direct sun. Cover them with a towel if you have to. Next, start with cool contents. If you start with room-temperature drinks and throw a bag of ice over it, most of your ice will melt just to bring down the temperature of the drinks. Think of it this way: ice is best used to keep things cold, not make them cold. Last of all, use an appropriate amount of ice for the items and duration of coldness you desire.
Massive Capacity Yet Surprisingly Lightweight
The Engel HD30 can hold up to 48 cans of beer or soda. It has a 32 quart capacity, which is 8 gallons, and it can hold over three ten pound bags of ice. It is a full-size soft cooler.
At first glance, the Engel HD30 seems bulky. The exterior dimensions are 20″ x 10″ x 16″. However, at just 5.25 pounds, it's surprisingly lightweight. Some of our female gear testers particularly liked the initial start weight. In comparison, some small rotomolded hard-sided coolers start out at 15 pounds empty. Of course, if you completely fill the HD30 with beverages and ice, it gets heavy — but that's not the cooler's fault.
To make carrying a fully-loaded HD30 easier, Engel created three carrying options. The first is a standard removable shoulder strap. The second is a standard set of tote-style handles. The third are grab handles on the sides, which are the handles I appreciate most. They let two people carry the cooler together, if needed, plus they're great for retrieving the cooler when it's packed into a vehicle.
You also get multiple tie-down points if you need to secure the cooler.
There is one water-resistant exterior pocket, which is good for small odds and ends like your car keys. Oh, and the removable bottle opener is very much appreciated, too.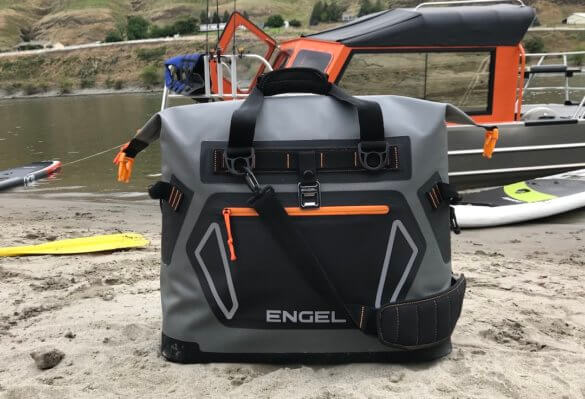 Usability
The Engel HD30 looks bulky but performs better than the full-size capacity suggests. Because it's reasonably tall and narrow in design, it packs into vehicles particularly well. And because it's only 10 inches wide, it's easy for a grown man to carry. Fully loaded, smaller adults and kids can use the grab handles and carry it as a team — just like larger hard-sided coolers.
The waterproof zipper design is both a pro and a con. As a pro, the zipper is in a straight line and it's easy to zip and unzip. When the top of the HD30 is open, only a small gap is created, which helps keep much of the cool air inside the cooler. If a kid leaves the cooler open for a few minutes, it's not as tragic as it can be with other lid designs.
On the other hand, the narrow zippered opening means you need to use two hands to load the HD30 with odd-sized food containers. Or to see inside to find the right beverage, you need to spread the gap. While this is a minor annoyance, the zipper actually opens wider than most other satchel-type cooler bags.
Engle HD30 Review: The Verdict
The Engel HD30 is one of our favorite soft-sided coolers. We were surprised at how handsome the bag is in person, and despite the large capacity, we are pleased with the multiple carry options. Best yet, the Engel HD30 is very well insulated and makes it easy to keep drinks cold for multiple days. While you can also get good ice retention results from competitive high-end soft coolers, you don't have to pay as much attention with the HD30. The thick insulation and zippered opening design help protect you from user error, which we appreciate. Ultimately, when we need a high-capacity soft-sided cooler where ice retention is critical, we find ourselves taking the HD30. Big fans here. Very highly recommended.
Get the Gear:
Engel HD30 – direct from Engel, multiple color options, and free ground shipping in 48 states
The Engel HD30 is also available from Amazon with free shipping.
Pros
Excellent ice retention capabilities
Large capacity
Excellent build quality throughout
Cons
Zippered opening design excels with beverages but is harder to use one-handed with odd-sized food containers