Disclosure: Man Makes Fire is reader-supported. When you buy gear using retail links on our site, we may earn an affiliate commission that helps pay for our work. Learn more.
The Grizzly Drifter 20 is one of the best soft-sided coolers we've tested this year. It's durable, versatile, works well, and it's priced right. Better yet, if you're looking for a cooler that oozes testosterone, the Grizzly is your best choice.
To get Man Makes Fire a closer look, Grizzly Coolers sent us a review unit. This is what we learned:
Grizzly Drifter 20 Soft Cooler Review
First off, the Grizzly Drifter 20 doesn't look like all the other well-made soft-sided coolers, and we appreciate the effort that goes into bucking the status quo. In fact, of all the best soft-sided coolers we tested this year, the Grizzly Drifter 20 is the most unabashedly masculine. And, interestingly enough, the Grizzly Drifter 20 inspired several comments about the rugged-looking durability and its looks . . . that other coolers we've taken out and about this year have not.
But looks are far from the whole story: The Grizzly Drifter 20 has a surprisingly versatile and well-thought out overall design. Let's start with the exterior.
Grizzly Coolers includes three pockets on the exterior — a front fold out pocket, a front-side long pocket that's designed to hold a drink or insulated mug, and a rear zippered pocket.
The top of the cooler has a removable fabric top that you can use to stuff a towel or jacket underneath. On one day out, I stuck a stack of paper plates underneath it on the way down to the beach.
You also get a built-in bottle opener and two tie-down lashing points in the back.
The top and bottom feature a thick and rubbery molded EVA lid and base. The result is tough and stable but somewhat cushy, too. The inside of the lid includes yet another pocket, this one mesh. You could slip utensils in there or an ice pack.
The thick sides are made from EVA foam insulation, and the main interior liner is waterproof — but the easy-open heavy-duty zippers around the lid are not waterproof. And this brings up an interesting design choice: Grizzly Coolers includes a waterproof removable TPU roll-top liner.
Grizzly Drifter 20 Soft Cooler Review: A Removable Waterproof Liner?
The included removable waterproof liner lets Grizzly use easy-opening zippers — as opposed to difficult to open and close waterproof zippers — while still giving you the option to create a fully waterproof interior. The liner works like a dry bag: All you have to do is fold over the top of the bag a few times and then connect the clasps at each end together.
This waterproof liner also improves the ice-retention capabilities of the Grizzly Drifter 20 if you're looking to maximize the lifespan of your ice. How? The burly zipper doesn't completely seal out air like a waterproof zipper, so any tiny air leakage over time is going to have a small effect. The inner liner seals out any air that might leak in. And if you tip the cooler over and leave it tipped over, your cold water from melting ice won't leak out either.
Alternately, if you have some food you want to keep dry, you can place it in the liner and seal it up like a dry bag.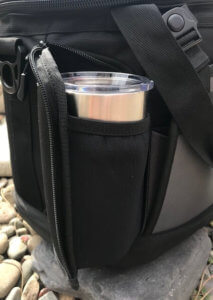 As it turns out, for most day trips, we haven't bothered with the waterproof liner — the base is waterproof like a bucket and we don't tip over our coolers very often. Besides, we're usually nabbing drinks and food pretty often, so multi-day ice retention isn't needed.
When you do need your ice to last overnight into the next day, make sure you use a smart ratio of ice to drinks and start with cold drinks. In our in-the-field testing, we retained ice well into day two while still using the Grizzly Drifter 20. Because the Grizzly Drifter 20 is all black, we made sure to leave it in the shade most often or toss a shirt or towel over the top to help reduce absorption of heat from the sun's rays.
On the other hand, you could kick the black Grizzly Drifter 20 down a dirt trail and the black won't show the mess. Hose it off and it still looks black.
Grizzly Drifter 20 Soft Cooler Review: Durability & Verdict
Speaking of durability, the exterior is made from a ballistic polyester shell. Grizzly says it's waterproof, and it certainly sheds water, but I'm not sure if it's truly waterproof along each stitched seam. Maybe. Either way, it's tough and looks great. I really like the TPU molded top and bottom.
One last point, the Grizzly Drifter 20 has some of the best standard handle straps we've seen on a soft cooler to date: They're a bit longer than usual, which makes the cooler easier to carry under load. Shorter straps introduce a more exterior tension on your grip while longer straps result in a more downward tension overall. When you fully load the Drifter 20, you'll appreciate the extra thought that went into the straps. (The Drifter 20 also comes with a removable shoulder strap.)
All-in-all, the Grizzly Drifter 20 is a rugged, great-looking soft cooler. Its 20-quart capacity makes it large enough for most day trips and some overnighters, while it remains small enough to be a large lunch box cooler for those who work long hours and need plenty of fluids. The removable waterproof liner gives you the best of two worlds — you get easy-to-use zippers with a truly waterproof option. The ice retention in real-world usage is very good, particularly if you keep the black version out of direct sun — but as with all soft coolers, you still need to start out smart with cool items and a reasonable amount of ice. On the other hand, in our last test on an impromptu trip to the river, we filled it with seven warm drinks and three medium reusable ice packs . . . and enjoyed cold drinks a few hours later. Highly recommended.
When you buy gear using links in our posts, we can earn an affiliate commission that helps pay for our work — see below for more detail.
Get the Gear: