Disclosure: Man Makes Fire is reader-supported. When you buy gear using retail links on our site, we may earn an affiliate commission that helps pay for our work. Learn more.
The YETI Roadie 24 hard cooler is an updated and improved version of the popular YETI Roadie 20 cooler. It's super rugged, bigger but lighter, and it's ready for most any adventure.
To get us a closer look at the YETI Roadie 24, YETI sent Man Makes Fire a review unit. This is what we learned during our long-term testing and review process:
YETI Roadie 24 Review
I wasn't always a YETI Roadie fan.
My first experience with a YETI Roadie 20 — not the newer 24 — was archery elk hunting with a buddy during a particularly hot September. At first, I thought the YETI Roadie 20 was heavy, overbuilt, and couldn't do what my coveted soft coolers could do. I was wrong. It turned out the Roadie 20 did a fantastic job of keeping our lunch and drinks cold all day long — even when it got left in the hot cab of a pickup in direct sun.
Better yet, we could throw the rugged YETI Roadie into the bed of a pickup — with an ATV and tools — and we didn't have to worry about it getting crushed or punctured along the way. The hard-sided Roadie is a worry-free cooler. During several outings in September, I became a Roadie fan.
The new YETI Roadie 24 update retains the same rugged awesomeness of the original, but it's now 10 percent lighter and holds 20 percent more food and ice. In addition, YETI says it performs 30 percent better thermally than the Roadie 20.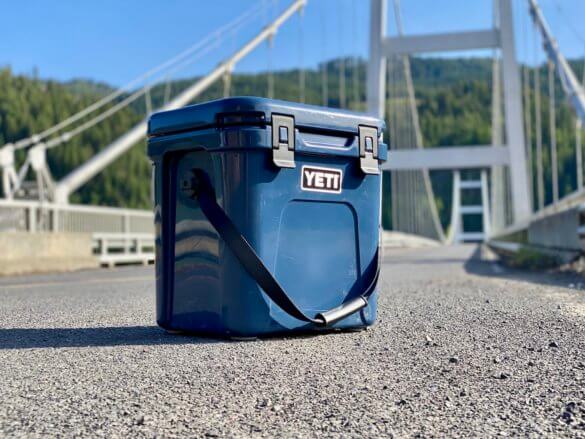 Those are impressive gains, but you're probably still wondering, is the Roadie 24 right for me?
Key Changes
The new YETI Roadie 24 is taller, a bit narrower side-to-side, and only 3/8″ deeper front-to-back. The overall footprint is similar but the interior gives you more packing options.
The interior height can now handle an upright bottle of wine or even a couple of upright 2L bottles of soda. We believe that the key to a great cooler is usability and packability, and the new YETI Roadie 24 is more usable and packable than ever before.
The new latches are also easier-to-use, and I like them. They feel nearly as secure as YETI's stout rubber latches, but they're far easier to open and close with one hand. Note: They're not bear-proof, and you can't padlock the cooler shut like you could with the previous version Roadie 20.
The Handle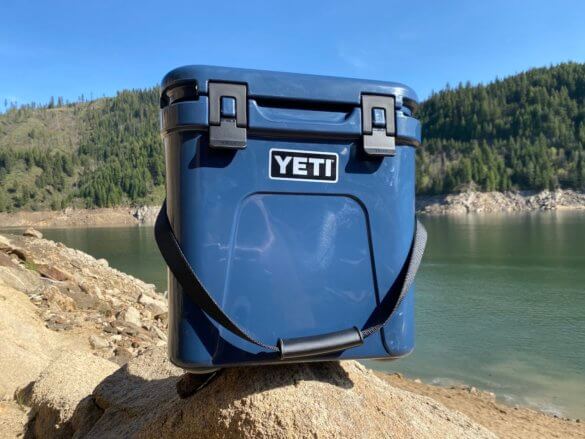 The new Roadie 24 handle is a nylon strap with a plastic-like sliding grip. It feels good in the hand. It's lightweight and functional. Any drawbacks?
Sort of. The strap falls to the front or the back when you're not using the cooler, and if you're standing near it and looking down, it's hard to see which side the strap is on. It can be hidden by the shape of the Roadie 24 itself. You have to change your angle or bend over to find the strap — and you'll get it wrong 50 percent of the time. It's a minor quibble.
To clarify what's going on here, the overall shape is largest at the lid and smaller at the foot. Check YETI's excellent Dimensions and Specs drawing of the exterior and interior measurements here.
One more strap point: The carry handle is not meant to be a shoulder strap (but you could make one yourself with 1″ webbing material if you wanted to).
Chill Power
The YETI Roadie 24 is a rotomolded cooler with pressure injected polyurethane foam insulation and a freezer-grade seal on the lid. It's a cold-keeping marvel.
The biggest benefit of the extra space in the Roadie 24 is that it lets you carry more food and drink with more ice. Or the same amount of food as before . . . but with more ice. YETI recommends an 2:1 ice-to-can ratio for optimal cooling power, but let's get serious here: We rarely bother with that much ice when we're day tripping to the beach or river unless it's wicked hot and we plan to be in the sun on a beach.
If you do pre-chill the cooler like YETI recommends and use the right amount of ice, you should be able to get a couple of days of ice retention, easily. It all depends on how you want to load it up. You can freeze a gallon jug of water instead of cubed ice for a drier experience — or use YETI ice packs.
We frequently use ice packs for day trips because it lets us keep food cool without needing to bag it to prevent it from getting wet from melting ice. For optimal ice retention results, you should take a look at YETI's tips and tricks guide.
In case you're wondering, the YETI Roadie 24 can hold 18 cans of beer when using a 2-to-1 ice ratio.
Roadie 24 Review: Buying Advice
The most important decision factor when it comes to buying a cooler isn't ice retention — it's the form factor of the cooler and how it fits the things you like to do most. The YETI Roadie 24 fits behind car and pickup seats, which is handy — but so do soft YETI coolers.
Soft YETI coolers are better for packing on seats and tend to fit better when packing in difficult situations. They're also much lighter for carrying. The Hopper Flip 18 weighs just 5.1 lbs. The larger YETI Hopper Backflip 24 is a soft-side cooler backpack that's great for carrying heavy loads — read our Backflip Review here — and it only weighs 5.3 lbs. The YETI Roadie 24 starts out at 12.8 lbs.
Is that weight and ruggedness worth it to you?
The YETI Roadie 24 has two benefits you don't get with soft coolers: You can sit on the rugged Roadie 24. The 17.5 inch height makes a great impromptu roadside seat.
The second benefit is that you can open and close the YETI Roadie 24 with one hand. Typical waterproof zippered coolers require two hands. (For some thoughts on the similarly sized Tundra 35, skip to the YETI Roadie FAQ portion below.)
YETI Roadie Alternatives & Competition
If you're considering a YETI Roadie 24, you're probably looking for a relatively small but high-quality hard-sided cooler. While YETI is the market leader, some manufacturers have noticed how popular the Roadie series has been and are now making competitive small coolers, too. If you're not quite sure about the YETI Roadie 24 form factor, consider these alternative day-trip cooler options:
Cabela's Polar Cap Equalizer 22-Qt Cooler — The Cabela's Polar Cap Equalizer Coolers are very competitive hard-sided coolers (read our Polar Cap Equalizer review here). One benefit to the larger Polar Cap Equalizer coolers are the built-in molded handles — but those handles are also a drawback because they take up extra space. The Polar Cap Equalizer 22-Qt version, on the other hand, doesn't have the extra side handles. Consequently, it has a trimmer design that fits into more places.
Engel 25 High-Performance Cooler — This roto-molded hard-sided cooler has a 21-quart capacity and can hold ice up to 8 days. It's also IGBC-certified bear resistant (the Roadie 24 is no longer bear-proof).
RTIC 20 QT Hard Cooler — The RTIC 20 QT Hard Cooler has a form factor that most closely resembles the original YETI Roadie 20. It has a metal handle, up to 3″ thick insulated walls, is bear-resistant, and you can also buy an accessory basket. Plus, it includes a drain plug. The new YETI Roadie 24, on the other hand, no longer has a drain plug.
Pelican 14QT Personal Cooler — At 14 quarts of capacity, this Pelican option is quite a bit smaller than most 20-quart options in this segment. However, if you're looking for a rugged cooler that's a bit smaller, Pelican packed in the features, including a dry box in the lid for electronics or car keys, a removable tray to keep food dry inside the cooler, and a built-in bottle opener that has a magnetic bottle cap catcher. You might not think that's cool, but go to Pelican's 14QT page and watch the video for yourself!
Igloo BMX 25-Quart Cooler — The Igloo BMX is not as rugged as the competition above, but it is highly insulated and comes in at an inexpensive price point.
The Verdict: Outstanding
If there is one thing I hope you get out of this review, it's that you don't write off the little hard-sided YETI Roadie 24 — you'll likely appreciate it far more than you realize. You can take the Roadie 24 anywhere and it will work fantastically well. In fact, at $199~ the Roadie 24 offers outstanding value compared to YETI's soft-sided HOPPER lineup, which typically costs as much or more. The YETI Roadie 24 is surprisingly usable, super efficient, and rugged. Very highly recommended.
Get the Gear:
Check shipping/pricing:
Amazon | Bass Pro Shops | Cabela's | REI | YETI
Benefits
Super rugged
Excellent insulation and ice retention
Size is surprisingly useful (and better than the Roadie 20)
Drawbacks
It's a bit heavy
YETI Roadie 24 FAQ:
Is YETI discontinuing the Roadie 24?
No, YETI is not discontinuing the Roadie 24. Previously, YETI discontinued the smaller YETI Roadie 20, which had a rigid metal handle. YETI replaced the Roadie 20 with the slightly larger and taller Roadie 24.
How long does the YETI Roadie 24 keep ice?
In our testing and experience with a 2-to-1 ice-to-contents ratio, the YETI Roadie 24 will easily keep ice and contents cold for two days or 48 hours. Of course, ice retention depends on temperature and usage. If you frequently open your cooler on hot summer days, your ice retention will go down. Similarly, with a pre-chilled cooler, contents, plenty of ice, and reasonable outside temperatures, we've gotten the Roadie 24 to keep contents cold up to 4 days. Check out YETI's handy guide to ice retention to learn more.
How much can you fit in a YETI Roadie 24?
With ice included, the YETI Roadie 24 has a can capacity of 18 cans. YETI recommends a 2:1 ice-to-can ratio for optimum cooling performance.
Is the YETI Roadie 24 made in the USA?
The YETI Roadie 24 is not made in the USA. However, some of YETI's Tundra Coolers and all of YETI's LoadOut Cargo are manufactured in the U.S.
YETI Roadie 24 vs Tundra 35: Which is better?
The YETI Tundra 35 is slightly larger than the Roadie 24: The Tundra 35 will hold 21 beer cans with a 2:1 ice-to-can ratio while the Roadie 24 will hold 18 cans with the same ice ratio. One drawback to the Tundra 35 is that it is 7 pounds heavier than the Roadie 24. One key benefit of the Tundra 35 over the Roadie 24 is the inclusion of a drain plug — the Tundra 35 has a drain plug while the Roadie 24 does not. One benefit the Roadie 24 has over the Tundra 35 is the one-handed carry strap: You can carry the Roadie 24 with one hand while the Tundra 35 requires two-handed carry. If you plan to carry your YETI hard cooler quite a bit, choose the Roadie 24. If you plan to primarily stow your YETI hard cooler on a boat or in a UTV or vehicle, choose the YETI Tundra 35.
Are there any great YETI Roadie 24 accessories?
Our favorite YETI Roadie 24 accessory is the Roadie 24 Hard Cooler Basket. It lets you suspend contents above icy water inside the cooler.