Disclosure: Man Makes Fire is reader-supported. When you buy gear using retail links on our site, we may earn an affiliate commission that helps pay for our work. Learn more.
Finding the best gifts for fishermen, fisherwomen, and kids might seem hard at first — after all, it's tough to choose specialized fishing gear for hardcore fishing fanatics. But that's why we recommend cool, unique and useful fishing gifts that most any fishing enthusiast can appreciate.
Best Gift Ideas for Fishing Enthusiasts: Our Guide
We take pride in our gift guides because we not only recommend a can't-go-wrong fishing gift, we also tell you why our choices make cool gifts for fishermen, fisherwomen and kids.
Most of our fishing gift recommendations angle toward more general gift ideas that will fit for most fishers, but it's possible that your fishing fanatic is a more specialized fisher. For instance, if you're looking for fly fishing gifts, check out our guide to the best fly fishing gifts. Alternately, consider our epic guide to camping gifts if your fisher is also a camper.
Meanwhile, let's dive into our fishing gift recommendations for 2021!
Table of Contents:
Top 10 Best Fishing Gifts for 2021
The Gerber Salt Magniplier is an excellent midrange fishing plier, and the 'Salt' version is made from anti-corrosive materials that can fend off harsh saltwater use. If your fisher is freshwater only, you can save a bit by opting for the non-salt version. So why is the Gerber Salt Magniplier so good for fishing? The handle design works well for engaging the pliers and creating a strong grip, and we really like the oversized finger choil, which makes handling the pliers easy. The built-in nippers are strong enough to easily cut through tough line — but they're also fine enough to cut very light tippet. The Magniplier comes with a tether and a holster. Overall, the price-to-value ratio of the Magniplier is great, which is why it gets our recommendation.
Pros
Salt version is made from corrosion-resistant materials
Ergonomics work well
Line cutter works well
The new O'Pros 3rd Hand Rod Holder was our number one pick for a fly fishing-specific fishing gift this year, and for good reason — it works great. While it was designed primarily for fly fishers, it also fits many spinning rods. If your fisher wades into rivers and lakes and fly fishes or uses spin fishing gear, the O'Pros 3rd Hand Rod Holder will make a great fishing gift.
The iBobber is one of the best fishing gadget gift ideas we've seen in a long time — because it's useful, too. What does the iBobber do? It's a wireless fish finder that scans underwater and sends details back to your smartphone. Like a full-size fish finder, the iBobber can help a fisherman "see" underwater topography and identify fish and their depth, up to 135 feet deep. So cool.
The Shelta Sun Hat series is far and away our favorite sun hat for fishing. It was originally made for surfers who needed sun protection and a stiff brim that wouldn't fall into their eyes when it was wet or windy. Since its invention, Shelta has earned kayaking, rafting, and fishing fans. We think the Seahawk is the best all around model for fishing, but the Raptor's slightly more streamlined sides are great, too. For more detail, check out our full Shelta Hat Review. Meanwhile, what size? If you're not sure, don't worry — when you order from Shelta direct, you get free U.S. shipping on all orders over $65 and free shipping on U.S. returns, too. Also available from Amazon.
Sometimes fishers like a little pop of color or a cool design that reminds them of fishing. Enter the fishing belt. We like the bright trout series from Croakies, but hey, other belts with fishing designs will likely be appreciated, too.
Shop all 'Fishing Gear' at Walmart.com and get lots of FREE Shipping and free in-store pickup options!
A good fishing backpack lets a fisherman or woman keep plenty of fishing gear ready to go. Plus, it lets them walk off the beaten path to get to better fishing . . . and pack a lunch. The great thing about fishing packs is that they work for any kind of fisher who walks more than 50 yards to get to a fishing spot. We like waterproof fly fishing packs for hardcore anglers, but non-waterproof options come with more pockets and organization. To learn more, check out our guide to the best fishing backpacks. See also:
The River2Sea is an exciting topwater bass lure. It has a rotating tail that slaps the water, drawing the attention of aggressive bass. Because it floats, you can stop and start your retrieve to mimic an injured fish and trigger awesome topwater strikes. The River2Sea Whopper Plopper makes great stocking stuffers for bass fishermen and women. All the colors work pretty well, but the Original, Loon, Shad, and Munky Butt versions seem to be most popular.
Fishing sling packs have taken the fly fishing world by storm, but they're also great for any fisher who, again, likes to get off the beaten path and explore rivers and lakes. Sling packs are lighter than backpacks, but also have a nifty trick — you can simply rotate them around in front to get access to fishing gear and fishing accessories. When you're done, you can rotate a sling pack back out of the way behind you. They're pretty cool, and the Allen Company Cedar Creek Sling Pack is very affordable. Check out our guide to the best fly fishing sling packs to learn more. See also:
If your fisherman, fisherwoman or kid fishes mostly for trout, catfish, and the occasional warm-water pan fish, like perch, then a spinning reel could make a great fishing gift. Many beginner reels from rod & reel combos aren't very good, so a moderately-priced upgrade could deliver a nice step up. The new Bass Pro Shops Formula Spinning Reel boasts a 10-bearing system with 9 double-shielded stainless steel ball bearings. The result is a smooth performance most anyone can appreciate. (BTW, don't worry about the gear ratio, scroll down to the product list options to add to your cart. The smallest reels are usually at the top, largest at the bottom. The FMA20 or FMA30 will fit most spin fishing needs.) If you need your spin-fishing gift to drop in under $30, try the Shimano Sienna FG Spinning Reel.
The Abu Garcia Silver Max Low Profile Baitcasting Fishing Reel is a great reel for both beginning bass fishers and more experienced bass fishers who could use a backup or buddy reel. These types of reels can be used for all sorts of fishing, but they tend to excel in bass fishing environments where a caster might need to stop a cast from going too far into weeds or brush. It's smoother than most entry-level baitcast reels and is generally a pretty good deal. For about the same price, also check out the Bass Pro Shops Tourney Special Baitcast Reel — or nab the Tourney Special Combo to get a rod, too. Oh, one more thing: A "left-handed" reel simply means that the reel handle is on the left side. Most right-handed fishers these days tend to prefer so-called left-handed baitcasting reels (and vice versa).
HUK Fishing Shirts!
If your fisher fishes in hot summer sun, it's hard to beat Huk Performance Fishing shirts — just don't pronounce it like "huck." Pronounce it like "hook" and you'll be legit, too.
Fishing Gifts for Dads — and Fishermen Who Have Everything!
If you're having trouble finding a gift for a fisherman who has everything, consider fishing accessories. Often, gear related to fishing is the way to go:
Remember the O'Pros 3rd Hand Rod Holder above? Well, the Smith Creek Rod Clip is our second favorite rod holder. Instead of needing a belt, the Smith Creek Rod Clip attaches to a vest, jacket, or life vest. To use it, the interior foam rubber securely grips a fishing rod's blank. The weight of the reel points the rod upright. It works great for a wide variety of fishing rods, letting you use the clip when you need two hands to tie on another lure, remove a hook from a fish, or even just snap a photo without putting your rod at risk by placing it on the ground. Why does it make a particularly cool fishing gift? Most fishers don't have one yet.
One of the coolest fishing gifts is the Measure Net. Its claim to fame is the ruler markings that are built into the net itself. After you net a fish, all you have to do is note the number at the tail and the number at the head and add them together to get the fish's length. It's just awesome. It comes in a variety of sizes. Get the Medium for most trout fishers and the extendable Large for most everyone else.
The benefit of an inflatable life vest is that you might be able to get obstinate fishermen to wear it. If your fisher fishes from boats and sometimes goes without a life vest, an inflatable vest can do its job and stay out of the way in case an accident happens. We also like the Bass Pro Shops M16 Manual Inflatable Belt Pack — for those fishers who are hard to convince to wear a vest!
If your fishers like to clean and eat their catch, there's a good chance they're going to get smelly hands. And depending on the type of fish, that smell can be . . . powerful. This is where special soap can save the day. St. Inky's De-Fishing Soap can remove fish and bait smells, as well as clean cutting boards and help with other odors.
The fishing hip pack is one of our favorite types of fishing gear. Hip or waist packs are large enough to carry tackle and fishing accessories but small enough to stay out of the way. Plus, most larger hip packs now come with shoulder straps that can help balance the load. Like a sling pack, when you want to access fishing gear, all you have to do is rotate the pack around to the front for easy access. Fishing hip packs make cool fishing gifts for anyone who likes to walk or wade while fishing. For an upgrade, go with the Fishpond Thunderhead Submersible Lumbar Pack.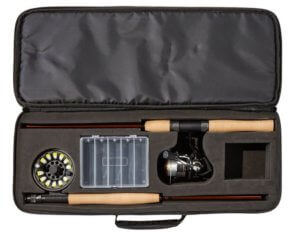 The super packable L.L.Bean Spin/Fly Outfit includes two complete rod and reel outfits that come in a padded case you can keep in your vehicle or travel with. It's great for experienced fishers who want to keep a package fishing rod and reel handy, no matter where they end up. And it's great for beginners because they get two rod and reel outfits to fish with. For us, it's the kind of kit that's great when your fisher is bored at the in-laws house . . . because he or she could slip away to fish a local waterway. And that could be a win for everyone!
When you're fishing, it can be hard to see into even clear water when there is glare from the sun on the surface. Polarized sunglasses cut through glare the best, letting your fisher spot fish beneath the surface. In addition, polarized glasses can help a fisher see the bottom of a lake or river in clear water, which can help when it's time to decide where and how to fish. Here are our favorite polarized sunglasses in three different price points:
The KEDSUM Portable Camping Shower is, of course, great for camping off-grid, but it also really shines for fishermen and fisherwomen. It's basically a battery-powered hose that pumps water whenever you need it. You can use one of these devices to help clean your catch or clean off your gear. How does it work? Turn on the pump and submerge the pump in a bucket of water — or warm water for a shower. It's a great fishing gadget gift idea for any fisher who also likes to go camping. The extra spray nozzle makes it good for spraying off fishing waders, wading boots, and any gear that might have been exposed to harsh saltwater.
Fishing Gifts for Her
If your fisher is a woman, check out FisheWear. The small company out of Alaska makes brightly colored and patterned leggings, accessories and packs. The Fishe Leggings, for instance, come in patterns like Groovy Grayling, Troutrageous Rainbow, and Abstract Char.
Remember FisheWear above? Their partnership with Orvis has resulted in a sweet set of fishing packs.  A good sling pack is a splurge kind of item, so they make great fishing gifts, particularly for those who fly fish.
These trout prints and stickers aren't just for women fly fishers, of course. They're produced and sold by Taylor Joyce who is indeed a woman fly fisher. Check out her @taylor_joyce Instagram account for plenty of great fish pics. In any event, her affordable Mountain Brown Trout Print is pretty great, and if you're looking for a stocking stuffer or an add-on gift, be sure to check out her sticker options, including the Trout Bum Sticker Pack.
Orvis's 50/50 On the Water program promotes, inspires, and celebrates women fly fishers, and it's backed by Orvis, which does a great job of developing gear designed for women. Here's an example: Orvis offers three women's wader options at different price points. If you want to support the 50/50 effort, nab an Orvis 50/50 t-shirt or hat!
More Women's Fly Fishing Gear Options:
Fishing Gifts for Kids
Most any inexpensive fishing tackle is great for kids because they don't already have a lot of fishing gear. Tackle boxes, fishing lures, and rod and reel combos are always winners with kids.

It's hard to go wrong with classic, hardshell 3-tray tackle box!
The Bass Pro Shops Extreme Series Wide-Top Tackle Bag is a great upgrade from old-school plastic tackle boxes. While it's great for kids, it's also next-level ready for adults, too. You get four internal boxes to help fishers organize and safely store lures, hooks, weights, swivels, and more. Plus, the exterior pockets offer more organization capabilities.
If your fishing kid wants to try fly fishing, there's no better way to start than with a practice fly rod. Fly fishing is more about timing and rhythm, and it takes practice to get it right. If the Redington practice rod is sold out, try the Orvis PractiCaster.
The Bass Pro Shop Practice Plug comes in a few different sizes. It lets a child or beginner practice casting in the backyard without fear of hooking anything.
Fishing Gift Stocking Stuffers
This fishing stocking stuffer idea contains an assortment of lead-free sinkers. And sinkers, of course, are weights that you attach to your line to get your lure and bait down to the fish. They're sometimes handy — and sometimes critical to catching fish. Sinkers are an evergreen sort of fishing stocking stuffer, welcome by most recreational fishers.
The Loon Outdoors Rogue Quick Draw Forcep is our favorite forceps for fly fishing, but they work great for any trout fishing where a hook might be hard to reach in a fish's mouth. This forcep acts like narrow pliers that let your fisher quickly and safely remove hooks. And the built-in carabiner lets them attach this cool fishing accessory to tackle bags or belt loops so it's always handy.
Unique Fishing Gift Ideas
The Bass Pro Shops Lunker Lounger Fishing Chair is great for fishers who like to hang out for the day on the bank of a river, lake or pond. It has two cup holders, a side gear organizer pocket, and get this, two adjustable rod holders built into the chair. 
The Bass Pro Shop Odor Bar is nearly magic. It removes fishy odors when you use it to "wash" your hands in water. It neutralizes fish and bait scents. It's not soap, and it's non-polluting. Comes in a two-pack, which also makes it a great stocking stuffer.
Fly Fishing Gift Ideas
If your fisher wants to get into fly fishing, the Redington Crosswater Fly Combo is an excellent beginner fly rod and reel. It's very fishable, comes with fly line, a reel, and a rod/reel combo case. For trout, the most versatile size is a 9′ 5-weight, 4-piece rod and reel combo. To learn more, including upgrade options, check out our guide to the best fly fishing outfits.
If your fisher doesn't already have waders, the Frogg Toggs Hellbender Stockingfoot Waders are our favorite entry-level wader. They have an excellent price-to-value ratio. If you want to upgrade, though, be sure to check out our guide to the best fishing waders. One last note: For the best fit and versatility, we prefer stockingfoot waders that also require wading boots (see below), but if you think your fisherman or woman would rather have booted fishing waders, you can get the Hellbenders with built-in boots.
Simms makes some of the best wading gear in the world, which is worn by fishing guides everywhere. The entry-level Simms Tributary Wading Boots come in at an excellent-price-to-value ratio — and they're tough, too. If you're on a super tight gift budget, try the Cabela's Ultralight Wading Boot . . . but we can't really recommend any boot that falls below the Cabela's price point. Why? In our experience, cheaper boots always fall apart and ruin fishing trips. Sorry. Stick with the brands we recommend in our guide to the best wading boots, and you won't go wrong.
There are many great fly fishing dry fly floatants on the market these days, but Gehrke's Gink has been floating flies for years. It just works and is a classic powerhouse. For an upgraded stocking stuffer fishing gift, try the Loon Outdoors Combo Pack which includes a fly floatant holder and both a gel and powder floatant.
If your fishing enthusiast might like to get into fly fishing — but doesn't know where to start — The Orvis Guide to Fly Fishing has you covered. Written by the legendary Tom Rosenbauer, the book is good for both newcomers and experienced fly fishers who might want to brush up on their knowledge.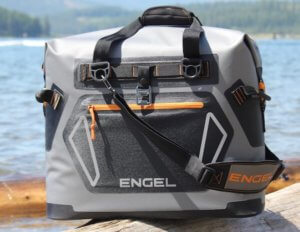 One way or another, your fly fisher will spend the day, if not days, outdoors and off the beaten path. So a high-quality cooler will always make a great gift. Some of the best soft coolers are waterproof and do a great job of keeping drinks cold — for more detail, check out our guide to the best soft coolers. Meanwhile, the hard-sided YETI Roadie 24 is surprisingly great — and you can sit on it, which is handy when you're taking off your wading boots.
Check shipping/pricing:
Ice Fishing Gift Ideas
Check out the wide selection of ice fishing gear at Bass Pro Shops — and get free shipping on most orders over $50.
Bonus Fishing Gift Ideas! 
The Intex Mariner 3 inflatable boat has the best price-to-value ratio of any inflatable fishing raft we've ever seen — other than the slightly larger Intex Mariner 4, of course. The durability at this price range is truly excellent, and the packable hard floor system gives you a stable surface for fishing. The included oars and oarlocks work surprisingly well, but you can also add on the Intex Motor Mount Kit to let you mount an electric trolling motor. The Intex rafts pack down for easy storage and travel. Seriously, if you're looking for an inexpensive inflatable fishing boat, the Intex Mariner 3 or 4 is awesome for the price point.
The L.L.Bean Manatee Angler Kayak is a special fishing version of L.L.Bean's bestselling Manatee solo kayak. For instance, it includes to molded in rod holders.
If there's one thing most anglers can appreciate, it's a great pair of rubber boots. The Grundéns Deck-Boss Ankle Boots are tall enough to keep your feet dry but short enough to be useful in all sorts of situations. They also have amazing traction on wet surfaces.