Disclosure: Man Makes Fire is reader-supported. When you buy gear using retail links on our site, we may earn an affiliate commission that helps pay for our work. Learn more.
The Italian-made Zamberlan 996 Vioz GTX hiking and backpacking boots are the best hiking, backpacking and hunting boots I've ever worn. The overall quality is outstanding.
At first glance, the Zamberlan 996 Vioz GTX boots look like many other hiking and backpacking boots made with waterproof and breathable Gore-Tex liners. However, there are a few standout features that deliver pure backcountry awesomeness.
Let's take a closer look.
Zamberlan 996 Vioz GTX Review
A family friend had a pair that was just a bit too small for him, so he gave them to me, slightly worn. Nice. But I didn't really understand how cool these boots were until a year later. I had wanted to take them backpacking, but I'm a cautious guy when it comes to footwear. I've seen friends and family get serious blisters with other boots — and I've had to haul their gear while they limped along. So I am cautious before epic trips, preferring my trusty L.L.Bean Cresta Hiking Boots.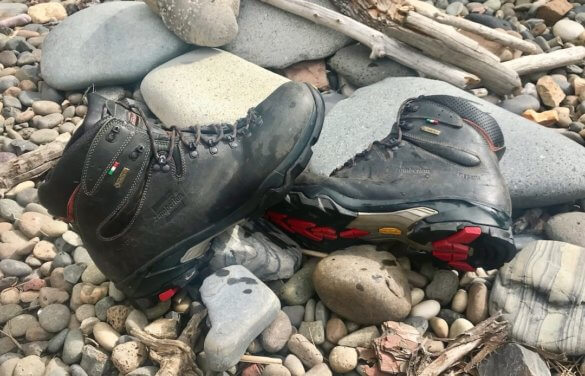 On the other hand, my Cresta boots are finally wearing down after hundreds of miles.
Meanwhile, my hunting buddy's boots blew out this summer and he needed some recommendations. I pointed him toward a few great options, and he choose the Zamberlan 996 Vioz GTX boots.
Upon further consideration, I took my Zamberlan 996 Vioz GTX boots archery elk hunting last year as a backup boot. After a few hard vertical miles, it turned into my favorite boot. My buddy also wore his Zamberlan boots.
The terrain we hunt is punishing terrain. You get a great blend of long miles on trails and old logging roads paired with steep, rocky, muddy, brushy and slippery messes. We wear backpacks, carry bows, stand awkwardly, and haul 80-pound plus elk quarters and our gear when we're successful.
It's a rugged testing ground.
The only annoying part was listening to my buddy rave every day about his Zamberlan 996 boots. Best boot ever, he said. Great grip, he said. Amazing, he said. Way out here you're only as good as your boots, he said.
And he's right.
Shop REI for Zamberlan Vioz GTX boots and get FREE shipping!
Superior Grip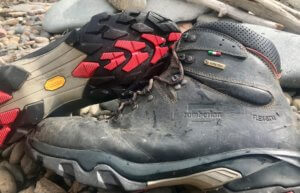 The Zamberlan Vibram 3D outsoles have wide lugs that do a good job of self-cleaning. What's this mean? Most other boots will get dirt and mud packed in between the lugs, which flattens your sole and reduces traction in actual use. The Vioz soles get packed less, which brings better traction more often.
Better yet, the design of the lugs gives you great downhill braking, especially on very steep ground. If your soles wear out, you can resole the boot with the original factory soles, too.
Excellent Stability
The Vioz boots are super stable. Starting with the footbed, you get a slight rocker sole. By rocker sole, I mean the rear and forward part of the boot curve upward just a bit. The result is a boot that rolls over the ground as you walk. The 996 Vioz boots deliver a comfortable, mile-eating gait.
That's not all. The Zamberlan Flex System (ZFS) is somehow engineered to provide ankle stability while letting the forefoot of the boot flex . . . despite having a rugged and stiff sole. The Vioz is simply far more comfortable than it looks.
The full-coverage leather last fits well around your foot and ankle. The heel pocket wraps and holds your heel in place, which means blisters are very unlikely. A lot of boots have vague heel pockets that result in heel-slip and blisters, but the Vioz have one of the best heel pockets I've ever worn. Of course, my gear-testing buddy agrees.
Comfort and Fit
The full-length lacing contributes to stability, but it also lets you dial in the fit over your forefoot and ankle. I always look for boots that have laces that extend down over the forefoot. You just get a better adjustment for varied hiking conditions.
Compared to most other boots sold in America, the Zamberlan 996 Vioz GTX fits very slightly small and a bit narrow. My size 14 boots feel as if they fit like a 13 3/4 size vs a standard 14.
If you're concerned about width, Zamberlan now offers wide versions.
Either way, to dial in the fit, invest in some good wool socks. Go with any of the Darn Tough wool socks, which come in a variety of thicknesses — read our Darn Tough review here.
Outstanding Durability
Let's talk durability. The Zamberlan 996 Vioz GTX boots are made in Italy, and Italian-made boots have a world-wide reputation for quality. The 996 Vioz GTX boots use full-grain leather uppers. The stitching is tough and impeccable.
Take a closer look at the leather uppers. The main portion of the boot is made from one piece of leather. This means there are no seams along the sides of the boot. This also means that sharp sticks and rocks in off-trail forests don't snag and tear at seams.
Zamberlan takes this design a bit farther than most competitors by placing the rear seams behind the heel — sticks will slide past the seams as you hike.
If you want long-term durability, this is the kind of design you want.
For extra waterproofing, rejuvenation, and to keep your leather supple, try Zamberlan's HydroBloc cream. Works great.
996 VIOZ GTX vs 1996 Vioz GTX RR
If you're ready to take the plunge on a pair of Zamberlan 996 Vioz GTX boots, hold up just a minute. How could you possibly improve upon the 996 VIOZ boots? With a rubber toe rand.
The 1996 Vioz GTX RR boots have a rubber rand over the toe box. If you're going to be hiking over very rocky ground, this rubber rand will help protect the leather over your toes.
In addition, the 1996 Vioz version has a couple of other slight upgrades: You get a Waxed Tuscan leather upper and new calf-leather lined collars that add a bit more comfort. The hardware is also treated to last a bit longer.
Basically, the Zamberlan 1996 Vioz GTX RR boots are the boots I lust over now, but technically, I don't expect to get them until my 996 Vioz boots wear out. Which means my next review might not come for a couple years.
Shop the Zamberlan 996 Vioz GTX at Cabela's and get FREE 2-Day Shipping!
The Verdict
All-in-all, the Zamberlan 996 Vioz GTX boots are awesome. They have been Zamberlan's best-selling boot for years, and now I'm a believer. Very highly recommended.
Get the Gear:
Check Shipping/Pricing: Bass Pro Shops | Cabela's | CampSaver | Moosejaw | REI | Zappos
Check Shipping/Pricing: CampSaver | REI | Zappos
Zamberlan 1013 Leopard GTX Hunting Boot — this is the hunting-specific 996, in a light camo pattern
* Shop Zamberlan Vioz boots at Zappos and get fast and free shipping!
Pros
Outstanding Fit and Finish
Outstanding Grip
Excellent Stability and Off-Trail Comfort