Disclosure: Man Makes Fire is reader-supported. When you buy gear using retail links on our site, we may earn an affiliate commission that helps pay for our work. Learn more.
TRUCK is a small Utah-based glove company that produces high-quality outdoor gloves at direct-to-consumer pricing. TRUCK's popular M1 and M1 PRO ski gloves, for instance, are insulated leather gloves that boast a level of quality rarely seen at their affordable price points. In addition to TRUCK leather gloves and mittens for skiing and snowboarding, the company also designs gloves for mountain biking and for everyday work.
To get us a closer look at the company's gloves, TRUCK sent Man Makes Fire several review units. This is what we learned:
Table of Contents:
Intro to TRUCK Gloves
The TRUCK business model aims to produce high-quality gloves that the company can sell direct to consumers at low-to-midrange price points. You can buy TRUCK gloves directly from TRUCK's website which eliminates reseller markup.
TRUCK gloves come packaged in a simple clear plastic bag — TRUCK doesn't waste money on packaging, so if you want your gloves to come in a pretty box, get over it.
What you do get is a surprisingly well-made glove for the price point. The stitching — which is an indicator of quality and attention to detail — is very good. Of several pairs of the gloves that TRUCK sent over for testing, the fit and finish is solid throughout. In addition, the construction is spot on — symmetrical and accurate to both hands. A lot of cheaper competing gloves will have seams that curve in one finger and not the other — or have one finger tighter than another. TRUCK gloves are built to compete with higher-priced competition without the higher price points.
Just in case you don't like what you end up with, TRUCK offers free returns and exchanges to customers in the U.S.
Because you might be trying to make a buying decision right this minute — and want some in-hand impressions — I'm publishing this first-look, first-impressions set of reviews now. I'll update these reviews over time as I get more long-term hours in with the gloves.
Use the code "MANMAKESFIRE15" to get 15% off your entire TRUCK gloves order!
TRUCK M1 Pro Review
The insulated TRUCK M1 Pro is aimed at skiers and snowboarders who want a durable leather glove. The TRUCK M1 Pro is made from a water-resistant goat leather.
Over the top of your hand, you get an 80g layer of Thinsulate insulation as well as 250g of polar fleece. On the bottom of your hand, you get a 250g layer of polar fleece. The design gives you extra insulation without compromising dexterity.
You also get a reinforced palm and thumb, along with a soft suede nose wipe on the back of your thumb.
The fit and finish throughout is excellent. While I haven't yet had a chance to pound these through a full ski season, I was able to take them out spring skiing this year. My first impressions are very good. They look great, the fit is nimble, and they're surprisingly warm — and I tend to have cold hands. I'm a fan already, and I fully intend to ski with them next year. The only question is if I decide to opt for the TRUCK Trigger or the M1 Mitten to get a bit of extra warmth for those super cold days on the hill.
Meanwhile, what about the M1 Pro competition? The primary decision factor in the TRUCK lineup is with the original TRUCK M1. The M1 has the same layer of polar fleece insulation but it has a thinner layer of extra Thinsulate insulation over the back of your hand — 40g instead of 80g — and the back fabric is a 4-way stretch nylon instead of leather. If you have hot, sweaty hands or are very active, you'll probably appreciate the M1, which also costs about $10 less than the M1 Pro.
When it comes to outside competition, the TRUCK M1 Pro competes very well with gloves that cost twice as much. At the high end of leather ski glove competition, for example, the Hestra Leather Fall Line costs over three times as much as the M1 Pro. What are the key differences? You'll get a bit better dexterity out of the Hestra Fall Line gloves, probably due to the extra outseams sewn along the fingers. Is it worth it? That will depend on your budget. If your ski budget is something you have to think about, you'll be happy and impressed with the TRUCK M1 Pro gloves.
At low end of the competition, you can find some insulated leather gloves at your local hardware store — like the Kinco 901 gloves. You'll get a utilitarian fit and finish with the Kinco gloves and give up some dexterity.
Are the TRUCK M1 Pro gloves waterproof?
Insulated leather gloves are generally highly water-resistant, but they're not always technically waterproof. TRUCK sells a small tub of Obenauf's Heavy Duty Leather Preservative for $2.00, and it'll help keep your leather supple and water-resistant. Note: I personally ordered a second pair of TRUCK M1 Pro gloves in size 11 because I prefer slightly larger winter gloves for a bit extra warmth — and I added in the cute little tub of Obenauf's. You won't need it until the leather starts to get dry, but when it does, you'll have the Obenauf's on-hand to keep your gloves supple.
If you want truly waterproof leather gloves, you'll need to look for gloves that have a thin waterproof membrane built inside the gloves. TRUCK's new M3, for example, has a waterproof-breathable Porelle membrane, which will be a benefit if you ski or snowboard on wet or warmer days on the hill. Better yet, the M3 gloves have a pre-built curve sewn into the fingers for an even better first-day fit.
All-in-all, the TRUCK M1 Pro is a fantastic buy. You'll get an insulated and durable leather ski and snowboard glove that feels good, looks great, and performs outside. Very highly recommended.
Benefits
High-quality goat leather
Handsome overall design
Excellent value
Drawbacks
Not fully waterproof
TRUCK ZR Biking Glove Review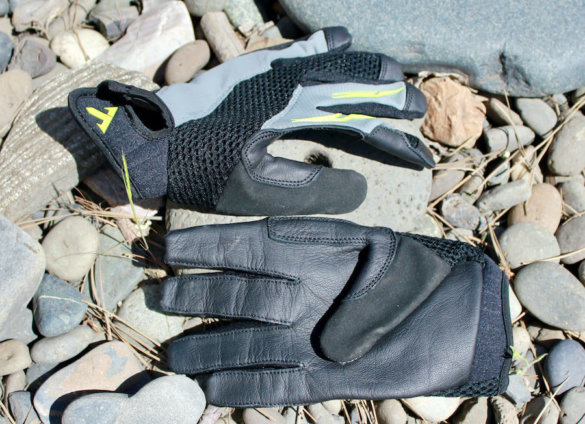 The TRUCK ZR Biking Glove is a lightweight leather-palmed cycling glove. The thin goatskin leather is designed to start form-fitting to your hand as you sweat and wear them in. The palm is seamless, so there's no seam lines to bother you after a long day of riding — but there's no padding either. (If you want padding, you should try the new padded ZRP or the ZL Padded Biking Glove.)
A standout feature over much of the biking glove competition is how the fingertips are sewn. Basically the leather is folded over the front of the fingertips, which TRUCK says will improve long-term durability. For example, I previously wore a pair of Troy Lee Designs Air Gloves — and they're a great glove. The fit and durability has been great, but I can feel the inside of the seams in the Troy Lee Designs gloves on the ends of my fingertips. I keep my fingernails short, so this doesn't bother me or seem to affect durability — at least so far. If you tend to blow out the ends of your bike gloves, the TRUCK design might hold up better for you.
Use the code "MANMAKESFIRE15" to get 15% off your entire TRUCK gloves order!
TRUCK includes a wide, airy hexagonal mesh fabric across the backside, making the ZRs light and breathable. TRUCK gives you a softer fabric in the thumb for wiping your nose on those cold morning rides. TRUCK also includes a grid of conducive thread on the thumb tips for smartphone use, but it only works for me if I press harder than usual on my iPhone's screen — so keep that in mind as you swipe and tap.
All-in-all, I'm pleased with the overall quality and design of the TRUCK ZR Biking Gloves. At $27, they come in at a good price point, but they're not ridiculously lower priced than the biking glove competition. At just $21, I'd consider the TRUCK ZL Biking Glove as a lower-priced, slightly more utilitarian option.
TRUCK WG Work Glove Review
TRUCK has a line of what it calls 'Lifestyle' gloves, which are basically leather work gloves. You can find leather work gloves at most any hardware store — but the fit is often hit or miss. TRUCK's uninsulated WG Work Gloves deliver a great fit in a solid, lightweight leather do-anything glove design. The goat leather is supple enough to handle tasks that require a bit of dexterity but solid enough to offer protection.
The back of the hand and three fingers have a breathable textile fabric. The textile is thick enough to offer a bit of hand protection but thin enough to help with breathability and cooling.
To me, you need to have a specific task in mind to order TRUCK's WG Work Gloves — or know you just want a do-it-all leather glove. The price is competitive and the fit is a step above most hardware-store gloves, but are the benefits worth ordering them online vs grabbing any old glove in the hardware store? To me, the WG Work Glove is the kind of purchase you add to an order for the winter or bike gloves rather than seek out on its own. I usually keep a leather glove of a similar style in the pickup for whatever comes up.
All-in-all, the WGs are solid, a step above their price range — and I like them — but I believe they're the kind of glove you choose because you have brand loyalty to TRUCK for making such great snow gloves. Buy the TRUCK WG Work Gloves if you want a short, lightweight pair of leather work gloves.
TRUCK M4 Work Glove Review
Remember how I was just saying that the TRUCK WG Work Gloves were good . . . but they didn't generate much excitement for me? The TRUCK M4 Gloves are something else entirely. On the surface, it's just a fairly lightweight goatskin glove. Take a closer look, however, and the overall style will win you over.
When I look at the TRUCK M4 Gloves and try them on, I want to find some sort of work to do as an excuse to wear these gloves. Mowing the lawn is too soft for the TRUCK M4s, so I start thinking about clearing brush and messing with the fence I normally don't want to fix. The M4s are that good.
Why do the TRUCK M4 Gloves inspire such interest? I'm sure that the short gauntlet wrist protection is part of it, but once you pull on the M4 Gloves, the fit is really good. Multiple panels help with dexterity, but I also think the feel of the three smallest fingers play a role, too. The leather is sewn together in four edges. The top has an exterior seam while the sides and bottom seam are internal.
I can't say that your actual work performance will improve using these gloves, but if you're going to wear a flannel shirt and split firewood at a cabin, the TRUCK M4 Gloves are the gloves you want. You can use the sueded nose wipe panel on the thumb to wipe the sweat off your brow, too — just don't alternate between your nose and your forehead and you'll be good to go.
Check the Fit
Because TRUCK offers a full range of sizes for each glove, you'll want to double-check the size charts before you order. It's basically as simple as measuring the length of your hand. In my experience, the size chart is spot-on. I am, however, a tweener: my hand length is about 8.25 inches, which puts me right between a size 10 and a size 11. Because I personally prefer slightly looser than snug, I most often size up to an 11.
Also, TRUCK includes a "Fit Notes" link above the "Add to Cart" buttons on each glove's product page to help you dial in your fit when you order. If you get it wrong, don't worry — check out TRUCK's humorous 'Living Room Fit' philosophy video for some pointers.
Get the Gear:
Note: Use the code "MANMAKESFIRE15" to get 15% off your entire TRUCK gloves order!