Disclosure: Man Makes Fire is reader-supported. When you buy gear using retail links on our site, we may earn an affiliate commission that helps pay for our work. Learn more.
The Bass Pro Shops Eclipse Refuge Screen House is a large but very portable screen house shelter. It's great for camping and any picnic situation where you want to keep mosquitoes, bees and hornets away from your food and away from you.
To get us a closer look, Bass Pro Shops sent Man Makes Fire a review unit. After testing the Bass Pro Shops Eclipse Refuge Screen House while camping, this is what we learned:
Eclipse Refuge Screen House Review
First, you should know that I now believe that a screen house is must-have family camping gear. Why? Mosquitoes can ruin a great camping trip or outing, but you can often fight off mosquitoes with insect repellant sprays, thick clothing, or a Thermacell Patio Shield. The real trouble is bees — more accurately, the yellow jackets and wasps that swoop onto your picnic table to eat on your sandwich meat, hot dogs and watermelon. Yellow jackets and hornets freak out most kids, hurt when they sting, and their mere presence worries a good many adults.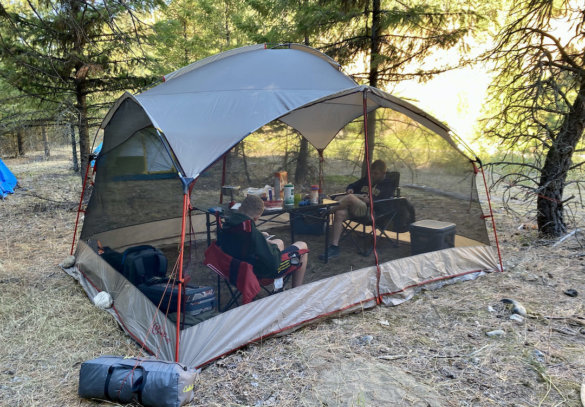 A good screen house will keep bugs out and can potentially save your camping trip and outing.
Back to the Eclipse Refuge Screen House review. If you're reading this, you want to know: Is the Bass Pro Shops Eclipse Refuge Screen House a good deal? Is it worth buying?
Yes. The Bass Pro Shops Eclipse Refuge Screen House is an outstanding screen house for the price. In fact, it's in our guide to the 12 best screen house and tent shelters for 2022!
Still, is it right for you?
First, you need to know that the Eclipse Refuge Screen House comes in two different sizes with two different pole and wall configurations. The version I tested, the 12′ x 10′ rectangular option, has two doors. The larger version is 15′ x 17′ but it is shaped as a six-sided hexagon.
In the kinds of places I tend to go camping, there is often a lot of trees, bushes, and rocky outcroppings. If I'm tent camping, I'll sometimes want a screen house that can be entered and exited from two different sides. Based on campsite terrain and likely kid traffic, two doors is sometimes better than one.
On the other hand, you might not want people passing through and you just want shelter from bugs. In that case, either version should work well for you.
Setup & Portability
The Eclipse Refuge Screen House is easy to set up. Bass Pro Shops color-coded the poles and sleeves they go into to make pitching the screen house hard to mess up. The blue poles go together into the blue coded sleeve, the yellow into the yellow, etc.
The best way to set up this screen house is to assemble the roof section first so that it's all upright and sort of domed on the ground. Next, you can pick a side and insert two main corner poles. Move to the other side and repeat. One person can do it, but it's easier with two.
The four corner poles are steel. The roof poles are fiberglass; however, the larger 15′ x 17′ version uses all steel poles. Assuming that you don't try to bend the poles in wild ways, they're pretty industry-standard stout for this price point. I don't have any worries about their durability.
The drawback of the tent-pole style design is that it's not a pop-up style screen house. You'll have to pitch this screen house like you would a traditional tent. The benefit of the tent-pole style design, on the other hand, is superb portability. The Eclipse Refuge Screen House weighs just over 16 lbs and packs down into a small 8″ x 8″ x 27″ carry bag. If you are car camping and tight on space, you want this design.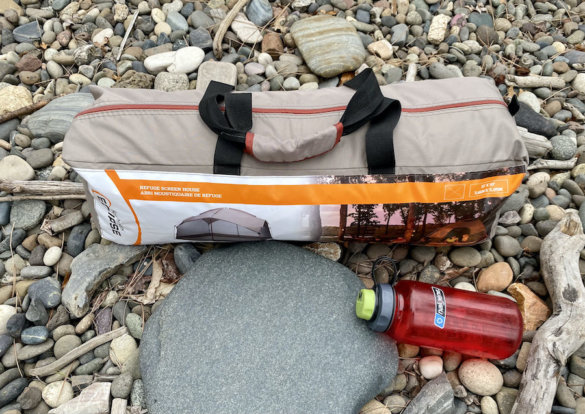 Rainproof?
The Eclipse Refuge Screen House has a 190T polyester taffeta canopy with an 800mm polyurethane coating, which means the top portion is rainproof. If you look at the design, the roof will shed rain toward all four corners. From the corners, rain can run down the mesh walls and technically get inside. And wind-driven rain can get through the mesh, too.
Even though it's not fully waterproof, you'll still have a great experience because you'll have a dry place to hang out, to eat, and to protect your food. If you're planning to spend a week or more in a hard downpour, you might want to upgrade into a heavier-duty screen house, but for most of us, the Eclipse Refuge Screen House is a great overall value for typical summer camping and outings.
Sunproof?
The Eclipse Refuge Screen House isn't meant to be a dedicated sun shade — though obviously we'll all use it as a sun shade, too.
The materials are packable and fairly lightweight, so if you want to set it up and use it all summer on your patio or yard, you'll want to get some UV protectant spray to beef up its UV defenses. Try the Nikwax Tent & Gear Solarproof Spray (Nikwax is an industry-leader in outdoor DWR and waterproofing sprays).
Usage Tips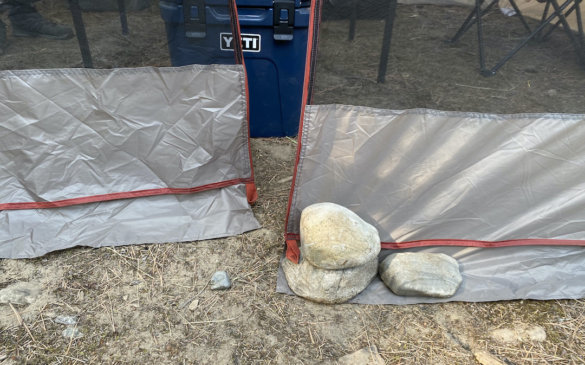 The bottom edge of the walls has a nylon flap that's not mesh. If you're on uneven ground or stake out the corners under unnatural tension, you can have some gaps under the side walls. Most flying insects aren't hugging the ground, but if you want any errant gaps sealed, you can set a cooler on the flap or strategically place a few rocks to weigh down the walls and tighten up your bug fortress.
Here's a pro-tip on the door zippers: The zippers work well and are easy to use, but how do you unzip a door with just one hand while you're holding a plate of food? First, you can stake down one side of the door, which will hold the zipper taught. Second, you can stack a rock on the bottom corner of one side of the door. Both methods will let you reach down to the bottom and zip upward with one hand.
For windy and stormy conditions, you'll want to make sure you stake out the Eclipse Refuge Screen House very well. However, if you plan on using this in really bad weather, you'll probably want to upgrade to a screen house that has more guy lines and/or a heavy-duty construction.
Looking for a gift? Read '55+ Camping Gifts for Campers & Outdoor Fanatics'!
The Screen House Competition
One high-end competitive option to the Eclipse Refuge Screen House is the Eureka! Northern Breeze Camping Screen House and Shelter. It offers a more rugged build quality, as well as more guy lines for staking it down. One drawback to the Eureka! screen house is the price point — it costs quite a bit more than the Eclipse Refuge Screen House.
Cabela's also makes a burly 12.5′ x 12.5′ Quick-Set Screen Shelter that sets up in 60 seconds — but it costs quite a bit more, too.
Another upgrade option is the Coleman Screened Canopy Tent with Instant Setup. It's based upon an expandable sun-shade design and you can stake out each of its six corners. The key benefit is its relatively sturdy design. The key drawbacks are the increased cost, heavier weight, and reduced portability.
If you like the ultralight tent-style design, check out the REI Co-op Screen House Shelter. It costs more but it features all aluminum poles and weighs a scant 13 lbs. If you're expecting rain, you can add a dedicated rainfly that includes an awning that you can turn into a wall to block wind or sun.
Last of all, the 15′ x 13′ Coleman Instant Screenhouse gives you an affordable pop-up option for super-fast deployment, but again, the foldable leg system results in an elongated carry bag that makes it less portable.
The Verdict: Hard to Beat the Value
All-in-all, the Bass Pro Shops Eclipse Refuge Screen House is a high-quality entry-level+ screen house. At $99.99 it delivers a solid experience at an affordable price point. Better yet, the portability is why I appreciate the Eclipse Refuge Screen House. The small packed size means I can find room to take it along on most any camping or day trip. If there are mosquitoes and yellow jackets, I can set it up in just a few minutes and we're protected. Highly recommended.
Get the Gear: 
Eclipse Refuge Screen House
Benefits
Very packable
Roomy with near-vertical sidewalls
Great price-to-value ratio
Drawbacks
Not as fast to deploy as pop-up style screen houses