Disclosure: Man Makes Fire is reader-supported. When you buy gear using retail links on our site, we may earn an affiliate commission that helps pay for our work. Learn more.
The new for 2018 Eureka! Boondocker Hotel 6 Tent is versatile, robust and roomy. It's tall, has great ventilation and it boasts a massive gear garage.
To get us a closer look at this new camping tent, Eureka! sent Man Makes Fire a review unit. This is what we learned:
Eureka! Boondocker Hotel 6 Tent Review
Because so many of us are looking into new tents for the upcoming camping season, we wanted to get you a first-look review right away — our initial experience with the tent. As for Eureka!, the company has produced excellent tents for decades, and the Boondocker Hotel 6 Tent is no exception — it's truly an excellent tent.
Let's start with the poles. The aluminum poles are robust, which you want any time you have a tent with near vertical sidewalls and a lot of area to support. The roof portion has a stout central hub that connects 6 poles, two of which end in a strong Y-bracket that connects to two stout legs on each side of the main body of the tent. When it all comes together, it's decently sturdy — and very sturdy once you get the rain fly on and stake it all down.
The rain fly, by the way, is the piece that ties this whole tent together because it includes the gear garage, which is basically a giant vestibule that comes off of a side door to the main sleeping area.
Boondocker Hotel 6 Tent: Massive Gear Garage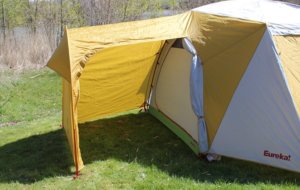 The best camping tents usually have large vestibules or better yet, gear garages. These are basically areas where the rain fly covers a door and/or extends outward to cover an area where you can store your boots and gear. If you have a tent packed with sleepers, the vestibules and gear garages also work great for stowing duffel bags or camp stoves or coolers out of the sun, etc.
The gear garage on the Boondocker Hotel 6 is massive. In addition, it's relatively tall so you don't have to bend over so much when you're stowing gear or using it as a entry to the main tent. While the main tent is freestanding, the gear garage is not — to give it shape and stability, you'll need to stake it down.
If you get caught in a rain storm and need to spend a few hours hanging out in the tent — especially if you've got kids or dogs — you'll appreciate the extra space in the gear garage. Plus, the front door rain fly extends out from the main door, so you could open the fly when it's raining so you can look outside, not worrying about rain getting inside the sleeping area.
The rain fly has one more trick, though: The section between the gear garage and the main door can lift up to create a sun shade, which also increases air flow on hot afternoons or evenings.




Boondocker Hotel 6 Review: Thought-Out Awesomeness
One thing that struck us is that Eurkeka! did a great job of thinking through the details with the Boondocker 6. For instance, the back side wall of the tent has a mesh window. Below that mesh window is a long zipper. You can use this zipper to zip up the rain fly window from within the tent. Nice. There are also plenty of mesh pockets for stowing phones, eye glasses, flashlights, or car keys, and Eureka! includes a handy hanging gear shelf for odds and ends. The rain fly gives you full coverage while also having high-low venting.
Surprisingly, Eureka! includes a footprint to help protect the bottom floor of your tent! Most manufacturers offer footprints as add-on accessories for a relatively steep additional cost. In fact, when the footprint first came out of the bag, I looked at it for a few seconds wondering where the heck it was supposed to go before I realized it was a footprint — I was that surprised. When you're camping on muddy or rocky ground, you'll appreciate this footprint.
Finally, the storage bag. It's segmented into a couple of sections that make unpacking and packing easier — letting your separate the main body of the tent from the rain fly. You can stow the sections simply by stuffing them back into the bag. Works well.
Last of all, the whole package weighs about 20 pounds, which is pretty light for car camping, especially considering all the livable volume the Boondocker tent delivers.
Check out the Eureka! Boondocker Hotel 6 at Moosejaw and get free 2-day shipping on most orders over $49!
Boondocker Hotel 6 Tent Review: The Verdict
Our first impression? The Eureka! Boondocker Hotel 6 Tent is one of the most versatile and livable 6-person tents to land in 2018. The aluminum pole system is super strong. There is plenty of mesh for ventilation and the rain fly provides full coverage. The sleeping space is a 10′ x 9′ rectangle, and if you use standard backpacking-sized sleeping pads that range from 20-to-25 inches in width, you can fit 6 sleepers. If you want to use cots or larger sleeping pads, 6 people aren't going to fit. In general, a 6-person tent will usually fit a family of five and a dog comfortably or handle up to four men. Either way, whenever you go car camping, we recommend using a tent that's a bit larger than you expect you might want. Incidentally, Eureka! makes only one size of the Boondocker — the Hotel 6. (If you want to go massive, try the Eureka! Copper Canyon 12-Person Tent.)
All-in-all, the Eureka! Boondocker Hotel 6 Tent is a can't-go-wrong camping tent. Highly recommended.
Get the Gear:
Pros
Massive gear garage
Excellent aluminum poles
Full-coverage rainfly
Cons
Setup and orientation is tricky the first couple of times you pitch the tent