Disclosure: Man Makes Fire is reader-supported. When you buy gear using retail links on our site, we may earn an affiliate commission that helps pay for our work. Learn more.
Yes, you read that title correctly: This is a review of the Plano Sportsman's Trunk . . . which is just a plastic storage bin. So why is this important enough to write about?
The Plano Sportsman's Trunk in the medium size is the perfect size for protecting and storing a Weber Go-Anywhere Gas Grill. I've been looking for this size of bin for months.
And why is that important? Being able to protect, store and travel with your gear on a moment's notice lets you get outside and do more. If you're not organized — and if your gear isn't organized — you're far more likely to get beaten down by the rigors of your job, home maintenance, social obligations, etc.
But once your gear is organized, you can take off for a weekend camping trip with ease. Without basic organization, you end up spending the weekend watching other people do things on TV. Or worse, you blow a weekend mowing the lawn.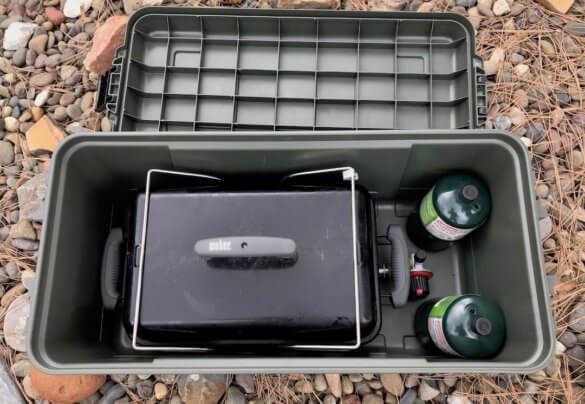 The Weber Go-Anywhere Gas Grill is inexpensive but does a great job grilling. It's one of our best camping grill picks and you can read the full Weber Go-Anywhere Gas Grill review here. I take it camping, fishing, and hunting, and even to the ski hill. It's handy. The only downside is that, while the legs wrap around to make it portable, the propane regulator sticks out the end and is exposed. That means you have to take special care when you put it in the back of your pickup. And figure out where to pack portable propane bottles. Plus, the overall shape of the grill is not particularly stackable.
Transform Minor Annoyances to Get Outside More
All of this is just a minor annoyance, but it's transformed in something far better with a good storage box. I can easily fit two propane bottles into the Plano Sportsman's Trunk with the Weber Go-Anywhere Gas Grill, in addition to basic BBQ utensils . . . and even a single-burner Coleman PowerPack Camp Stove, which is in our guide to the best camping stoves. I can also fit some napkins and paper plates around the edges, too.
Better yet, I can fit all of this stuff in a relatively small box that almost perfectly fits the Weber grill — I don't have a bunch of empty, extra space. I would be easy to jam it all into an oversized bin, but the goal was to keep the size small and the contents focused.
I can now put the box in the back of my pickup and stack all sorts of gear on top of it. And at camp I can leave it outside in the rain and not worry about it. And I can slide it into the back of an SUV and not worry about grease or grime getting everywhere.
The whole point is that extremely minor issues can add up, but if you eliminate them in a positive way, they can turn into a catalyst that can improve you experience, help you get outside more, and save you money.
How can a simple plastic box save you money? By throwing the grill in when you go somewhere, you can grill up a hot meal instead of resorting to fast food or eating out. Healthier, more enjoyable, and maybe even faster.
Plano Sportsman's Trunk Review: The Details
Back to the Plano Sportsman's Trunk, medium size. The exterior of the box is 30″ long x 14.25″ wide x 12.75″ tall. The interior is approximately 26.5″ x 12.5″ x 11″. Why approximately? Most boxes have slight tapers, rounded corners and interior support structures that can affect the usable dimensions. (The Sportsman's Trunk has minimal interior issues, but there are some slight variances depending on your measuring points.)
The Plano Sportsman's Trunk also has two sturdy latches that you could padlock for security, if needed. The lid covers the upper edge of the main box very well. It's rainproof from above but isn't technically waterproof. If you wanted to make it even better, you could put a thin weather seal strip inside the groove.
Obviously the Plano Sportsman's Trunk is suitable for most any outdoor gear. It's stackable — and strong enough to sit on.
Plano makes two other sizes: Large and Small. The Large is 37″ long while the small is 24″ long.
In addition, the Plano Sportsman's Trunk is made in the USA. Nice.
Get the Gear: