Disclosure: Man Makes Fire is reader-supported. When you buy gear using retail links on our site, we may earn an affiliate commission that helps pay for our work. Learn more.
The Weber Go-Anywhere Gas Grill is one of our favorite portable grills. It offers an astounding blend of usability with quality and cost — as far as we're concerned, it's the least expensive grill that's worth buying.
For fuel, the Weber Go-Anywhere Gas Grill uses handy — and easy to find — small propane canisters. It has decent flame adjustment capabilities, and while Weber has made some changes to this grill over time, we like it for camping, fishing trips and the occasional off-grid lunch or dinner.
Let's take a closer look at what we learned during our testing and review process:
Weber Go-Anywhere Gas Grill Review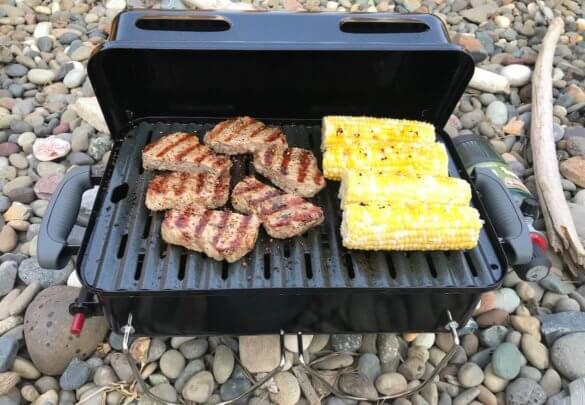 The Weber Go-Anywhere Gas Grill blends a small size with thoroughly decent performance. The single-tube main burner puts out 6,500 BTUs over a 160 square-inch cooking surface. The grilling surface is a porcelain-enameled steel cooking grate that is about 10″ x 16″. The overall length of the entire grill is about 21″ and it's about 12″ wide.
Previous versions of this grill had a Weber flavorizer plate — basically a metal shield that covered the bottom — and a wire-type grate. The idea was that grease drippings would ignite on the hot flavorizer plate, add flavor to your meat, and burn off. It worked OK but also seemed to increase the risk of grease flareups.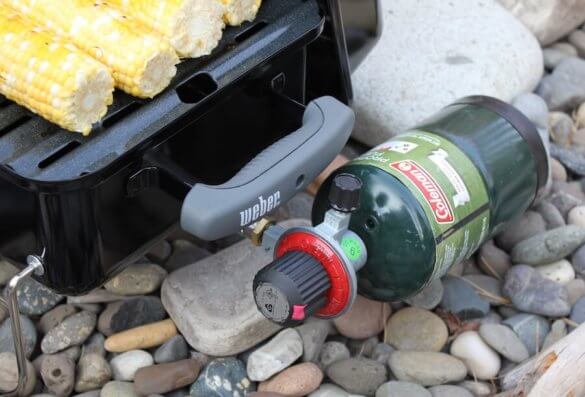 The new grate style is a flatter-type grate that covers the burner tube so that grease drips into the pan and avoids the flame altogether. If you're cooking a lot of high-fat hamburgers, you're going to get grease buildup in the bottom of the pan. Weber recommends you use a plastic scraper (a putty knife works fine) to clean the grease out as it builds up — you just have to let it cool and solidify first.
There are two ways you can adjust the flame on the Weber Go-Anywhere Gas Grill: First, the obvious top grill nob lets you turn it on to start the flow of propane as well as ramp it up and shut the grill off. Second, the regulator body lets you adjust the propane output from low to high. The regulator setting is not as obvious — if you miss seeing it and think your Go-Anywhere grill is stuck on low, this is the likely reason. The regulator also allows you to fine tune the flow if you need to, but generally when we're outside camping . . . we're ready to eat, not slow-roast a hot dog.
Weber Go-Anywhere Gas Grill Review: Grilling
The key to using a plate-style grate is to make sure you let the grill heat up before you start grilling. Why? Starting with a hot grate will help the raised ridges burn into your food and make grill marks — and not stick. Of course, a bit of vegetable oil on your food helps, too, or you can add some vegetable oil to the grate right before grilling. If you use a spray-type can of cooking oil for this, be careful because the spray is flammable.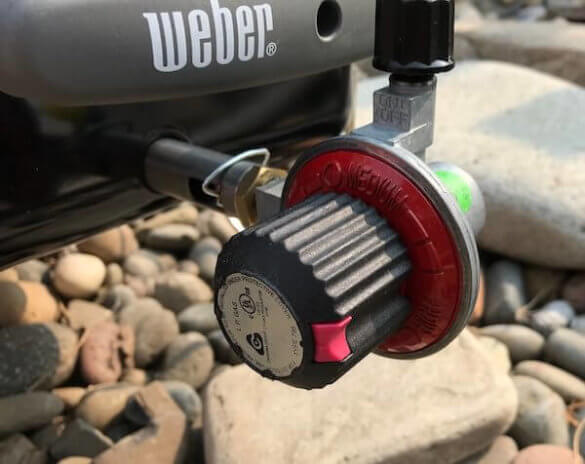 Meanwhile, the cooking surface does a reasonable job of spreading the heat, but the edges are definitely cooler than the center. If you pay attention and adjust your food over the surface as you grill, you can get decent results. If you cram the whole surface with hamburger patties, you'll have a harder time. If you have a larger family or group, plan on eating in shifts and your grilling will be much more effective.
Of course, if you want a bigger, more powerful grilling surface consider the Weber Q Series lineup: We're fans of the Weber Q1200 Propane Grill which is beefier and includes a removable grease catch pan. We include it in our guide to Weber Go-Anywhere alternatives and competitive options below.
If you're a charcoal fan, Weber offers a few similar charcoal versions — see our Get the Gear section below for links — but make sure you're buying the version you want. At a glance, they look similar and could easily be confused.
One more thing: If you're heading out camping and you're planning on roasting dogs or cooking foil dinners on a campfire, you might want to invest in a lightweight portable grill anyway . . . sometimes campgrounds and public lands will implement campfire bans as the summer progresses and the forest fire danger rises. In these situations, a portable grill will save your trip — and still let the kids roast marshmallows.
Weber Go-Anywhere Grill Competition & Alternatives
While the Weber Go-Anywhere Gas Grill is the best portable gas grill under $100, there are some competitive alternatives to consider:
Char-Broil 190 Portable Gas Grill — The Char-Broil 190 Portable Gas Grill has a similar overall design as the Weber G0-Anywhere Gas Grill, but the Char-Broil grill is not as rugged and has a lower overall build quality. The version we used years ago got the job done . . . but it wears out faster.
Cuisinart Petit Gourmet Portable Gas Grill — One major benefit of the Cuisinart Petit Gourmet propane grill is that it sets up fast. The legs pop out to raise the grill to a comfortable and safe tabletop height. The lid latches is attached by a hinge, which is handy compared to the separate lid on the Weber Go-Anywhere Grill. The Cuisinart alternative grill costs a bit more than the Weber Go-Anywhere, but it has a solid steel build quality and includes a grease drip tray.
Char-Broil Grill2Go X200 Gas Grill — The Char-Broil Grill2Go X200 is a bit bigger than the competition here, but it's still very portable. If you want just a bit more grilling space than the Weber Go-Anywhere's 160 square inches, the X200's 200 square inches stainless steel grilling grate gives you a bit more room to work. Better yet, the X200 is rugged with stainless steel latches.
Weber Q1200 — The Weber Q1200 is a better, more rugged grill than the Go-Anywhere Gas Grill, no doubt about it. The drawback is that the Q1200 is heavier, less portable, and it costs more. On the other hand, in our testing and experience, it grills better with easier to adjust temperature control — and it comes with two fold-out shelves.
Need a Storage Box?
After looking for months, I found the perfect storage box for a Weber Go-Anywhere Gas Grill. I wanted a durable but inexpensive bin with a sturdy lid. The short answer is this: Buy the medium Plano Sportman's Trunk. The long answer is here: Plano Sportsman's Trunk Review.
Weber Go-Anywhere Gas Grill Review: The Verdict
The Weber Go-Anywhere Gas Grill is designed to be a lightweight and affordable portable gas grill — and it succeeds at that mission. In fact, after more than three years of on-the-go use, it's still our favorite low-cost portable grill because it offers the best price-to-value ratio we've seen in this space: You can get cheaper portable grills with a lower build quality, but at this price point, that's not a smart move unless you can't find the Weber Go-Anywhere for sale. If you want a great experience beyond the backyard for quick and portable grilling, the Weber Go-Anywhere Gas Grill can deliver. Highly recommended.
Get the Gear:
Weber Go-Anywhere Gas Grill
Pros
Great price to-value-ratio
Versatile size
Best grill in this price range
Cons
Regulator exposed for travel (so get a storage box)