Disclosure: Man Makes Fire is reader-supported. When you buy gear using retail links on our site, we may earn an affiliate commission that helps pay for our work. Learn more.
The new RTIC Ultra-Light Cooler is a 52-quart midsize, multi-day cooler that weighs just 21 pounds. It's rugged and well-insulated, but it's also 30% lighter than comparable rotomolded coolers.
To get us a closer look, RTIC sent Man Makes Fire a review unit. After testing the RTIC Ultra-Light Cooler over multiple weeks, including camping trips and road trips in hot summer temperatures, this is what we learned:
RTIC Ultra-Light 52-Quart Cooler Review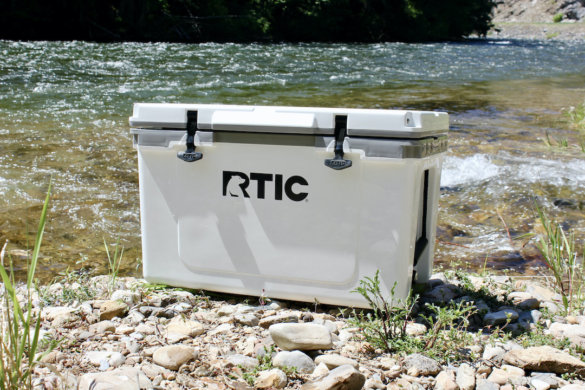 Rotomolded coolers are super rugged and effective, and RTIC's primary hard-sided cooler line is made up of rotomolded coolers. They can easily hold ice for several days. However, rotomolded coolers have one major drawback: weight. They're heavy. Plus, once you fill them with ice and food, they're super heavy.
Enter the injection-molded RTIC Ultra-Light Cooler. It weighs about 10 pounds less than comparable rotomolded coolers. How does this affect the cooler's overall construction?
Injection-molded coolers have multiple pieces of plastic that fit together. And each of these pieces can be optimized for weight savings while still allowing for insulation in the walls. The RTIC Ultralight Cooler, for instance, still has thick walls — with up to 3 inches of closed-cell foam insulation.
In some internal spots in the walls and lid, I suspect that RTIC uses adhesives to help hold things together. In other spots, most notably the lid, you can see several screws that hold two pieces of the lid together, with insulation inside. I can't claim that it's stronger than a one-piece rotomolded lid — but it's very sturdy. I have no qualms about standing on it and I suspect it will last for many years.
Keys to Cooling Power
Thick walls help keep your food cold, but you also need a great lid seal. All the best hard-sided coolers have freezer-style lid gaskets, and the RTIC Ultra-Light Cooler has one, as expected. Cheap department store coolers don't have gaskets, but every high-quality cooler manufacturer now includes them. You need a gasket for multi-day ice retention to prevent micro leaks that melt ice over time.
Meanwhile, the RTIC Ultra-Light Cooler's non-slip feet help keep your cooler in place in the back of your vehicle. In addition, they also raise the base of the cooler off of hot surfaces. This helps you avoid a direct heat transfer to the cooler.
When you add these construction elements together — thick insulated walls, a freezer-style gasket, and a raised feet — you get a cooler that can keep ice for up to 10 days.
Total Package Features
Beyond the standard cooling features you find in most competitive rotomolded coolers, the RTIC Ultra-Light Cooler is surprisingly well designed for usability.
For instance, despite the lighter weight, RTIC still delivers a rugged cooler. It's burly and I have no doubt that it will hold up to years of abuse. In my opinion, you get about 30% less weight and 10% less ruggedness. To me, that's a worthwhile trade off for the weight savings, especially when the cooler will likely last a decade or more.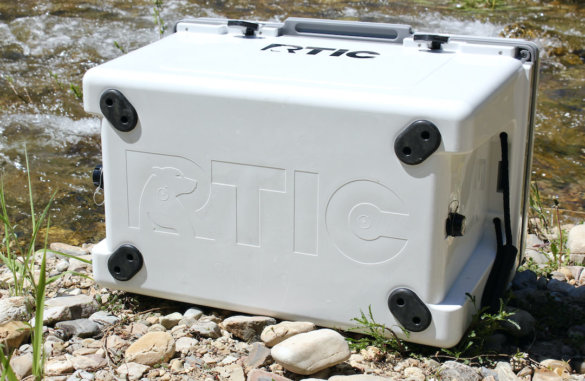 The lid closes with heavy-duty rubber T-latches. These are pretty solid, but they're not as solid and tight as those on my Cabela's Polar Cap Equalizer Coolers. On the other hand, kids can open the RTIC Ultra-Light Cooler while they struggle with — or even can't open — the Cabela's Polar Cap Coolers.
RTIC gives you two different handles. First, you have the molded-in side handles, which are great for carrying the cooler by yourself. Second, RTIC includes padded rope handles, which are great for carrying the cooler with a buddy.
You also get molded-in tie-down slots.
Interior Design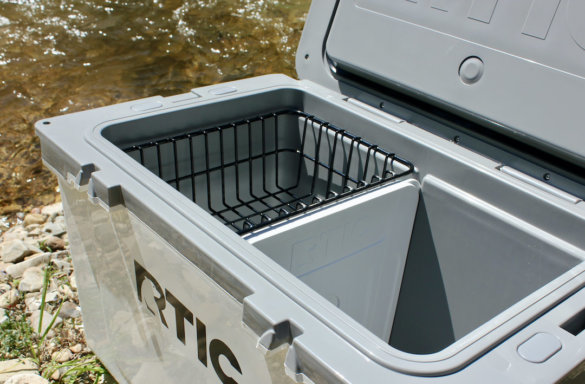 On the inside, RTIC includes a removable divider. Interestingly, this relatively slim divider is also an ice pack. Leave it in the freezer and it'll give you a slight cooling boost when it's time to use it. Pretty smart.
Incidentally, some of the cooler competition offers removable dividers as add-on accessories, so I was pleased to see RTIC include it at no extra cost. The same goes for the included upper basket. If you haven't used a basket, it's great for keeping food dry as your ice melts.
Two Drain Holes?
RTIC includes two drain holes. At first, I thought this was a bit odd, but then I reconsidered. While I don't often drain cold water out of my coolers while camping or out and about, I do sometimes. And sometimes my coolers are positioned in places where the drain hole is on the wrong side. With the RTIC Ultra-Light Cooler, you can simply use whichever drain hole is most convenient in the moment you need it. Nice.
The Perfect Size
We already talked about the weight savings, but there is more to this story: Interior capacity. The problem with most competing rotomolded coolers is the capacity. On the outside, you see a cooler that looks like a nice big cooler. But when you open it up, you find a relatively small interior space.
A typical 45-quart cooler is often not quite big enough to handle what I need it handle, and that means I often end up bringing multiple coolers camping. Ideally, the smartest campers use one cooler for food that is infrequently accessed and a separate more frequently accessed cooler for drinks. If you run out of ice in the drink cooler, it's not a big deal because most drinks can't go bad if they get warm. So you protect your food cooler's chill by opening it less often.
The trouble comes when you can't fit all your cold food in one cooler.
At 52-quarts, the RTIC Ultra-Light Cooler is just a bit bigger than most rotomolded coolers in this size range. The extra interior dimensions make it easier to fit and orient food containers.
Because I have just a bit more room — and less weight to carry — the RTIC Ultra-Light Cooler is my favorite camping cooler for 2021. I test a lot of coolers and outdoor gear, and I'm constantly putting gear to use, whether it's my favorite or not. But here is what I'm doing lately when I'm packing to head out: The first cooler I grab is the RTIC Ultra-Light Cooler, and I add other hard coolers and soft-sided coolers around it depending on what I'm going to do. That tells me something is very right with this cooler.
Why not just size up to a 65-quart rotomolded cooler to get more space? That's a valid question. I've considered it many times! The 60-65 quart size range is great for camping, but the weight can get really annoying when you're tent camping and need to haul a cooler down a steep river bank. RTIC's 65 QT Hard Cooler is already up to 36 pounds empty. If you fill it, most people's backs will yell at them to carry it with a buddy.
Shop the RTIC Ultra-Light Cooler direct from RTIC and get FREE shipping!
Excellent Ice Retention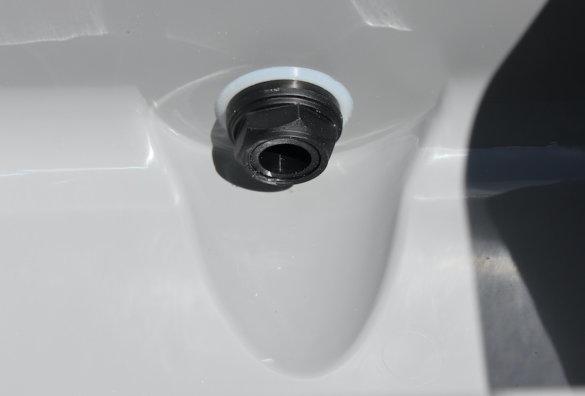 Is the RTIC Ultra-Light Cooler good at keeping things cold? It's very good at keeping things cold.
In fact, in my experience while camping and traveling with the RTIC Ultra-Light Cooler in the back of a pickup on the highway in temperatures up to 100 degrees Fahrenheit, I was pleased and satisfied with its performance.
I have easily gotten three days of ice retention out the RTIC Ultra-Light Cooler even though I used about half of the recommended ice. Most cooler manufacturers recommend a 2-to-1 ice-to-food/drink ratio for best results. For most weekend camping trips, I tend to use a 1-to-2 ice-to-food/drink ratio in my high-end coolers. It's not recommended, but that's also why I use high-quality coolers — so I can get away with less ice when I want to.
The RTIC Ultra-Light Cooler seems to deliver a similar level of ice retention compared to most rotomolded coolers. It's definitely good enough that I don't consider it a critical decision factor here, compared to rotomolded coolers for camping.
RTIC Ultra-Light Cooler Alternatives & Competition
If you're considering the RTIC Ultra-Light Cooler, you're likely trying to find the best balance between weight, ruggedness, and cooling power. Here are a few alternative options to consider:
Pelican 50QT Elite Cooler — The Pelican 50QT Elite Cooler offers a similar capacity as the RTIC Ultra-Light Cooler. It's also rugged. One interesting benefit is the multi-function lid that has built-in cup holders and a fish ruler. Who doesn't like cup holders? Overall, the Pelican 50QT Elite is pretty light, but at 26.39 lbs it's still 5 lbs heavier than the RTIC. Any drawbacks? The biggest drawback of the Pelican 50QT Elite is the higher price point.
YETI Tundra Haul Hard Cooler — Because rotomolded coolers are so heavy, one way to make them more portable is to add wheels. The YETI Tundra Haul has wheels, which makes it easier for one person to move the cooler. RTIC doesn't make a hard cooler with wheels — and YETI doesn't make a lighter weight injection-molded cooler. So is a rotomolded cooler with wheels your best choice? Maybe. The YETI is super rugged and delivers great cooling power. The key drawback with the YETI Tundra Haul is that its capacity is about 45 quarts, which offers less volume than the 52-quart RTIC Ultra-Light Cooler. And the price point is quite a bit higher.
Igloo IMX 70-Quart Cooler — The Igloo IMX 70-Quart Cooler weighs almost 5 lbs more than the RTIC Ultra-Light Cooler, but it also offers more capacity. If you need the extra space, the Igloo IMX 70-Quart is a solid injection-molded cooler to consider.
Shop the RTIC Ultra-Light Cooler direct from RTIC and get FREE shipping!
The Verdict
The new RTIC Ultra-Light Cooler is a flat-out winner. It offers significant weight savings but still delivers efficient multi-day ice retention. Better yet, the 52-quart size is big enough to handle food for weekend camping trips, making it a versatile size for most campers. If you've been looking for a lighter alternative to heavy rotomolded coolers, check out the injection-molded RTIC Ultra-Light Cooler. Very highly recommended.
Get the Gear:
Benefits
30% lighter than comparable rotomolded coolers
52-quart size offers a great blend of volume for the weight
Excellent price-to-value ratio
Drawbacks
Not quite as rugged as rotomolded coolers