Disclosure: Man Makes Fire is reader-supported. When you buy gear using retail links on our site, we may earn an affiliate commission that helps pay for our work. Learn more.
RTIC Hard Coolers range in size from small 20-quart options to monster 145-quart coolers. Most outdoor enthusiasts need the 45- or 65-quart hard cooler to cover their camping trips.
To get us a closer look, RTIC sent Man Makes Fire a 65-quart review unit. After spending some time camping and hunting with the RTIC cooler for our review and testing process, this is what we learned:
RTIC 65 QT Hard Cooler Review
The RTIC 65 QT Hard Cooler is a rotomolded cooler. There are many great rotomolded coolers available these days, and they all tend to share some common characteristics. First and foremost, they're rugged with thick, insulated sidewalls. The construction process that makes them so rugged — and occasionally bear-proof with extra padlocks — results in one key drawback: They're heavy.
On the other hand, they're super durable and good ones will last well beyond a decade. (The RTIC 65 QT Hard Cooler is a good one.)
If you're thinking about buying an RTIC Hard Cooler, you probably have a few questions. I can help — as well as point out a few competitive options that may or may not be the best fit for you.
RTIC Hard Cooler Design
The primary benefit of the RTIC 65 QT Hard Cooler is its thick sidewalls and lid that have up to 3″ of insulation. When you pair that thickness with a freezer-style gasket in the lid to create a good seal, you have a cooler that will deliver excellent ice retention.
The gasket in the lid also makes the RTIC Hard Cooler leakproof.
RTIC included two carry options in the design. The first are molded handle slots in the sides of the cooler. The second are additional heavy-duty, foam-padded rope handles.
When I'm carrying the 65 QT Hard Cooler by myself, I prefer the built-in molded handles so I can carry the cooler higher up near my thighs. However, once the cooler is loaded with food, drinks, and ice, it's heavy and awkward. In this situation, I recommend that you protect your back and move a loaded 65 QT Hard Cooler with a friend. When hauling the cooler over uneven ground with a buddy, the rope handles are the way to go.
If you want to tie the cooler down, there are two molded-in tie-down slots on either side. They work great with 1-inch wide nylon straps like the renowned NRS straps.
For standard load shifting, the non-slip rubber feet do a good job of keeping the cooler in place. For instance, it doesn't move much in the back of my pickup when I'm driving on typical Idaho washboard gravel roads. If you drive on really bumpy stuff with steep angles, well, the tie downs are for you.
RTIC uses rubber T-latches to secure the lid. They work well, but they're light on tension compared some competitors, like the YETI Tundra series and the Cabela's Polar Cap Equalizer series. Is this a drawback? Not necessarily. The Cabela's coolers, for instance, can be too hard for kids to open. The RTIC Hard Coolers are more family friendly.
Two Drain Ports
RTIC includes two drain ports. This seems redundant at first, but it's actually handy in the real world. Some people like to keep their coolers in their vehicle, and cargo and access points determine the orientation. If some ice melts and you want to drain out a bit of water, you could drain from whichever side works best.
However, the two drain ports aren't equally great. Only one drain port uses the molded groove to help guide the most water out.
RTIC 65 QT Size Considerations
The RTIC 65 QT Hard Cooler is a large cooler. It's sized one typical rotomolded cooler size up from the popular 45 QT Hard Cooler. Because rotomolded coolers tend to have so much insulation, the insides are much smaller than the outsides lead you to believe. (Check out the interior/exterior diagram at RTIC for the actually dimensions.)
For most family camping trips, I end up taking two coolers. I usually take a 45-quart rotomolded cooler along with some other drink cooler depending on the length and duration of the trip. I load the 45-quart rotomolded cooler with the food I need to stay super cold and not get wet — and then I don't open that cooler unless absolutely necessary.
The separate drink cooler is fair game for anyone in the family.
This is a pretty good system, but sometimes I'd rather just pack one cooler for everything. That's where the RTIC 65 QT Hard Cooler really shines. I can load the RTIC 65 QT Hard Cooler up with 4 frozen gallon-sized jugs of water as ice and have room to pack in food and drink for several days. Obviously, your experience and needs will vary, but the point is: If you want one cooler with a thoroughly decent capacity, the 65 QT might be the size to look at.
On the other hand, it weighs a whopping 36 pounds empty.
RTIC 65 vs 45 Hard Coolers
A 65-quart cooler offers a significant capacity boost over typical 45-quart coolers. I can load up the 65-quart with four frozen gallon-jugs of water and have lots of room for food and drink. This configuration typically gets me through a weekend camping trip in Idaho with ease.
In comparison, if I use three ice jugs in a 45-quart cooler, I'll get similar cooling performance . . . but I'll have a lot less room for food and drink. Of course, you can use bags or blocks of ice and the relative capacities will remain the same.
Shop color options at RTIC and get FREE Shipping!
The RTIC Ultra-Light Cooler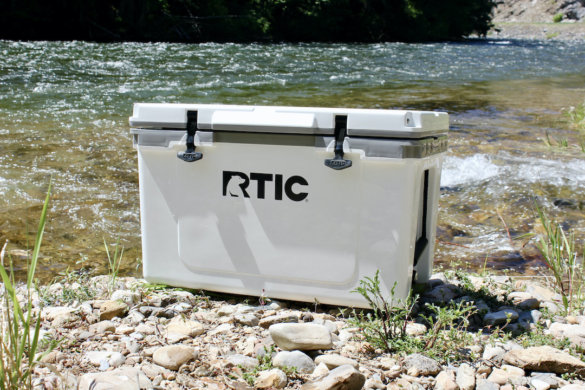 If you want more capacity than delivered by a 45-quart cooler, the RTIC 52 QT Ultra-Light Cooler might be the cooler for you. It weighs just 21 pounds yet delivers a midrange capacity and nearly the cooling power of a rotomolded cooler.
It's not as rugged as a rotomolded cooler and it has more assembled parts, but it is one of my favorite coolers because it delivers such a great insulation-to-weight ratio. To learn more, check out my full RTIC Ultra-Light Cooler Review here.
How long does ice last in an RTIC hard cooler?
A lot of people new to high-quality coolers want to know how long ice will last in their coolers. This question isn't as simple as it seems. RTIC claims that ice will last up to 10 days in the RTIC 65 QT Hard Cooler, but that's not going to be accurate for typical real-world use. Why?
In the real world, you probably won't use the recommended 2:1 ice-to-contents ratio. Most people use less ice. Most people also don't pre-chill their coolers, which means they tend to load them up at room temperature with food and drink and then toss the ice in. Because the cooler is, say, 72-degrees, you'll waste some ice just to bring down the temperature of the cooler's walls. If the drinks went in warm — not pre-chilled — you'll waste even more ice to cool those drinks.
Lots of people make these mistakes — and I do, too. Heck, sometimes just getting out the door for a camping trip is the primary challenge in real life!
There are more ice-retention pitfalls, though. If you leave the cooler in the sun on very hot days, the performance will suffer. That's just physics. And, as you might guess, darkly colored coolers that can absorb more energy from the sun will perform slightly worse than white coolers.
In my experience, it's easy to get 4-5 days of ice retention out of the RTIC 65 QT Hard Cooler in normal camping use in the Pacific Northwest. Use more ice for hot days, of course.
Is RTIC worth the money?
Compared to the high-end cooler competition — most notably industry behemoth YETI — RTIC coolers are a bargain. Compared to cheap department store coolers, they can seem expensive. So are RTIC Hard Coolers worth the money?
If you want a rugged, high-performance cooler, the RTIC is a very good deal. Because RTIC is a direct-to-consumer company that avoids "middlemen" and the costs associated with typical retail channels, RTIC can sell its coolers online at competitive price points.
Shop all hard cooler color and size options at RTIC and get FREE Shipping!
RTIC Competition & Alternative Options
YETI Tundra 65 Hard Cooler — The primary advantage of the YETI hard coolers over the RTIC hard coolers are the rich color choices and YETI brand power for those who care about brands. The real-world performance differences are negligible. In our experience, YETI hard coolers have a very slight build-quality advantage and are very slightly more rugged in some of the components. However, you should know that this is like saying that a 450-pound gorilla is stronger than a 430-pound gorilla — they're both scary strong. The primary drawback of a YETI hard cooler vs an RTIC hard cooler is that YETIs cost more.
Cabela's Polar Cap Equalizer 60-Quart Cooler — We're big fans of the excellent ice-retention in the Cabela's Polar Cap hard cooler series, as well as the super-rugged construction. The primary drawback of the Cabela's Polar Cap Equalizer Cooler is its extra-bulky design. Because you get two large molded carry handles that extend out the sides, you'll need more space to stow the Polar Cap Equalizer coolers.
RTIC 52 QT Ultra-Light Cooler — In some ways, the most interesting competitor to the RTIC 65 QT Hard Cooler is the RTIC 52 QT Ultra-Light Cooler. If you can stand losing a bit of capacity, you'll gain a versatile mid-size, lightweight cooler option that's nearly as rugged and ice-efficient. The primary benefit of the RTIC Ultra-Light Cooler is its compelling weight savings.
The Verdict
All-in-all, the RTIC 65 QT Hard Cooler is a rugged, high-performance rotomolded cooler with an excellent price-to-value ratio. If you're looking for a highly-efficient camping cooler with a versatile multi-day capacity, it's hard to go wrong with the 65 QT option. Highly recommended.
Get the Gear:
Benefits
Rugged
Excellent ice retention capabilities
Price-to-value ratio is very competitive
Drawbacks
Rotomolded coolers are heavy