Disclosure: Man Makes Fire is reader-supported. When you buy gear using retail links on our site, we may earn an affiliate commission that helps pay for our work. Learn more.
The Redington Sonic-Pro HD Wader is one of the best fishing waders available in 2018. It boasts a durable 4-layer waterproof-breathable construction with full-featured pockets, all of which has been crafted into a package that competes very well against similarly priced fishing waders.
To get us a closer look, Redington sent us a review unit, along with a matching set of Redington Prowler wading boots. Here is what we learned.
Redington Sonic-Pro HD Wader Review: First Impressions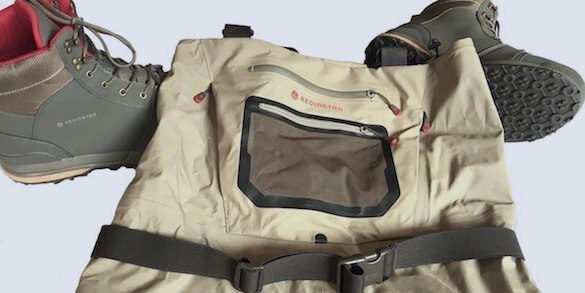 Right off, you should know that this is an initial first-look review. It's the middle of winter in Idaho and our local steelhead spots are blown out with crazy runoff. So no wading, and the next-best winter fly fishing spot around is a small spring creek that doesn't even allow wading. So our testing has so-far been limited to wearing them around the house and playing in the bathtub — and no, we're not sharing those photos. Meanwhile, we'll update this review in a few months after we've been able to more thoroughly put them to work.
All that said, you should also know that these are waders from a reputable manufacturer. Would we take these waders on a fishing trip to Alaska? In a heartbeat. No worries. But back to the details.
Redington's ActiveFit offers a pretty good cut. Most cheap waders tend to be sized like a barrel around the torso while the legs and knees are usually too baggy — this is not the case with the Redington Sonic-Pro HD Waders. They fit great. As it turns out, the inseam is slightly short for me personally, but I have a very long 36-inch inseam. The size Large (12-13 shoe size) has a reported inseam comfortable for 32-34″ legs . . . and it's spot on. (We have a gear tester who fits this size perfectly who's going to handle the long-term review report this summer.)
Redington Sonic-Pro HD Wader Review: The Construction
The Redington Sonic-Pro HD Wader uses sonically-welded seams, which Redington calls SonicWeld. The welded panels result in seams that are not stitched with a needle and thread, which means the fabric doesn't get needle holes that then need to be sealed over. Either way, all the seams are reinforced, so the construction looks similar to other waders on the inside. It's a tough construction and sonically-welded seams have been used for years with great long-lasting results.
The ergonomic booties fit well — in fact, they're pretty fantastic. Personally, I tend to wear a size 13 Nike basketball shoe but a 14 in every other shoe and boot, so I'm a borderline case. That said, I think the booties fit very slightly large, so if you're a borderline size, there you go.
The Redington Prowler wading boots, it turns out, also fit just a bit large. In fact, the size 13 Prowlers fit my mostly size 14 feet snug, which I consider perfect when I'm out wading in the water. The toe box is sized right, giving you plenty of room for the neoprene bootie, and the laces let you tighten up the forefoot and ankle to get the fit you want. I like these boots.
Back to the waders. What about the pockets, suspenders and belt?
The suspenders are simple and perfect. The wading belt is a bit thin, but it also has some stretch to it. Because I like to ratchet down my wading belt when I'm wading in fast water, I'm thinking this stretch might be a bit more comfortable then with typical belts.
As for pockets . . . you want pockets? The Sonic-Pro HD does not skimp on pockets.
The front chest pocket system is full-featured: You get a fleece-lined pass-through zippered hand-warmer pocket, along with two additional outside zip pockets. You also get an interior flip-over pocket system, plus another interior pocket that includes a clip for your car keys.
As for the construction overall, I examined the seams and stitching around the pockets, edges and suspenders — including the hardware attached to the gravel guards — and it's damn near flawless. The Sonic-Pro HD are Redington's best waders and they've clearly taken the time with all the details.
Shop the Redington Sonic-Pro HD Waders sale at AvidMax and get free shipping!
Sonic-Pro HDZ vs. Sonic-Pro HD vs. Sonic-Pro
As you might expect, Redington offers a front waterproof zipper version of its best waders, aptly named the Sonic-Pro HDZ. The key difference in the HDZ version is the front zipper, of course, but the chest pockets are also split to accommodate the zipper.
Why should you spend more for the zippered version? If you're on a tight budget, don't. If you're not, those who try zippered waders love them because it's easier to get in and out of them — as well as go pee. That's it. On the downside, if you're fishing cold water in cold weather, you might miss the passthrough hand-warmer pocket, but the HDZ does have separate hand-warmer pockets.
The next question you might want to ask is if you should go with the "non-HD" Redington Sonic-Pro Wader instead? These waders feature much simpler pockets, but the overall construction is very similar to the Sonic-Pro HD, making them a great option for fly fishers on a budget. Like the Sonic-Pro HD, they feature four-layer breathable construction, so what's the difference? We reached out to Redington to find out: The HD version fabric is approximately 15 percent more durable.
So basically you get better durability and astoundingly great pockets with the Sonic-Pro HD. Your budget is the key decision factor here.
Redington Sonic-Pro HD Wader Review: Initial Verdict
While we would have preferred spending some serious quality time in the water with these waders, we wanted to share our first impressions for those who are thinking about pulling the trigger on the Redington Sonic-Pro HD Waders right now. Our initial experience? Up close and personal, these are very good, can't-go-wrong waders. The 4-layer fabric feels durable yet is reasonably light and remains pleasantly flexible. The overall design fits well. We appreciate the red accents on the zippers, suspenders and booties — which also complement the Prowler Wading Boots. Sure, fashion is pretty low on our priority list, but hey, when it doesn't interfere with function, we appreciate the extra effort.
All-in-all, the Redington Sonic-Pro HD Waders have all the hallmarks of very good waders — the fit, finish, seams, pockets and overall construction are excellent. For most fly fishers, they should provide a great blend of durability and weight, ready to handle multiple seasons of frequent use.
Get the Gear: