Disclosure: Man Makes Fire is reader-supported. When you buy gear using retail links on our site, we may earn an affiliate commission that helps pay for our work. Learn more.
The REI Co-op Kingdom Cot 3 is an ultra-comfortable fully padded camping cot. It's long, wide and stable — but not ultralight.
To get Man Makes Fire a closer look, REI sent us a review unit. This is what we learned:
REI Co-op Kingdom Cot 3 Review
The REI Co-op Kingdom Cot 3 is clearly one of the best camping cots available, and it's definitely a top all-in-one cot that includes a built-in pad. The pad is about 1.5 inches thick, but the suspension design of the cot itself adds even more cushion.
Many cot designs stretch out a single layer of canvas or canvas-like fabric to create a flat sleeping area with a bit of give. The REI Co-op Kingdom Cot 3 suspends the built-in pad with a series of loops from a stretchy cord wrapped around the frame. The effect is that the bed of the sleeping area is even cushier than you might expect.
In addition, the structure of the sleeping pad as it's positioned over the frame results in slightly raised sides. With the pad, this means you're naturally redirected toward the center of the cot as you sleep. Because this cot is fairly large — 82″ x 31.5″ — most sleepers will have plenty of room. The cot itself is rated to hold up to 300 pounds.
REI Co-op Kingdom Cot 3 Review: Superior Comfort for Most Sleepers
If you're a side sleeper or back sleeper, the REI Co-op Kingdom Cot 3 is super comfortable. Pretty amazing, really. The vast majority of sleepers are side and/or back sleepers.
For stomach sleepers — which make up about 16 percent of our population — the REI Co-op Kingdom Cot 3 design doesn't work out so well. Why?
Remember the suspension design of the bed? That cushy design results in a dip in the middle underneath you. This means that if you're on your stomach, your stomach will extend lower than your legs and head. That's not particularly comfortable for most people; however, it's possible that smaller, lighter stomach sleepers will do well on the Kingdom Cot 3 because it's so big and roomy.
If the dip bugs you, you can tighten the shock cord around the frame to increase tension and reduce the distance it will bend. This will help flatten the entire bed, but it probably won't be enough to satisfy large and tall stomach sleepers. If you are a stomach sleeper, try a simple cot design like the REI Co-op Camp Folding Cot — and then top it with a cushy sleeping pad. It's not an all-in-one design, but it is an answer if you're a stomach sleeper.
All that said, 5 out of 6 sleepers will likely find the REI Co-op Kingdom Cot 3 to be insanely comfortable. Because it's a bit of a luxury item for most campers, we think it makes a great camping gift idea — and is also a good choice for aging campers who might struggle with sleeping on the ground on an air mattress.
REI Co-op Kingdom Cot 3 Review: Stable Base, Bulky Storage
The legs and base of the REI Co-op Kingdom Cot 3 are made of steel and aluminum tubing, and the exterior is powder coated. The three set of legs provide a very stable base and the feet are oversized round disks that tilt over uneven ground. The oversized feet also help protect your tent floor from the small pressure points created from typical cots.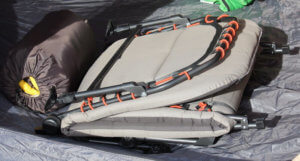 The two feet on the legs at the head of the cot can extend to raise the top section of the cot — or adjust to help you level the cot if you're on uneven ground.
The biggest issue with the REI Co-op Kingdom Cot 3 is a direct result of its ultra-plush comfort: It's not as packable as most standard, albeit spartan, cot designs. REI says the Kingdom Cot 3 folds up to 33″ x 32″ x 8.5″ . . . but the narrowest I could get it folded to is about 11 inches. That's not surprising when you consider the built-in pad and generous length and width of the whole cot.
Set up is fast and easy. You just need to loosen the two round knobs by the middle legs to let the joint unfold. The legs just flip out into position from the hinges. Once the cot is upright and flat, gravity and design holds the legs in place.
The REI Co-op Kingdom Cot 3 weighs 20 pounds.
REI Co-op Kingdom Cot 3 Review: The Verdict
If you're looking for an all-in-one luxury cot experience, the REI Co-op Kingdom Cot 3 is super stable and comfortable for back and side sleepers . . . but the cushy design doesn't work as well for stomach sleepers. The overall structure and build quality is excellent, easy-to-use and very durable. Highly recommended.
Get the Gear: