Disclosure: Man Makes Fire is reader-supported. When you buy gear using retail links on our site, we may earn an affiliate commission that helps pay for our work. Learn more.
The Cabela's Insurgent HC RTH Compound Bow comes in a ready-to-hunt package from Cabela's. It includes a rest, site, quiver and stabilizer. It also has a peep site and d-loop already on the string, ready for the owner to adjust for fit.
To get Man Makes Fire a closer look at the Insurgent HC RTH Compound Bow, Cabela's sent us a review unit. This is what we learned:
Cabela's Insurgent HC RTH Compound Bow Review
There is a lot to like about the Cabela's Insurgent HC RTH Compound Bow, starting with the easy online and in-store availability and simple-to-adjust draw length system. If you're a relatively new compound hunting bow buyer, being able to adjust the draw length yourself, without a bow press, is definitely handy. The Insurgent HC RTH Compound Bow adjusts from 25″ to 30″.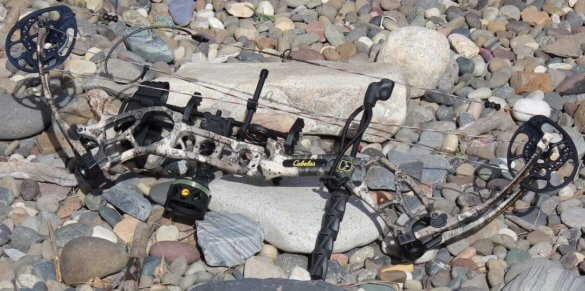 When I first got started bowhunting several years ago, I opted for a Bear Attitude RTH package. Why? I knew I would need to adjust the draw length myself as I fine-tuned my shooting form. Plus, I needed an affordable ready-to-hunt package. There was no way I was going to be able to afford a flagship bow and high-end bowhunting accessories for a new way to hunt. In my second year of archery elk hunting, I was able to harvest a 5-point bull elk with that bow. The point? You don't need an expensive flagship bow to be a successful hunter. In fact, you're probably better off starting with an entry level bow, and once you get addicted to archery and bowhunting, you'll have a better idea what kind of bow you want most.
Back to the Cabela's Insurgent HC RTH Compound Bow. You probably want to know first and foremost how it shoots. Answer: It's surprisingly good for the price point. It has a bit of vibration, but it's not bad at all. The draw cycle isn't exactly smooth but I don't think it's harsh, either. It has cable draw stops, so the back wall has a bit of give, which I also don't mind. (Limb stops tend to produce a solid back wall that has no give when you're at full draw — I personally prefer cable stops.)
Speaking of the draw cycle, the poundage is adjustable from 60-to-70 pounds. The draw cycle is easier at 60 pounds, of course, compared to 70 pounds. In my experience, once you shoot a bow over the course of a few different days, the draw cycle becomes second nature and you forget about it. Overall, the ES hybrid cams are pretty smooth and deliver great speed for the price: The Insurgent HC gets up to 330 fps, but most hunters with hunting arrows won't be able to replicate the top end speed (which is typical for most everyone and every other bow).
Cabela's Insurgent HC RTH Compound Bow: Setup & Accuracy
I'm only a proficient archer, focusing on elk hunting at relatively short distances. With my level of skill and repetitions, I was easily confident out to 40 yards. No worries whatsoever. At 50 yards, I felt good without wind. For anything past 50, you'd probably want to upgrade to fall-away rest (but that's an upgrade you can make in the future).
As for tuning, the bow came to me in great shape. I was able to simply rotate the d-loop a couple times to get my arrow level from the nocking point through the included Whisker Biscuit rest and level with the riser. To do this most easily on your own, you hold an arrow against the riser underneath a nocked arrow. If the two arrows are parallel, you're good to go.
Use the same trick to make sure the arrow will leave the bow centered left-to-right — just hold the second arrow against the vertical portion of your riser to see if the two arrows are parallel. If they're not, you can adjust the rest left or right until they're parallel.
At this point, I shot a couple hundred arrows and sighted in the bow with good results. I did some walk-back broadhead tuning with good results, too. I think most hunters will be able to replicate this process themselves and get similar results. (There are tons of YouTube videos on bow setup, sighting in, and tuning.)
Meanwhile, my next step was to paper tune the bow. I did this last, though, because I wanted to see what I could get from the bow out of the box. I was getting a consistent horizontal tear through paper, so I pressed the bow with a Bowmaster Portable Bow Press and Bowmaster Split-Limb L-Bracket G2  (which are compatible with many Bear bows) and added a twist to one top yoke while removing a twist from the other. Boom. Bullet holes. Of course, everyone's results may vary based on grip, draw length, shooting form, and arrow setup. The point of all this is that the Cabela's Insurgent HC RTH Compound Bow is pretty darn shootable right out of the box. If you have a bow press, you can also fine tune the bow yourself (assuming you know how and are willing to learn).
All that said, most hunters error on the side of getting help from a bow shop . . . and simply practice often enough to get accurate for their typical bow hunting distances.
Shop the Insurgent HC RTH Package from Cabela's and get FREE 2-Day Shipping!
Cabela's Insurgent HC RTH Package: Accessories
The great thing about the Cabela's Insurgent HC RTH Package is that you get the core accessories you need to start shooting your bow.
The Cabela's Insurgent HC RTH Package includes a Trophy Ridge Volt 5-pin Sight. It's functional, easy-to-use, and works. It's a great entry-level sight.
The rest is a Trophy Ridge Quick Shot Whisker Biscuit. It's dirt-simple to adjust and use. Better yet, most everyone can get good results quickly with a Whisker Biscuit rest. In addition, they don't have any moving parts that can break or require tuning.
The stabilizer is a Trophy Ridge Dart Stabilizer. It's too short to really "stabilize" your shots, but then again you don't really need a longer stabilizer if you're hunting out to about 50 yards. It's really more of a noise and vibration dampener.
The quiver is a 5-spot Trophy Ridge Quiver. It's easily adjustable, removes easily, and it works pretty well.
The biggest point of the accessories is that they are more than capable of doing their jobs for the vast majority of bowhunting situations. And . . . whenever you want . . . you can upgrade any of these bow accessories at any time.
One note: The Cabela's Insurgent HC RTH Package does not come with arrows. You'll need to choose your own arrows, which is typical in the bowhunting industry because you need to choose the correct arrows for your draw length and draw weight.
Insurgent HC RTH Bow Review: The Verdict
The Insurgent HC RTH Compound Bow Package is an excellent entry-level hunting bow kit. It's not quite as smooth and awesome as setups that will cost three-to-four times as much, but it does have a great price-to-value ratio. I spent about three months shooting this bow, and it performed well. If you're looking for a starter kit as a bowhunting gift or even an affordable upgrade to an aging compound bow, the Cabela's Insurgent HC RTH Compound Bow is a great entry-level hunting bow package that shoots surprisingly fast and easy for the price. Highly recommended.
Get the Gear:
Turns out there is one more note: I forgot to mention that the Cabela's Insurgent HC RTH Compound Bow resembles the Bear Archery Threat RTH Compound Bow package, which is also a great entry-level RTH compound bow. The Cabela's-branded Insurgent HC RTH Compound Bow is manufactured by Bear Archery exclusively for Cabela's.