Disclosure: Man Makes Fire is reader-supported. When you buy gear using retail links on our site, we may earn an affiliate commission that helps pay for our work. Learn more.
The Big Agnes Big House Tent is a lightweight-but-roomy car camping tent. It's tall enough to stand up in, it's easy to set up, and it's very packable.
To get us a closer look, Big Agnes sent Man Makes Fire a review unit. This is what we learned while using and testing the Big Agnes Big House 4-Person Tent:
Big Agnes Big House Tent Review
At first glance, the Big Agnes Big House 4- and 6-person tents seem to be simple cube-shaped tents. However, a closer look and experience with the Big House design reveals something interesting: While the Big House doesn't have any single stand-out feature, the sum of its parts easily make it one of the best camping tents for 2020 and beyond.
In fact, we consider it the best all-around car camping tent for 2020. You get a great blend of quality, space, and packability.
Both the 4-person and 6-person Big Agnes Big House tents have very similar overall designs. They have near vertical sidewalls to give you a roomy interior, but the peak heights are slightly different.
The Big House 4 has a decent 70″ interior height while the Big House 6 has an 81″ height. Because I'm about 6'3″ tall, my head touches the mesh ceiling while standing in the Big House 4. Is that a deal breaker? Not for me because I could still change my clothes without any trouble.
Two Doors
Both tents have two doors with mesh-covered windows. You can zip the windows shut for warmth and privacy or leave them open for great cross-tent airflow on hot summer nights. The front door is larger and features a big welcome mat. At first, you might think the welcome mat is a gimmick, but it's surprisingly handy for taking off shoes. Better yet, it sets the mood for a great time while camping. If you're a fun person, you'll appreciate the built-in welcome mat.
When we took the Big House 4 out camping, we particularly liked the DAC DA17 lightweight aluminum poles. DAC aluminum poles have an excellent strength-to-weight ratio, and you usually only see them on high-end camping tents and high-quality backpacking tents. The poles are one of the reasons Big Agnes was able to produce such a lightweight tent.
The Big House 4 weighs just 12 lbs 14 oz while the Big House 6 weighs just 14 lbs 7 oz.
The guy lines are positioned appropriately high on each corner pole, which aids in stability in wind. The two sides without doors also have two more guy lines, which are lower and are designed to pull the nearly full-length rainfly away from the sides of the tent.
One of Big Agnes' informational videos shows the corner guy lines and center wall guy line all sharing a single stake, but I don't recommend that you use a single stake unless you're not worried about any wind. In my experience with the Big House 4 — and with most any tent with vertical sidewalls — you'll want to stake each corner down with its own stake for optimal stability in wind.
Shop the Big Agnes 'Big House' tent lineup from REI today — and get FREE shipping!
Shelter Mode
The Big House tents include an interesting and handy feature: A "Shelter Mode" that lets you set up the poles and fly without the body of the tent. The result is a sun shade and a rain-proof open-air shelter.
To use the Shelter Mode, Big Agnes includes a section of webbing that matches the footprint of the tent. The poles go into the webbing at the four corners to keep them in place And the rainfly goes over the top.
If you choose to get the Big House accessory footprint, you can use the footprint as a floor while in Shelter Mode. If you picnic off-the-grid in dispersed areas, you might really appreciate the Shelter Mode option.
Backpack Carry Bag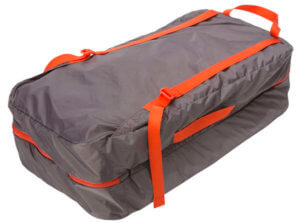 Remember how I said that the sum of the Big Agnes parts all come together to make it a great car camping tent? The backpack-style carry bag is one of those pieces. When we go camping, we're often packing our gear 50 to a 100 yards to get to a more secluded dispersed camp site. In these situations, the backpack-style carry bag reigns supreme.
You can carry the tent and keep your hands free for other camping gear. Or, if you're going camping with kids, you can let a kid help get camp ready by letting them carry the tent.
Also, the backpack-style carry bag has one of the best overall designs we've seen this year. It has separate pockets for the main tent body, for the rain fly, and for the poles. During our camping tent testing this summer, the Big Agnes Big House carry bag was the easiest carry bag to repack when it was time to head home.
Big House 4 vs 6 Tent
If you're trying to decide between the Big House 4 or 6-person Tent, the floor dimensions will likely be your biggest consideration. The Big House 4 is 7'6″ x 7'8″. The Big House 6 is 8'4″ by 9'10". Both of these sizes are slightly smaller when compared to some of the best 4-person and 6-person tents available today.
We like to see about 24″ of shoulder-to-shoulder space for each sleeper in a car camping tent. This is plenty of room for both adults and kids who are sleeping on lightweight sleeping pads or smaller backpacking-style air mattresses. The Big Agnes 4 has 22.5″ of shoulder-to-shoulder room, which isn't terrible, just a bit snug.
To get four people to fit into the Big House 4 Tent, Big Agnes shows four sleepers sleeping head-to-foot, head-to-foot in mummy style sleeping bags. While this is totally doable, we recommend that you get the Big House 4 tent for three adults or two adults and two children.
The same basic recommendation holds true for the Big House 6 Tent: You'll fit five people with far more comfort than six. So, if you have six adults for the Big House 6, proceed with caution and make sure you're all good friends.
Shop the Big Agnes 'Big House' tent lineup from REI today — and get FREE shipping!
Key Big Agnes Big House Tent Specifications:
| | | |
| --- | --- | --- |
| Specifications | Big House 4 | Big House 6 |
| Packed Weight: | 12 lbs 14 oz | 16 lbs 7 oz |
| Packed Size: | 26″ x 13″ x 7″ | 25.5 x 17″ x 10″ |
| Floor Area: | 90″ x 92″ | 118″ x 100″ |
| Center Height: | 70″ | 81″ |
| Number of Doors: | 2 | 2 |
Optional Accessories
Most quality camping tent manufacturers offer optional footprints, and Big Agnes is no exception here. Normally we don't recommend buying footprints because you can usually replicate floor protection with an appropriately sized inexpensive tarp. With the Big Agnes Big House, however, you might want to consider buying the footprint because a footprint will give you extra versatility if you want to use the Shelter Mode where the ground is wet.
One of our preferred features in a camping tent is a big vestibule. A vestibule is like a front covered porch that lets you store shoes and gear out of the rain. Vestibules also protect the front entry of your tent. When it's raining hard, vestibules help keep water from getting into your tent while entering and exiting.
The Big Agnes Big House Tents do not come with a built-in vestibule — you have to buy a vestibule as an add-on accessory. On one hand, we find this annoying, but on the other hand, we're pleased that Big Agnes is offering a vestibule at all. Many cabin-style tents with vertical sidewalls don't come with vestibules and there is nothing you can do about it — but Big Agnes will let you choose whether you want this feature or not. Of course, you can always make the upgrade in the future if your budget doesn't immediately allow it.
Last of all, the Big House Tents include interior loops that work very well with the Big Agnes mtnGLO Tent & Camp Lights, which is basically a portable rope-style lantern. We're fans: Rope-style lights make great lighting systems for camping, which is why we mention the mtnGLO Tent and Camp Lights in our guide to the best camping gifts.
Big Agnes Big House vs Bunk House
Remember how I was dogging on the lack of a built-in vestibule in the Big House? You should know that Big Agnes also has a recently updated car camping tent with a built-in vestibule — the Bunk House. It has essentially the same construction and size characteristics as the Big House 4 and 6, but it comes with a slightly larger rain fly and, of course, the built-in vestibule.
If you're a vestibule fan or plan to camp in lots of rainy weather, go for the Bunk House 4 or Bunk House 6 — see the 'Get the Gear' links below for more detail.
The Verdict
The Big Agnes Big House 4 and 6 Tents are lightweight car camping tents with excellent overall quality. While the floor size is a bit smaller than we prefer, we usually oversize our camping tents regardless of the manufacturer's rating. The fit and finish throughout is excellent, and the Big House Tents are packed with thoughtful features.
For instance, Big Agnes includes a handy "Quick Stash" door keeper loop for leaving the door open. Inside, Big Agnes includes two removable corner bin pockets for small items like keys, wallets, phones and flashlights. Finally, the backpack carry bag is a work of art — it's unassuming but fantastic to use. All-in-all, the Big House 4- and 6-Person Tents: Very highly recommended.
Get the Gear:
Big House 4 Tent – check shipping/pricing:
CampSaver | Outdoorplay | REI
Big House 6 Tent – check shipping/pricing:
CampSaver | Moosejaw | Outdoorplay | REI
Related Tents and Accessories:
Pros
High-quality, ultralight materials
Excellent backpack-style carry bag
Two doors and windows provide cross-tent ventilation
Cons
Not a real con, but something to consider: We wish the front fly extended farther out for increased rain coverage (but we also understand that this design lets you add a vestibule)