Disclosure: Man Makes Fire is reader-supported. When you buy gear using retail links on our site, we may earn an affiliate commission that helps pay for our work. Learn more.
The 9-foot 5-weight Echo Carbon XL is a joy to cast and fish. As far as fly rod reviews go, most everyone has a slightly different opinion, but between my best fly fishing buddy and myself, we came to a consensus: The Echo Carbon XL is a sweet rod.
Better yet, for a fly rod that retails at around $170, the Carbon XL has a superb price-to-value ratio.
To get a sense of this rod, my buddy and I took it to the Owyhee River in Oregon to chase some big brown trout. After he picked up the Echo Carbon XL, paired with an Echo Ion Fly Reel, I had a hard time getting it out of his hands.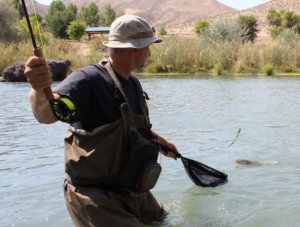 Why?
There is something in the stroke of this rod that just comes alive as you're casting it. Here's how I describe it: As you start feeding out line in your false casts, it feels normal enough but when you get the line out for a midrange cast, the Carbon XL suddenly feels perfect. It's as if your arm, hand, rod, fly line, and fly are all connected, working together in complete and total harmony.
I mean, I'm a decent caster, not a pro by any means, but the Echo Carbon XL had the ability to make us feel as if we were doing everything right more often than we really were.
That's high praise for sure, but it also comes with a dose of reality. While the Echo Carbon XL felt fantastic, I didn't get the sense that it made me any more accurate than usual, nor did it allow me to cast appreciably farther than I already can with most other decent 5-weight fly rods.
Echo Carbon XL Review: Medium Fast(er) Action?
Tim Rajeff designs most of the fly rods at Echo, and while I don't know him personally, he is a casting pro who has been fishing and creating rods for decades. The guy has probably covered more water with fly line than all my friends and family and friends of friends combined. Consequently, one of the hallmarks of Echo's fly rod reputation comes down to the feel of the rods. Echo says it designed the Carbon XL to have "a little more zip in the tip" than other medium-fast action rods. What does this mean?
Echo says the action is really more like a medium-faster action.
The result, I think, is a rod that loads easily yet responds with a good amount of crispness. In short, for us on the Owyhee using a 5-weight Orvis Clearwater fly line, the Carbon XL could handle tiny dries yet also throw big hoppers with nymph droppers.
Bottom line? The 9-foot 5-weight Carbon XL is a versatile fly rod. I wouldn't hesitate to take it trout fishing most anywhere.
One note: Echo is also now making a Carbon XL Euro Nymph Fly Rod, which I haven't fished personally but have heard good things about. I usually don't recommend that beginning fly fishers get into euro nymphing first unless they have a mentor or a specific stream in mind. Why? Casting and fly fishing with a Euro rod is an entirely different style of fly fishing — it's more like guiding a nymph under water at the right depth than it is about casting. It's fun and can be very effective, but it's likely not what most beginner fly fishers are looking for.
Echo Carbon XL Review: Build Quality
The Echo Carbon XL is a good looking rod. The blanks are a rich brown that, in some light, appears a reddish "rosewood" color. The cork is decent, and we really like the shiny modern look of the carbon fiber insert for the reel seat — especially in the sun.
The Carbon XL uses lightweight single-foot guides. And speaking of weight, the 9-foot 5-weight Carbon XL is 3.5 ounces, which is about average for this price range. More expensive rods will usually weigh less (but that expense and weight savings don't necessarily connect you to more fish).
Shop Echo fly rods & reels at Trident Fly Fishing and get free shipping on orders over $49!
Carbon XL Alternatives & Competition
Fly rod makers have produced many great fly rods for us, and the trick is finding the right fly rod for you. Or finding one in stock these days! If you're considering the Echo Carbon XL fly rod, you're likely looking for a quality fly rod at an affordable midrange price point. While we're fans of the Carbon XL, here are a few competitive alternatives in this class range:
Fenwick Aetos Fly Rod — The popular Fenwick Aetos Fly Rod is a fast action wonder. You can sometimes get a prettier fit-and-finish out of the sub-$200 price range, but the fast-action performance is the Aetos' key attribute. Choose the Aetos if you're looking for a bit less feel and a bit faster action but you want to stick in the same price range as the Carbon XL.
Echo Boost Fly Rod — The Echo Boost is Echo's most affordable fast-action fly rod. It's going to feel stiffer than the Carbon XL but it will also let you lift big hoppers off the surface and immediately throw them to a trout feeding near the bank. The key benefit is the fast action while the primary drawback is the slightly increased cost.
Orvis Clearwater Fly Rod — The Orvis Clearwater Fly Rod has slightly different actions up and down the full lineup, but in the 9′ 5-weight sweet spot for trout — read our Clearwater review here — it has a medium-fast action similar to the Carbon XL. One key benefit is that Orvis makes it easy to build a combo. A drawback is the higher cost compared to the Echo Carbon XL.
Redington Trout Fly Rod — The Redington Trout has a more traditional medium action than the Carbon XL, so it will feel great with a more deliberate casting stroke. It's a solid all-around beginner+ trout rod.
Echo Carbon XL Review: Conclusion
At about $169.99, the Echo Carbon XL Fly Rod is a great buy. Its casting abilities for distance and accuracy seem about average, but the feel of this rod while you're casting is far above average. It's an odd thing to explain, but during many casts, the Echo Carbon XL makes you feel as if you're a better caster than you really are. It's cool when you can get this feeling from a rod at this price point.
So who is this rod best for? The Echo Carbon XL is definitely a great rod for most any beginning fly fisher. While it's not a true fast-action rod, it's fast enough that it never made me feel like I was waiting for it to get to work. Better yet, the Carbon XL has enough casting feedback to help a fly fisher recognize when the rod is loaded and ready to throw forward — and this does seem to occur a little faster than your typical medium-fast action rod in this price range. The end result is a highly fishable, versatile rod that most anyone should be able to cast well.
If you want to step into a surprisingly good fly fishing experience without breaking the bank, the Echo Carbon XL makes our shortlist for sure. At its affordable price point, the Carbon XL is a can't go wrong fly rod. Highly recommended.
Get the Gear:
Benefits
Superb fishability for a wide range of casting styles
Excellent price-to-value ratio
Great fit and finish
Drawbacks
No real drawbacks
Looking for a fly rod and reel outfit?
Check out our guide to the Best Fly Rod and Reel Combos for the Money!