Disclosure: Man Makes Fire is reader-supported. When you buy gear using retail links on our site, we may earn an affiliate commission that helps pay for our work. Learn more.
The new 2018 REI Co-op Drypoint GTX Jacket is a versatile, minimalist rain jacket winner. The Drypoint GTX is made from a GORE-TEX Active three-layer fabric system, which is lightweight, breathable and surprisingly supple. Overall, it's designed for active, everyday use with a nod to hiking and backpacking.
The REI Co-op brand has produced other rain jackets for many years, of course, including their excellent entry-level REI Co-op Rain Jacket, but the REI Co-op Drypoint GTX is the first to use GORE-TEX Active. To get us a closer look, REI sent us a review unit. This is what we learned.
REI Co-op Drypoint GTX Rain Jacket Review
If you're not familiar with rain jacket construction, here's the super-fast basics: While any rubbery or plasticy rain jacket can shed rain, only good rain jackets also let moisture produced by your own body escape through the waterproof shell. All of the best rain jackets are relatively breathable (moisture can escape) and are usually made from three layers — an outer fabric, a waterproof middle layer, and an inner fabric. The seams are taped or welded over any sewing holes.
There are several different manufacturers of very good waterproof, breathable fabrics, and of all the waterproof, breathable systems, GORE-TEX versions are some of the very best. GORE-TEX fabrics have been created by W.L. Gore & Associates, which has strict licensing and functionality requirements. The result is that consumers can trust products made from GORE-TEX to be waterproof, breathable and durable (and are usually found only in mid-range to high-end gear).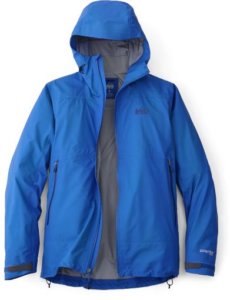 The REI Co-op Drypoint GTX Jacket is — no surprise — waterproof, breathable and durable. At least, it's durable for its purpose — there are multiple versions of GORE-TEX fabrics, and gear manufacturers can use thicker exterior fabrics to create better abrasion resistance. This is mostly important for hard-shells for skiing or mountaineering. For most backpacking, hiking, running and biking, a lightweight rain jacket is usually the best choice.
Meanwhile, what about the REI Co-op Drypoint GTX? Is it any good?
It's fantastic. Seriously so. The GORE-TEX Active fabric system used by REI here is lightweight, supple and feels good on bare skin. It's pretty quiet when you move. I've worn it out and about in the rain and have yet to feel clammy. On one bike ride in the rain, I was able to work up a sweat, but that wasn't because the Drypoint GTX wasn't doing its job: When I get moving hard, I'm going to sweat. Pretty much impossible not to. The point is, the Drypoint GTX was still great — I didn't feel as if I were wearing a claustrophobic sheet of plastic, which sometimes is the case with entry-level rain jackets when the going gets tough.
Here is one more cool point about the material: It is ridiculously easy to shake dry the Drypoint GTX, as in, when you take it off after wearing it in the rain, one shake is all it takes to dislodge all the tiny water droplets clinging to the exterior. They just fly off and disappear — not most of them, all of them. The first time you do this you'll be amazed so you're going to hold the jacket back out in the rain again to let it collect more rain just so you can shake it dry again.
REI Co-op Drypoint GTX Rain Jacket Review: Design Points
The reported weight for the Drypoint GTX is 10.5 ounces (probably for a medium). Either way, our men's XL review unit weighs a mere 11.3 ounces. That's not the lightest possible rain jacket, but it's very light and offers decent durability at the same time.
The Drypoint GTX uses sturdy nearly waterproof zippers. Most rain sheds right off the rubber coating, but if you're twisting your body around, water could seep in. I think REI struck a great balance here between usability and zipper waterproofing.
As for sizing, the XL fits spot on. REI says it's a "regular" fit but it's just a bit on the trim side, which is perfect if you're interested in active outdoor sports: It's big enough for a couple of layers but trim enough to not get in your way when you've got a single shirt on.
Shop Drypoint GTX at REI.com get free shipping on most orders over $50.
The sleeves are long enough with simple hook-and-loop tabs at the cuffs that let you tighten up the cuffs to fend off wind. The hem has an easy-to-use drawcord for sealing out drafts — if the weather is cold, of course. The hood is 2-point adjustable but isn't helmet compatible, which isn't surprising because this jacket is aimed at hiking and backpacking rather than more dangerous alpine pursuits.
As with a lot of REI's new jackets and coats, the pockets are situated a bit higher on the torso to make them compatible with backpack hipbelts.
The only downside to the Drypoint GTX is the lack of pit zips, which let you dump a lot of heat fast without much risk of getting wet. On one hand, the whole point of GORE-TEX Active is to mitigate the need for pit zips anyway, plus adding extra material and zippers to create the pit zips adds extra weight. With the Drypoint GTX, REI is aiming for lightweight minimalism rather than a Swiss Army Knife rain jacket.
However, that's not the whole story here: Instead of pit zips, the higher pockets on the Drypoint GTX have mesh on the inside, which lets interior torso heat vent through your pockets. It's a handy little trick that I've used on many different kinds of jackets that don't have fully insulated pockets, but the Drypoint GTX pocket placement and the mesh interior ramps up the effectiveness of this technique.
REI Co-op Drypoint GTX: Best Use
The standard price of the REI Co-op Drypoint GTX is $249, which is very reasonable, if not significantly less than other jackets it competes with — the Drypoint has an excellent price-to-value ratio. The Drypoint GTX is perfect for hiking and backpacking and could also work great for some cycling and trail running. The exterior fabric is only a 20-denier ripstop nylon, but it seems pretty durable.
Still, if you're looking for a burlier jacket, REI's new Stormbolt GTX Jacket is thicker. It doesn't have the lightweight GORE-TEX Active but it does have 3-layer GORE-TEX and has beefier 40-denier waist and shoulder panels designed take abuse from heavy backpacks worn over long periods of time. It weighs 4 or so ounces more, includes pit zips and is helmet-compatible.
If you prefer to error towards lightweight options or tend to backpack in generally good weather, stick with the Drypoint GTX.
REI Co-op Drypoint GTX Rain Jacket: Fantastic Overall
No doubt about it, the REI Co-op Drypoint GTX Jacket is a fantastic rain jacket. The price is more than fair. The quality, cut and construction is excellent, and the new GORE-TEX Active is Gore's most breathable GORE-TEX system yet. For general purpose fast and light outdoor use, you can't go wrong. Highly recommended.
Get the Gear:
When you buy gear using links in our posts, we can earn an affiliate commission that helps pay for our work — see below for more detail.